If you are getting started with melt and pour soap (or are searching out the best supplies for soap-making projects), you have come to the right place! This comprehensive guide covers the melt and pour soap supplies you will need to make fantastic soap projects. Specifically, the projects in the book Good Clean Fun: THE Idea Book for Creative Melt and Pour Soap Projects. This resource guide lists all of the melt and pour soap supplies that were used in the book, along with some other fun materials that would make even more lovely projects.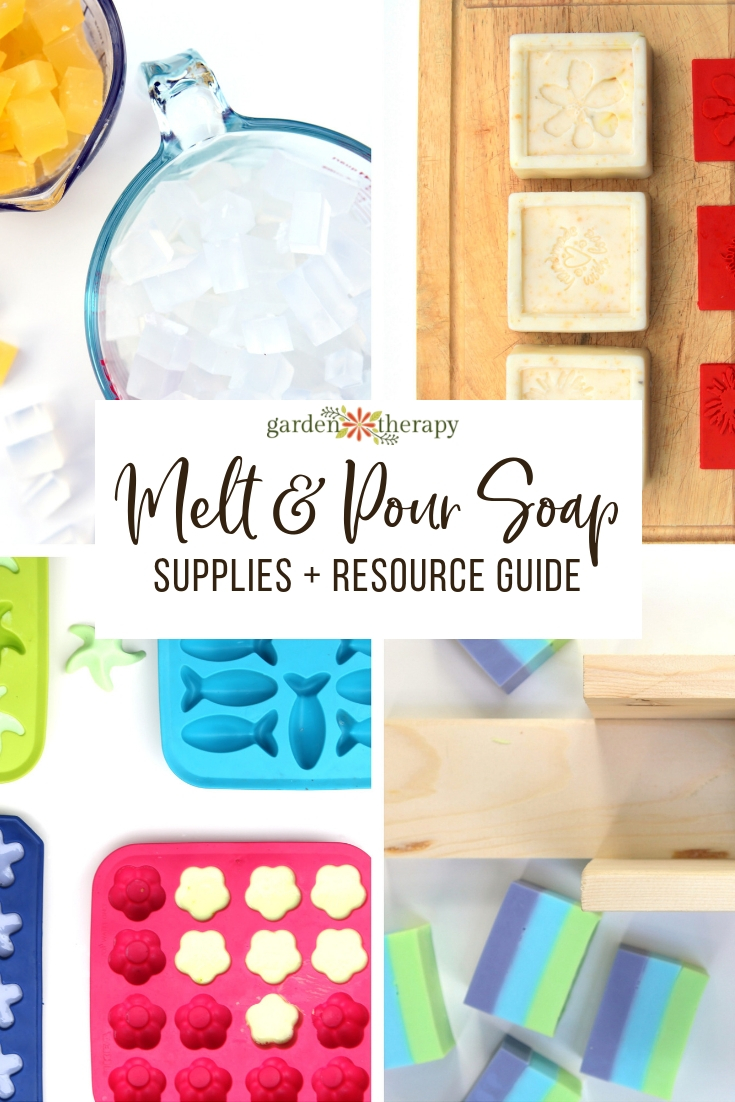 If you don't yet have a copy of Good Clean Fun, what are you waiting for?! It's a whole lot of inspiration and ideas for making perfect looking melt and pour soap projects with ease. Read more about Good Clean Fun here and grab your copy today!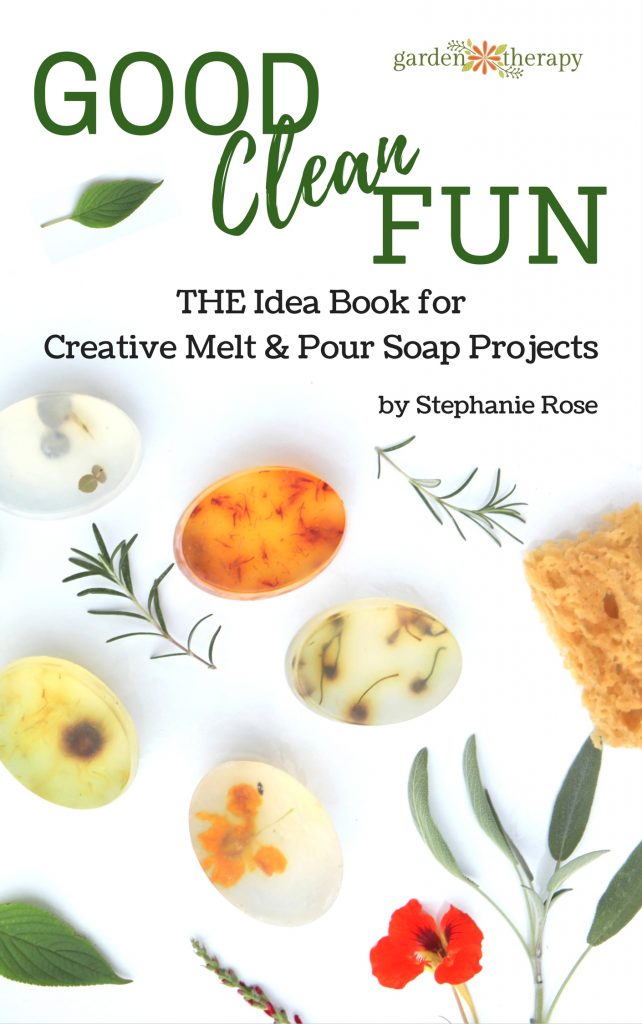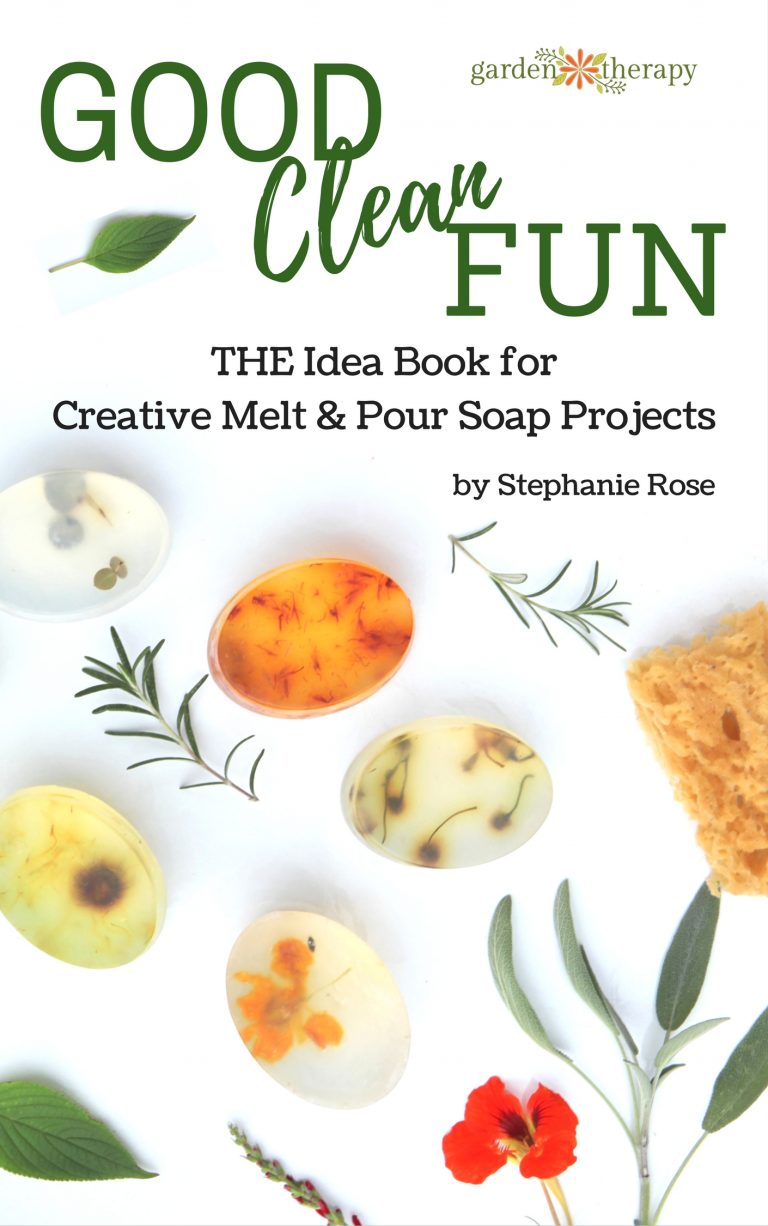 Melt and Pour Soap Supplies and Resource Guide
Melt and Pour Soap Base
There are a wide variety of soap bases, some scented, some unscented, some clear, some white, but they can all be split into two main categories: opaque and clear.
Opaque soap bases will give you solid-colored soaps that are not translucent. The base will be white or off-white. Here are some good opaque bases:
Clear soap bases are translucent. Clear soap bases are best to use for projects that add decorative imbeds that you want to be able to see through the soap. To get a truly clear soap, there are not many options without chemicals. There is an option for SLES & SLS free soap which can be used in the recipes calling for clear soap base. Here are some clear bases:
Color
Here is a list of natural pigments to try:
And here are some soap dyes
Essential Oils
The best way to get started with essential oils is to purchase a starter pack and start using them. You will quickly learn which scents you love and which you don't.
More Essential Oils:
Isopropyl Alcohol
Isopropyl alcohol is very handy to have when making melt and pour soap. Keep some in a small spray-top bottle while making soap projects as it will be noted in some of the recipes.
Botanicals
You can choose botanicals from your garden or pick up some online.
Equipment
To start making melt and pour soap projects, you will need a few pieces of equipment. Many of these are commonly available in your kitchen. The other, more specialized equipment can be easy to find in craft stores and online.
Soap Molds
You can use any silicone or hard mold you like for melt and pour soap. Here are some that are used in the book and a few others I love:
Metal molds such as cupcake and cake pans as well as hard plastic soap and candy molds can also be used but they can be difficult to remove the soap from. Tip: Shrink soap by placing it in the freezer and it will release from the mold more easily.
Soap Making Accessories
There is a DIY Soap Cutting Guide Box in the Projects chapters of Good Clean Fun. If you would like to purchase one instead you can look at these:
Soap Stamps / Embossing
Soap stamps and rubber embossing plates can add a lot of personality to the projects. I love these ones:
That's it! Whew! With all of these supplies, you are sure to have some Good Clean Fun in your future. Have fun out there.