Floral and citrusy, this lavender lemonade recipe was made for sipping on a hot summer's evening. Easy to make with natural ingredients, harvest some of your lavender and enjoy this cool and tasty beverage. You deserve it!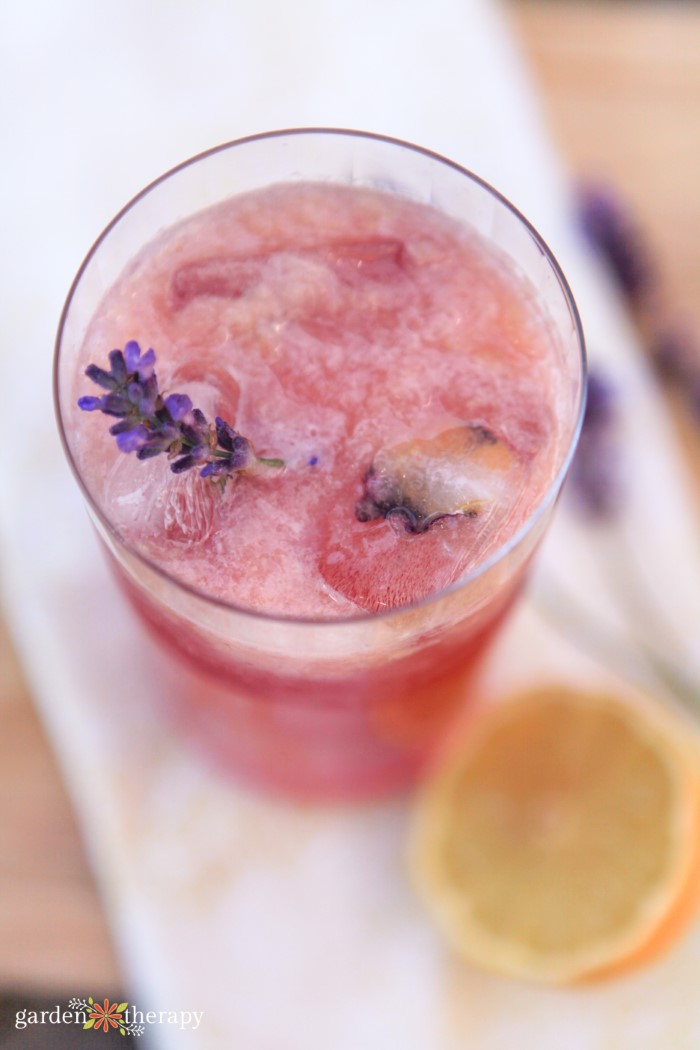 The Lavender Drink Craze
Every little café I pass is advertising lavender lattes or teas on their little chalkboards. And about half the time, I feel compelled to stop and grab one!
I've been enjoying lavender for years in my cooking, adding it from my baking all the way to my cocktails. Not only does lavender smell amazing, but it has a light botanical flavour that I just can't get enough of. It's sweet yet contains notes of citrus and lemon. Perfect for lemonade!
While many places include lavender in their hot drinks, fewer add it to their cold drinks. A summertime flower, lavender fits in a sunny afternoon just as good as it does a cool winter day…if not better!
This lavender lemonade recipe is tart and refreshing, and uniquely lavender. People may shy away from the idea of drinking a flower but the drink delights everyone. If you're not huge on floral taste, this may be the ideal drink to get you introduced to some floral notes. After all, who doesn't love a refreshing glass of lemonade?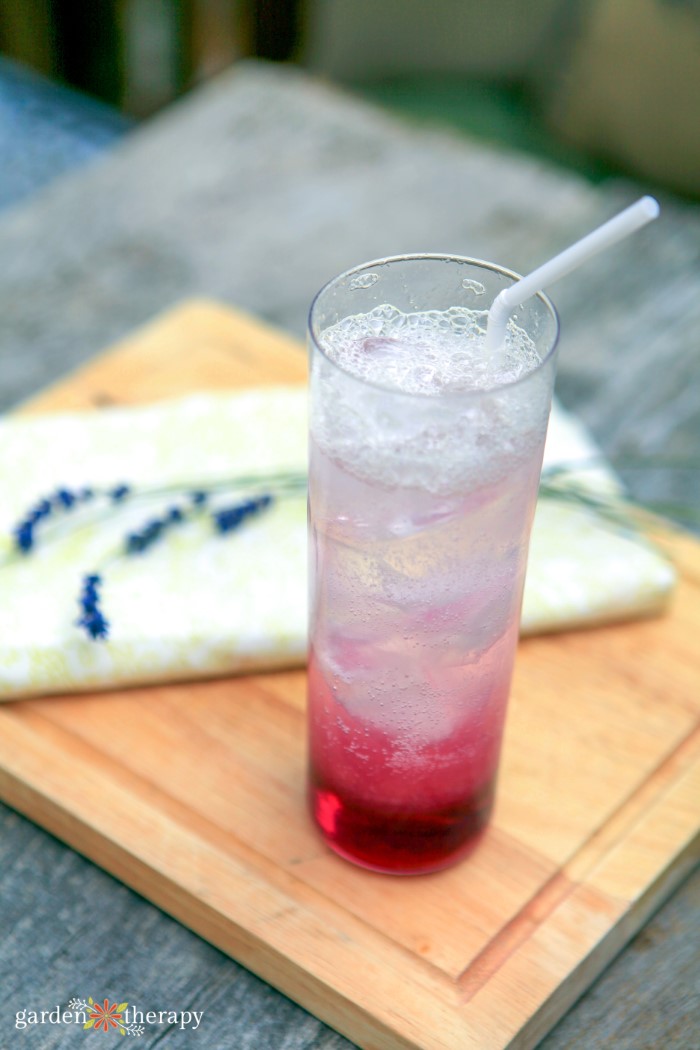 Lavender Lemonade Benefits
Many adore lavender in the world of aromatherapy. Known to promote relaxation, inhaling the scent of lavender can decrease stress and even help with headaches. It works as an anti-inflammatory, antidepressant, and sedative.
While the scent is well known for being gentle and powerful, ingesting lavender also reaps similar benefits. Whether you're smelling or tasting it, the oil in lavender is where the power lies.
After drinking this tasty beverage, you may notice the benefits of lavender. Maybe you'll feel relaxed from enjoying a drink after a hard day of gardening. Perhaps the sun will make you feel sleepy. And just maybe, it's the lavender kicking in!
Regardless of whether or not it's a placebo effect, at least you're feeling relaxed and enjoying a nice drink.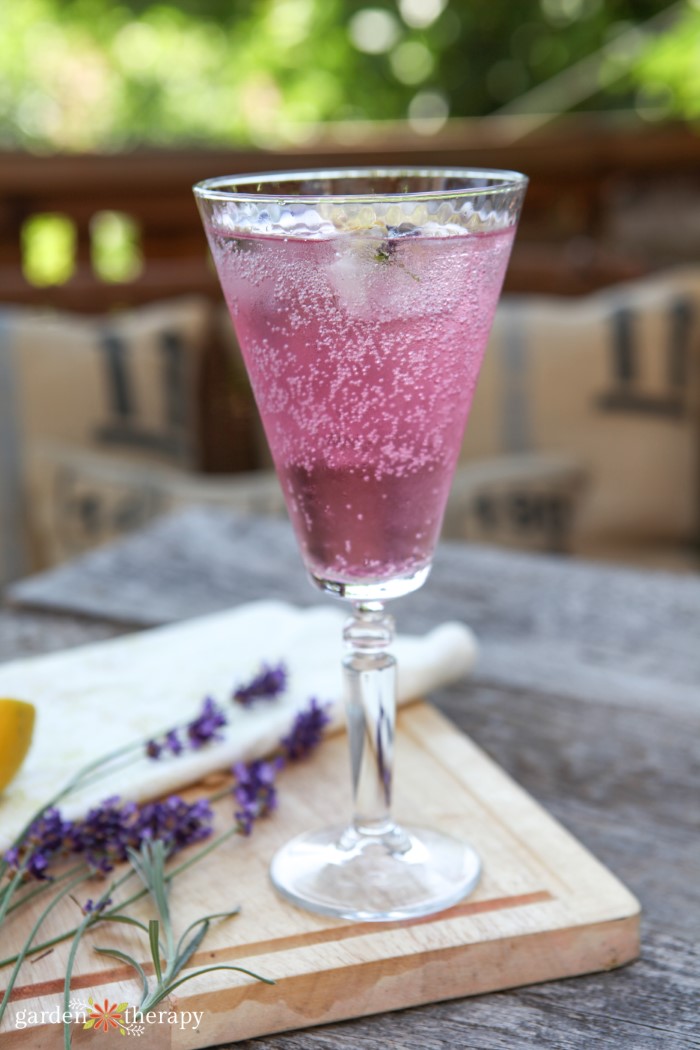 How to Harvest Lavender for Eating
For this lemonade recipe, you can either grow your own or order culinary lavender. Since I grow basically unlimited lavender thanks to propagation in my garden to enjoy and use for its aromatherapy benefits, I always have a ton on hand to add to my cooking.
English Lavender is the most common type of lavender used for edible purposes because it has such a sweet smell and taste. You want to harvest the lavender when the buds have formed but are not open. They will fall off easier and also retain fragrance, colour, and oils for longer.
While you can use fresh lavender, the potency actually increases as it dries. Tie bundles of cut lavender and hang them in a warm, dry spot out of the sun. After a couple of weeks, you can easily remove the buds.
Store your lavender in a glass container with a tight lid. It should be good for one year, but you'll likely enjoy this lemonade with lavender so much that you'll be out of your stash in no time.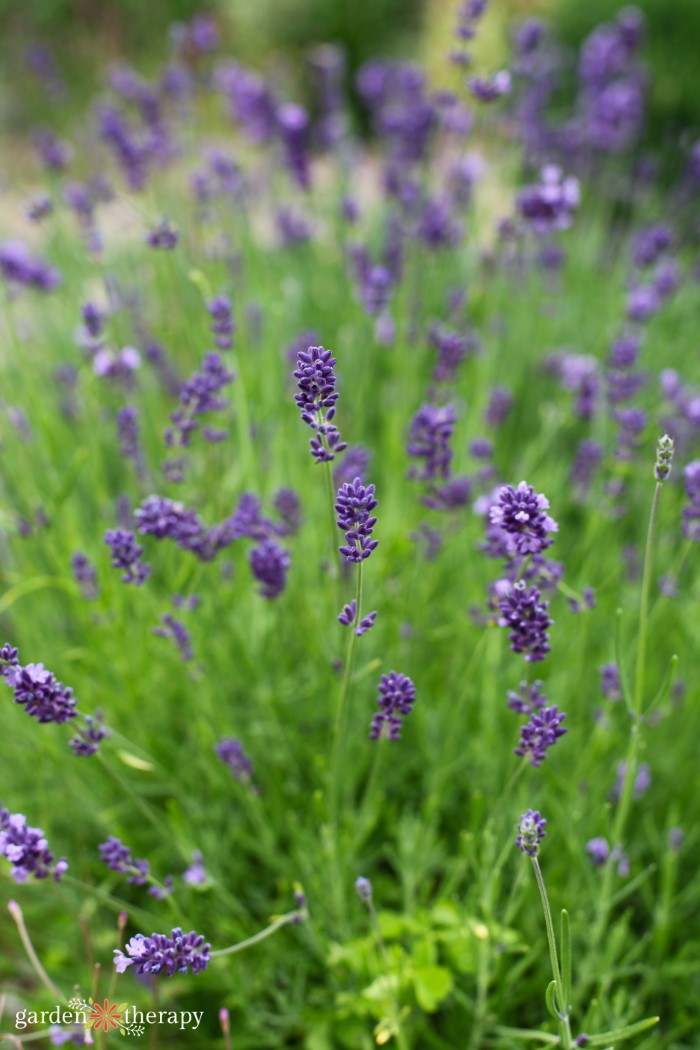 Lavender Lemonade Recipe
Now that you know all about why you need to make this yummy beverage, let's break down how to actually do it!
Ingredients
See the recipe card below for full measurements.
Make It!
Before you get started making this lemonade with lavender, you will want to cook some lavender syrup. Head over to this post about how to make lavender syrup to learn how to make it so the syrup retains that beautiful purple colour.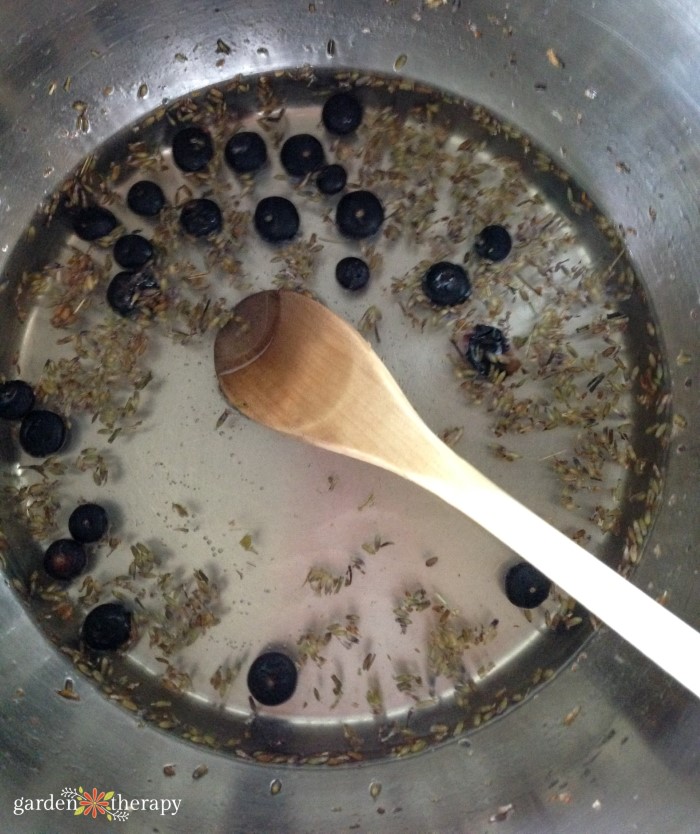 Now, you simply mix your soda, lemon juice, and lavender syrup together. Serve the beverage over ice for maximum freshness. Feel free to decorate with a sprig of lavender.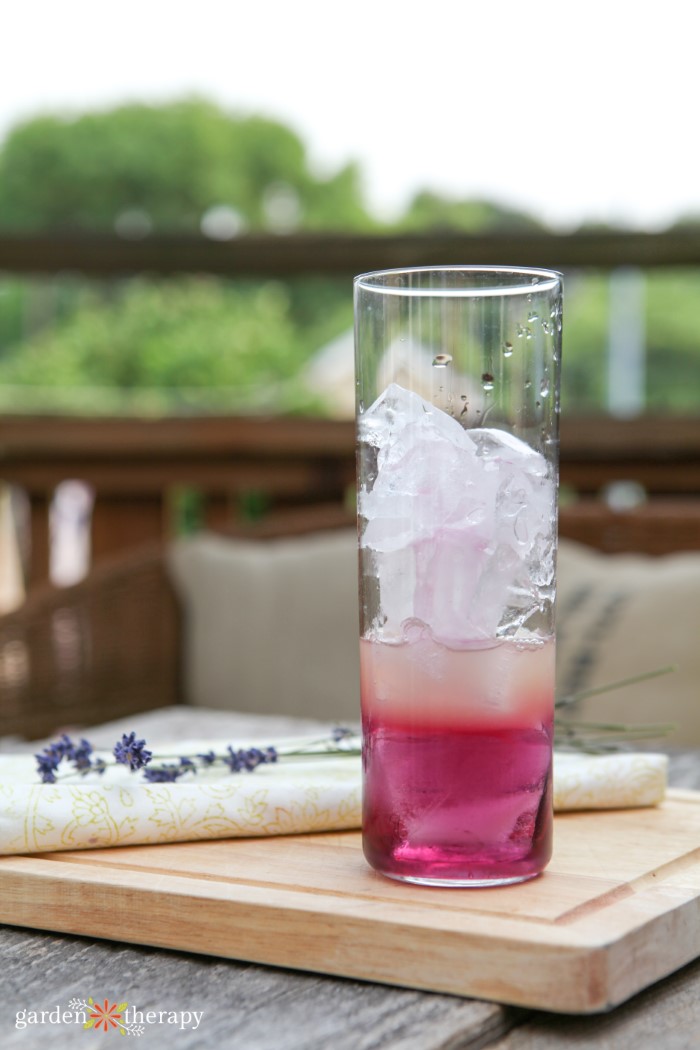 Lavender Lemonade Cocktail
Lavender lemonade also makes for a delicious summertime cocktail. Personally, I love to make a lavender gin and tonic. The natural taste of juniper from the gin pairs exceptionally well with the floral lavender.
Simply add a splash of gin to your lavender lemonade. I recommend adding a lemon wedge too. Of course, feel free to add in your alcohol of choice for a heavenly cocktail calling your name.
Want to make your cocktail even more elevated? Add these stunning floral ice cubes. They are a showstopper!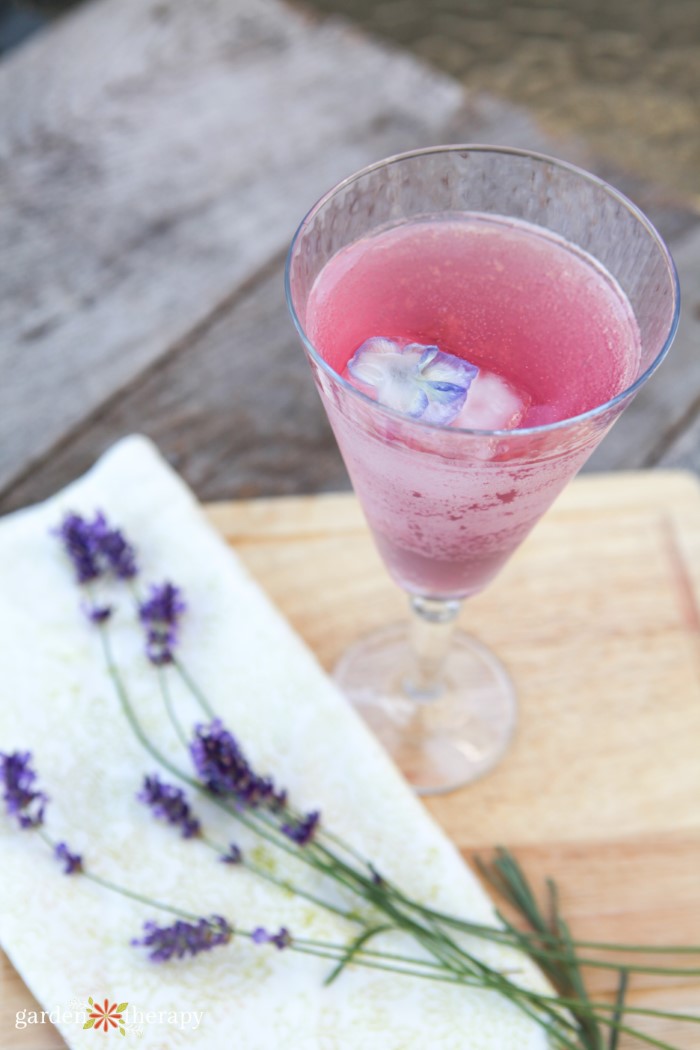 More Ways to Use Lavender:
Plus, get even more lavender inspiration here!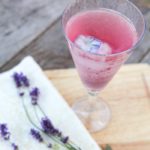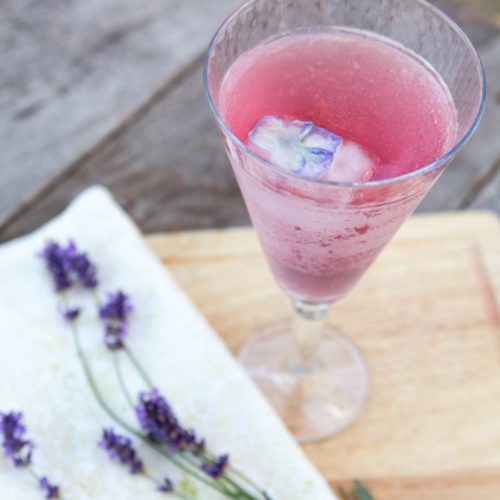 Print Recipe
Lavender Lemonade
With floral and citrusy notes, enjoy this delicious lemonade as is, or add a splash of gin for an elevated cocktail.
Instructions
Mix together your soda, lemon juice, and lavender syrup.

Pour over ice to instantly cool and create a refreshing drink.

Enjoy as is or add a splash of gin for a lavender lemonade gin and tonic.

Garnish with a sprig of lavender or a lemon wedge.
Nutrition
Serving:
1
cup
|
Calories:
50
kcal