Here's a floral treat you can enjoy and grow in your very own garden. Whether you want to sip a cocktail in the sun after a long day or are curling up inside with a hot cup of coffee, this lavender syrup recipe will delight your tastebuds in whatever drink you include it in.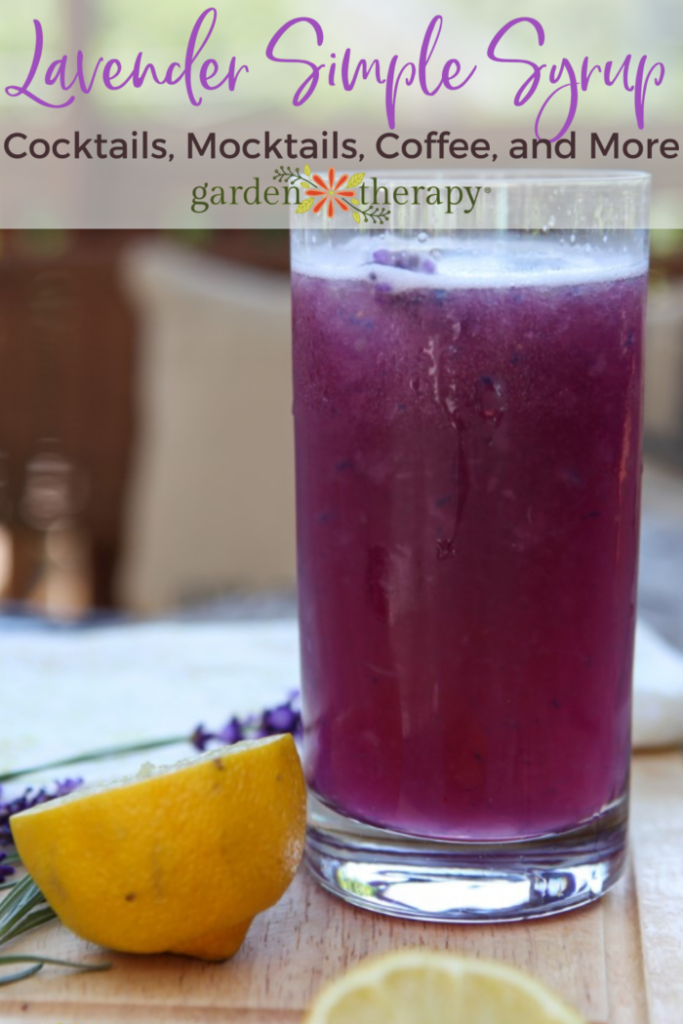 Lavender is known as one of the aromatherapy giants. Its pleasant aroma is packed into all sorts of beauty products, candles, and used to promote relaxation with its calming properties.
While lavender's many benefits are why it is one of my favourite herbs, it's also a fun and cheery flower to use for culinary purposes!
I don't know why, but culinary lavender is not for everyone. I suppose some people don't care for the sweet floral perfume of lavender while others (like me!) can't get enough of this heavenly treat. This lavender syrup recipe is sure to be the uniting thread that brings both camps to an agreement. It's delicious! Even the naysayers agree.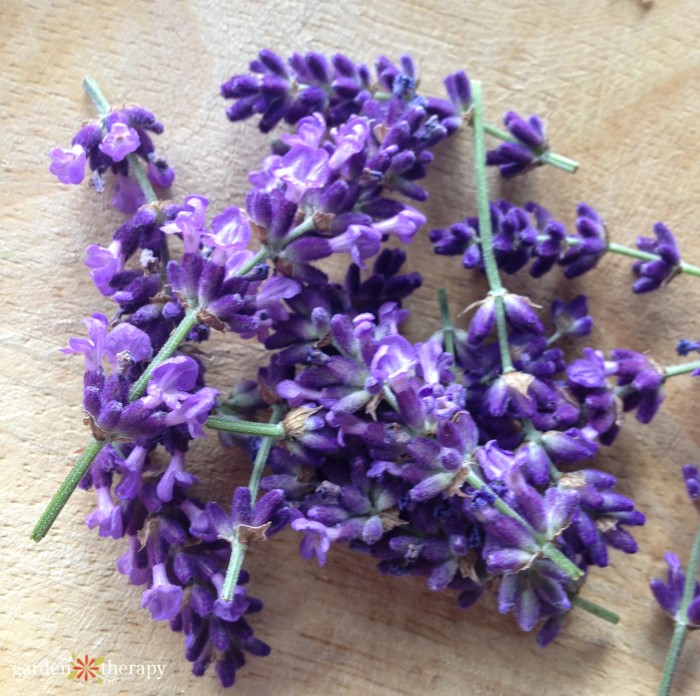 Blueberry Lavender Syrup
Many people are disappointed when they make lavender simple syrup at home because it usually comes out with a rather unattractive brown colour instead of a vivid lavender shade. You have to admit, that isn't exactly appetizing! However, I've found a way to give the syrup a beautiful purple colour without having to add anything artificial (I'm talking about you, food colouring).
My secret? Blueberries!
Just adding a few blueberries to the mix creates a gorgeous colour without overshadowing the delicate floral flavor of the lavender. You can certainly make this syrup without the blueberries if you like, but as I firmly believe that we eat with our eyes first and enjoy food more if it's attractive. I like to add a little colour!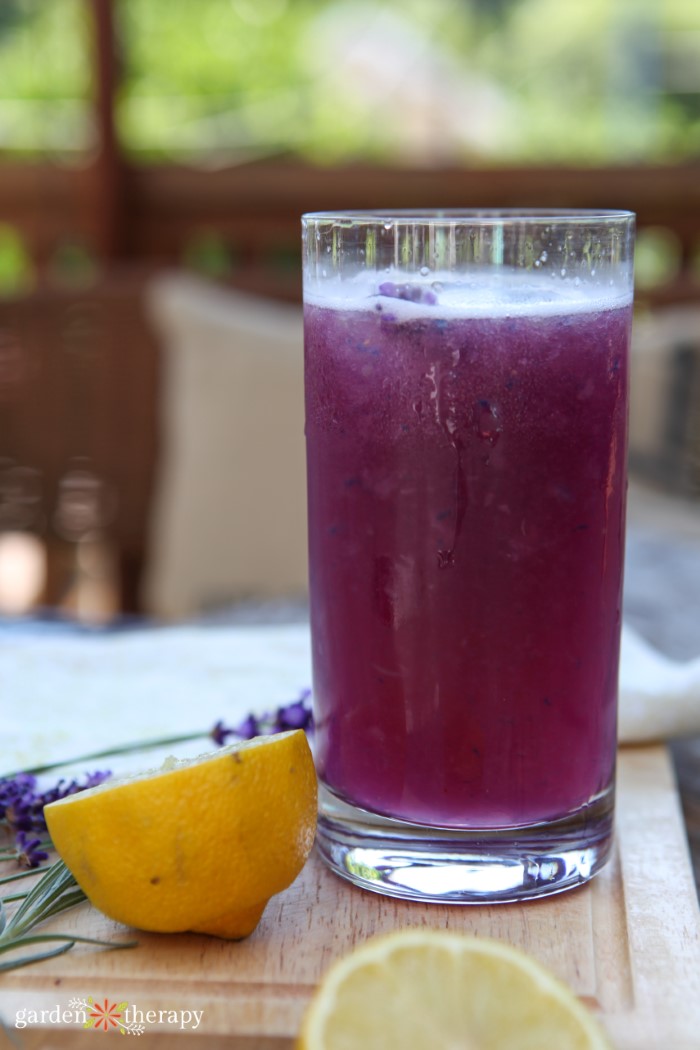 Lavender Syrup Uses
There are so many ways to use this lovely syrup. I've enjoyed experimenting with its delicate floral flavour, and tend to enjoy it most in beverages. However, you can easily also use this syrup in baking, too!
Lavender Cocktails
You can use this lavender simple syrup to sweeten a cocktail or mocktail. The resulting beverage always looks as beautiful as it is tasty. Particularly when garnished with these edible flower ice cubes!
Beautiful isn't it? On a warm summer day, a cool and pretty lavender drink really hits the spot.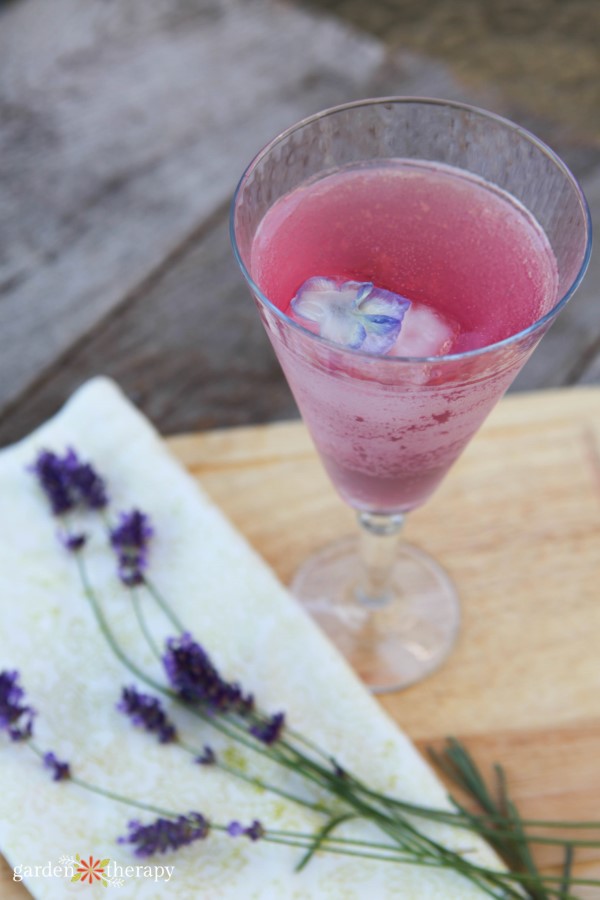 Lavender Syrup for Coffee
Have you heard? Lavender coffee is the latest trend! If you feel like having a warm drink on a cold day, try this lavender syrup for coffee instead of your usual. The result is a calming, floral cup of Joe that is sure to awaken the taste buds.
I like to enjoy this lavender syrup in a latte form. Add the lavender syrup to your coffee and froth some milk. If you're feeling extra fancy or want a very Instagramable latte, sprinkle dried lavender buds on top of your frothy milk.
Other Uses for Lavender Syrup
Jazz up some iced tea (try it with this hibiscus iced tea for extra flavour) or enjoy it in a glass of lemonade
Pour a little into your favorite sparkling water
Use it instead of pancake or waffle syrup
Add it to your favorite baked goods
Drizzle some over ice cream
Mix it with some warm milk
How to Make Lavender Syrup
Here's how to make your own lavender simple syrup for cocktails, iced tea, lemonade, or to mix with soda for a refreshing summer drink.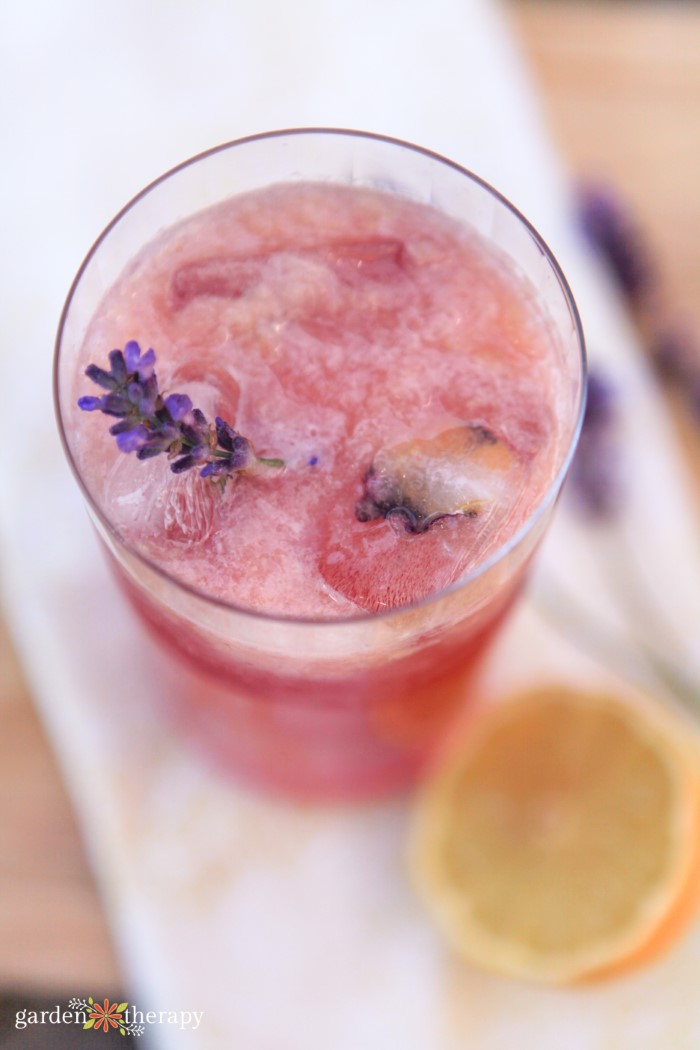 Ingredients
Makes 4 cups. See the recipe card below for full measurements.
Make it!
Combine all your ingredients in a saucepan and bring it to a boil. Stir continuously to get all the sugar dissolved.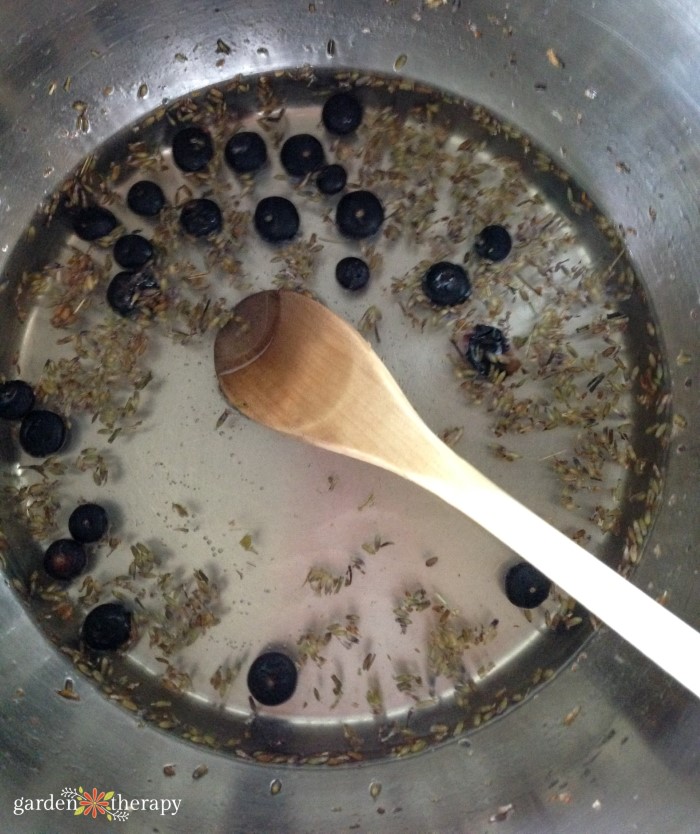 After it reaches a boil, bring your heat down to low and let it simmer for 10 more minutes. Once it is done simmering, remove from heat and let your mixture cool.
Use a strainer to help remove all the lavender buds and blueberries. I like to strain a second time using a strainer lined with a coffee filter to help remove any smaller particles.
How to Store Homemade Lavender Simple Syrup
I store my syrup in a vinegar or olive oil bottle, using a funnel so I don't waste a single drop.
The syrup should be stored in the fridge and be used within 3 weeks.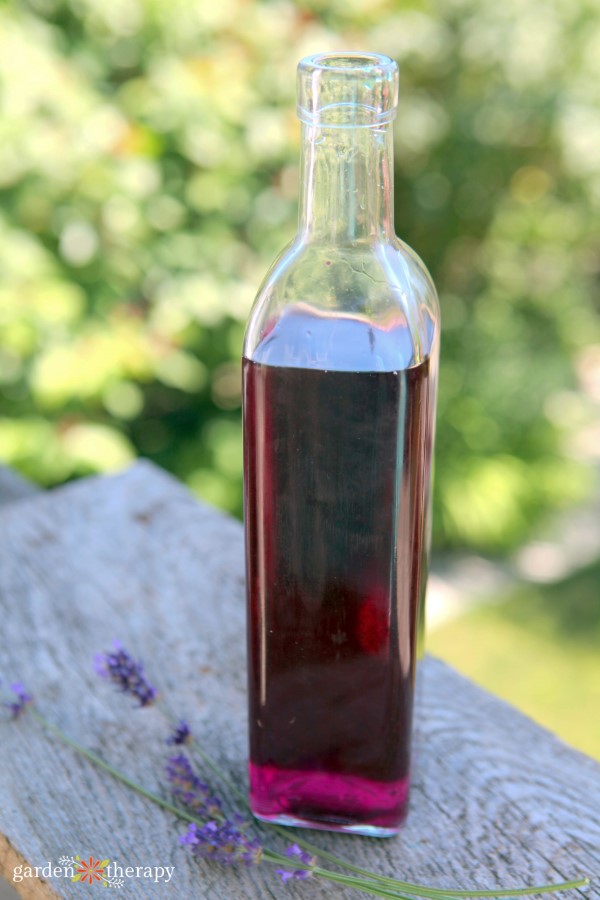 More Recipes to Try: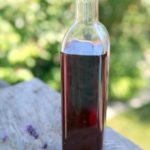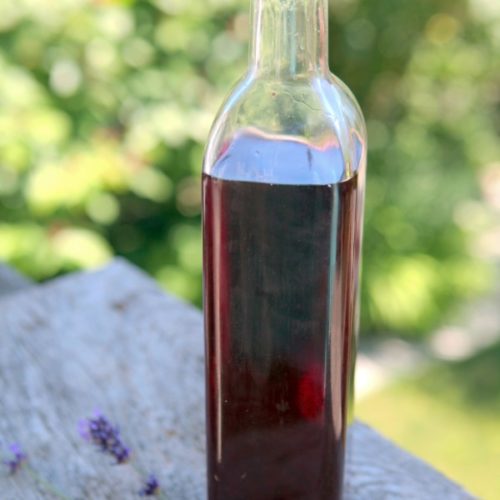 Print Recipe
Lavender Simple Syrup Recipe
Use this lavender syrup in cocktails, mocktails, iced tea, lemonade, and even coffee!
Ingredients
2

cups

sugar

2

cups

water

2

tbsp

lavender

(grow your own or buy culinary lavender)

A few blueberries

(optional for additional colour)
Instructions
Add all of the ingredients to a saucepan and bring to a boil while stirring to dissolve the sugar.

Turn down the heat to low and let simmer for another 10 minutes.

Turn off the heat and allow the syrup to cool.

Once cool, strain the lavender buds and blueberries, then pour through a coffee-filter-lined strainer to remove any particles.

Pour into a vinegar bottle using a funnel and store in the refrigerator for up to 3 weeks.
Nutrition
Serving:
1
oz
|
Calories:
50
kcal