This lemon balm cleaner will not only fill the air with a calming, citrusy scent but also work hard to disinfect counters, sinks, tubs, toilets, and other surfaces. Make your own cleaning concentrate using this powerful herb without bringing harsh and nasty chemicals to your home. Here's how to make your own DIY cleaning spray!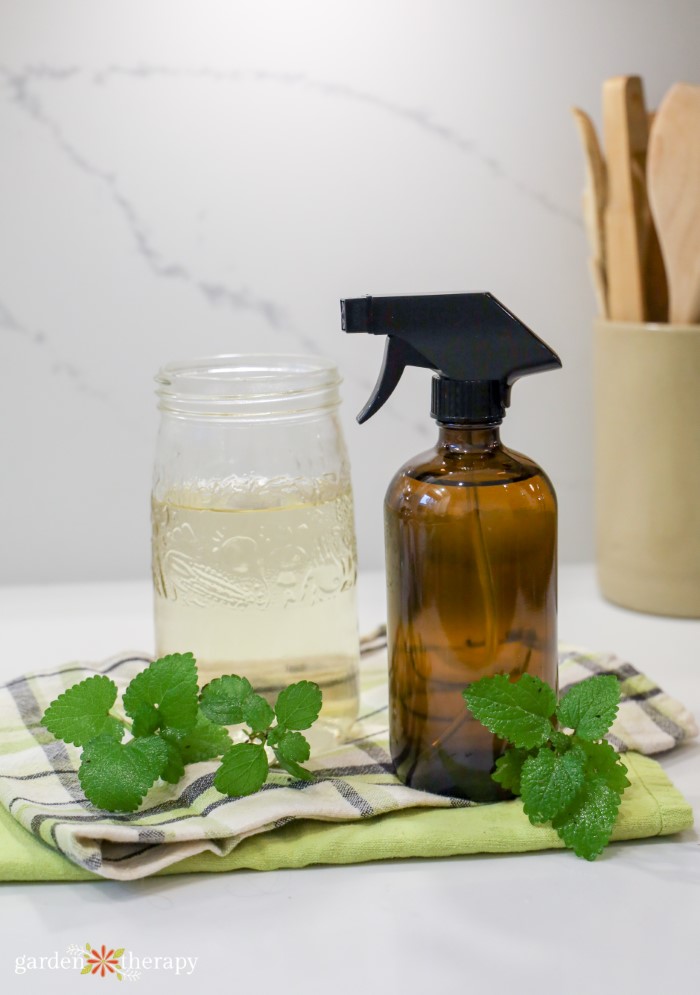 Thanks to my recent move, I suddenly have to work a little bit harder to get the materials I once took for granted in abundance in my garden. Lemon balm is one of those very things!
This herb is so prolific, many even consider it a weed. I had no short supply of it in my old garden, harvesting it by the handfuls just to keep it in check.
With the lemon balm, I often make my own all-purpose cleaner. It's a powerful little herb, and since I always had so much of it, I would constantly have a fresh batch of cleaner ready for use.
Now, I have to do a little bit of foraging. But luckily, the abundance and easy growth of the herb means I don't have to look too far to keep up with this steady supply of lemon balm in my life.
This bright and cheery herb will be a wonderful addition to your cleaning cabinet. It's simple to make, powerful to use, and 100% natural!
This post will cover…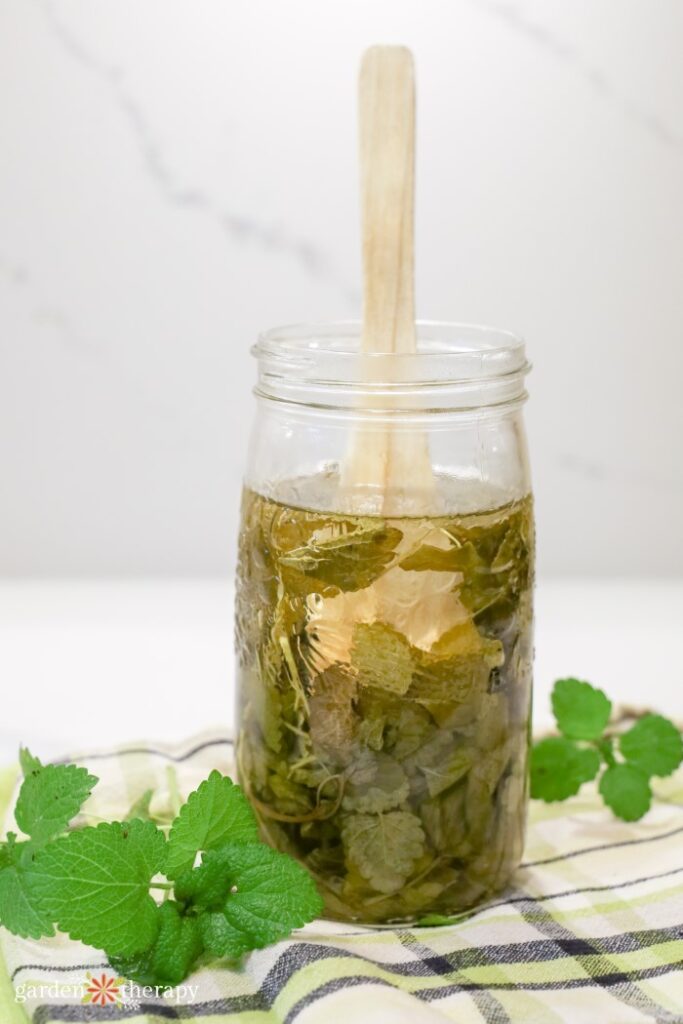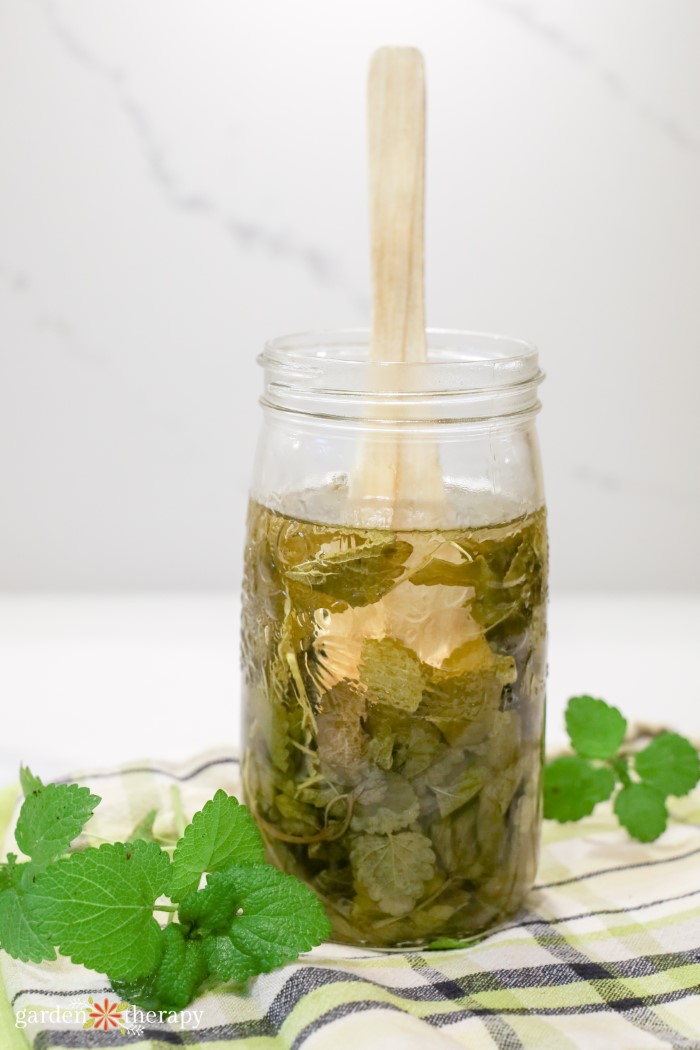 Lemon Balm Cleaning Benefits
Lemon balm is perhaps known most as a nervine. It's a calming herb meant to uplift moods and spirits while being good for those who suffer from anxiety. It's good for the nerves!
However, it's not a very common scent in aromatherapy because the essential oil is so expensive. But when you can get lemon balm in strong concentrations, it becomes a very powerful herb.
I'm most interested in lemon balm's antiviral, antifungal, and antibacterial properties. It's one of the reasons why I use it for cold sores.
These properties also make it an excellent all-purpose cleaner. I make this lemon balm concentrate pretty regularly, getting to enjoy both its cleansing properties and aromatherapy while I spray it.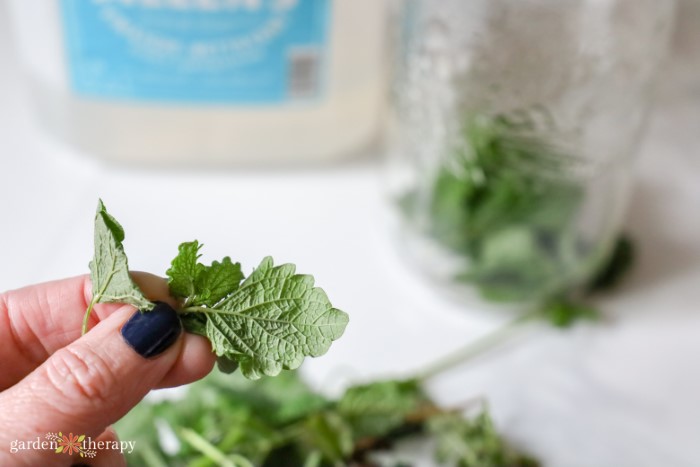 Harvesting Lemon Balm
Lemon balm is best harvested just before it begins flowering. This is when the plant's volatile oils are at their highest concentration.
Only harvest healthy-looking greens, cutting up to 1/3 of the plant.
Rinse the lemon balm and then dry it in a salad spinner. Lay the lemon balm out to dry and wilt for 24 hours. This allows the water to release and lets any lingering garden pests vacate the herb.
While you can use dry herbs (and I usually recommend dry), fresh is best for lemon balm. Lemon balm's properties are most effective when used fresh.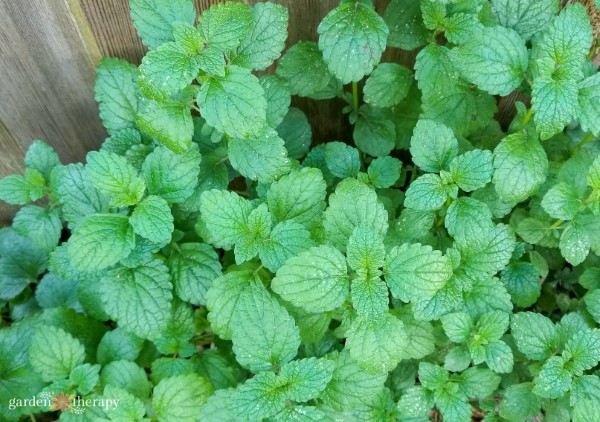 Infusing Lemon Balm
With your fresh lemon balm, pack a Mason jar full. I like to pack in as much lemon balm as possible. I also tend to use a smaller jar so I have a concentrated solution. You can imagine it will be very strong with the small jar and a high lemon balm ratio!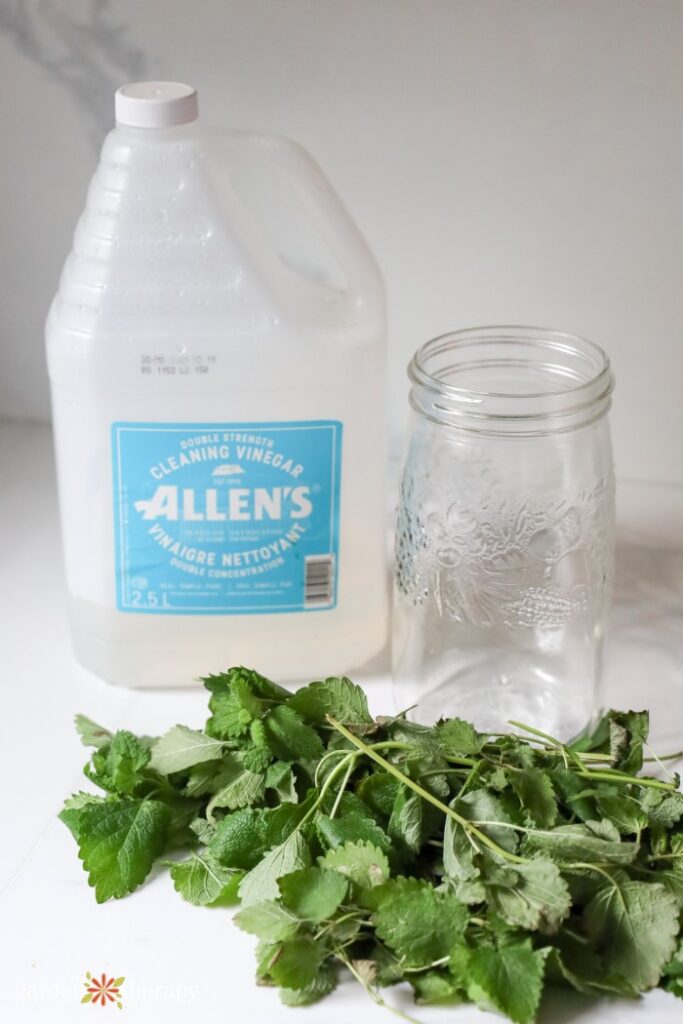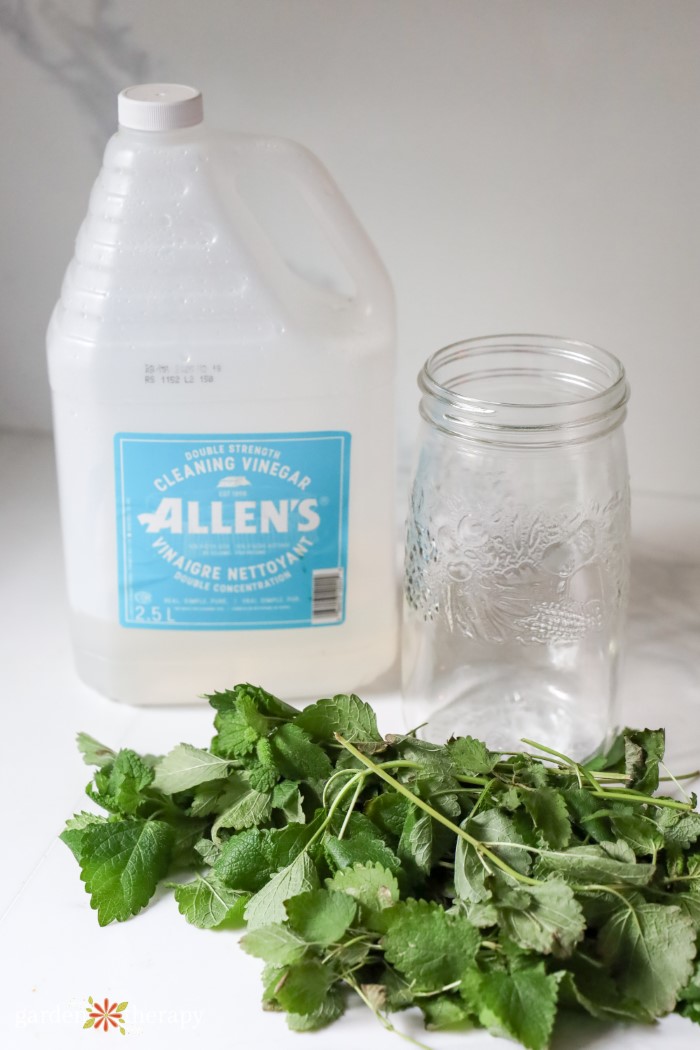 Then, I top off the lemon balm with vinegar, letting the vinegar fill in and around all the spaces. I use double-strength cleaning vinegar rather than your typical white vinegar (though that will also work).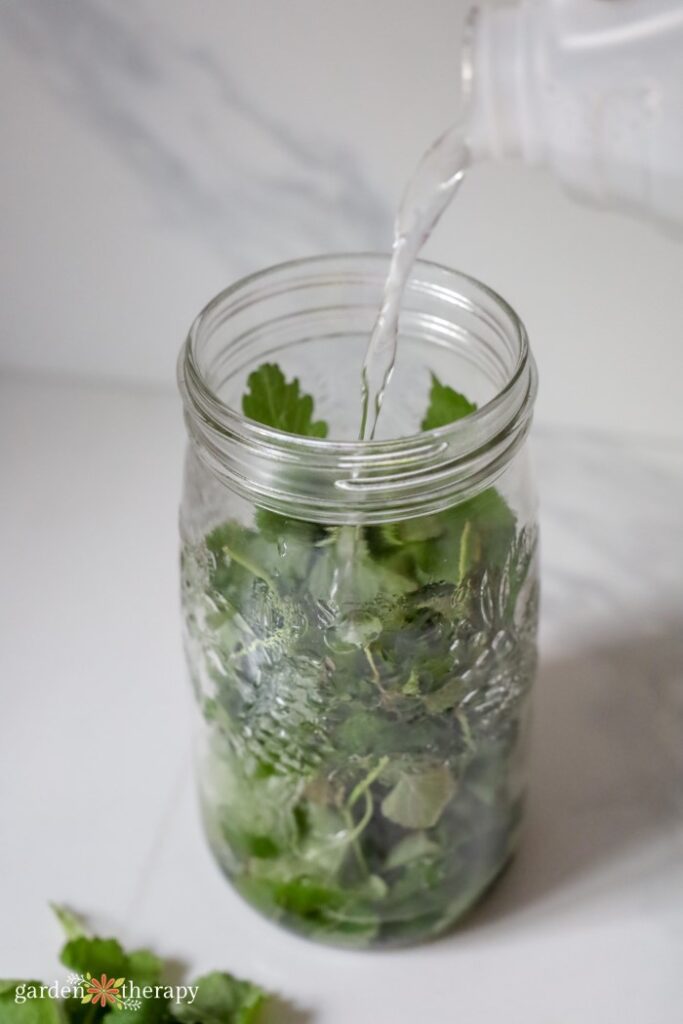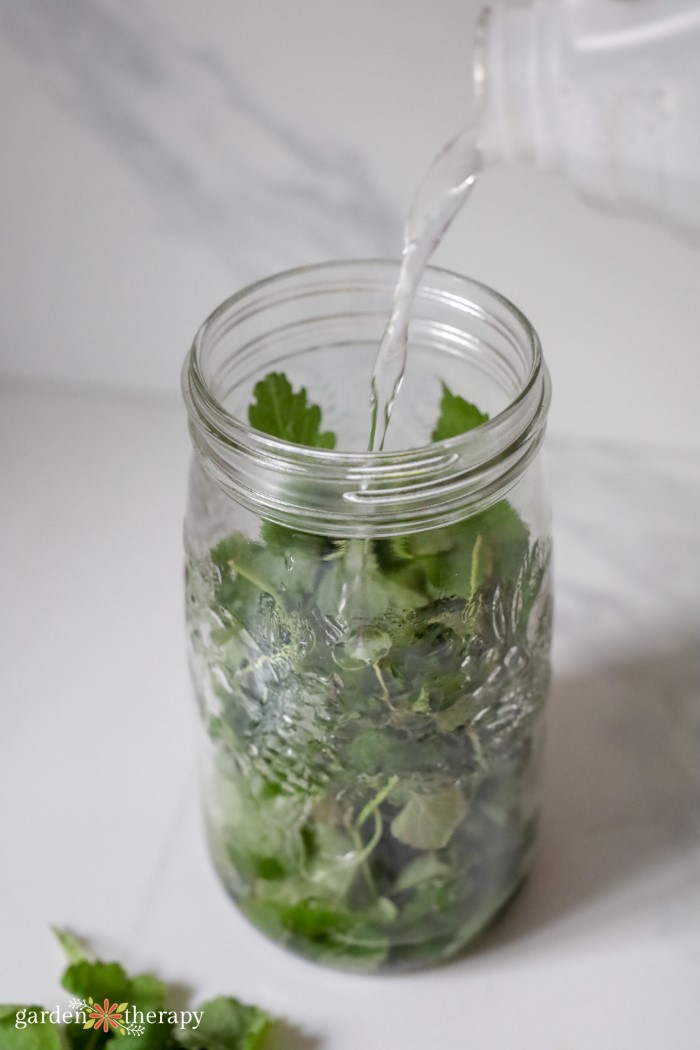 Let the mixture sit for two weeks. You want to let the vinegar infuse with all the wonderful properties and scent of the lemon balm.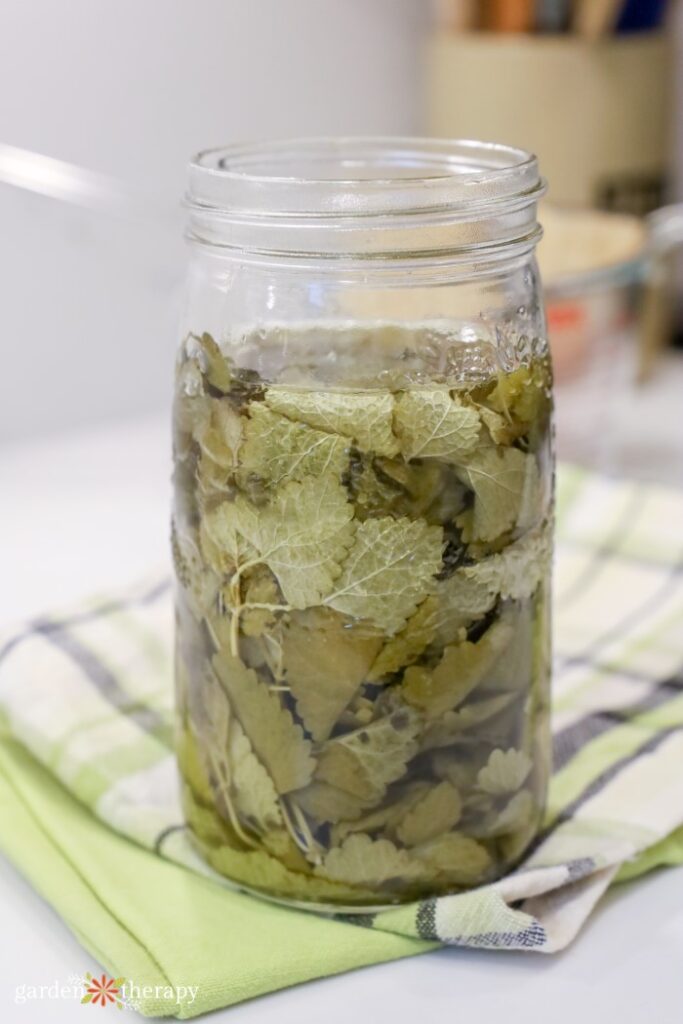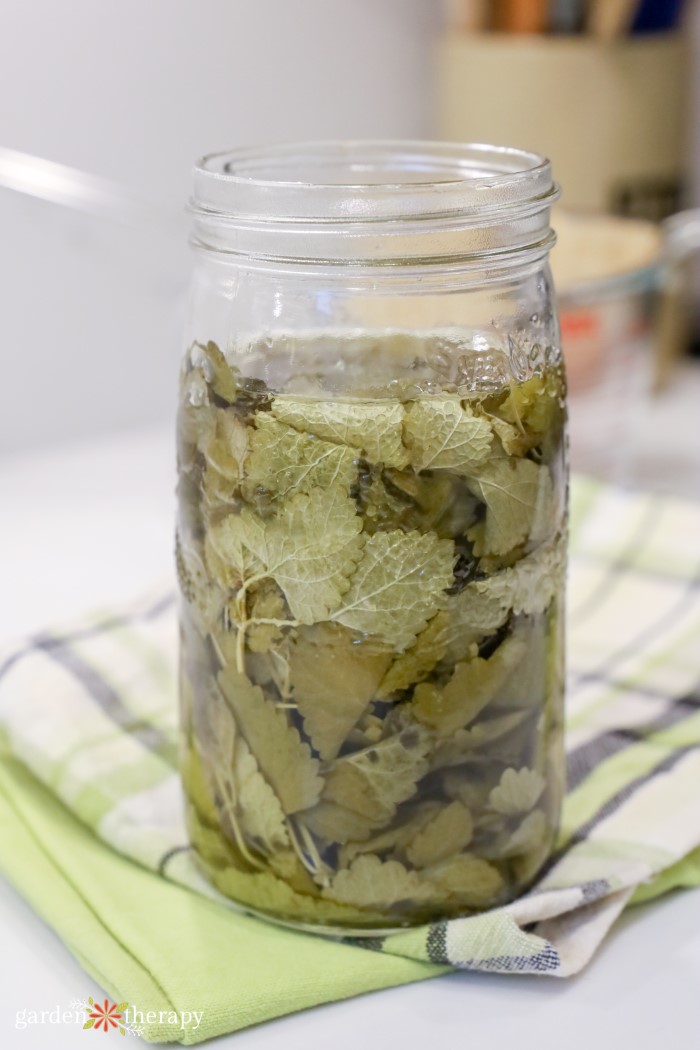 Make Your Cleaning Concentrate
After two weeks, strain out the lemon balm. I tend to do it twice to ensure there are no small bits. Otherwise, they can clog the spray bottle.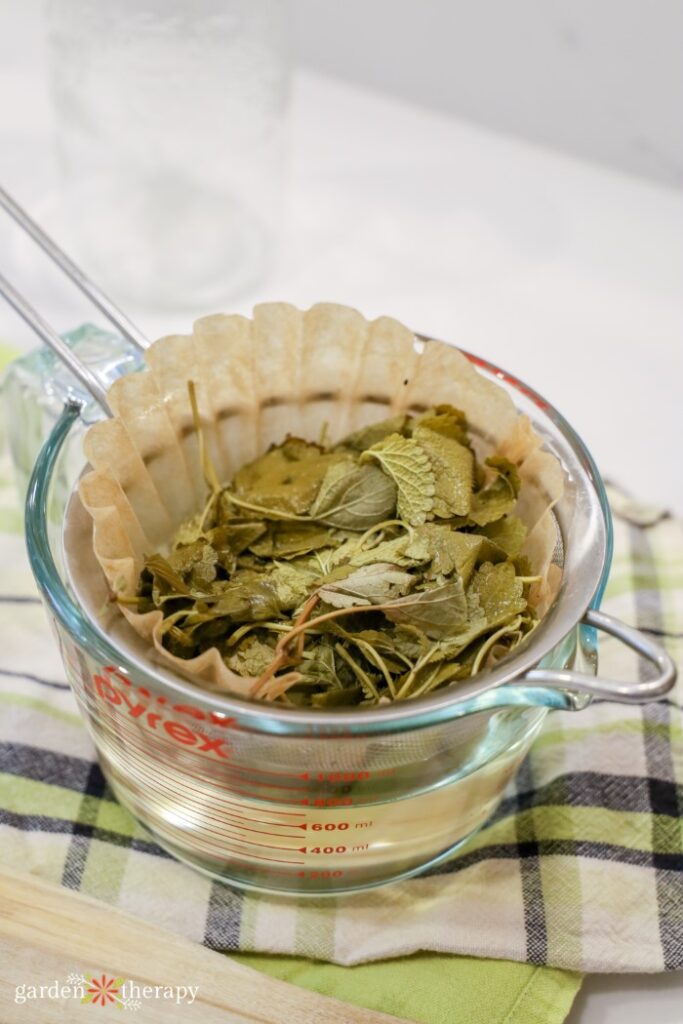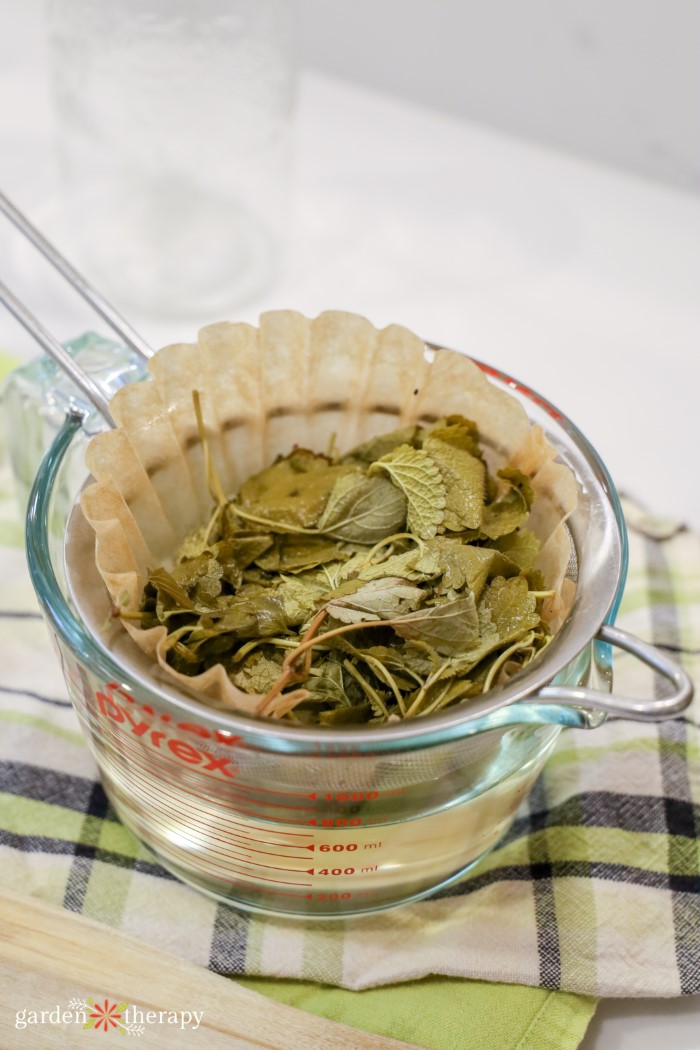 Put the concentrate in a spray bottle. Then, you can add water to dilute the concentration depending on how strong you want it to be.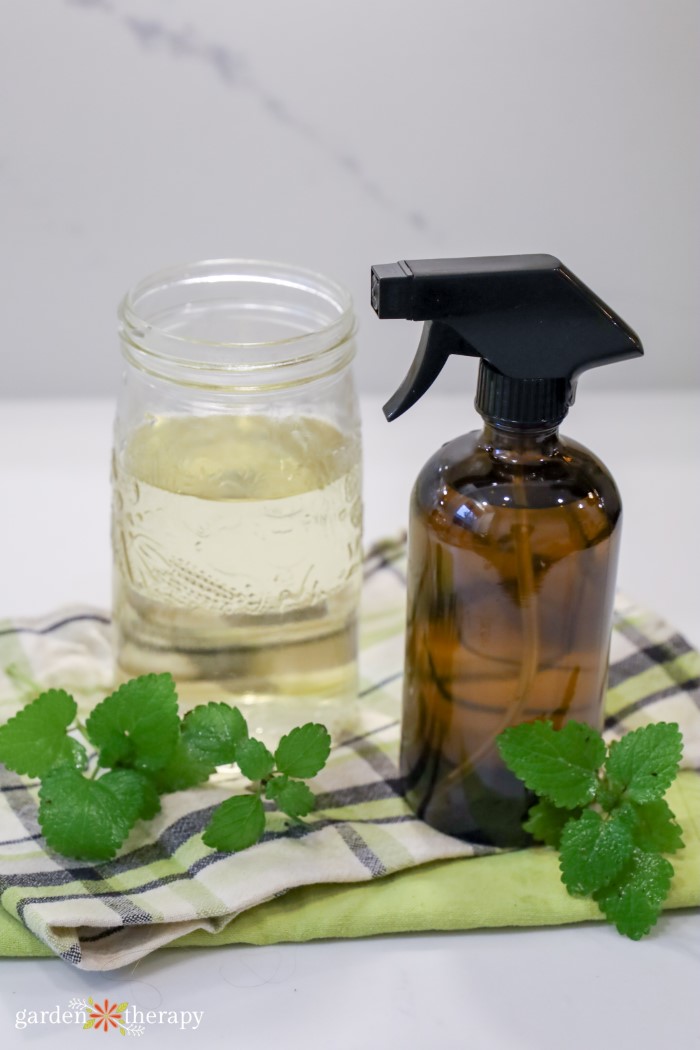 How to Use DIY Cleaning Spray
This method makes a concentrate, so you will want to dilute it before using it for cleaning. For counters and as an all-purpose cleaner, use it at quarter strength in a spray bottle with water.
You can use it a bit stronger with a 1:1 ratio of water and concentrate. This is good for heavy-duty cleanings like scrubbing bathtubs or toilets.
Use this cleaning spray within six weeks. Make smaller batches so you always have fresh lemon balm cleaner on hand.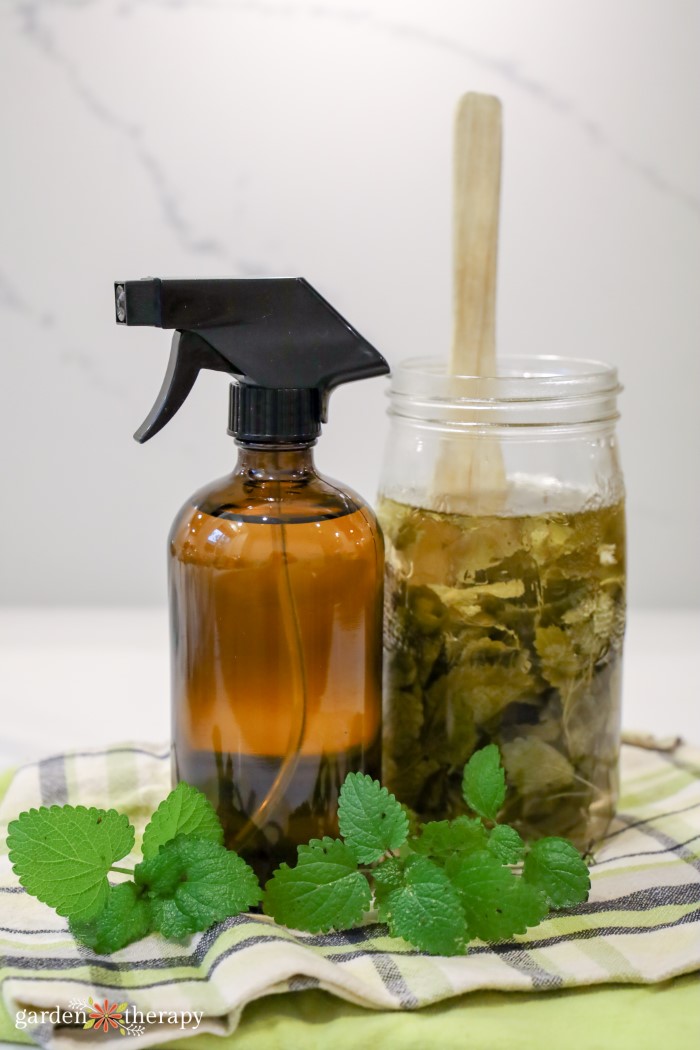 Frequently Asked Questions About DIY Cleaning Spray
Do DIY cleaners actually work?
Most DIY cleaners are made from a type of vinegar or alcohol, both of which are powerful disinfectants and cleansers. Inexpensive, clear-grain alcohol (such as vodka) is a gentler disinfectant. It can clean and disinfect but won't kill viruses.

Isopropyl alcohol is quite strong and typically used in medical and industrial applications, but it is safe in the home in small amounts.

Vinegar is my natural bleach alternative. The acetic acid is best used diluted, such as this cleaning spray recipe above, and works hard to eliminate scum and stains.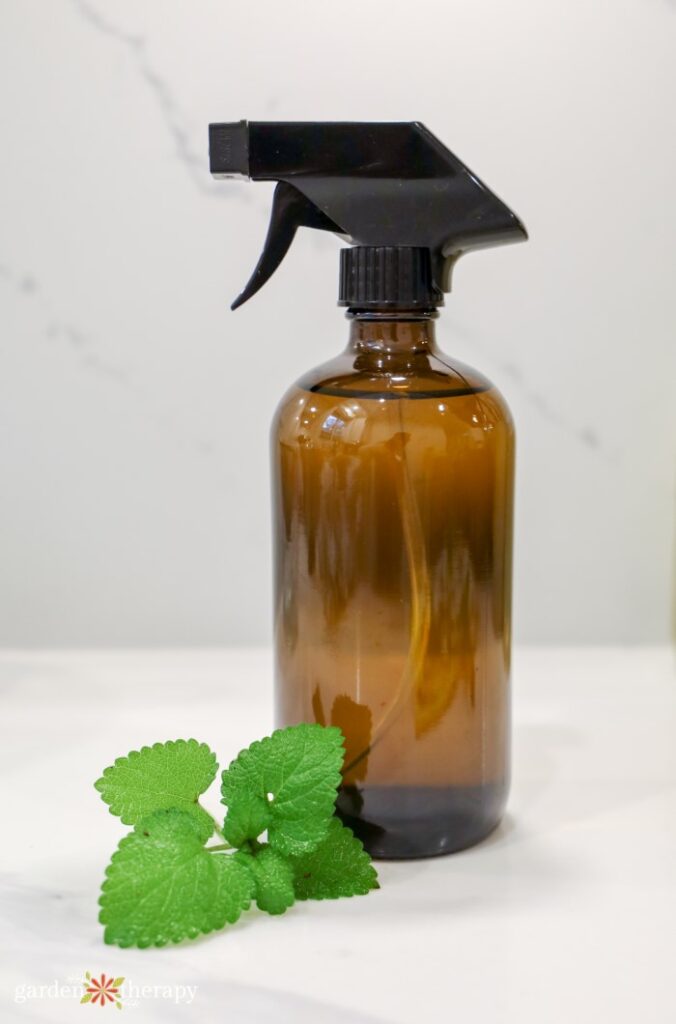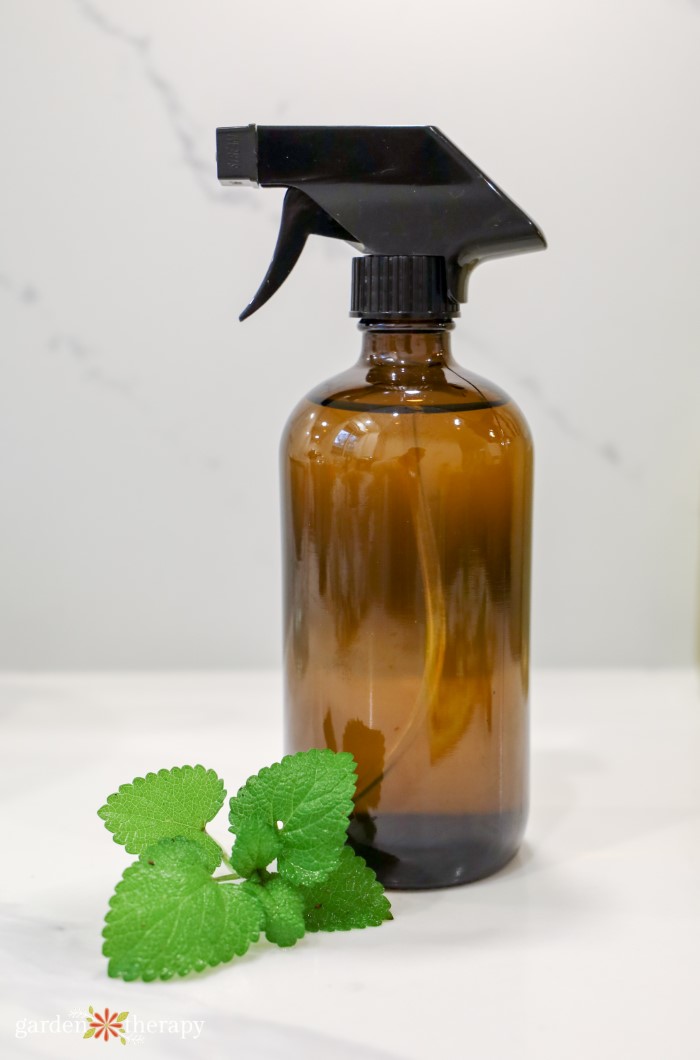 Let me know if you try this DIY cleaning spray! If you have any questions, feel free to leave them in the comments below.
Try These Other Natural Cleaners
Lemon Balm Cleaning Spray
Harness lemon balm's antibacterial properties in this natural cleaning spray.
Equipment
1 Cheesecloth, coffee filter, or fine mesh strainer
Instructions
Pack fresh lemon balm into a Mason jar. Fill the jar with cleaning vinegar. Let the mixture sit and infuse for two weeks.

After two weeks, strain the lemon balm. Do it twice or until there are no small bits that may clog the spray bottle.

Dilute the vinegar lemon balm concentrate with water. Use 1 part lemon balm vinegar and 4 parts water for an all-purpose cleaner. Use equal parts lemon balm vinegar and water for a strong cleanser for tough applications.