Packing up to move to a new home is never easy. Most people don't talk about the difficulty and emotions of moving a whole garden! Join me on my own journey moving my garden of more than ten years and all my tips for moving plants and packing up the backyard.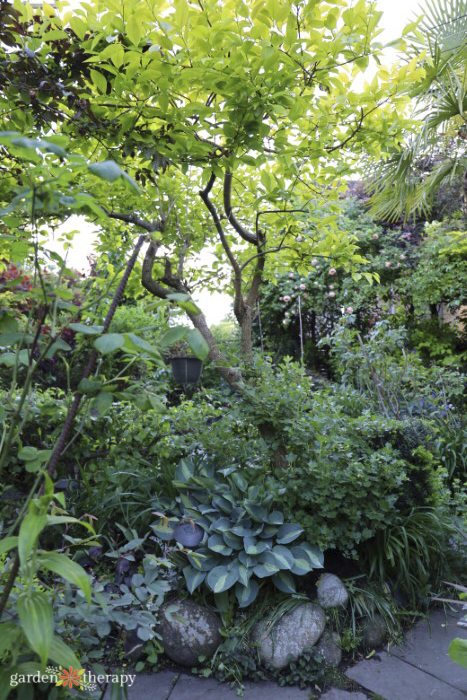 After a decade in my home, it's time to say goodbye to my current garden. While I've moved houses and transplanted a whole garden before, this move is much tougher for me. This is the first garden my kiddo has gotten to enjoy, and I've absolutely fallen in love with having a large garden space.
I took this video of my garden just a couple of months before I moved.
I didn't plan on leaving this garden. Sometimes life gets in the way, and we have to make do with our circumstances. So, after ten years, I set forth on packing up the home and moving plants to their new space.
I had to go through a lot of grief in this process. Many other gardeners have shared similar stories about how tough it was to say goodbye to their plants and the happy space they've known for years.
But always, the story ends with the joy of a fresh start and a brand new garden.
During my move, I documented everything I did (and wish I had done) when I started moving plants to the new home. When it's time to say goodbye to your own garden, hopefully, my experience can help make the process that much smoother for you.
This post will cover…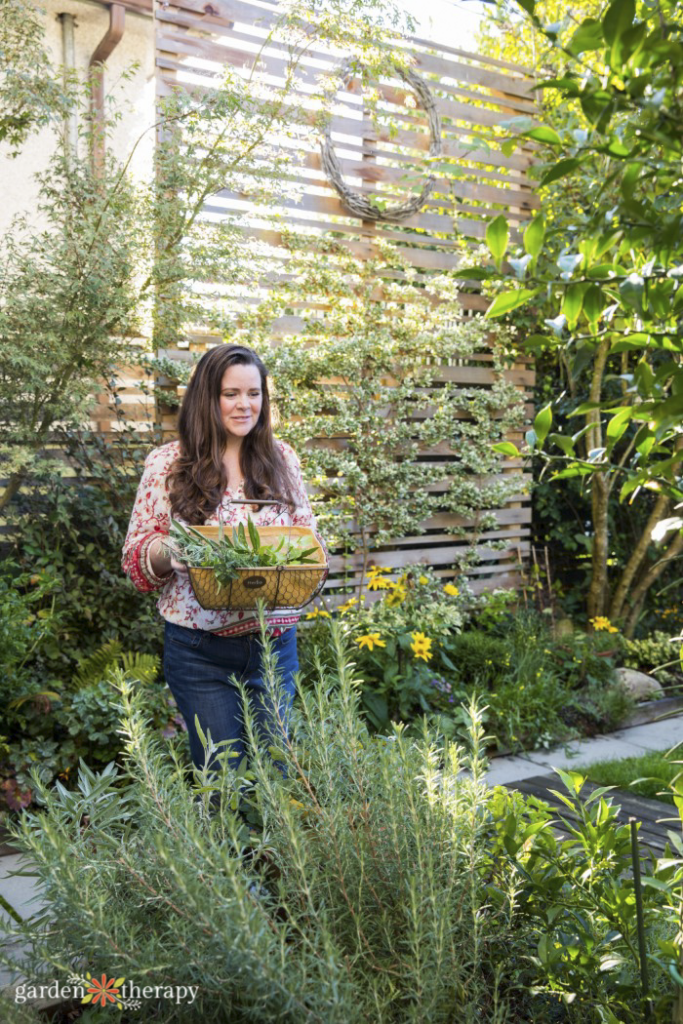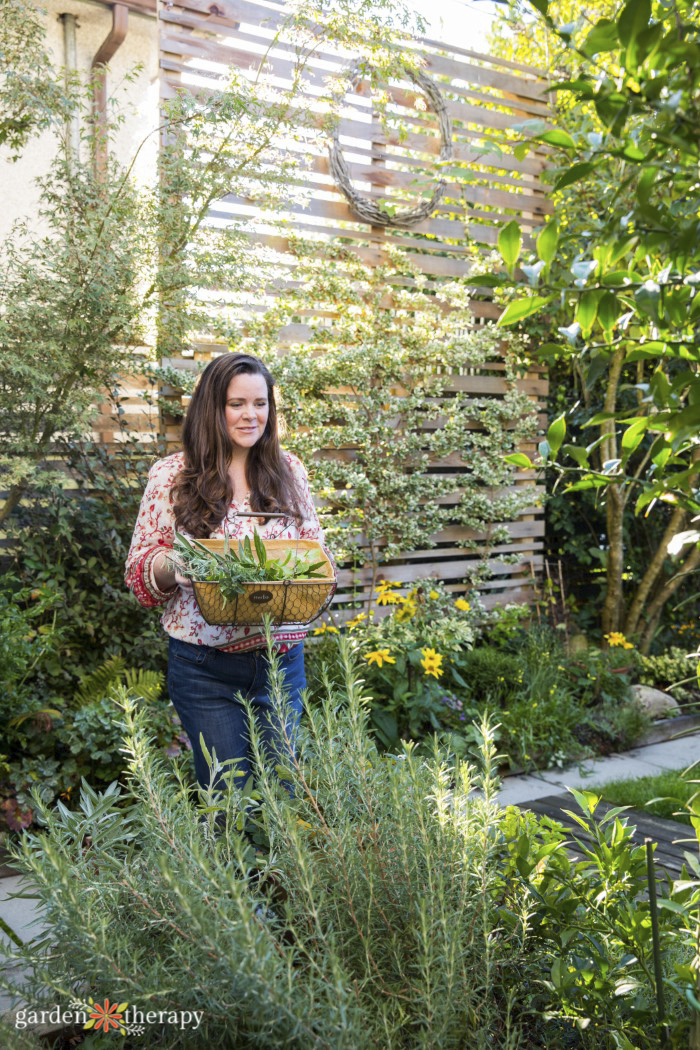 Do You Really Need That Plant?
The first time I moved my garden, I had a really hard time picturing leaving all my plants behind. I didn't want to lose all the hard work of my first garden! On my daily visits, my plants became friends, and I thought I would miss each and every one of them.
When it came time for transplanting the garden, I spent SO much time digging and dividing all the perennials. I also took cuttings to ensure I had every last flower, tree, shrub, and herb that I would want for my new garden. I potted up everything into 15 and 10-gallon nursery pots.
In my eyes, I would move them over like I had just purchased them at a garden centre, and then I would start the new garden. But that move took an entire moving truck to execute. I kid you not. It was very expensive. Probably more expensive than if I just went to the nursery and bought the same plants all over again.
Of course, you can't put a price on your attachment to certain plants.
A Garden Therapy reader shared her story with me about moving her own garden. She had an amaryllis plant that was gifted to her by her brother-in-law more than 50 years ago. Between choosing between expensive or practical plants, she knew the amaryllis plant was the most important plant to move.
Try to set those boundaries when moving plants to your new home. Here are the plants you should prioritize.
Move hard-to-find, rare plants.
Plants with sentimental value.
A few plants that make your garden feel like home.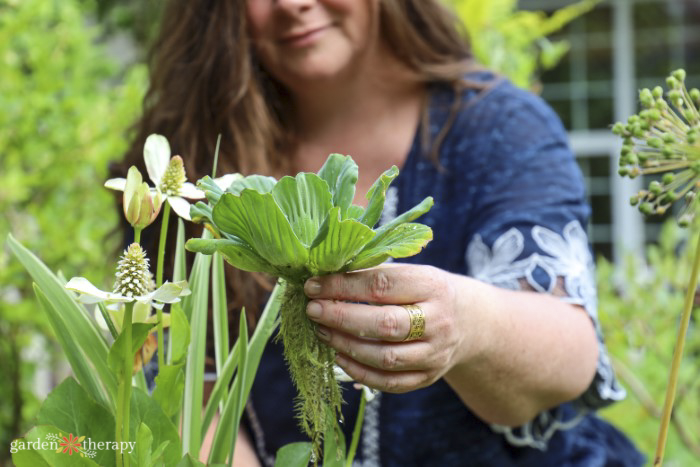 Plan for Moving Plants Ahead of Time
When I began to plan the move from my current garden, I had all of the above in mind. I would move with the intention that the plants were meant to stay at the home. When I would move, I would say goodbye to them. The new garden would be a fresh start.
For my move, I focused on the non-fixed areas of my garden. Rather than work on transplanting plants, I would focus on my garden pots. I prepared weeks in advance, thinking through the pots that were going to come with me. I planned to only keep and travel with the plants that I knew I would have space for in my new garden.
The garden pots I didn't want to bring, I gave away to the Buy Nothing groups on Facebook or to friends and family. Say thank you to all your plants as a nice goodbye for the joy they brought you in your old home.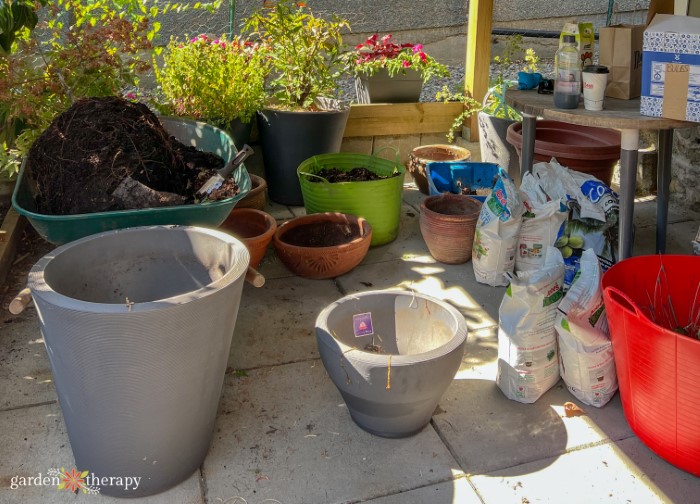 Consider the Sun at Your New Home
Besides choosing the plants that are important to you, it's important to also consider which plants will actually survive. I had a few garden pots reserved for plants in my garden I wanted to dig up, and I had to realistically think about what I would fill them with.
In my new garden, the majority of the space is quite shady. This meant I left behind all the sun-loving plants. Instead, I focused on how I could divide some of the ferns or take some of the hostas that were special to me. Then, I imagined how I could create a little garden out of those plants.
When moving plants, also consider if the plant handles transplanting well. For example, peonies don't like to be moved. You could carefully remove the plant only to have it die at the next home when it was previously flourishing.
Even if you're only moving a short distance away, you may also want to consider your microclimate. For instance, some tall plants may not be able to handle a windy yard! You may even change zones entirely, which presents its own unique challenge.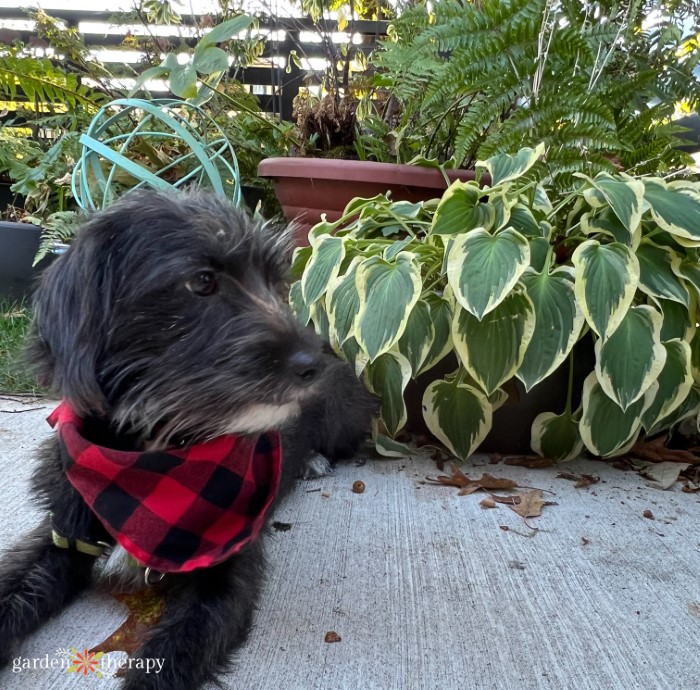 How to Pack Plants for Moving
When transplanting a garden, you want to do it well before the actual move date. I was so busy the last few days before moving, and I was glad not to think about moving a garden in the midst of it all.
I prepared my pots by performing all divisions ahead of time. For each one of the pots, I added extra soil. I gave the plants a good watering when I did the divisions from the original plants and when I transplanted them.
The week before the move, I reduced my watering. Most of my pots were quite large, and I didn't want to add extra weight with water-saturated soil.
Over that week, my plants got quite droopy and wilted due to the lack of water. Not unexpected, it's also not that big of a deal. The plants will bounce back when they're happily taken care of in their new space.
Wait until you're at your new home to clean up any of the plants you brought with you. Once the stress of moving and a new home has passed, you can begin to prune and clean them up.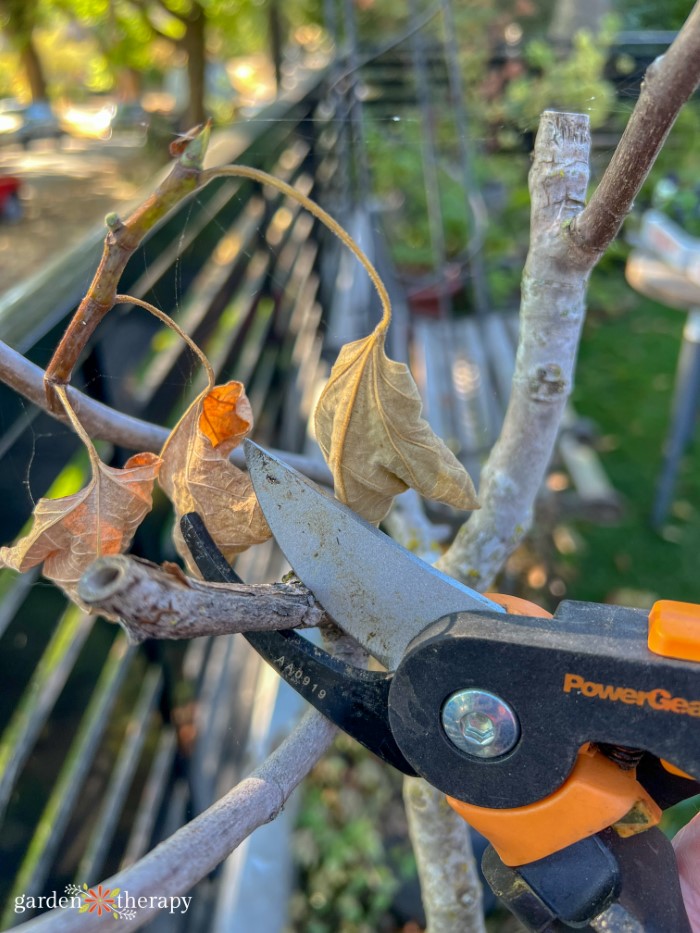 Declutter Gardening Tools
Once your plants are ready, there's plenty more work to do in the garden before moving. Go through your gardening tools and choose what you think you'll need. Set aside anything you might use in the first month to be easily accessible.
Otherwise, pack up and clean any garden tools so they can be used down the road in your new home. Declutter as you go, removing any tools you don't use. A good rule of thumb is that if you haven't used it in a year or more, you probably won't use it in the next year.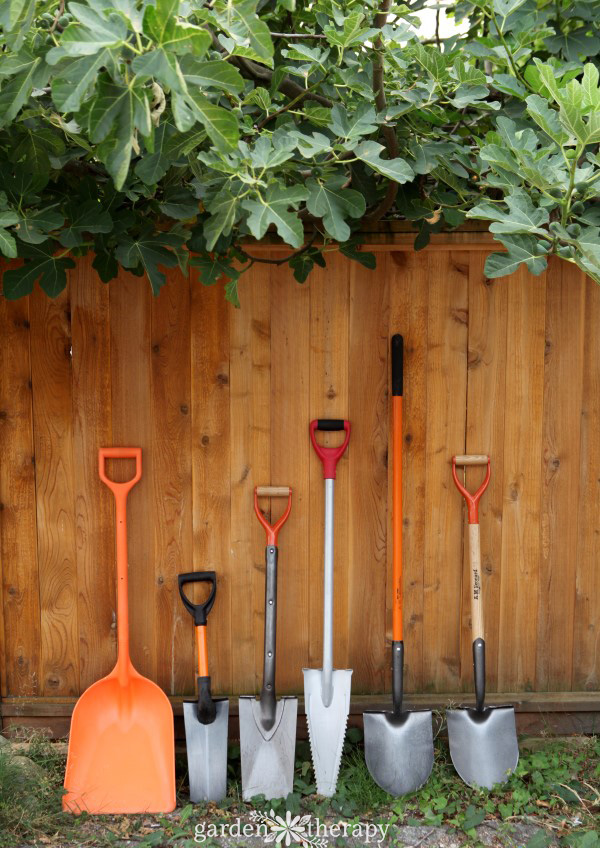 Consider The Soil
While you can't bag up the soil within your garden, don't forget to collect all the bags of soil and soil amendments from around your garden. I make all my own soil mixes, so I pre-mixed all my soil recipes to ensure everything was good to go ahead of time for the new garden.
Harvest Your Compost Bin
Depending on your compost bin, you might take it with you or leave it behind. Either way, you will want to give it a good cleanout. Take any finished compost and mix it with your potting mixes from above. If you have any leftovers, top dress the garden beds of your current home to give them a boost for the new homeowners.
If you have a vermicomposting bin, now is also a good time to harvest the worm castings. I typically do this every 3-4 months for my garden. You'll need to stop feeding the worm for a few weeks until the worms have eaten all the kitchen scraps. You can find more information on harvesting worm castings in my vermicomposting guide.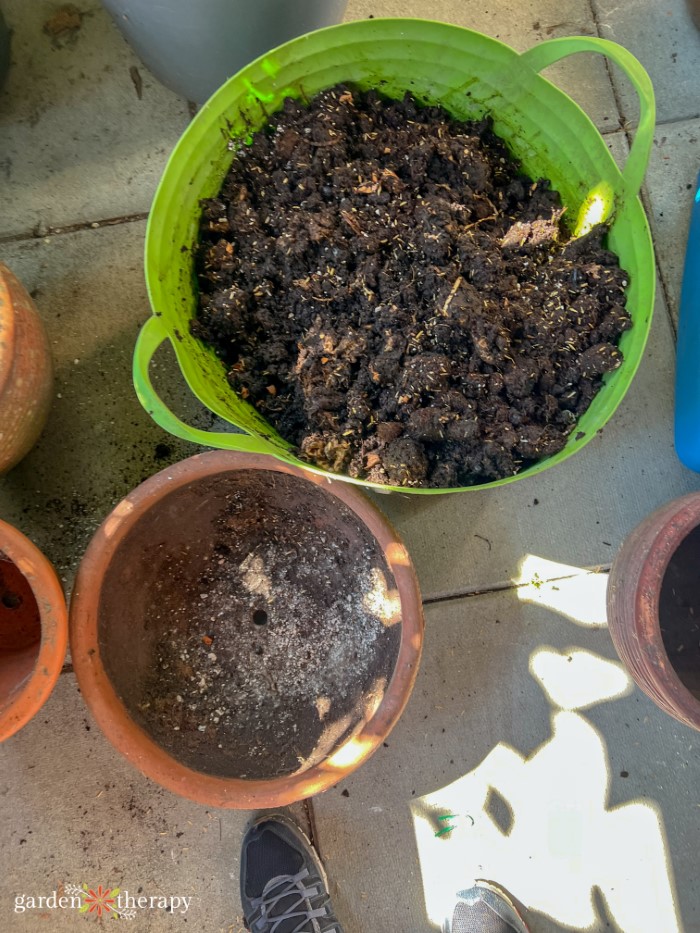 Transplanting Rootbound Plants
While you may not take every potted plant with you, you will want to give them a helping hand before moving them. I was sad to leave behind the Japanese maple tree I have featured in many photos and videos over the year. But I made sure it was happy in its pot before I left!
Take any trees and plants that are root bound and transplant them into larger pots with new potting soil. I use the potting soil recipe from my book, Garden Alchemy, since it's light and fluffy. It makes the plants happy and also easier to move.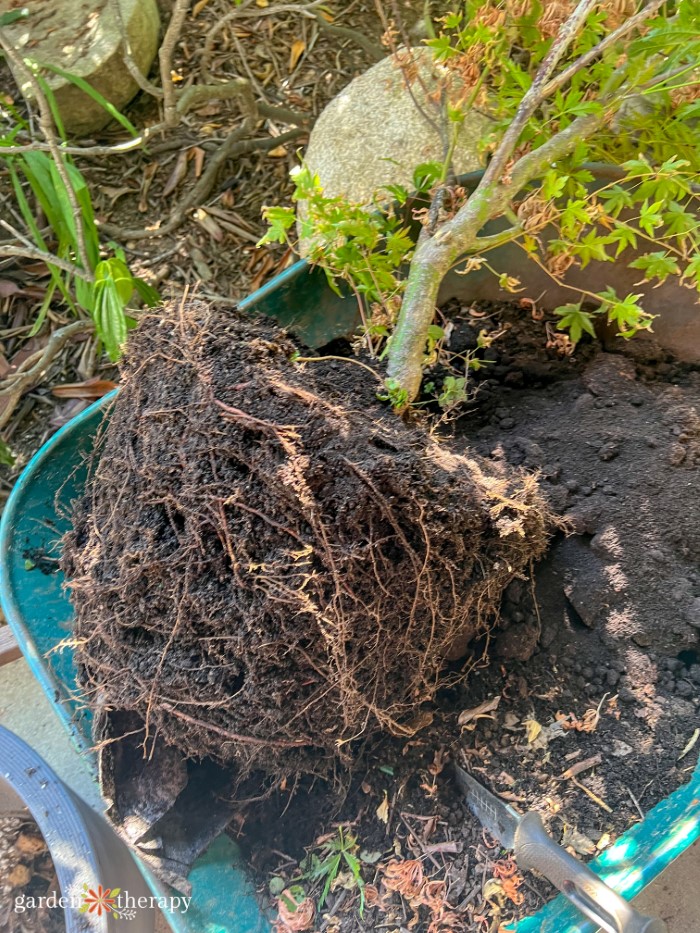 Clean Water Features
Another item I couldn't take with me was my wildlife pond featured in The Regenerative Garden. Part of the project requires you to build up an entry point next to the structure for the wildlife to reach the pond. Since I didn't want to completely dismantle it, I decided to leave it behind.
I got to work cleaning it completely for the new owners. Any ponds and water features should be cleaned out completely. You can do this whether you're moving them or leaving them behind.
After cleaning, fill them with water if you're leaving them behind. Replace any plants you may have decided to bring with you so the wildlife can still enjoy them.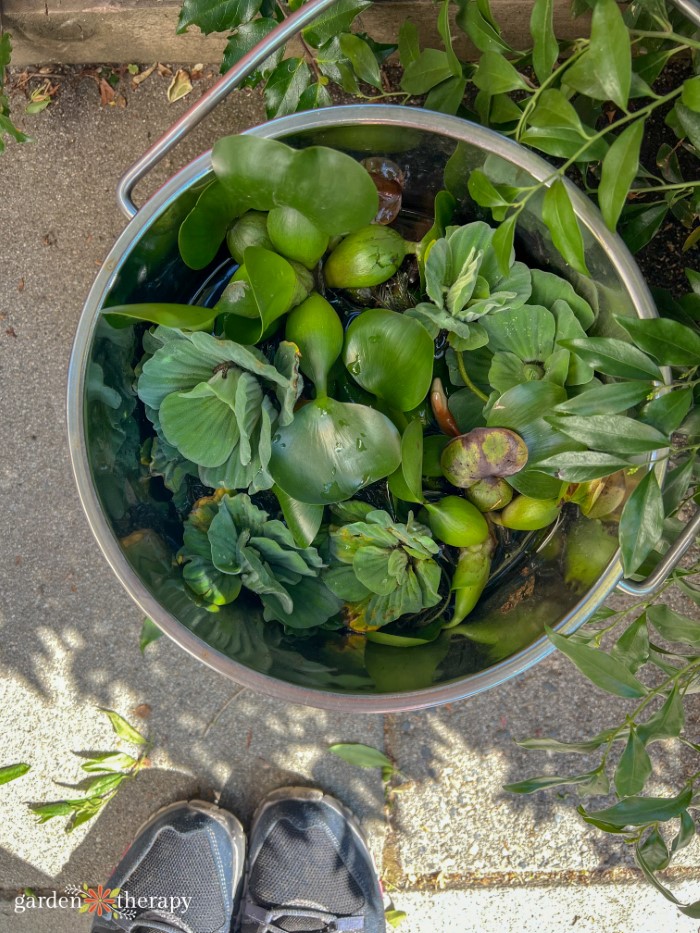 Pack Up Garden Decor
We would never leave a picture hanging on the wall, but oftentimes the outdoor décor gets forgotten when you move a garden. Take down all the garden décor and wrap it up properly to take to the new home.
I packed all the garden art, wreaths, birdhouses, hanging fixtures, and lights in my move. As I write this, I have realized that I left behind my solar chandelier hanging in the garden. Luckily, it was easy to make (as you can see from this post). Perhaps I'll make a new one for the new garden! Either way, I hope the new folks enjoy it when it lights up at night.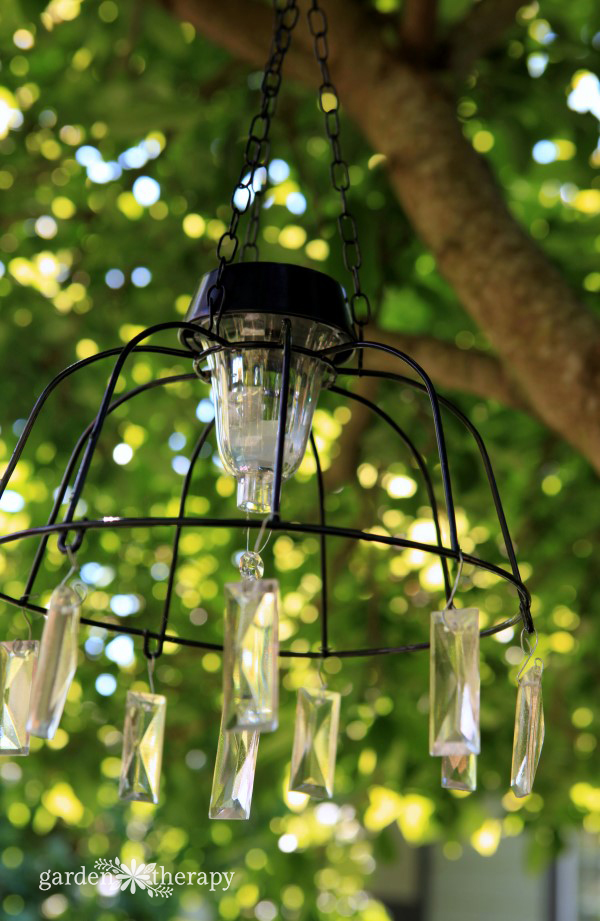 Dig Up Ollas
I use ollas in my garden beds as part of my regenerative garden. I dig them up every fall, so they don't crack over the winter. Since I was moving my garden in the fall, the timing was perfect. But if you're moving another time of the year, you'll want to dig up your ollas, wrap them well, and take them with you.
It's also important to consider all your current watering systems and whether or not you want to leave them behind. Wrap up your garden hoses and maybe even pack up your drip irrigation system if you want to bring it with you.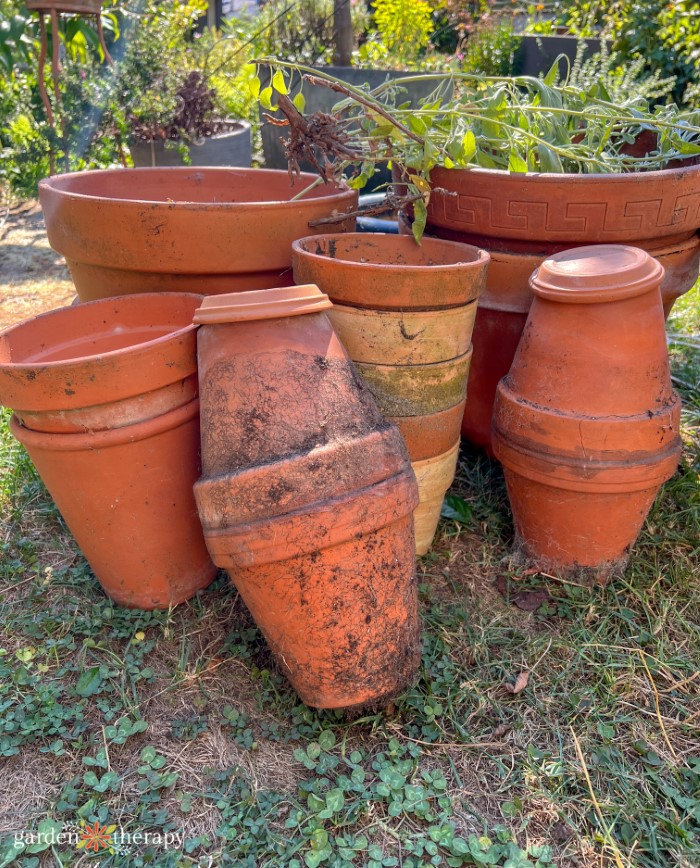 Replace Soil and Water
After digging, dividing, and moving plants around, you want to clean the garden. Replace any soil and holes, add mulch back in place, and give the garden a really good watering.
The new homeowners might not have much time to tend to the garden when they first move in, so it's a good idea to ensure the garden has been watered before you leave. This way, the garden can survive on its own for a week or two while the new owners get settled.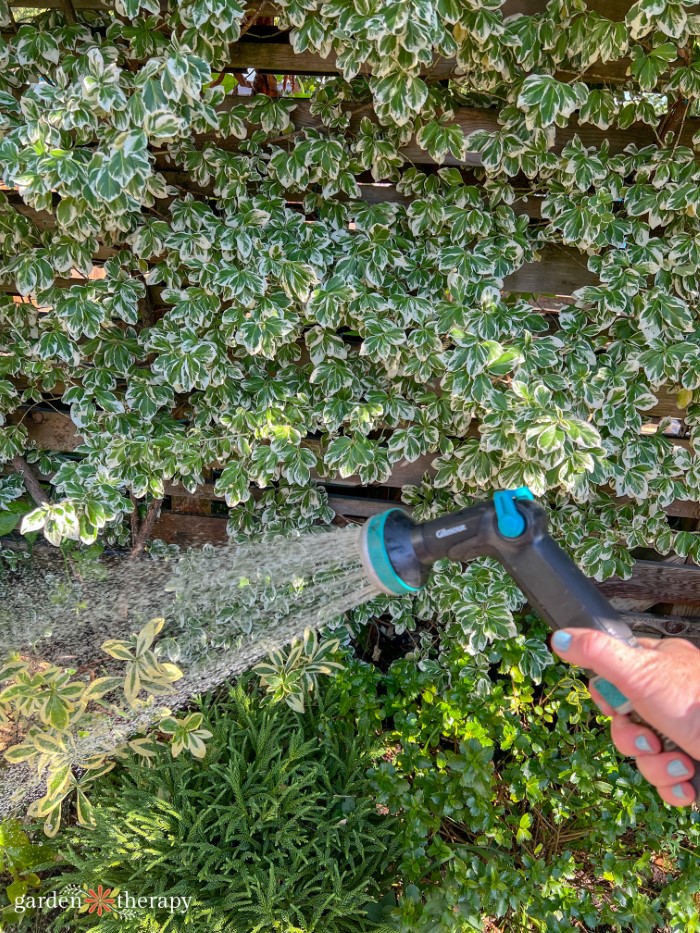 Harvest Your Bounty
While working out in the garden and preparing for your move, don't forget to pick and eat all the fruit, vegetables, and herbs you've been planting. Believe me, you'll think about all the things you left to ripen and which you got a chance to taste after growing them for so many months.
As I'm writing this, I'm missing the Candyland red currant tomatoes I snacked on last week. I also wish I had more time to harvest some of my favourite herbs and flowers and dry them for my food and beauty recipes.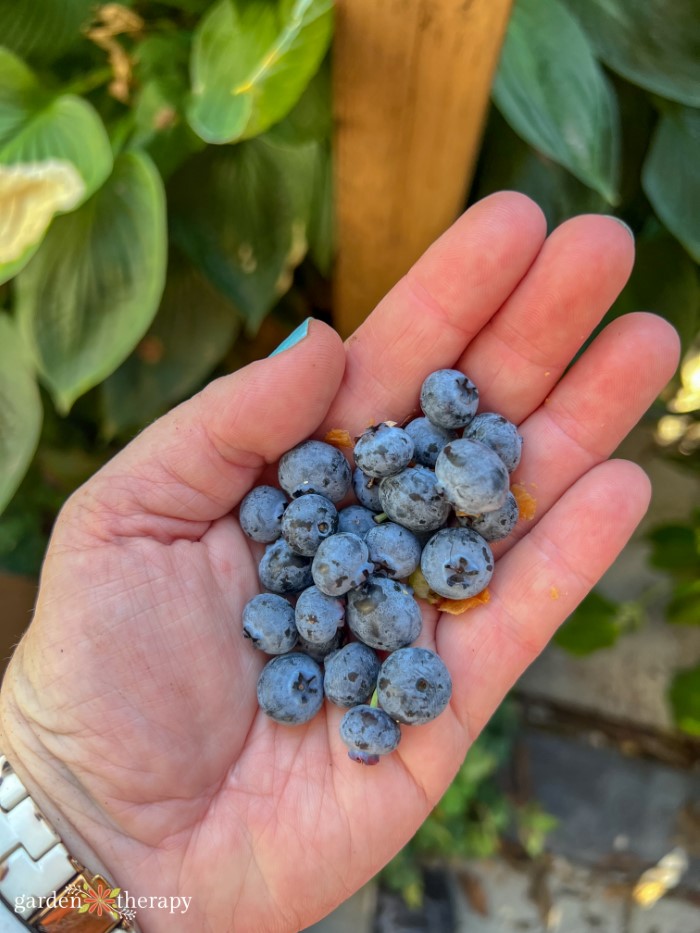 Leave Garden Notes Behind
If you have the time, a lovely sentiment to do is to leave behind a manual of sorts or tips for taking care of the garden for the new owners. When you've put this much love and work into the garden, you want to leave them with some sense of the types of plants and what to expect in the year.
Of course, the new owners will make it their own and will surely have plenty of surprises along the way. Hopefully good surprises!
Another Garden Therapy reader told me her story about moving into a home that already had a beautiful and well-loved garden created by a gardener known as Beth. Fifteen years later, she still thinks of Beth when she walks through the garden. She'll enjoy the shade of a mature tree and thank Beth for the thoughtfulness of its placement. Your garden can have a long-lasting impact on whoever is lucky enough to call it theirs.
I was lucky enough to have an entire book written (The Regenerative Garden) about my last garden, and I could give the new owners a signed copy. My regenerative garden was a working and creative space for me for over 10 years. In that time, it grew into its own self-sustaining ecosystem. I hope the new owners get as much enjoyment out of it as I do. And I hope they enjoy their copy of The Regenerative Garden!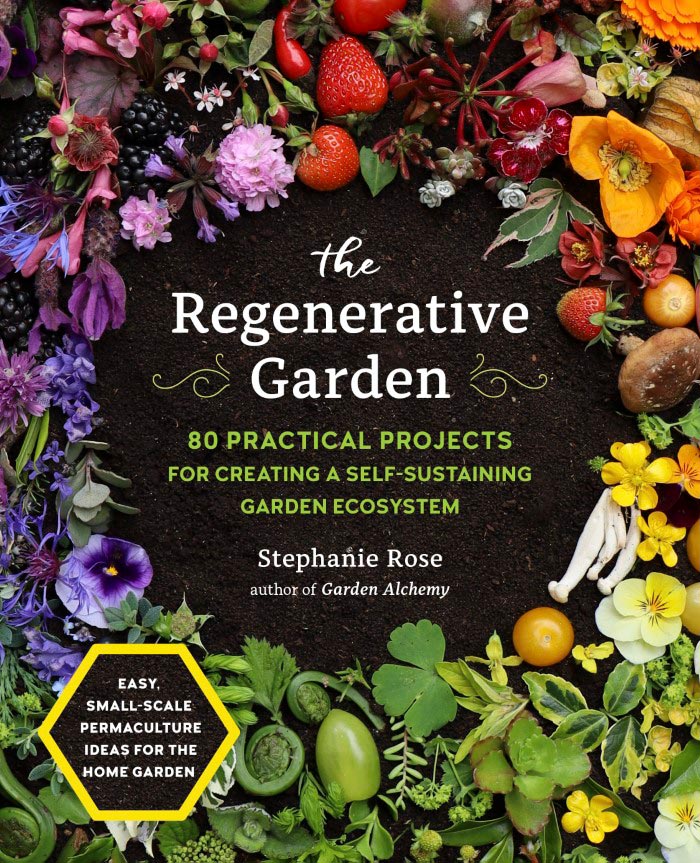 Grieve Your Garden
Saying goodbye to a garden is no easy feat. When you've spent so many years turning it into what it is and finding joy in the time spent there, there will be many emotions in leaving a garden behind.
In the quieter moments of unpacking at the new house, the kiddo and I looked through old photos when we came across one of the espalier trees. It was then that he finally let the tears flow.
While we packed, our espalier was full of ripe apples ready for picking. I had my eye on some delicious-looking apples and told myself I would pick a few of them for us to take to the new house. But the busyness kept on coming, and the apples went forgotten.
Up until that moment, kiddo didn't let his grief out. He went through the empty house and toured the garden with smiles and happy goodbyes. But when he saw the picture of our beloved tree, the idea of all those untouched apples triggered his sadness. Together we grew those apples and enjoyed them for most of his life.
While I'm also sad to never pick another apple from that tree, I can't help but think about the new homeowners. They will be greeted with a tree full of apples to welcome them to what's now their home. It's a reminder that when we take care of the world around us, it takes care of us in return. It's my hope that they enjoy and love the garden even a fraction as much as the kiddo and I did. And that they enjoy those sweet apples for many years to come.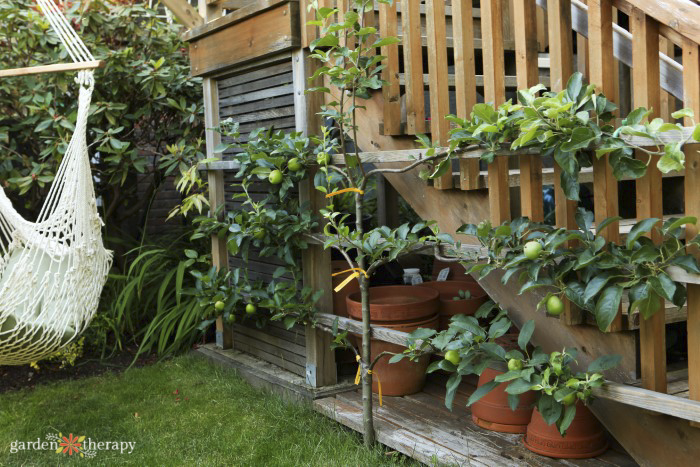 Take a Break from Moving Plants and Enjoy the New Garden
When moving, the house will take precedence over what to unpack first. Make sure your new plants are okay for a little while, whether that means storing them somewhere else or giving them a quick watering upon arrival at the new place.
For any move, always have a box with the quick essentials. For me, that's my morning matcha. I had the kettle, mug, honey, and matcha ready to go.
This way, I could still sit on my newly moved patio furniture for a few moments to enjoy my new space. Listen to the new sounds and take a deep breathe of the smells around you. You have a brand new garden to call your own!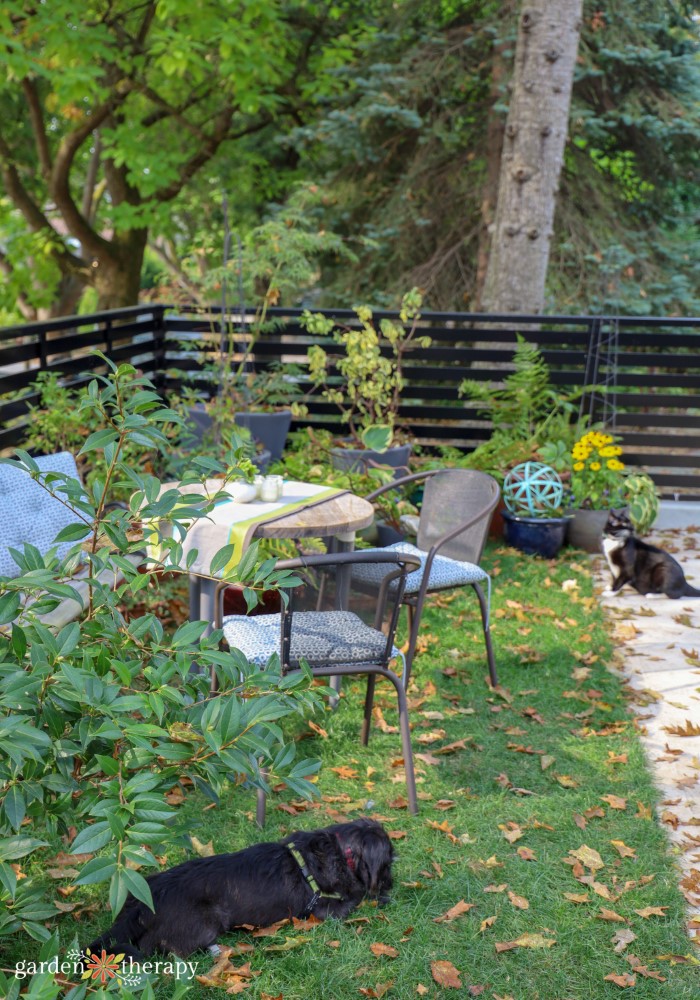 While there's grief in the garden, there's plenty of excitement of what's to come. For years I've had a columnar herbal hibiscus. In my garden, I never had the space for it. I left it behind other plants for a long time, but it never did well. Eventually, I dug it up and put it in a pot. Still, the plant remained stressed out.
When moving the garden, I decided to bring it to the new place. I put the pot beside the entry stairs at the new home. On the day the movers came, it bloomed for the very first time, welcoming everyone to its new, happy home. It reminded me that plenty of amazing things would come, one bloom at a time.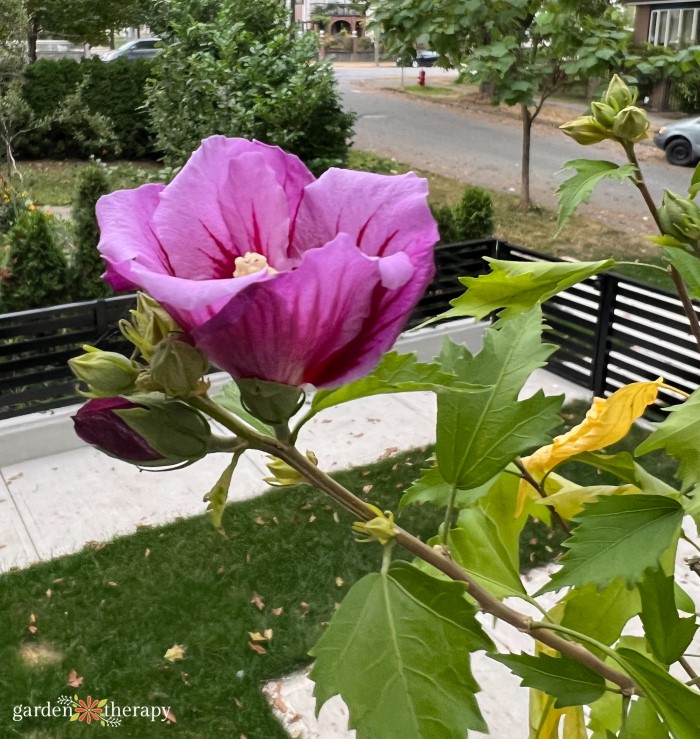 Frequently Asked Questions About Moving Plants
What to do with your garden when you move?
In my experience, it's best to leave the garden behind and look ahead to your new home and space with fresh eyes.

Moving plants gets quite expensive, so you want to be very selective with what you decide to bring. Only bring plants that are rare, expensive to buy, and have great sentimental value to you. Take cuttings and make divisions before transplanting plants into smaller, easy-to-move pots for the new home.

The rest is to be left behind for the new homeowners. The garden is part of the home sale, and it's their turn to make it their own!
How do you move soil to a new house?
The simple answer…you don't move the soil. Anything heavy will be expensive to move, and you'll want to leave it behind.

I understand that it can be expensive to amend and rework bad soil, and you'll want to take that investment with you to the new house. The price point to move it will be the same as just getting new soil for the new home. By leaving it, your old garden and plants and the new owners can continue to enjoy it. You also want to avoid moving all the soil wildlife and letting them continue to do their own thing.

Instead, focus on bringing any of your already bagged soil, unused soil mixes, ready-to-go compost, and worm castings to kick off the new garden.
Can you move a vegetable garden?
A vegetable garden usually needs to be planted every year. If you know you're moving ahead of time, avoid planting any vegetables that won't be ready to harvest until after you move. Instead, focus on speedy growing vegetables that you can harvest before the move happens.

Otherwise, you can look at what you can grow in garden pots. Plant in small, easy-to-move garden pots you can bring to the new house. Remember, moving lots of pots is expensive, so only grow what you need for the season.

For perennial vegetables or fruit trees, you can take cuttings and divisions that you can bring to the new home. Once again, starting fresh is usually better and cheaper than spending lots of time and money on moving plants.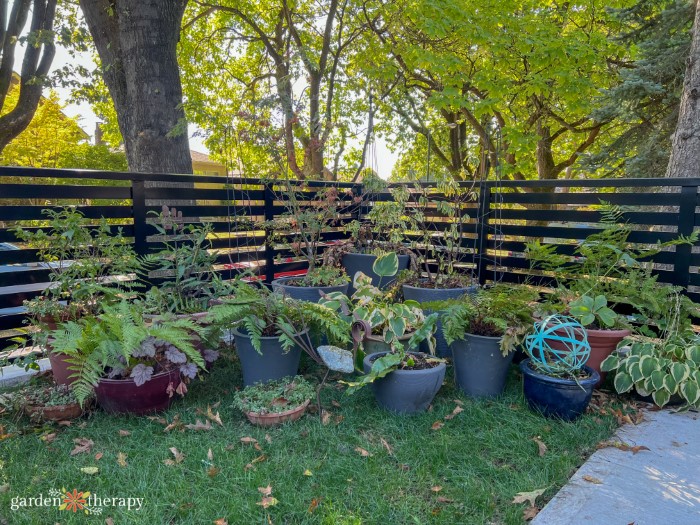 More Posts to Read