This homemade strawberry jam recipe with low sugar is absolutely incredible. Delicious and easy to make, this strawberry freezer jam will capture the sweet tastes of summer all year long, preserving the natural taste of strawberries. Drizzle it on toast, scoop it into yogurt, or simply eat this tasty treat by the spoonful.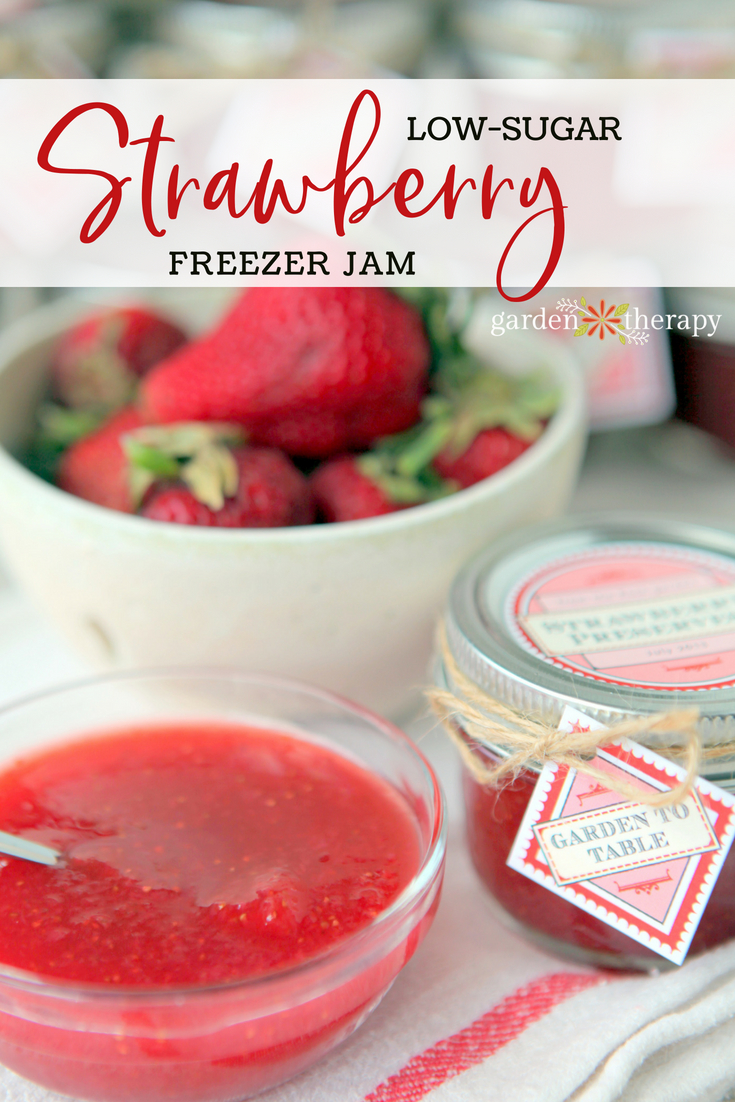 It's that wonderful time of year when the yard and garden come to life. The sights and smells boast tons of freshness. One of my favourite parts of this time of year is the short, but vibrant fresh strawberry season.
This year, capture it in a jar and enjoy the season all year long by making this delicious low sugar strawberry freezer jam. 
By the way, if you are wondering how to get a massive haul of juicy, ripe strawberries, I've put together a post showing you how to grow strawberries four different ways.
Simple Low Sugar Strawberry Freezer Jam
Sometimes people feel intimidated at the thought of making jam…boiling, canning, the whole works. If you've never made jam before, consider making freezer jam.
This type of jam is incredibly easy to make, so it's perfect for anyone who wants that homemade jam taste without the hassle of canning.
If you want to start making jam at home, start with this low sugar strawberry freezer jam! It's super easy to make and doesn't require any prior canning knowledge. There are no hot water baths or jar sealing skills required, as there are with traditional canning.
Pulling a jar of this out of the freezer on any day of the year will make your tastebuds dance with the sweet taste of spring.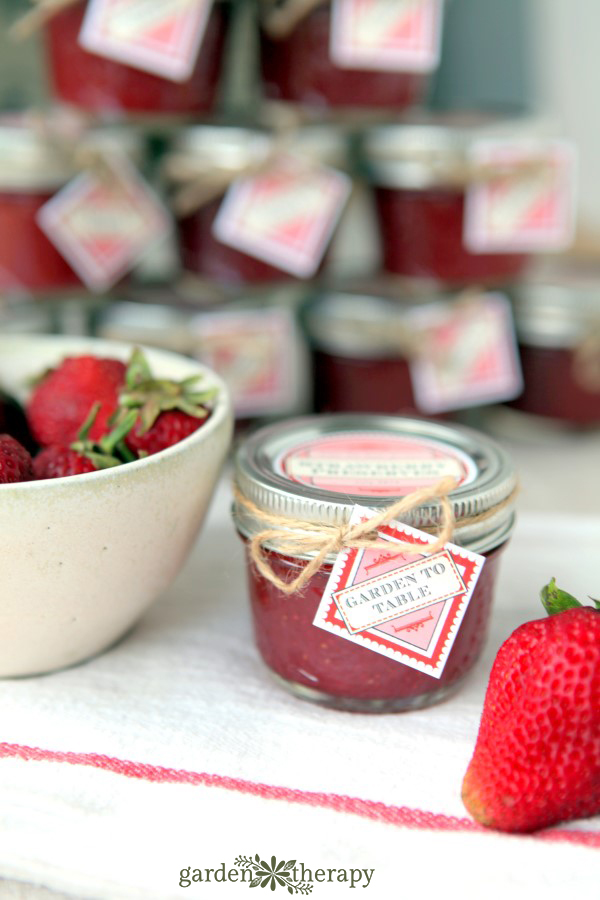 How to Make Strawberry Freezer Jam
This low sugar strawberry freezer jam couldn't be easier to make and only requires 3 ingredients: strawberries, sugar, and lemon juice. With this recipe, you don't even need to use pectin. Pectin is added to jam recipes to thicken it up but it's not necessary for preservation.
The consistency is not as thick as a long boil jam like my organic strawberry jam or black pepper and balsamic strawberry jam but it is a perfect trade-off for not having all that sugar.
Without all the sugar, the jam really retains the fresh strawberry flavour. I really find that traditional jam recipes become more like candy than fruit, and that's just not my taste. I like the amazing fruit-goodness that mother nature intended to burst through and the sugar helps bring it out.
That being said, it's important to keep in mind that due to its low sugar content, traditional canning methods won't work. Sugar in high amounts is what is used to preserve jams and jellies so that they are shelf stable. Along with the right balance of acid and proper water bath canning, of course.
Freezer jam if the perfect solution to lowering the sugar and making no-fuss, garden-fresh jam.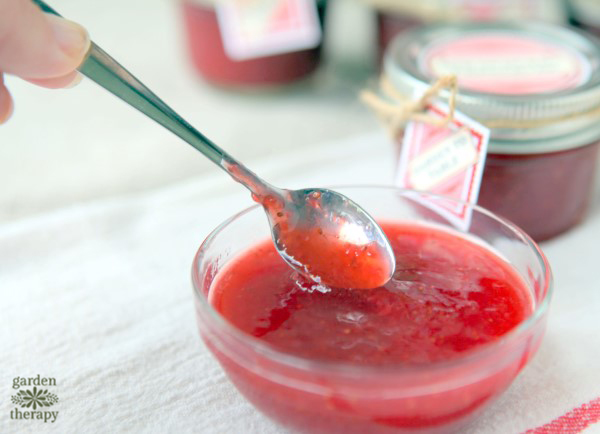 What Do You Use to Store this Jam?
While you can use almost any container that is freezer-friendly, I prefer to use glass jars.
Some people may be hesitant to use glass jars for fear that they may break, but I've never had any cases of that happening. Since I much prefer to use glass over plastic, I stick with the glass jars.
I also recommend you stick with jars on the smaller side so you are able to consume it before it goes bad (see below).
How Long Can Jam Be Stored in the Freezer?
This jam can safely be kept in the freezer for up to one year. Once you thaw a jar of this jam, keep it safely in the refrigerator for up to 4 weeks.
How Is This Recipe 'Low Sugar' If It Has 3 Cups Of Sugar?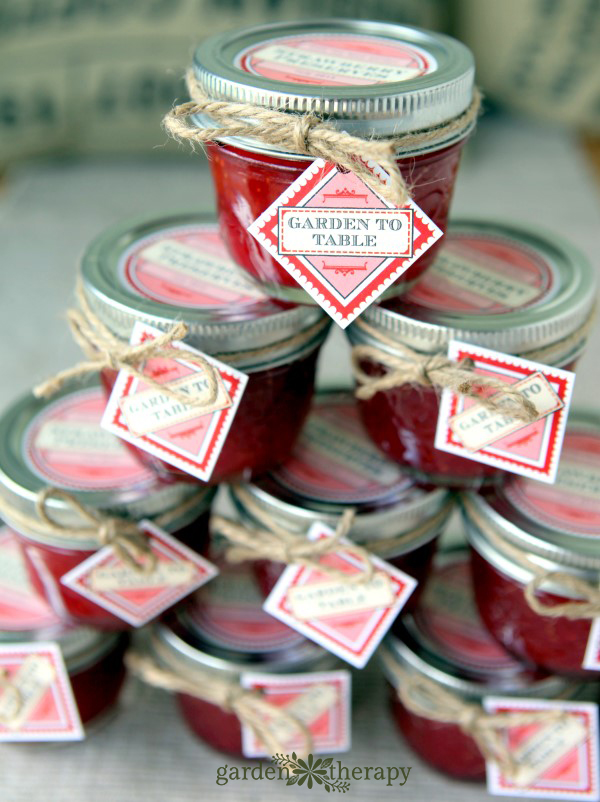 Great question! I get this question a lot.
While the amount of sugar might seem massive, it actually isn't. In jam recipes, this amount of sugar is necessary and helps do three things:
Sugar helps to enhance the natural flavour of the fruit. Just as adding salt to savory dishes does.
Sugar helps the jam gel over time. While the jam is cooking, the sugar (along with the natural pectin from the strawberries) come together to help the jam become spreadable.
Sugar acts as a preservative. The sugar in this jam recipe will help preserve the jam in the jar as well as preserve its colour and flavour.
Of course, you don't eat much jam at one time. So three cups of sugar in a batch of low sugar jam might seem like an insane amount, but really, it ends up being much less when it's spread (pun intended) over 15 cups of jam.
However, if you are looking for a no-sugar jam, I have a Stevia-sweetened wild blackberry jam you may enjoy!
Tips for A Terrific Strawberry Freezer Jam
Before I share this jam recipe, I wanted to share a few tips I have picked up on along the way…
Wash your jars (or containers) in hot, soapy water, and be sure to dry them. Traditional canning methods require using sterilized jars. When making freezer jam, you can also use sterilized jars, but it is also fine to use jars that are thoroughly washed as you would anything else you plant to eat or store in the freezer or fridge. 
Since this jam is only flash boiled, it will have a consistency that is looser than traditional jams. Enjoy the easily spreadable jam. This also means it is easy to make a small batch when you have extra berries.
Due to the lower sugar content and a simple "canning" method, this jam needs to be stored in the freezer. It stores well in the freezer for up to one year. When you want to thaw a jar, just remove it from the freezer and put it in the refrigerator. 
This freezer jam will keep well in the refrigerator for up to 4 weeks. I recommend using small half-pint jars to ensure that you use it quickly.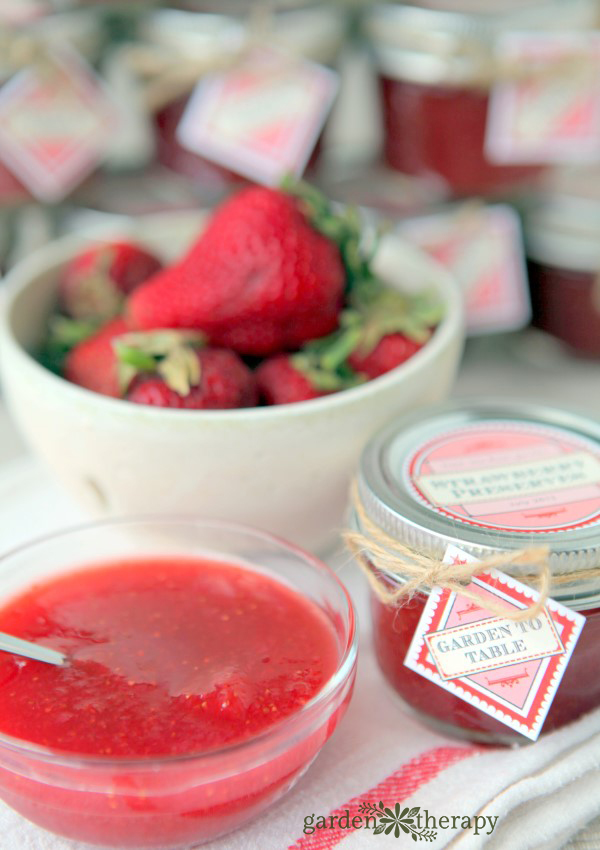 I hope you love this jam as much as my family does. If you've never made jam before, I just know you'll be pleasantly surprised at just how easy strawberry freezer jam is to make. 
More Recipes Straight From The Garden: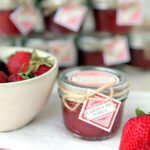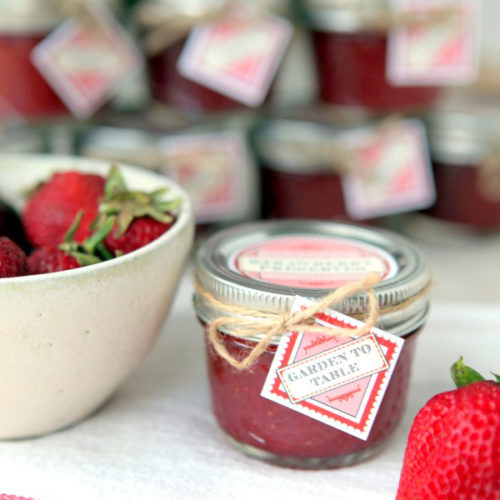 Print Recipe
Low Sugar Strawberry Freezer Jam
This low sugar strawberry freezer jam is the perfect thing to do with your strawberry harvest! If you've never made jam before, this is the perfect beginner's recipe.
Ingredients
8-9

cups

fresh strawberries

3

cups

sugar

½

cup

fresh lemon juice
Instructions
Put a few small plates in the freezer.

Wash and hull the strawberries and add them to a large pot. Mash the berries with a potato masher so that you have a thick pulp. This should yield about 6 cups when mashed.

Add sugar and lemon juice to the mash and stir over medium-high heat until the mixture comes to a boil.

Let jam boil for one minute, then check for how thick the jam is by spooning some onto a plate from the freezer and running your finger through the center of the jam. If the line that your finger made quickly disappears, you will want to cook your jam a bit longer to thicken it further. If the jam stays on either side of the line, your jam is ready.

Remove from heat and skim off the foam. Then ladle jam into clean, sterilized jars. You can also use plastic jars for freezer jam, but ensure that the jam is cooled down before filling them.

Once cooled jam can be stored in the fridge for a few weeks and in the freezer for a year.
Notes
Every jam will be a bit different depending on how much water and pectin there is in the berries. You can also choose how thick you like it to be based on personal preference. I try to cook it as little as possible to keep the cleanest flavour.
Nutrition
Serving:
2
tbsp
|
Calories:
92
kcal