This orange and cinnamon soap is one of my favourite holiday treats to give away. When you combine uplifting orange with sweet and spicy cinnamon, you get a scent that comes straight from a Hallmark Christmas movie. If you're feeling festive this year, learn how to make your very own Christmas soap to give away this season.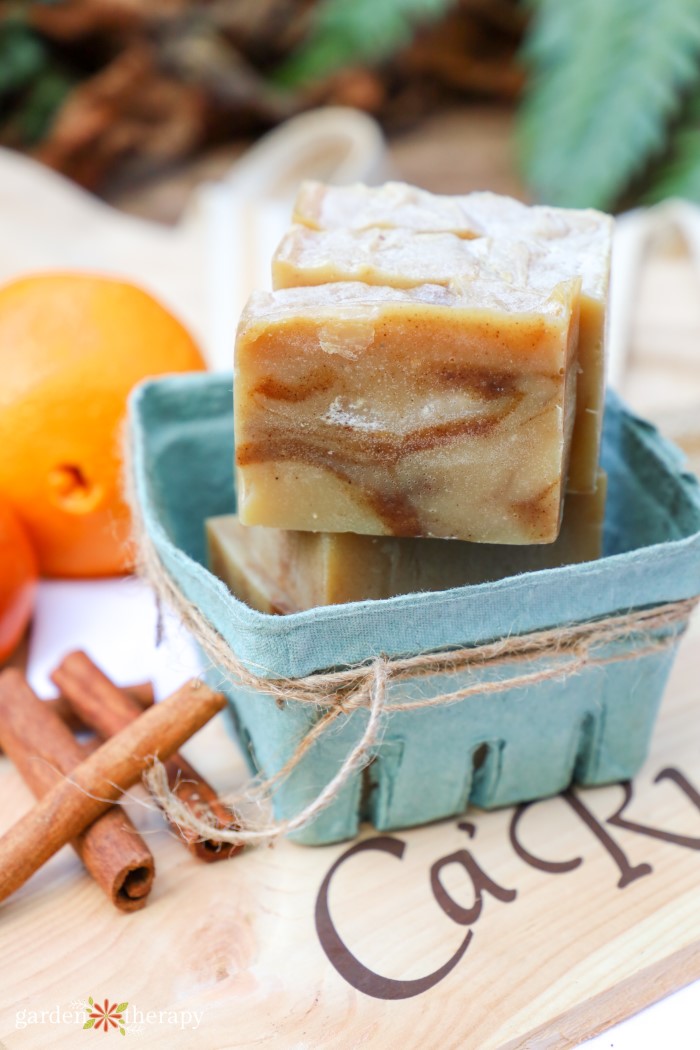 While this Christmas soap reminds me of the holidays, the orange does bring a sense of freshness and renewal. Sweet orange essential oil reminds me of a hot summer day, which can be a friendly reminder when we're actually closer to the winter solstice!
Sweet orange is considered a top note in the realm of fragrances, which means it pairs well with warm scents. And cinnamon, as you probably guessed, is a warm note!
Sweet orange brings the joy of the season while cinnamon brings you the cozy vibes. The blend of cinnamon and orange reminds me of old-fashioned oranges plugged with cloves and used to scent the house over the holidays. The vanilla adds a yummy factor to it that makes it smell like a treat that you enjoy in the festive holiday months.
Of course, this soap can be used year-round. Because it's so lively and bright, it's one of my favourite scents to give away. A very cheery soap, most people enjoy the smell of it. You'll soon find them asking for more!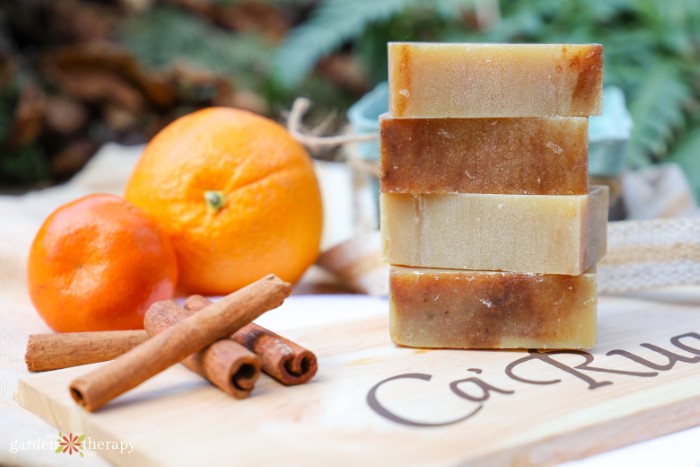 Sweet Orange Soap Benefits
Orange essential oil is made from cold pressing the rind of sweet orange. Not only does it smell like a little slice of heaven, but it has a host of benefits for the body as well.
Orange soap is especially good for reducing levels of stress and anxiety. Most citrus oils are known for being instant mood boosters and studies have shown the smell has even proven to help those with pain.
The essential oils also help to stop the growth of bacteria and fungi, making this an extra cleansing orange and cinnamon soap.
Some citrus oils are phototoxic, meaning that they may cause skin irritation and reactions when exposed to the sun after applying to your skin. The good news is that orange essential oil has very low phototoxicity, but you should still be cautious. If you plan on applying it to your face, make sure you're wearing sunscreen for safety.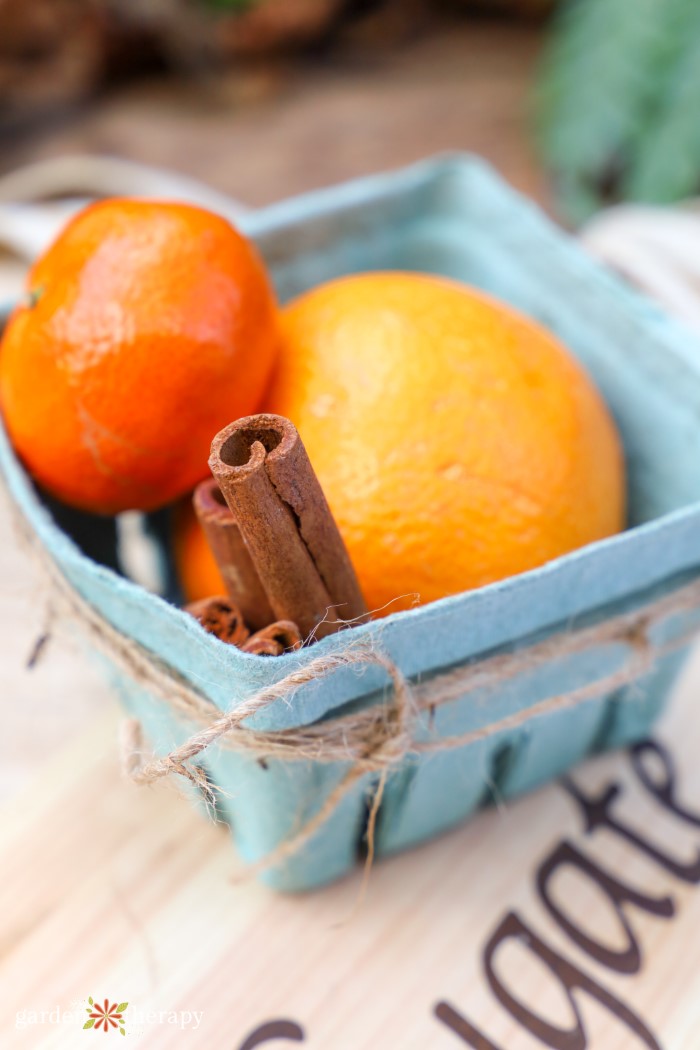 The Benefits of Cinnamon Soap
We also have to give a shoutout to the other half of this duo, cinnamon oil! Without a doubt, this is the main component of this Christmas soap that gives it those festive and cozy vibes. Not a single bit shy, cinnamon is a strong scent that many find pleasing. To me, it smells of tasty baked goods I might consume in the days before Christmas.
Sweet and spicy, it also acts as a mood enhancer. The antibacterial properties in the essential oil are a safe and natural preservative. This makes it a great addition to natural cosmetics.
As with any essential oil, you never want to rub it directly on the skin. This can cause a burning sensation or rashes. If applying it to the skin, be sure to keep the concentration low by diluting it with a carrier oil.
In this cinnamon soap recipe, I use coconut oil, sunflower oil, cocoa butter, and rice bran oil so you can get all the sweet Christmas spice with none of the worries.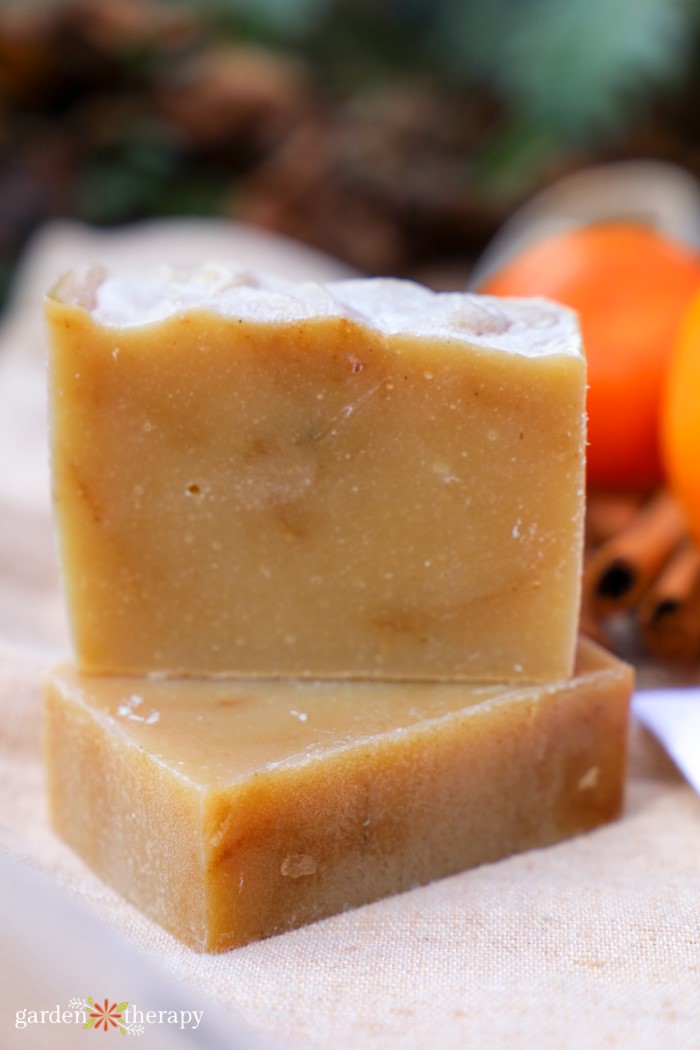 Orange and Cinnamon Christmas Soap Recipe
The combination of oils in this recipe makes it an extremely moisturizing soap well suited for winter weather. You'll notice a difference in your skin as soon as you lather it up. It's gentle on the skin but will do its job cleaning all while hydrating your skin.
Ingredients
For exact measurements, please view the recipe card down below.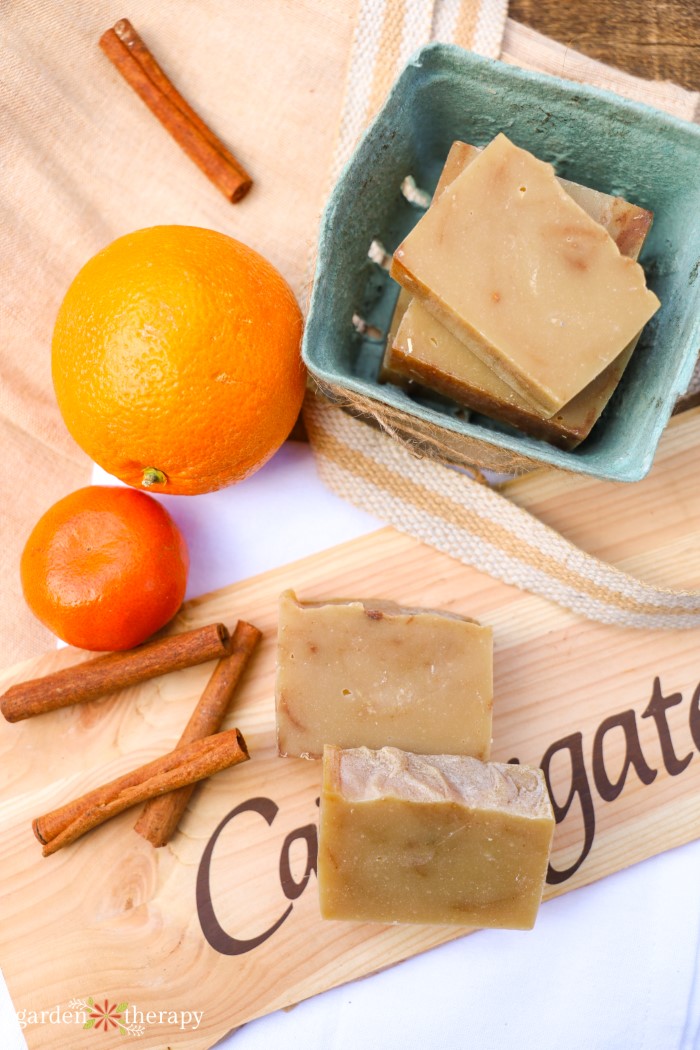 Materials
Make It!
If you've never made cold process soap before, I recommend you take a look at this guide first to get more detailed instructions before you get started. I won't go into the nitty-gritty details about how to make lye water and combine your oils, but instead, get down to the technique of this particular soap!
Once you have reached a light trace, add in your sweet orange, cinnamon leaf, and vanilla absolute essential oils. Use your immersion blender to blend the oils into the soap.
Now it's time for the swirls! The sweet orange oil itself gives this soap a nice light orange colour. But to add a little more pizazz, I add a teaspoon of turmeric. Add it to one side of the bowl and use a spatula to create tiny circles around the edge of the bowl. This ensures you don't spread it through the whole soap mixture.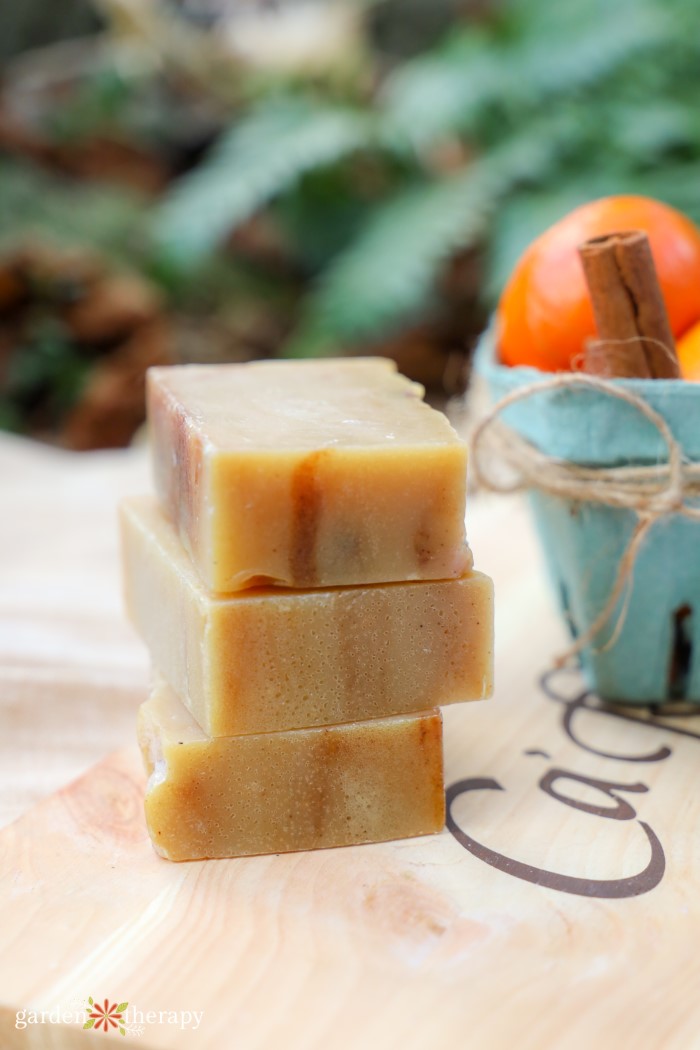 Once the turmeric makes a dark orange circle around the edge of the bowl, pull the colour through the soap once or twice through the mixture. Then pour your mixture into the soap. This creates a delicate swirl of dark orange that almost resembles the cinnamon swirls you might see in a cinnamon bun. It's simply gorgeous for Christmas gifting.
You'll have to let your soap sit somewhere nice and warm for 2 days before you can cut it. Once cut, it will need to cure for 6 weeks before it's ready for use.
This is why I get all my Christmas soap-making done in November. This gives me plenty of time to wrap them up all pretty and even send some in the mail to friends and relatives out of town.
Let me know if you end up gifting this orange and cinnamon soap!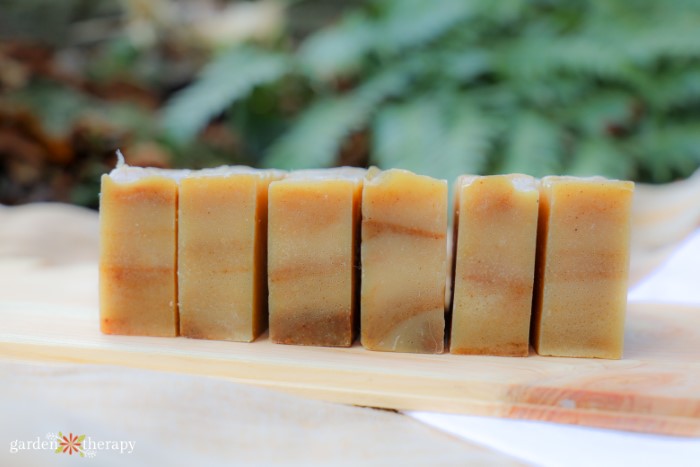 Gift this Christmas Soap
Part of the fun of making this soap is to give it away. I usually double or triple the batch below. While I do keep a few bars for myself, I give the majority away.
I particularly enjoy wrapping these bars into a bundle using eco-friendly materials such as twine. You could even add dried orange slices and a few cinnamon sticks to the top for added oomph.
Here are some of my other favorite ways to gift items using natural gift wrap. However you wrap it, this soap is a gift that the recipient will love all season long.
More Posts to Read:
Cinnamon and Orange Christmas Soap
Add some joy to the world by combining the coziness of cinnamon with the cheeriness of sweet orange. This Christmas soap recipe makes enough for a 2 lb soap mold.
Equipment
Double boiler, soap making pitcher, and a pot of water.

Pyrex or heatproof glass measuring cup

Safety gear (glasses, glove, apron, etc.)
Instructions
Use the scale to measure out your ingredients.

Heat oils and cocoa butter over low heat until they reach 115°F.

Combine your lye and water in a well-ventilated area. Stir continually until fully dissolved. Then cool in an ice bath until it reaches 115°F.

Add your lye water slowly into a large bowl with your oils. Use the immersion blender to blend until it reaches a light trace.

Add in your essential oils and blend again.

Add the turmeric powder to the edge of your bowl. Use a spatula to make small circles around the entire bowl until you have a large orange circle around the rim. Use the spatula and run it through the whole soap a couple of times.

Pour into a 2 lb soap mold and wrap it in a towel. Leave somewhere warm for 2 days.

Cut your soap into equal slices. Let it cure for 6 weeks in a dry, dark location.