Soak your troubles away with this lovely homemade bath tea. This mess-free bathing solution will help you soothe skin and reduce muscle stiffness all while providing aromatherapy benefits. Make a batch for yourself and a few for a friend, too!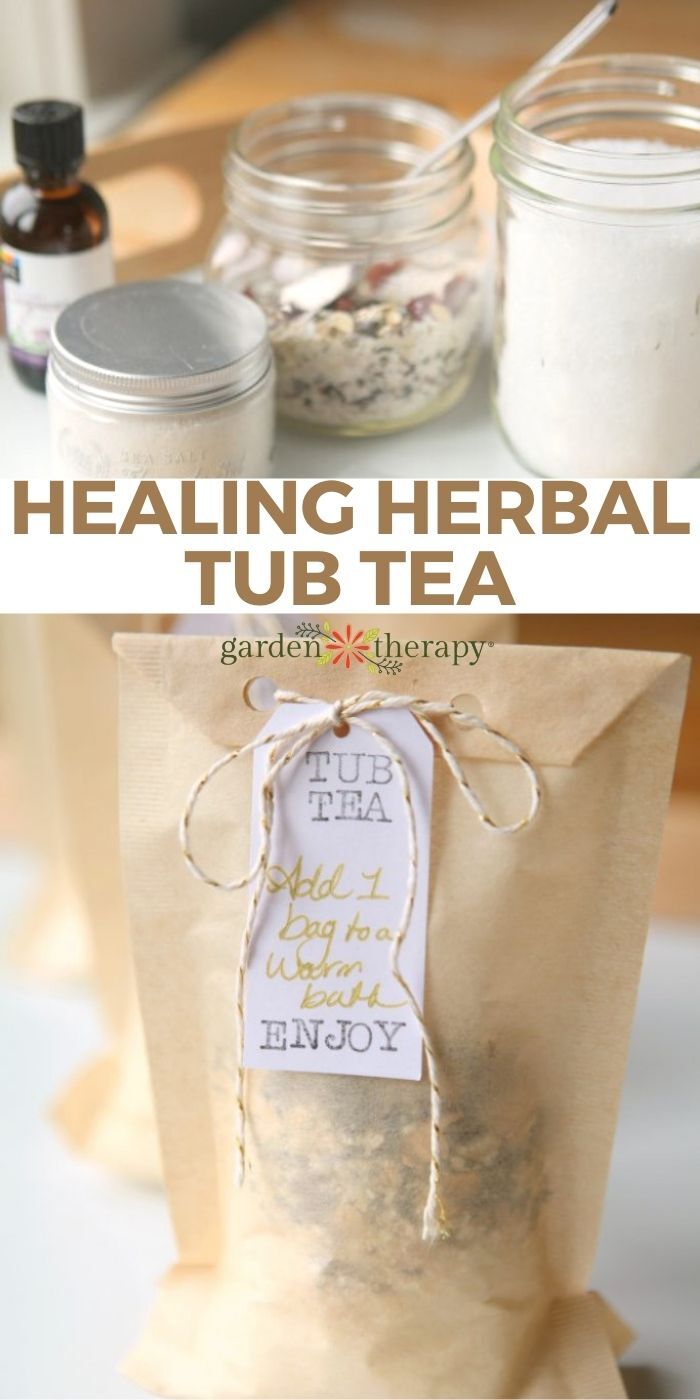 One of my favorite bath projects is bath tea. There is nothing like a warm bath to soothe away all that ails you. Soaking in a herbal bath is luxurious: it softens skin, eases muscle pain, and adds fragrance to the steam. Herbs are wonderful in the bath but they can leave bits and bobs to clean up after the water has drained.
The solution? Bath tea! Pack herbs, salts, and other bath time joys into a paper tea filter and you've got yourself a mess-free bath.
Why I Love Baths and Why You Should Too
If you are a *gasp* bath hater, then this just might be the project that tempts you to give baths another go. Baths are SO good for your health and I make an effort to have a good soak in the tub at least once a week. But when it comes to the winter months, you will find me in the tub almost every day.
Baths actually increase your circulation. The pressure of the water on your body forces your heart to pump just a little bit faster. Think of it as a tiny workout all while you lay down and relax.
You'll also notice a difference in your breathing. The steam from the bath helps to clear your sinuses and reduce mucus. The increase of circulation also means an increase in oxygen, making your lungs work a little bit harder.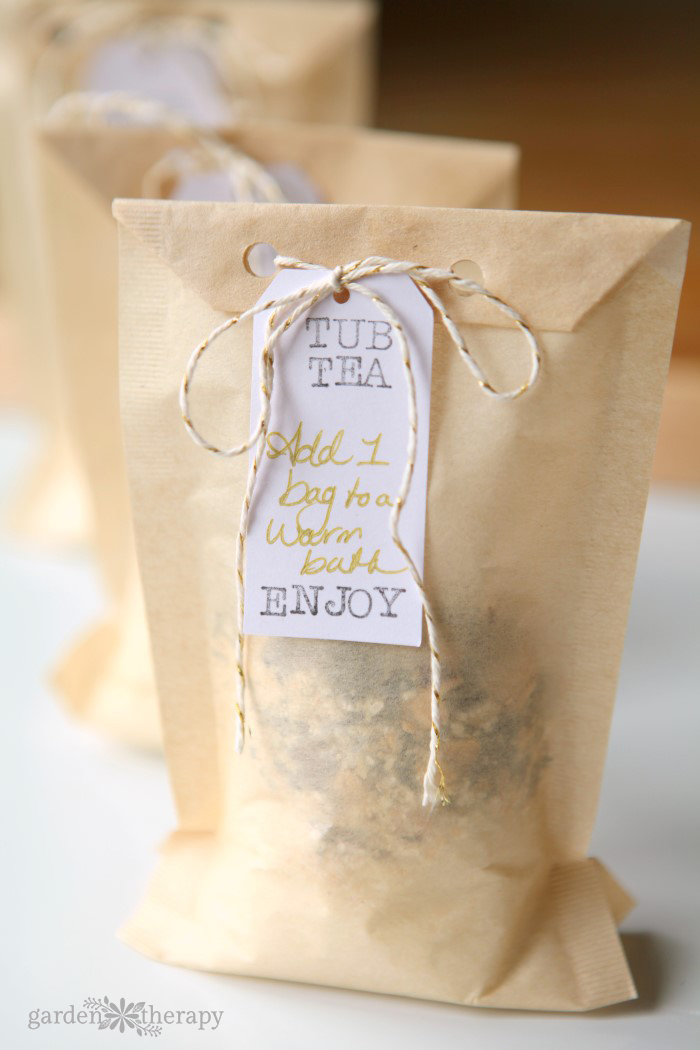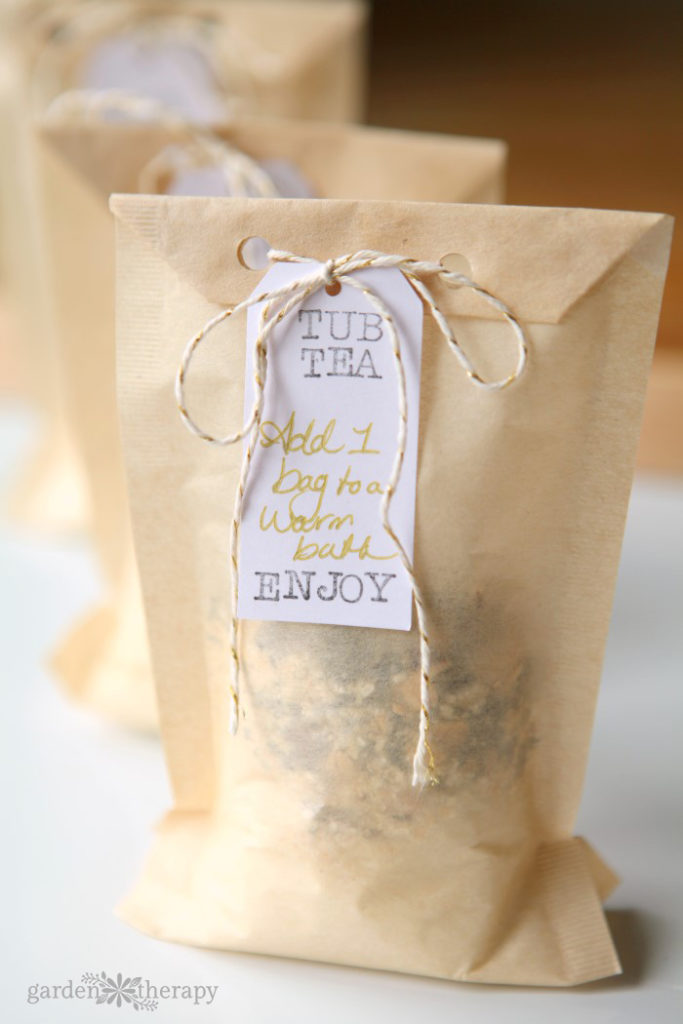 Baths are ideal for relieving tired and aching muscles as it helps to reduce pain and inflammation. This is one of my main reasons for enjoying a bath after a long day. I instantly feel my muscles relax and my body says thank you!
Studies have also shown that bathing helps you to fall asleep. The warm water helps to regulate your body temperature which signals your body that you are ready for bed. Personally, I also use this time to decompress from the day. With no tasks to complete or screens around, my mind stops trying to focus and I destress for the night. The early I can turn off that inner monologue in my head before bed, the better!
Why Make Tub Tea
First of all, to get the right bath experience, you are going to need to create a great atmosphere. If you find baths boring, this is where you want to focus your energy. Light some candles, play some calming music, and incorporate a little something extra to your bath to add some aromatherapy: tub tea!
Tub tea is great because you don't have to worry about the clean up after the bath. Bubble bath, bath bombs, and even herbal bath salts often leave a residue to be cleaned after your bath. Since you spent all that time relaxing, cleaning up is usually the last thing you want to do. With tub tea, you simply enjoy the bath and then remove the bag once you drain the water. Voila!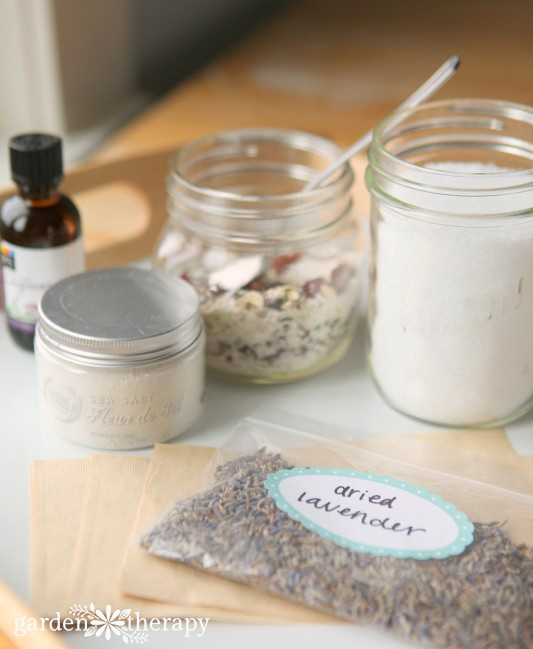 How to Make Tub Tea
Filling paper tea filters with skin-soothing ingredients like herbs, salts, spices, essential oils is a lovely way to treat yourself. They are easy to make and store so you can always have one on hand whenever you want a heavenly bath. These tub tea bags also make great gifts if you package them up with a pretty tag.
I love to use what I grow in my herb garden in natural beauty products. Mint, lavender, and flower petals make wonderful additions to a homemade tub tea.
However, you don't have to have a garden to make tub teas. Many of the ingredients can be picked up at a grocery store or online. Bath teas are completely customizable so add whatever scents you enjoy and whichever herbs you think you could benefit from.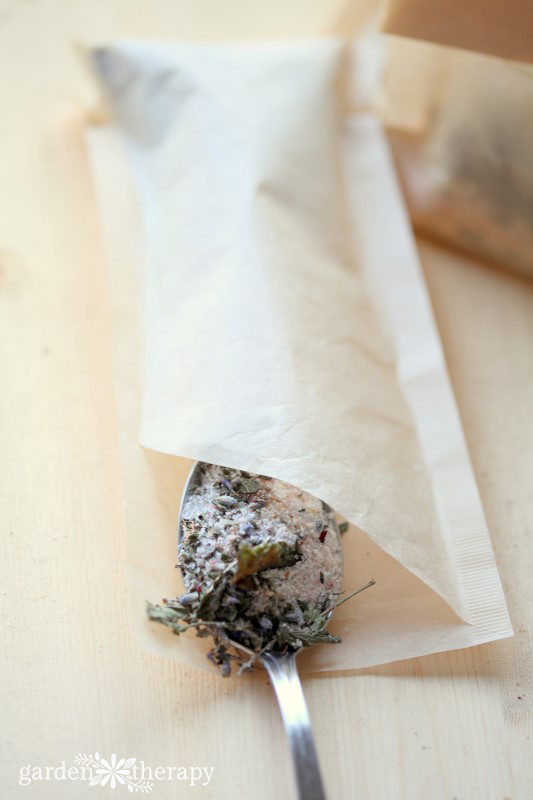 Ingredients
First, you will need some Large Paper Tea Filters. I like using paper tea filters because you can pop the whole thing in the compost bin when the bath is finished. You could also use muslin bags, which can be emptied out and reused.
Here are some of the many ingredients you can use to fill your tea bags with:
Make it!
Mix all of the ingredients together and fill each tea bag with a few heaping spoonfuls.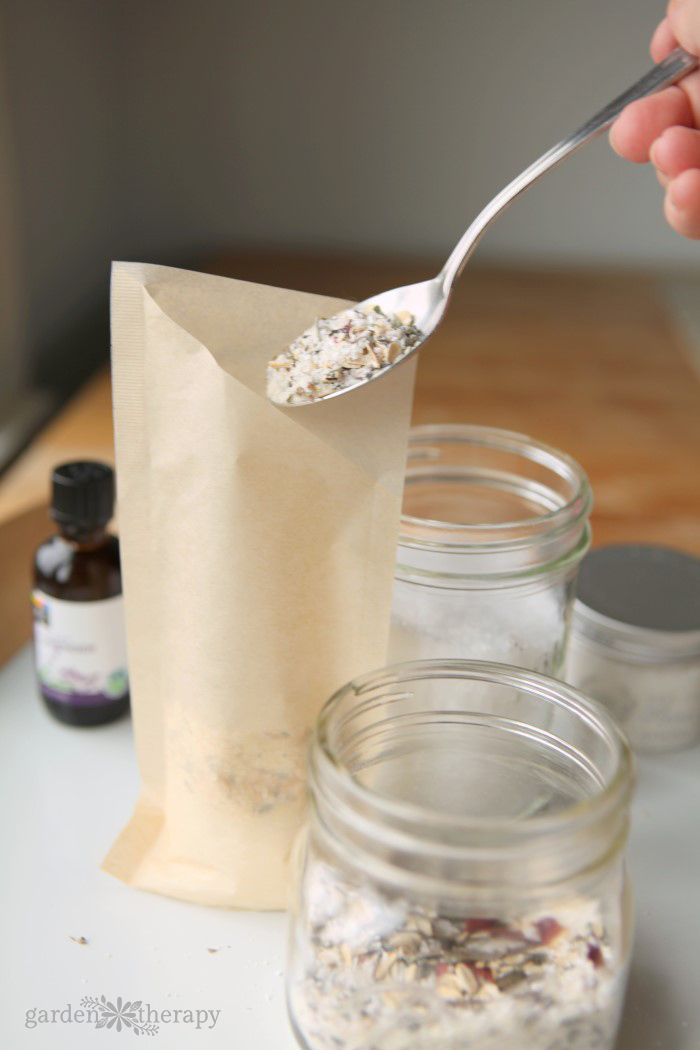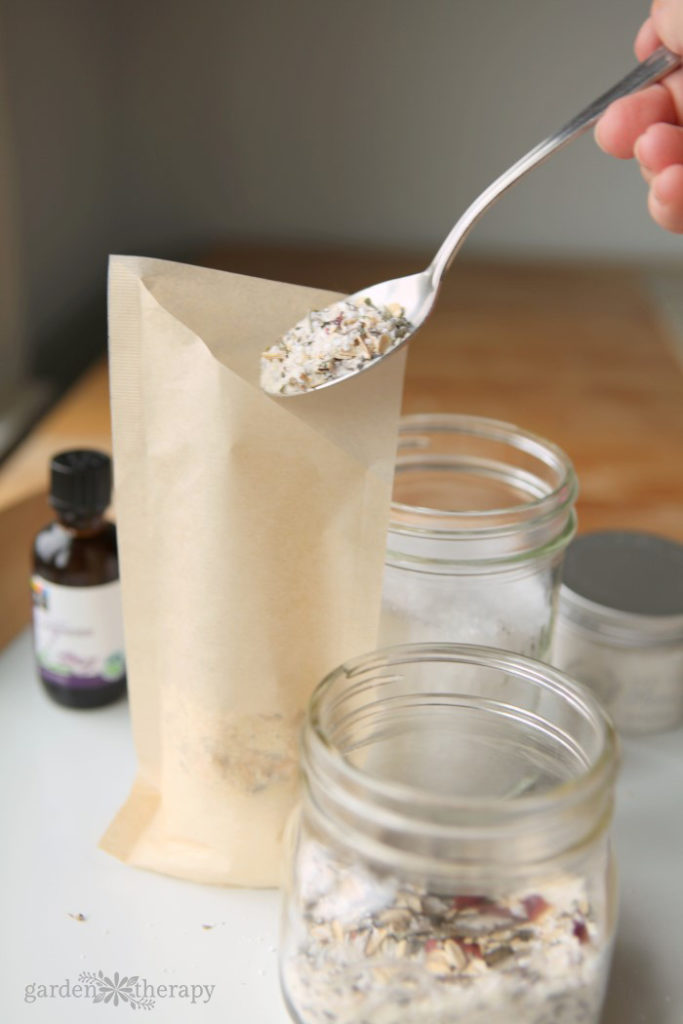 Seal the tea bags by folding the top down 4-5 times and secure with a single staple.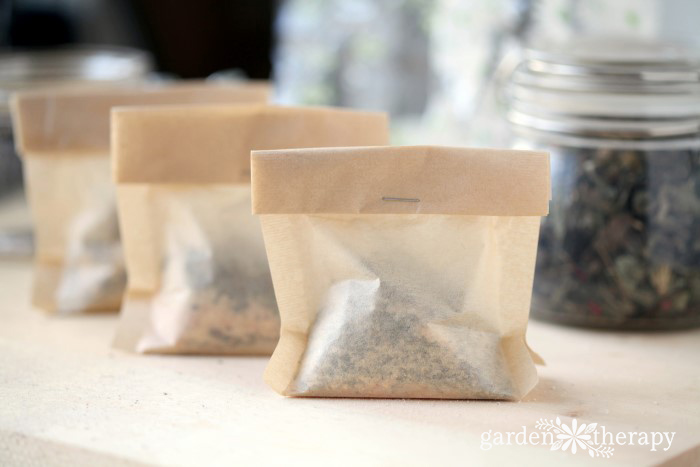 To give tub tea as a gift, pack tea bags into a mason jar or pretty vase and give with these instructions:
Tub tea to the rescue! Add one tea bag to a warm bath. Soak in the tea bath for 20 minutes to soothe sore muscles and detoxify.
I hope you enjoy your bath and the mess-free aromatherapy of tub tea!
More Aromatherapy Ideas:
DIY Bath Tea
This simple DIY bath tea allows you to enjoy soaking in dried botanicals and soothing salts, minus the mess.
Supplies
Ingredients to Fill Tea Bags With (Pick and Choose Your Favorites!)
Instructions
Choose from the filler ingredients above, and mix and match your favorites in a bowl. Stir to mix.

Fill each tea bag with several heaping spoonfuls.

Seal the tea bag by folding and adding a staple, or by typing tightly with a ribbon.

To use, run a warm bath and drop the bath tea in. Soak and enjoy!