Cut flowers have a way of making people smile. Build an urban flower farm stand to sell or giveaway cut flowers that you grow yourself…no matter your garden size! These little stands bring together the community and spread the joy one petal at a time.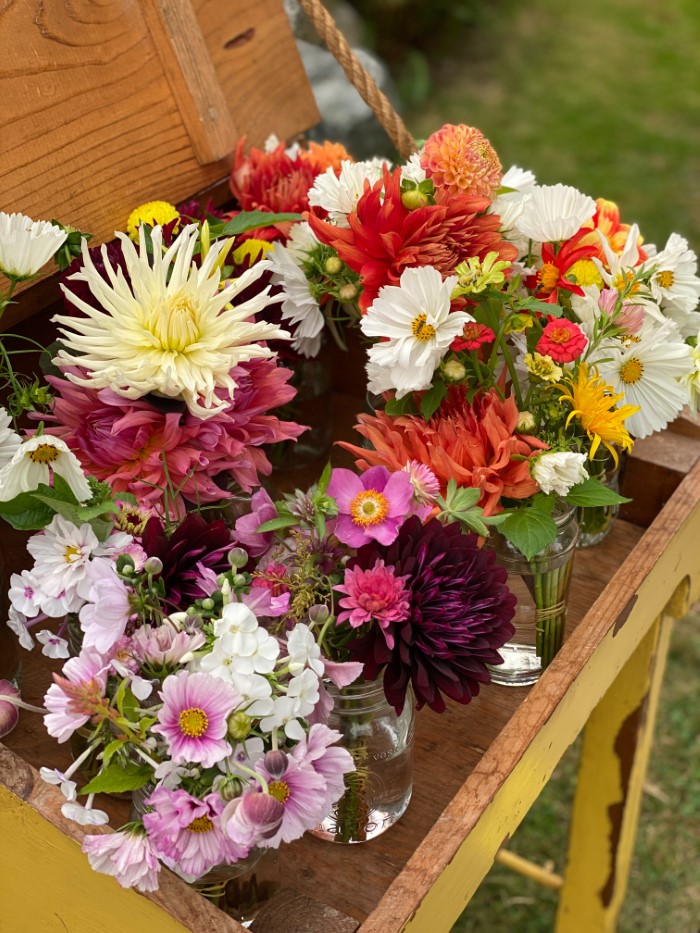 There's nothing more heartwarming than a gardener sharing their bounty. More than once, I have driven by both urban and rural flower stands where folks can pick up a fresh bouquet from a garden overflowing with blooms. It's such a lovely sentiment!
One such farmer is Holly Rodgers. From Vancouver, Holly is an urban flower farmer and florist who offers a small local CSA (Community Supported Agriculture) subscription. Holly sets out the flower stands to raise money for local charities.
I met Holly when we completed the Vancouver Master Gardeners program back in 2010 (or was it 2011? It was a long time ago!) I was always impressed by her keen sense of style and she even gave me the lovely Dig for Victory mug that you see in many of my photos and projects (like this one).
So when I was writing The Regenerative Garden, I asked Holly if I could include her urban flower stand as part of the community chapter. She was very generous with tips and photos, many of which I couldn't include in the book. Thankfully, I have plenty of space to share it here!
Today, I've interviewed Holly about her urban flower garden and community flower stand and why it's so important to community building and regenerative gardening. Hopefully, you feel inspired and create your own little flower community outside your home.
This post will cover…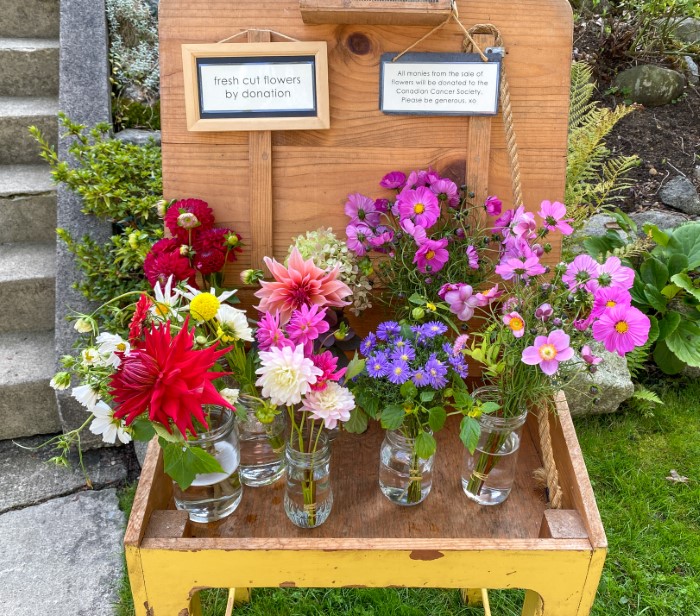 What is a Floral Farmer?
A floral farmer is anyone who grows flowers for commercial use, no matter the scale. That could mean having your own backyard flower farm or a whole acreage dedicated to growing flowers. Take a look at Holly for example!
"I grow flowers to sell in bouquets that I design for my business, Vintage Flowers Vancouver. Everything I use in my arrangements is harvested fresh from my 'urban farm garden'; a space devoted to growing florist quality blooms and foliage."

I am a farmer florist. I grow and create bespoke bouquets and offer a CSA-style subscription. As I started developing this business, I took shorter stems that I was unable to use for bouquets and created posies that I set out in jars.

My favourite floral arrangements to create are bespoke, hand-tied bouquets that are created with flowers and foliage harvested right from my urban flower farm. It is amazing to look at every available thing growing, and see the potential to create a beautiful, 'from this particular moment in the garden' bouquet. Or, in the case of the stand, smaller one-of-a-kind posies that share the garden."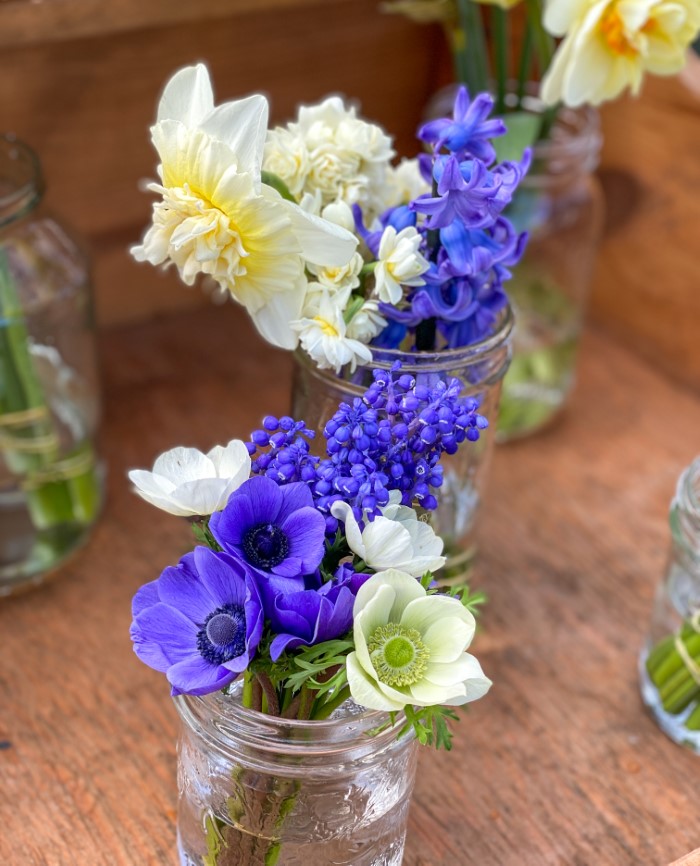 What Kind of Cut Flowers Can I Grow?
Cut flowers can be added at any time of the year in various arrangements. Spring bulbs such as daffodils, tulips, and hyacinths will brighten up the early days of spring. Summer-flowering bulbs, annuals, and perennials make for impressive summer arrangements.
In fall, there will still be plenty of flowers to cut but also include autumn-themed accompaniments such as seedheads, tiny pumpkins, and pinecones. In winter, set out festive arrangements of cut evergreens with berries along with any seasonal blooms.
"All the flowers and foliage I grow on my urban flower farm, and are used in my business, Vintage Flowers Vancouver," says Holly. "It's a very long list including annuals, perennials, trees and shrubs, corms and bulbs and tubers!"
Holly also creates miniature wreaths with natural vines and attached dried flowers and fresh greenery for the holidays, like the ones below.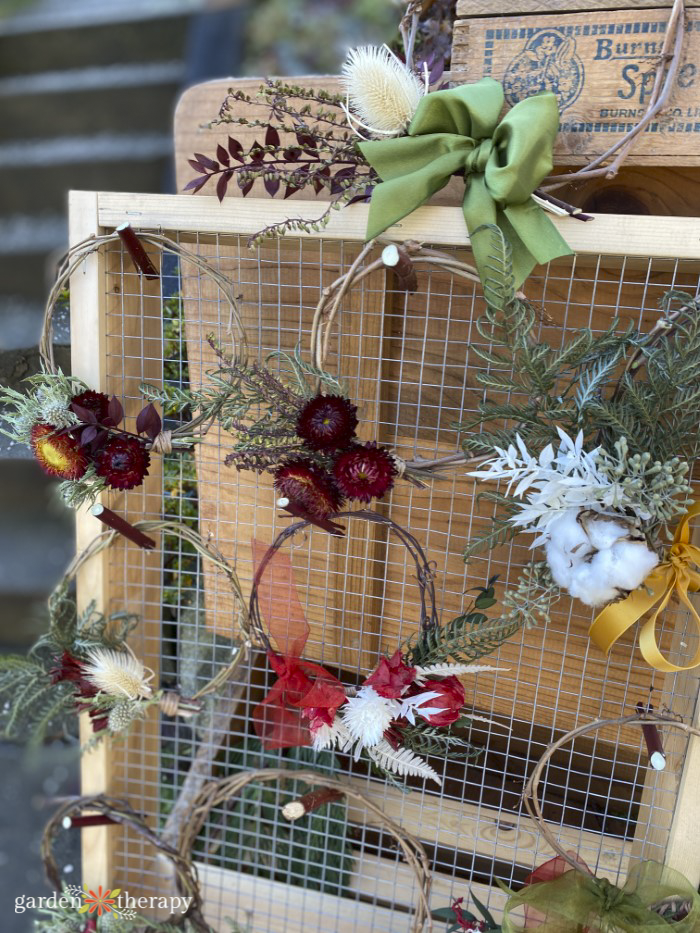 Giving Back to the Community
It's up to you if you would like to sell your flowers for a profit, give them out as freebies, or collect donations such as Holly. You'd be surprised how much of an impact one little flower stand can have on the community around you!
"As many have, I have experienced loss, and these feelings have generated a greater desire to contribute, share, be kind, give, help, etc. When I began the stand, I collected donations for the BCSPCA. All our animal babies have been adopted. With the loss of my Pa to lung cancer, I decided to devote the fundraising to the Canadian Cancer Society/BC Cancer."
Holly suggests keeping an eye out for a matching campaign. This way your little urban flower farm can raise as much money as possible.
"The flowers bring out the very best in people. Everyone is smiling, or crying—in a good way—if they are perhaps overwhelmed with their own story of loss, and this emotional connection is made through giving without expectation. In fact, it creates extreme generosity."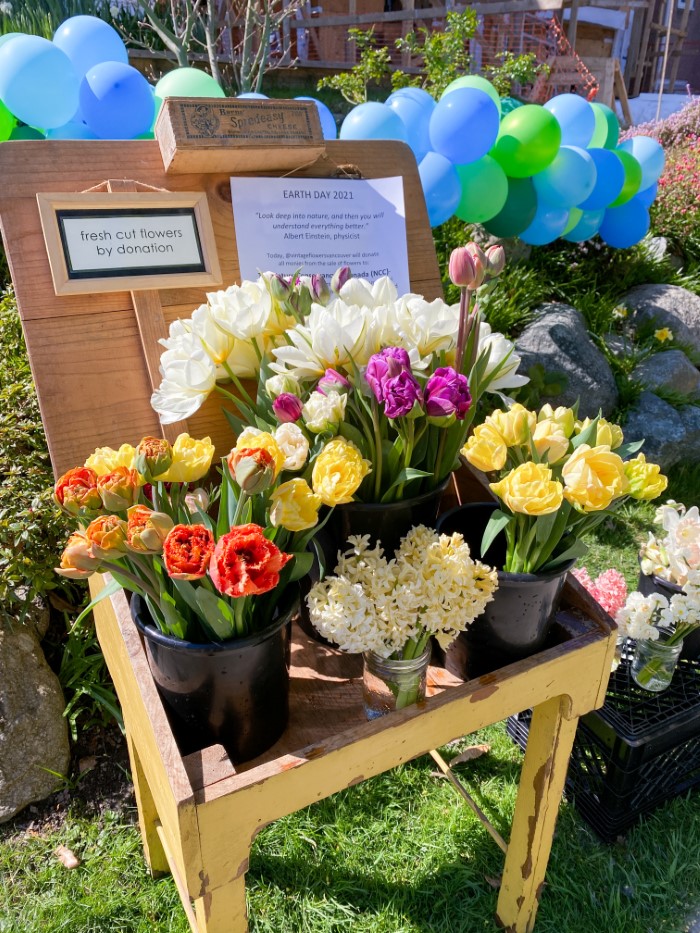 How to Make a DIY Flower Stand
Looking for the perfect stand to house your flowers? Here are a few ideas! A standing desk with a hinged top is a great match since it can shelter your flowers from the wind. Alternatively, you can use an open cabinet. There's plenty of old furniture you can upcycle for your stand!
Print handmade instructions and frame them to tell people how to take flowers and leave behind their donations. To avoid theft, permanently attach a donation or money box. Add a slit for easy donations and a lock to secure it.
Holly has never had any troubles with the 'honesty box' method. People are happy to leave their donations behind!
Add a waterproof coating to your stand to protect it from the weather. Keep the stand inside overnight and on rainy days. Make sure it's small and portable enough to do so.
Display your cut flowers in florist buckets and Mason jars. Encourage community members to return the containers so you can continue to supply vases to display the flowers.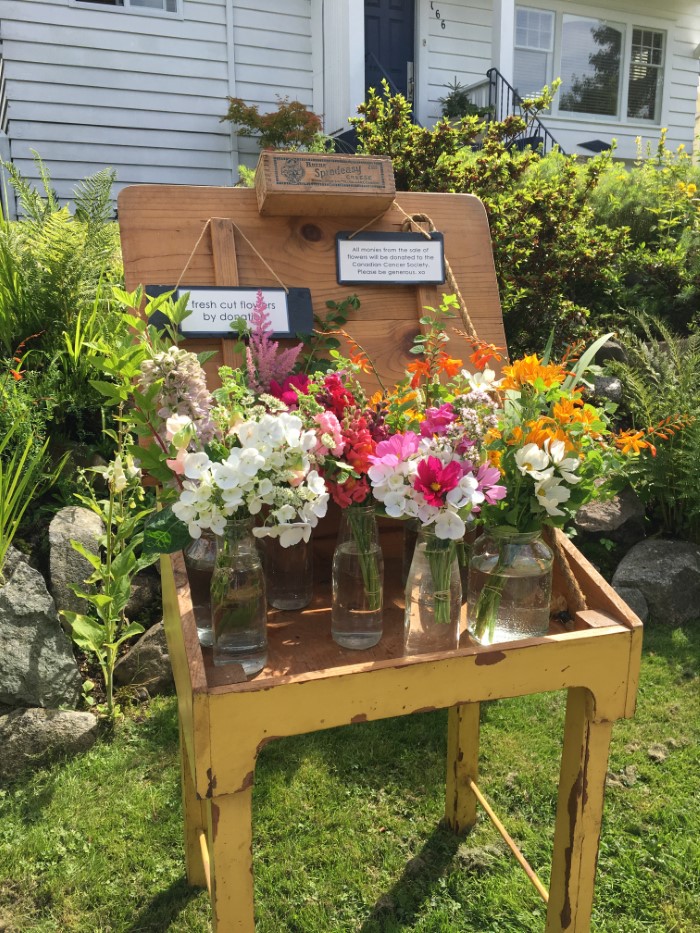 How Do I Market My Flower Farm?
You want your flower stand to really make an impact on all who drive by. For Holly, she'll add decorations such as balloons and garlands to help draw the eye in.
Make sure to properly label your flower cart, so people know exactly what it is. Customize your signs and ideally make one that's readable from the road.
Holly also suggests playing music. "I often relate a musical playlist to the tone of the season, and the vibe of the community. I would suggest that if fundraising is one's goal, then pulling out all the stops is the way to go!"
Finally, make sure to advertise on social media so that all your friends and family in the area can stop by and enjoy the flowers. Encourage others to share the flower stand on social media. A sign can help by asking customers to share and tag you in the photos online!
Is it Illegal to Sell Flowers From Your Garden?
Anytime you sell something from your home, research unique regulations in your area. There could be bylaws that restrict local growing and distribution. However, most communicates accept small-scale community sharing as an unlicensed business.
The neighbourhood connection that results from a local flower stand is worth the efforts to change the bylaws or get an exception if it is prohibited.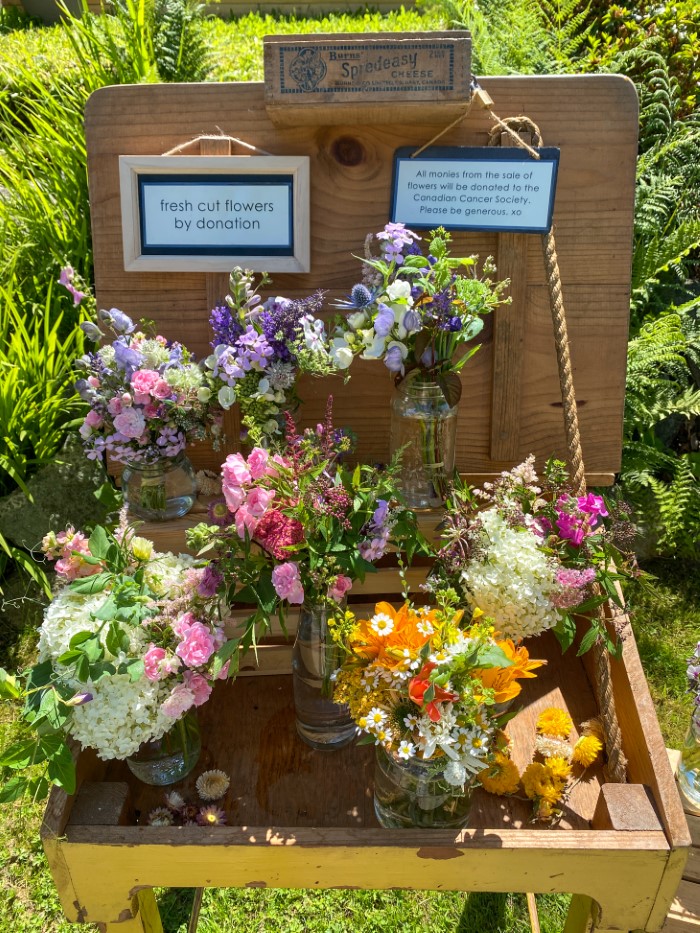 The Future of Community Supported Agriculture
Community Supported Agriculture is when you grow and distribute organic produce (or flowers) that helps to reinforce the connection between farmers and their communities. With Holly's urban flower garden and flower subscription, I wanted to get her take on this growing movement!
"From a local, urban, micro-scale farmer-floral, CSA perspective, having people opt for flowers over food, or alongside food farming, requires funds for non-essential items, and a sense that the beauty they bring into one's life is food for the soul.

For the flower stand, urban affordability is an issue. It requires some money to contribute, and the ability to live in these neighbourhoods that are becoming unaffordable; and an appreciation of the effort and creativity, and importance of farming and community.

I have had a few people call me their 'garden coach'; I am happy to share information. Flower stand aside, if I am talking to someone while gardening, I will often invite them into the back area where the farming occurs.

This transparency is a surprise and encourages interest. I have expanded the flower stand community by sharing and showing. In conversations with those without their own outdoor space, I feel that this sharing promotes great interest in CSA-style subscriptions."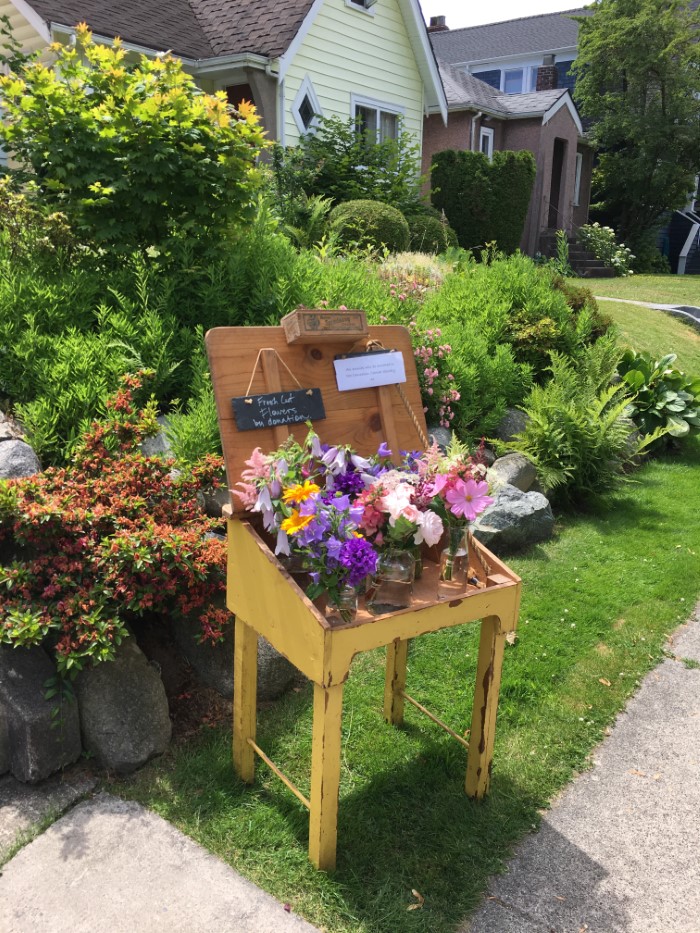 If you make your own flower cart from your urban flower farm, please share the photos with me. I'd love to see the types of flowers you grow, the bouquets you design, and the smiles you bring to others! For inspiration, be sure to follow Holly's Instagram, Vintage Flowers Vancouver.
More Community Gardening Ideas