Echinacea is an easy-to-grow plant that will add a pretty pop of colour to any space. Not only is this plant pollinator-friendly, but it makes for a beautiful cut flower too! Here's how to plant, prune, and care for coneflowers.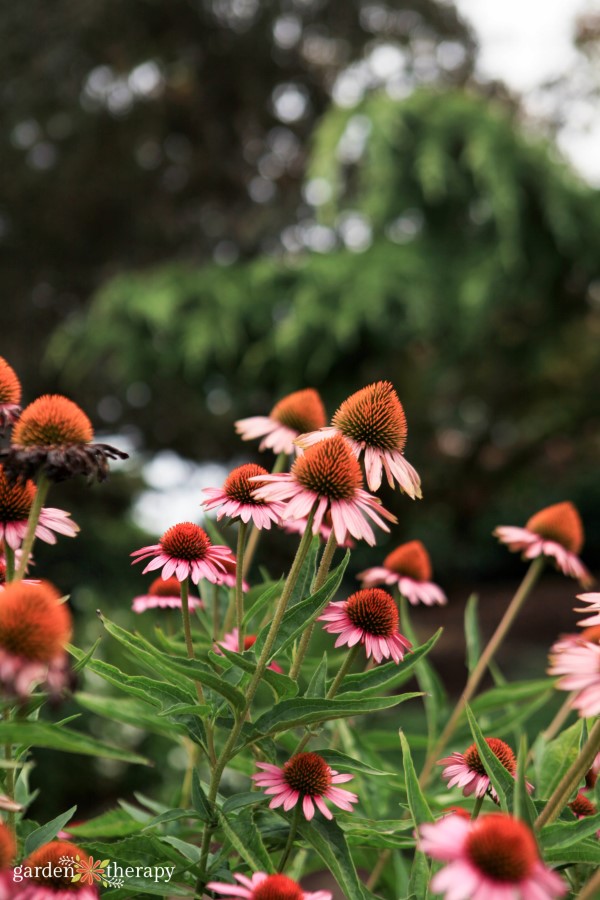 Echinacea has a very special place in my heart and my garden. There's so much to love about these gorgeous spiky flowers. They are drought tolerant and won't complain about poor soil.
They are extremely low maintenance once established and produce a ton of eye candy that brings an added pop of colour to the garden.
Echinacea also makes wonderful cut flowers, attractive pollinator plants, are an important food source for birds in the winter, and they have medicinal properties to help us build our immunity.
With all these wonderful benefits, Echinacea surely deserves a permanent spot in your garden!
Jump ahead to…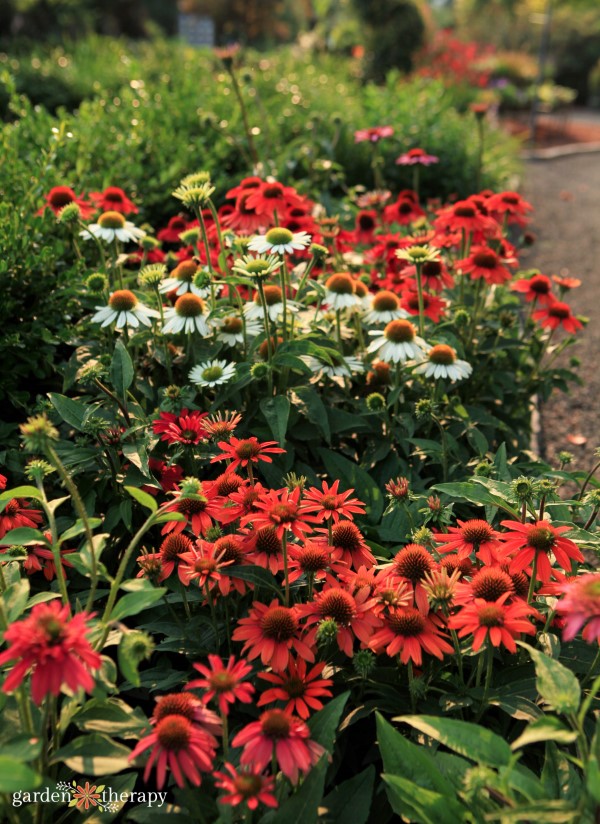 Coneflower Varieties
There are so many hybrid varieties of Echinacea now available. This ornamental seems to be a favourite of breeders as new coneflowers are popping up every year.
New varieties are being introduced every year that have new or brighter colours, taller or smaller plants, different growing habits, more prolific blooming, and double blooms.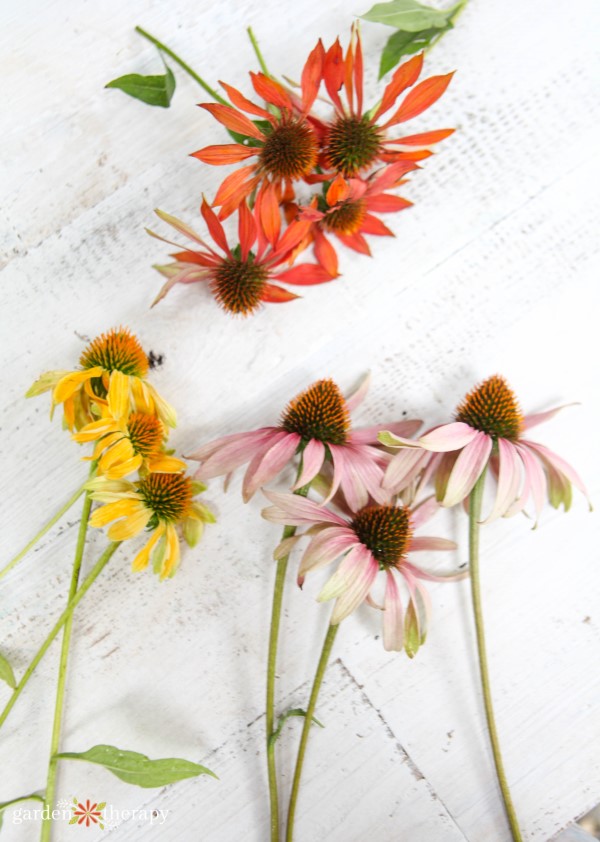 Here are a few new varieties to look out for in garden centres. I was able to see these in person this year through tours and garden trials and I really love how they have performed.
Evolution ™ Fiesta Coneflower – spicy coral petals that fade to a more romantic muted tone as they age. From Monrovia.
Evolution ™ Green Eye Coneflower – an enchanting green cone surrounded by pink petals. From Monrovia.
Echinacea Sombrero® Sangrita has vibrant red-orange petals and a burgundy flower stem from Darwin Perennials. Note: in my garden, the colour came out much more orange than red.
Echinacea Sombrero® Granada Gold has a bright yellow colour that doesn't fade and a yellow cone that holds some of its hues when dried, making it really nice for dried flower arrangements. From Darwin Perennials.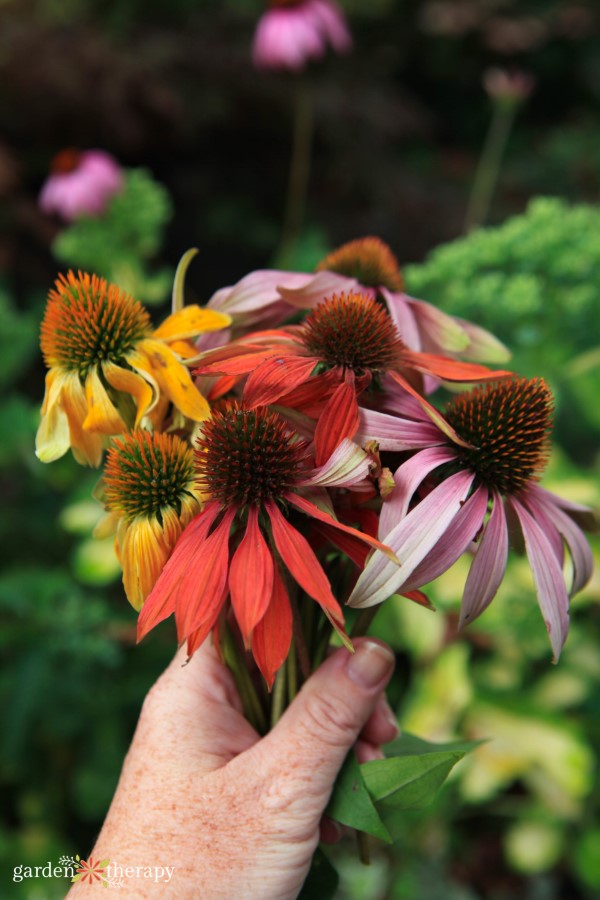 Growing Echinacea
Coneflowers are very low maintenance once they are established. Here are a few things you can do to get them started off right.
Starting Coneflower Seedlings
I love coneflowers not just for their beauty but for how easy they are to grow. They're hardy all the way to zone 3, making them a bright and manageable perennial.
You can begin sowing Echinacea seeds indoors for 8-10 weeks before transferring them outside. After 10-21 days, they should germinate.
You can also direct sow them in early spring or early fall. Seeds should be sown shallowly at approximately 3m (1/8") deep.
Space them out 12-15". They look stunning when planted in mass!
Light
Pick a location with the brightest light that you have. Echinacea loves bright light and thrives in full sun. However, the plants will tolerate partial sun as well and still produce plenty of flowers.
I have a lot of shade in my garden, and I try to pop in as many coneflowers as I can anyway. They still bloom in the shade but are less floriferous and can tend to flop over.
Watering
Echinacea is also very easygoing when it comes to watering. Water them well to establish new plants in the garden and encourage deep roots. Once established, they won't need any supplemental watering unless you are in periods of extreme drought.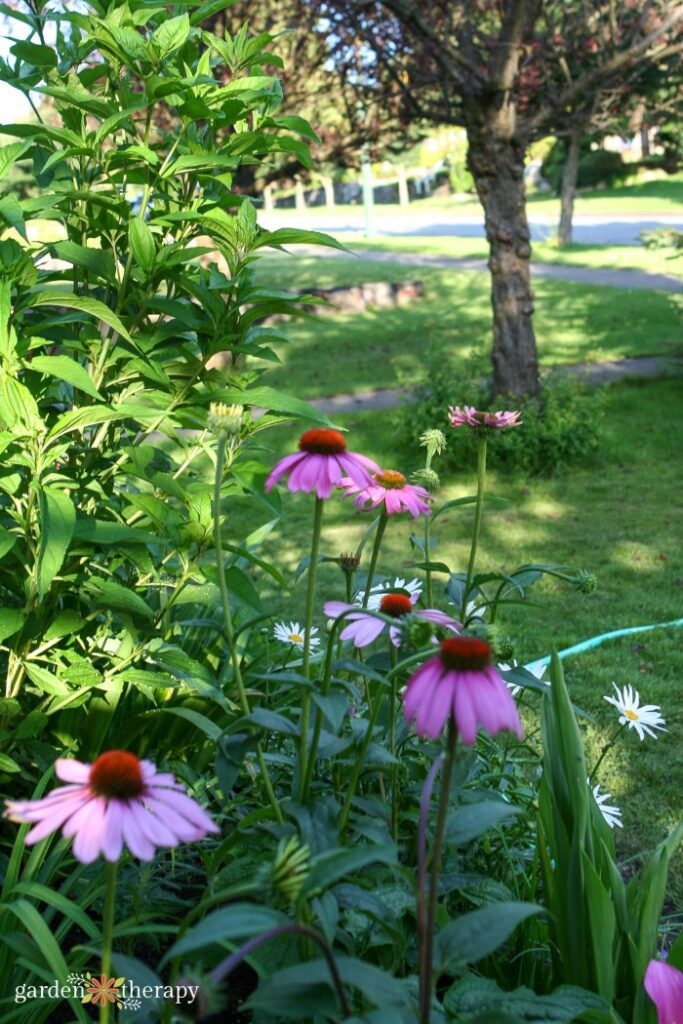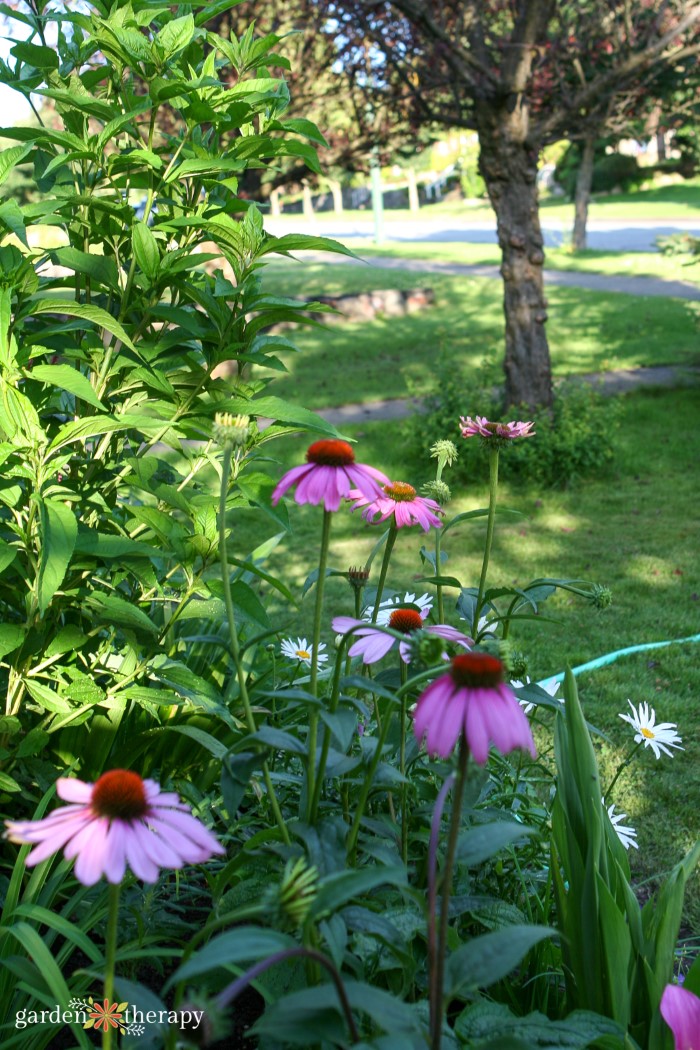 Coneflower Care
Fertilization
Coneflowers don't need any special fertilizers throughout the year. Plant them with some well-rotted compost, and then add compost again in the spring.
Follow your normal soil-building strategies and you won't have to add any supplemental nutrition for the plants.
Propagation
Echinacea grows a long taproot which helps them suck up water from deep down in the soil and give them that hardiness. This taproot also means that they aren't a good perennial to divide.
Allow the plants to clump and if you want to plant more start them from seed, cuttings, or grab a new transplant.
Pruning
These low-maintenance plants don't need pruning throughout the year, but you can prune them to increase blooms and extend bloom time.
Echinacea is already quite a long-blooming plant starting in midsummer and going all the way into the mid-fall in my Zone 7 garden. If you're lucky enough to have a large space with a collection of plants, you can really extend the bloom time by cutting back some of the plants in midsummer.
Cutting back the plants delays blooming so you can either cut back all your plants for a late summer and fall display or only cut back some of the plants and stagger the bloom times for an even longer season. Fiskars makes some wonderful pruners that come in handy and cut through the thick stems with very little effort.
Should I Deadhead Coneflowers?
If you want to increase the size of newer forming blooms, you can deadhead Echinacea. If you follow the stem down to the first set of leaves you might see flower buds forming.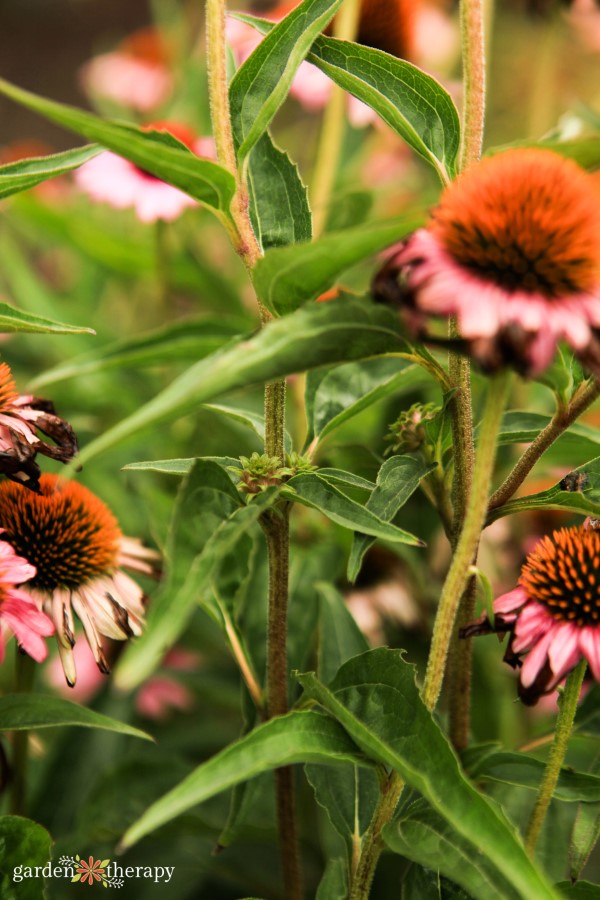 This is a perfect time to go in and remove the flower above. Cut the stem right above the new flower growth and you can add the bloom to a flower arrangement.
Deadheading is simply cutting off the older flowers, which encourages the plant to put energy into producing the newer flowers rather than producing seeds on the old flower. Learn more about deadheading flowers here.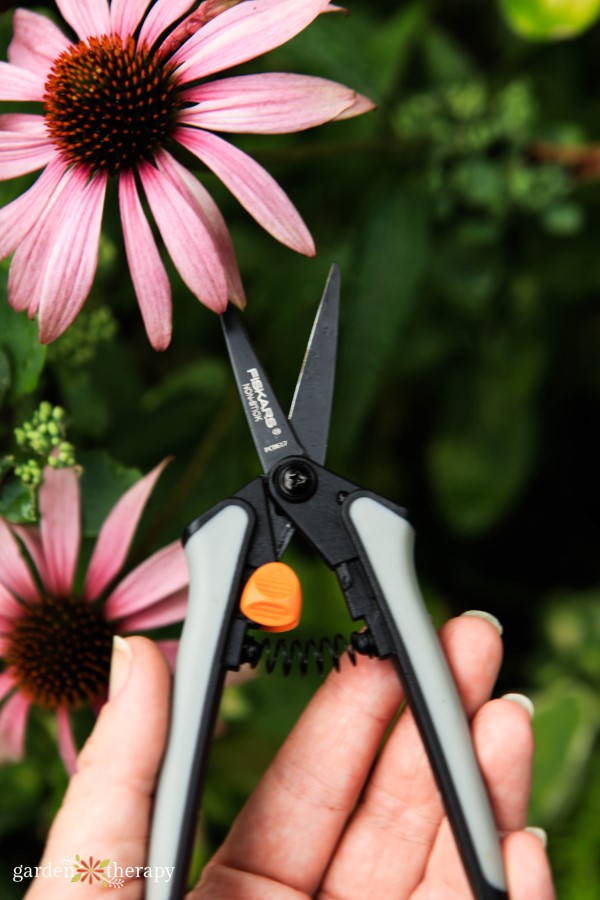 When the second wave of flowers blooms, I keep them in place for fall and winter as the birds LOVE to snack on the seeds. The seed heads dry with a spiky cone above a tall stem. I dry the cut flowers for their seed heads to use in crafts and leave the rest in the garden for winter interest.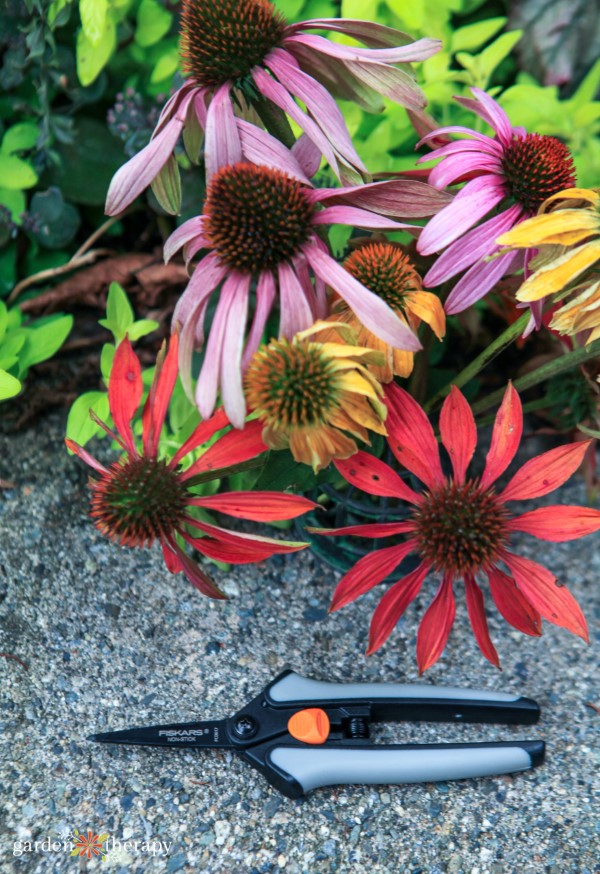 Echinacea Uses
Echinacea has been used medicinally throughout the ages. The following information is from Rosemary Gladstar's Herbal Recipes for Vibrant Health.
Echinacea pallida and E. angustifolia are primarily wild Echinacea that can be found on the edges of wooded areas. The most common and easy-to-grow Echinacea for gardens is E. purpurea.
These three varieties are most commonly used as medicinal plants. The roots, leaves, and flowers all have healing properties. Echinacea is a powerful immune-system booster that has no side effects and is safe for children, the elderly, and everyone in between.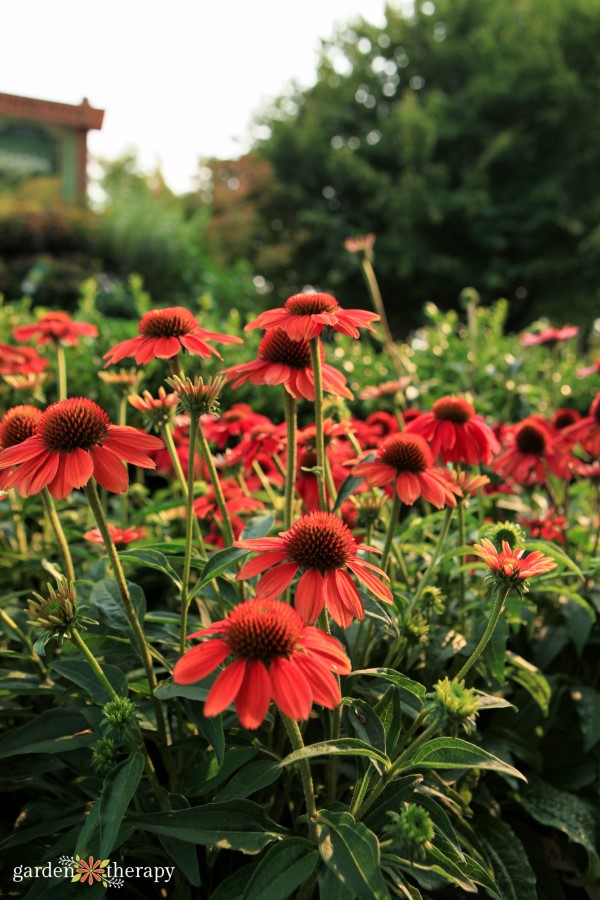 To use Echinacea as a medicinal plant from your garden, ensure that you are growing an organic plant that has not been sprayed or treated with pesticides or herbicides.
The entire plant can be used to make a tincture that's handy to have around in cold-and-flu season. Take it frequently in small doses at the first sign of a virus, but stop taking it once you get better as its effectiveness wanes if it's used too frequently.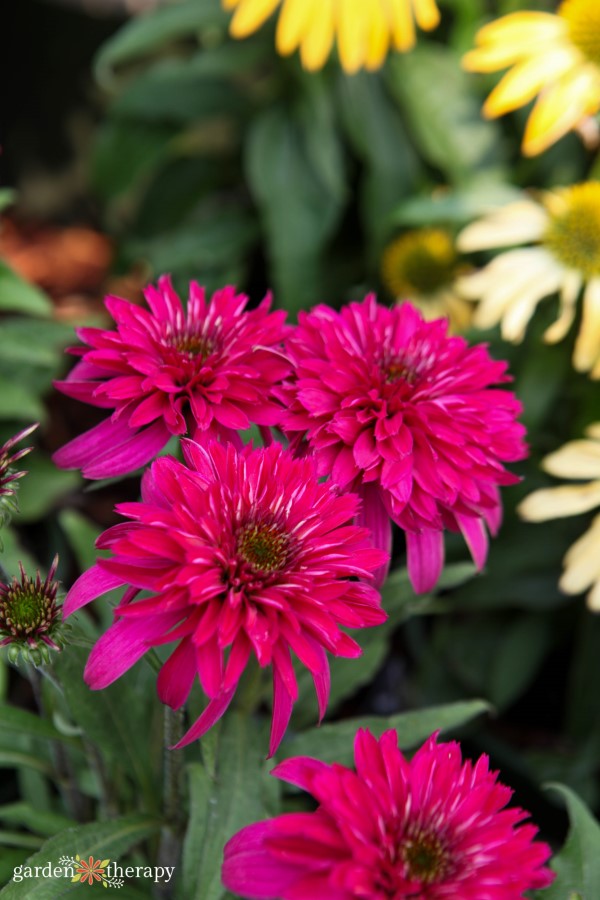 How to Make Echinacea Tea
For the tea, you can use the flowers, leaves, roots, or stems of the plant. I like to use the flower petals and leaves. Harvest your coneflowers when the flower heads are fully mature.
You can choose to use either fresh or dried Echinacea. If using fresh, you'll need 2 tbsp of the flower. For dry, you'll need 1 tbsp. Let your Echinacea steep in boiling water for 15 minutes. Then, strain the flowers, roots, or leaves from the pot and drink away.
If you're making herbal tea for the first time, read this guide to making homemade herbal tea first.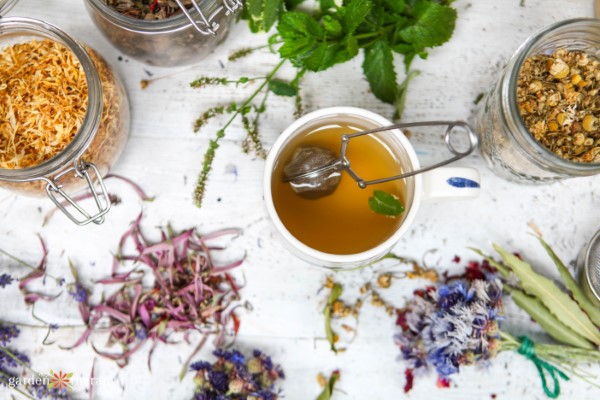 Frequently Asked Questions About Echinacea
Do coneflowers spread?
Coneflowers spread by self-seeding. In the fall, if you leave the seed heads, some will drop. Tons of wildlife enjoy these seeds so most will get eaten up. Whatever doesn't may germinate the next spring. If you wish to stop the seeds from spreading, simply deadhead the spent blooms in the fall.
Are coneflowers perennials?
Echinacea is an extremely hardy plant that acts as a perennial in most zones. It flourishes in zones 5-8, but can also be grown as low as zone 3. Higher zones will benefit from the drought tolerance of the plant but may still some supplemental watering.
When do coneflowers bloom?
Coneflowers will bring plenty of joy to your summer and early fall garden. They bloom from July through September.
Do deer eat coneflowers?
Echinacea are considered deer-resistant plants. While deer may occasionally munch on them, they would prefer other plants in the area before eating Echinacea.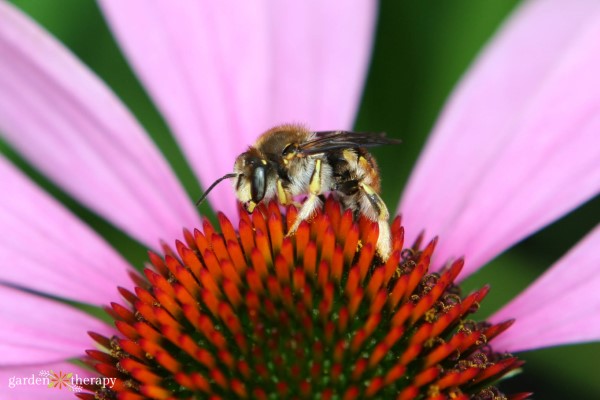 More Flowers to Grow