Can we talk about feet for a moment? As a gardener my feet take a beating. I love to be outdoors no matter what the season and I walk everywhere I can. I have a car, but it sits there all week in front of my house while I don my walking shoes (or flip flops) and head out for a jaunt around the neighbourhood. Nothing quite beats the feeling of kicking up your tired feet at the end of a day, except of course a little foot pampering. Just taking a few moments to sit and rub this healing foot balm on my feet, helps to melt away the stress of the day. Peppermint is both cooling and a pain reliever, so it's made for hard-working feet. Whether you spend your day in high heels, work boots, or flip flops, your feet with thank you for this recipe!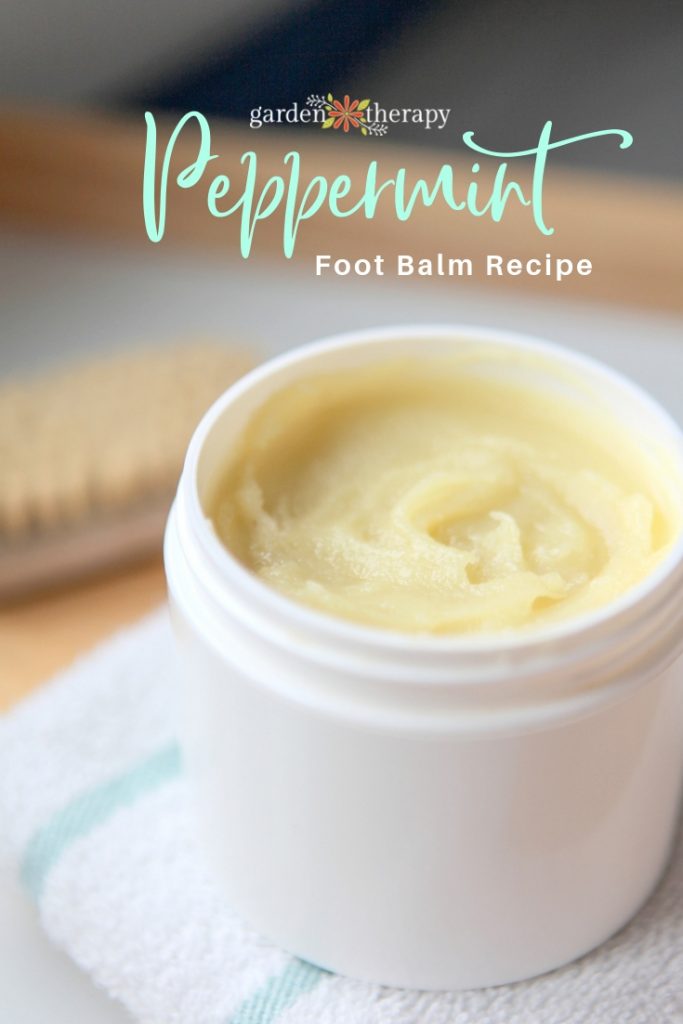 Healing Plant Ingredients for Soft Skin and Pain Relief
This peppermint foot balm is full of all-natural ingredients that heal, soften and soothe the skin on your feet that can often become dry, calloused, cracked, and rough. Taking a few moments to run your feet with this balm can take away the aches and muscle tightness as well. If you have really dry or calloused heels, this foot balm is made to go together harmoniously with this Peppermint Foot Scrub recipe. After a good soak in warm water, a cooling peppermint foot scrub, this balm seals in moisture and helps to repair cracks and dryness. A true peppermint pampering for hard-working feet.
Ingredients
Makes 1 cup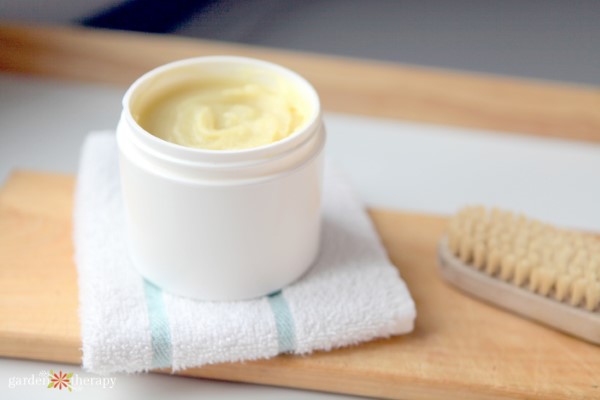 Make it!
Melt the oils, wax and cocoa butter together over medium-low heat in a double boiler or a Turkish coffee pot. If the beeswax you have is a solid chunk, grate it using a cheese grater to allow it to melt faster and keep the oils from warming too much. Add essential oils when the oils and wax are melted.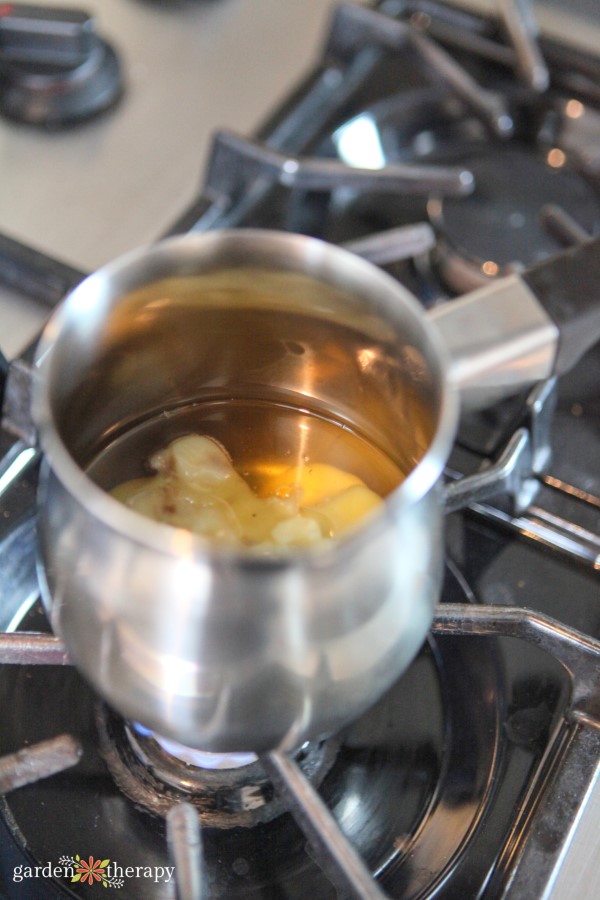 Pour into a heat-proof container,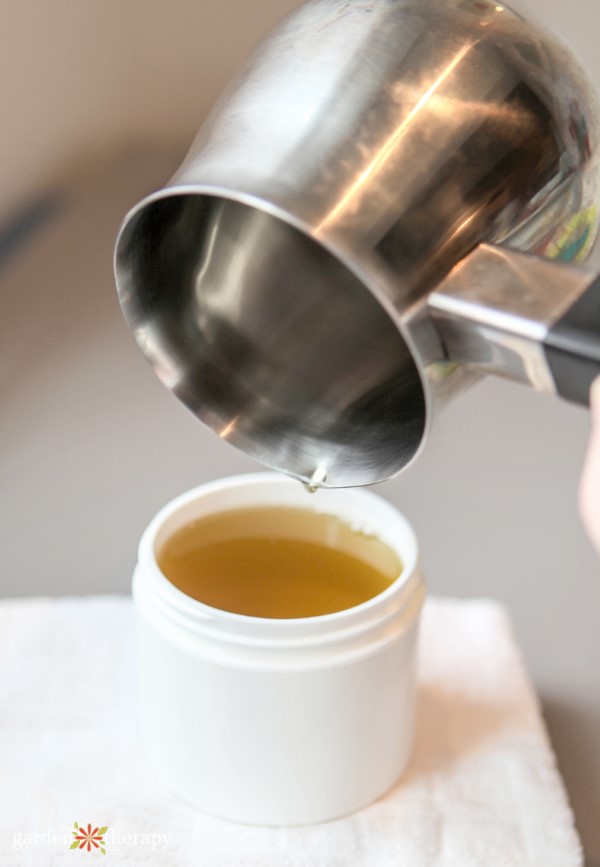 and leave undisturbed for 6-8 hours to cool.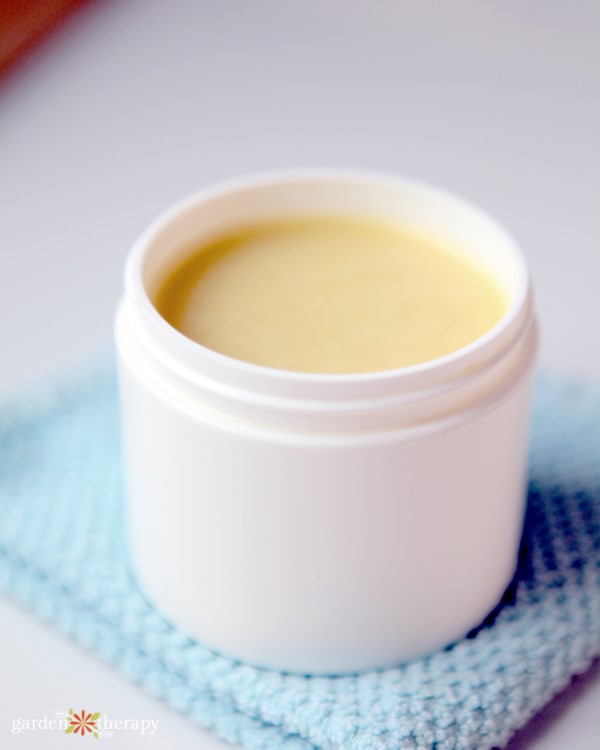 Apply after the shower or bath and at night before bed for 2 weeks and you are sure to feel a big difference!
4-Step Foot Care Therapy
While I find this balm is wonderful in the winter when my heels get really dry, I also like to use it to help with the pain of long days gardening in the summer. Here are 4 steps to pampering your feet to help repair skin and ease pain no matter what the season.
Soak feet in a warm foot bath filled with this Herbal Foot Soak.
Scrub feet, ankles, and calves with this Pampering Peppermint Foot Scrub.
Dry feet, massage in healing foot balm .
Slip on a pair of socks and go to bed. The next morning the aches are long gone and the bottom your feet feel like a baby's bottom.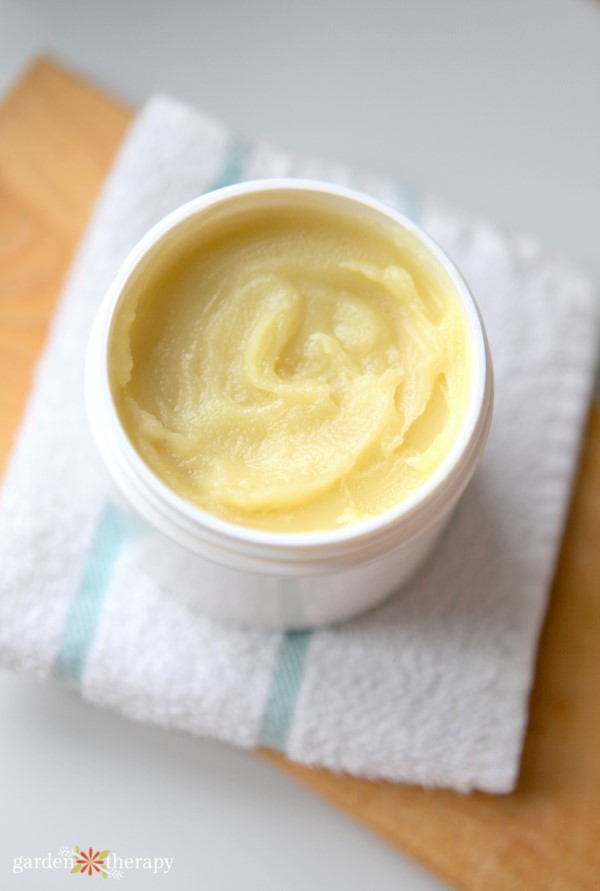 More Plant-Based Beauty Recipes You Will Love