It's never been easier to create your own stunning artisan-made candles for yourself, friends, family, and to even sell. But what so many of these flower candle tutorials don't tell you is that the flowers you're using to decorate your candles may not actually be safe! Today, I'm setting the record straight about using flowers, leaves, and herbs in your candles.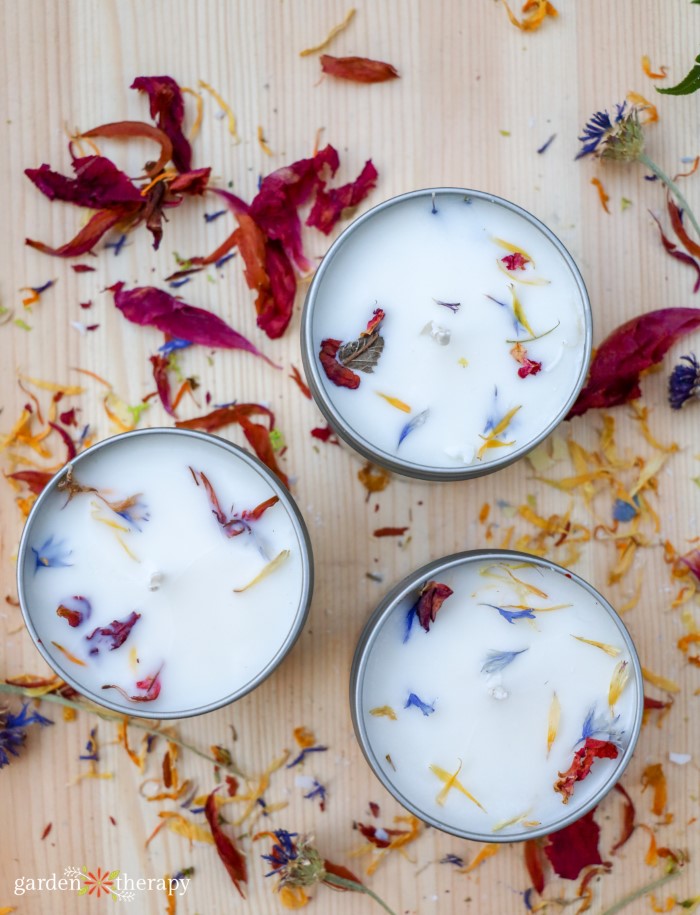 When it comes to candles, adding in botanicals feels like the perfect match. I'm always turning to mother nature to find the best natural crafting ingredients!
I've made my fair share of garden-inspired candles, like these pressed lavender candles or these beeswax succulent candles. But is it actually safe to add things to your candles?
We often forget that candles can be very dangerous if not handled or burned properly. We're dealing with a real flame after all!!
To make sure everyone is safe when it comes to crafting dried flower candles, I want to break down everything you need to know to do it safely.
This post will cover…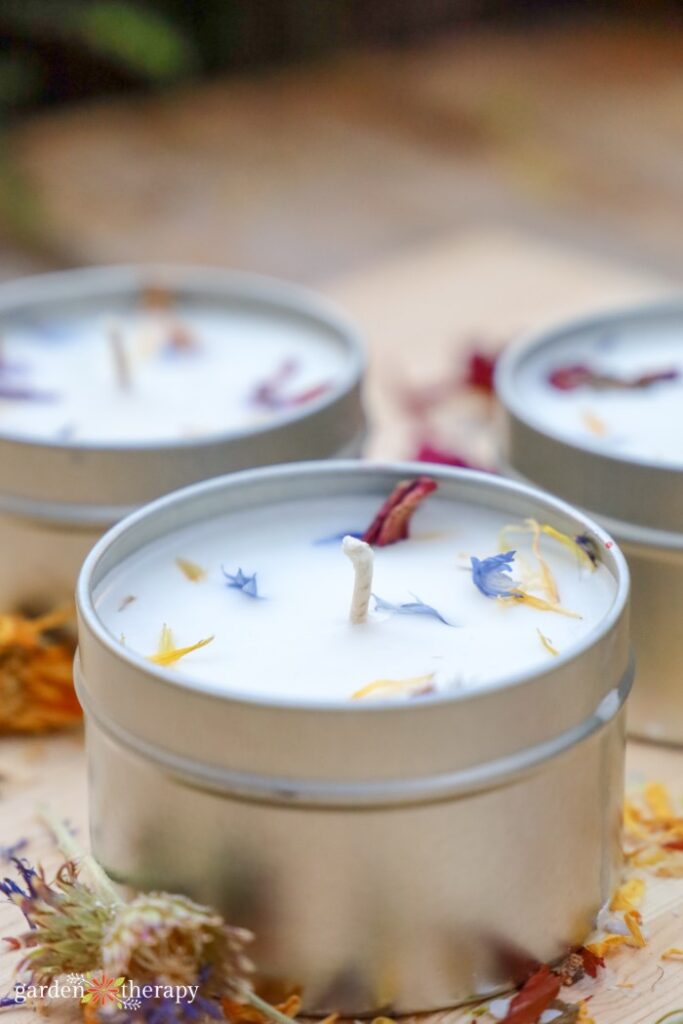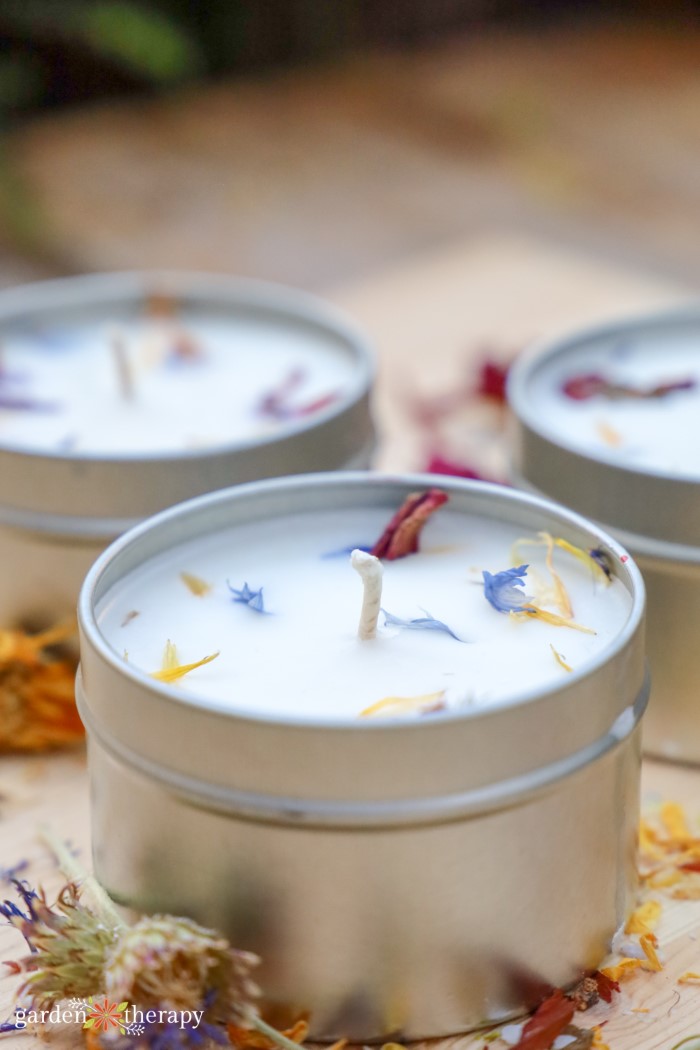 Is It Safe to Burn Candles With Flowers?
Yes, tentatively. You can safely burn candles with flowers in them, but I've also seen many people do it very very wrong. With the rise of Etsy, Pinterest, and now TikTok, plenty of people are sharing the art of candle making. There's been a huge rise in makers and therefore sellers.
But the problem is so many of these people have little training in making candles safely. I saw a video where someone was putting WHOLE pinecones into the candle. I use pinecones as fire starters so you can imagine what happened next.
Sure enough, the whole pinecone caught on fire when the candle burned to create a big ball of fire in the home. Yikes.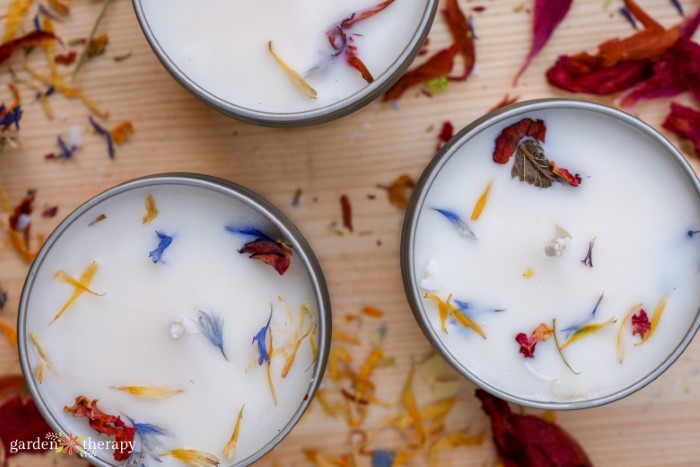 Don't get me wrong, I love seeing all the DIY candle-goers out there. I found a love of candle-making myself and have been obsessed ever since. But every candle I share has been tested by myself and vetted using a heavy background in candle-making safety.
Adding any kind of botanicals or flowers to a candle will be a fire risk. You need to position them very carefully and always watch the candle. For the most part, the flowers will sink into the wax. But you still need to watch for that odd petal that catches a spark!
Personally, I never gift any of my flower candles. These remain part of my personal stash. I know the risks of burning them and wouldn't feel comfortable gifting a candle that needs a watchful eye to burn.
If you want to gift botanical-inspired candles, consider making wax melts instead.
How to Safely Use Flower Candles
When you do safely use flowers, they look absolutely amazing. It's a simple way to decorate plain candles with a touch from the garden.
Only use dried flowers for your candles. Anything fresh will retain moisture and won't dry nicely surrounded by the wax.
Avoid large petals and pieces. Instead, break up the flowers or herbs into small pieces. Don't overdo it with the petals. Remember that less is more!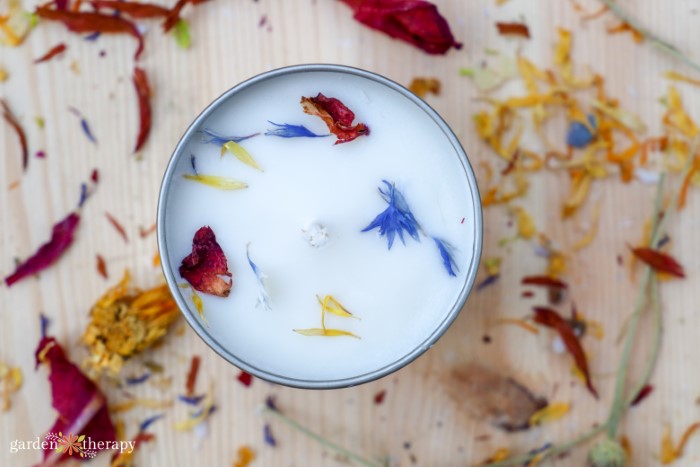 Most importantly, the flowers need to be placed away from the center of the wick so that the flowers don't come into contact with the flame. Anything too close may also clog the wick. The petals should also not stick out of the wax.
The larger the container, the better. Wider containers allow more room between the sprinkled flowers and wicks. A clear container also allows you to see the petals better despite being placed closer to the edge.
You can also place pressed flowers onto the sides of containers. This displays whole flowers in a candle-safe way. Follow my tutorial here!
The Best Flowers for Candles
You can add just about any flower to your dried flower candle, so it all comes down to preference. Many flowers don't retain their colour when dried, but these are some of my tried-and-true favourites for candles and beauty recipes as a whole.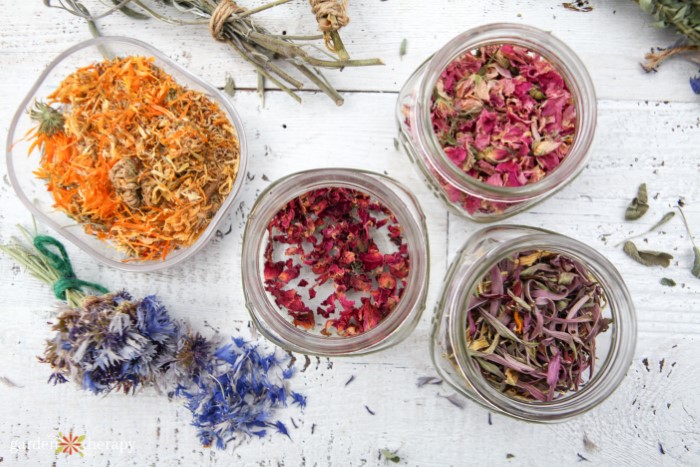 How to Add Flowers to Candles
Adding flowers to your candles is very simple. It all starts out the same as any other candle!
Measure the amount of wax needed for your sized container. Typically I go for soy wax, beeswax, or a blend of the two.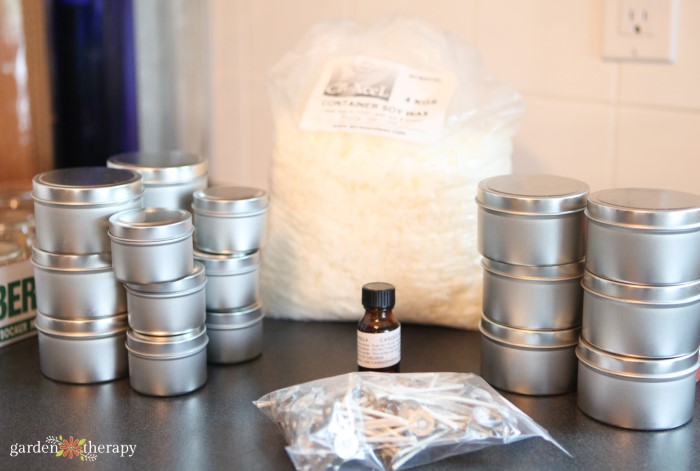 Melt the waxes in a double boiler, adding any essential oils at the very end.
Secure the wick to the bottom of the container using glue dots or a hot glue gun. Hold the wick upright with chopsticks or clothespins.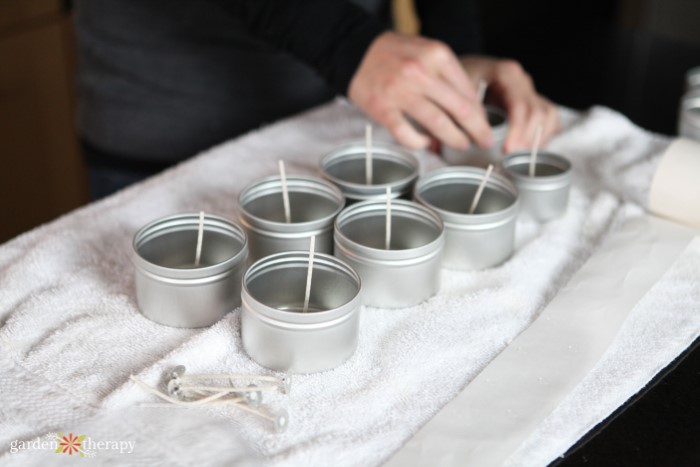 Pour the wax into the container. A ladle can help to keep things clean and easy to pour.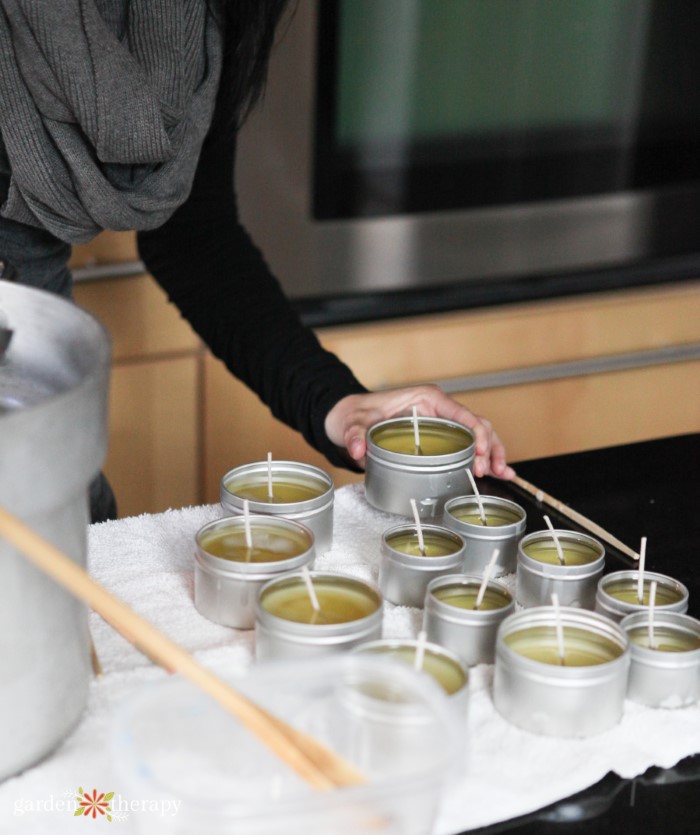 Sprinkle your dried flowers around the top and at least ½ inch away from the wick. Gently push down any petals that are sticking out of the wax.
You can also pour the wax in layers if you want to layer the flowers. Let the wax thicken and cool before applying additional layers.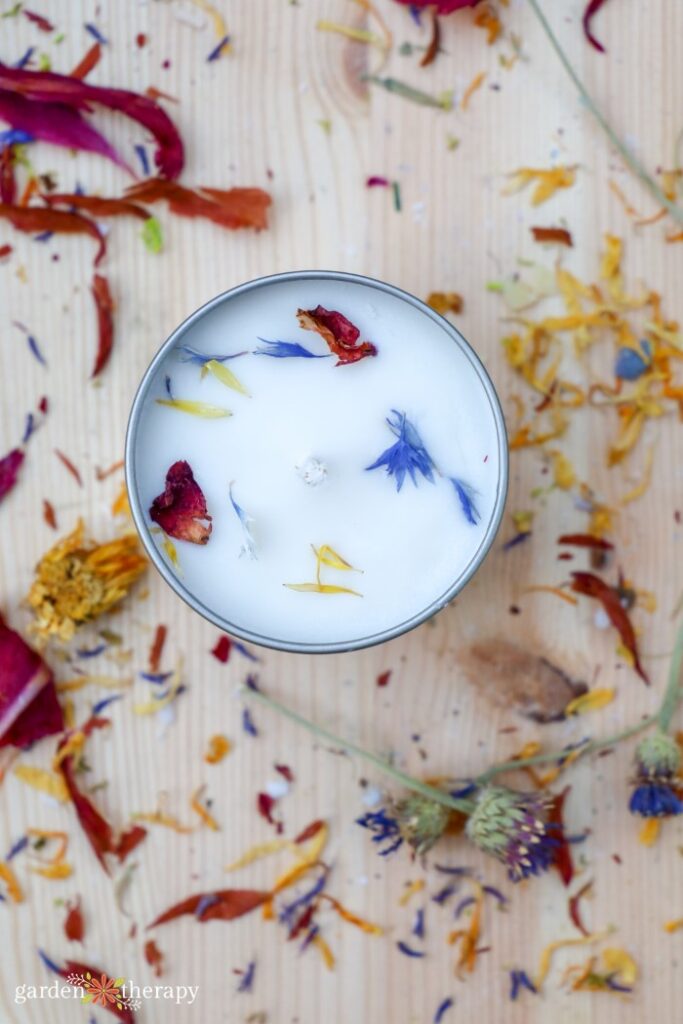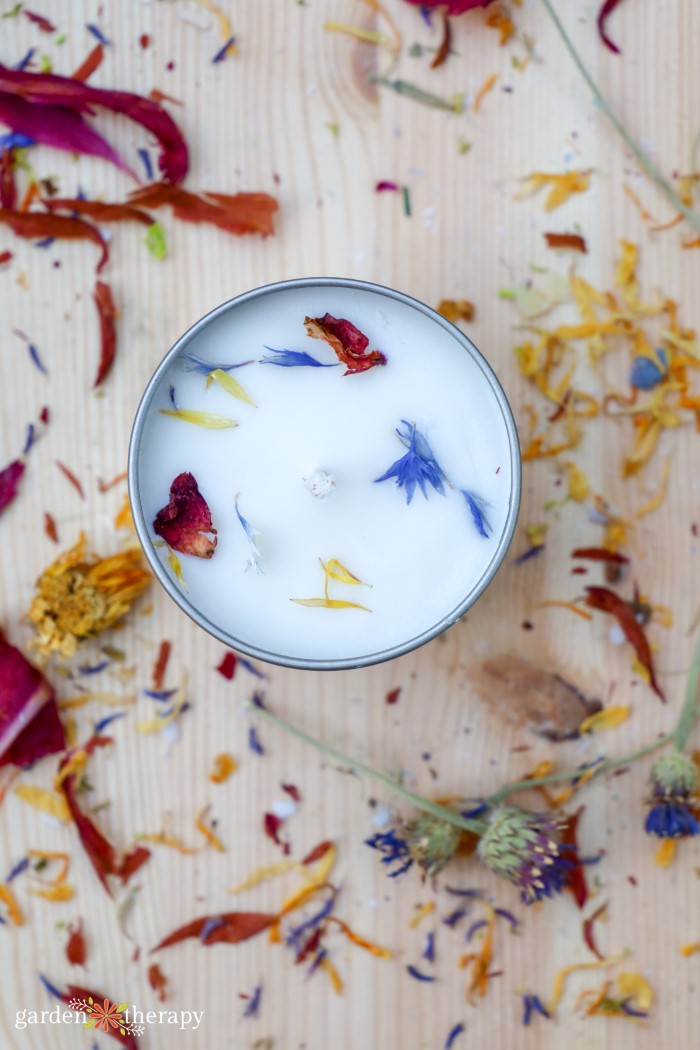 Frequently Asked Questions About Flower Candles
Can you burn lavender buds?
Dried lavender buds look amazing in candles as they retain their purple colour. Lavender is known in aromatherapy for its relaxing and soothing properties.

I wouldn't recommend purposely putting your lavender buds close to the wick to release their aromatherapy scent. Instead, add lavender essential oils to the candle and leaves the lavender buds sprinkled on top and out of the way of the wick.

But if your lavender buds do happen to burn, you can enjoy the properties of the burning lavender while keeping a careful eye on your candle.
What can you put in candles for decoration?
Besides flowers and botanicals, you can also add solid objects such as crystals, seashells, beach glass, and more to the candle as long as you keep it distanced from the wick. I've also decorated with wax itself, cutting designs out of beeswax sheets.

I wouldn't add glitter to a candle as it can spark and float into the air. Instead, mix mica with the wax while melting on the stove to get a glittery effect.

You can also add decorations to the container to mix it up. Tie twine or ribbon around the candle or add a custom label to the lid to personalize your candle even more.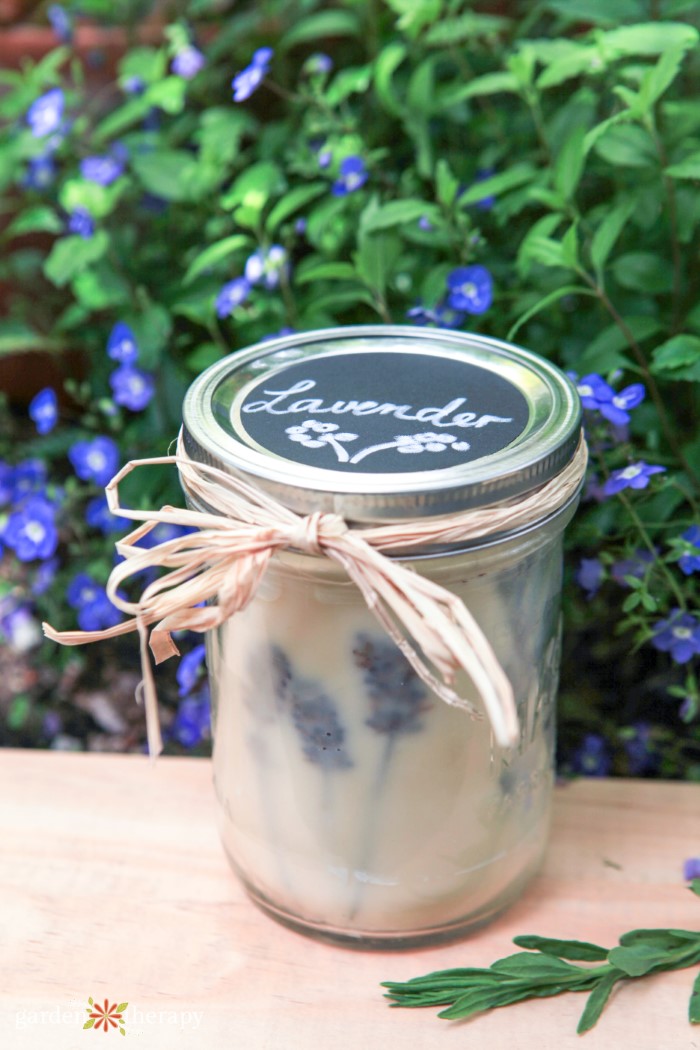 Should I use dried or fresh flowers in candles?
Only use dried flowers for your candles. If you use fresh flowers, they won't preserve properly in the wax as they retain moisture. This can lead to discoloured or even rotten flowers embedded in your candles!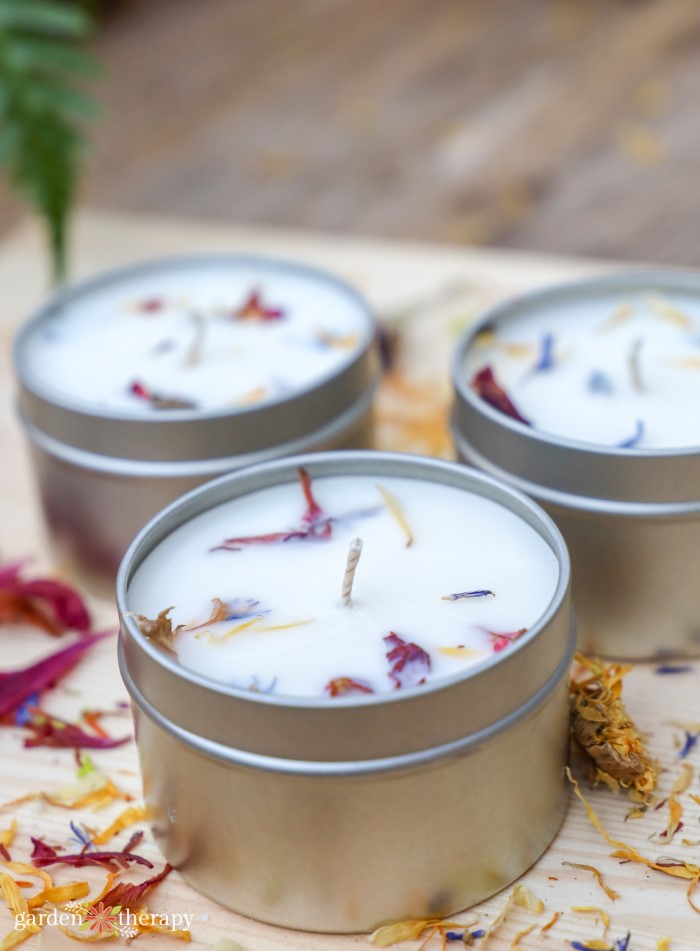 Let me know how your flower candles turn out in the comments down below! Remember, always keep a careful eye on your candles while they burn and never leave them unattended.
More Candle-Making Ideas
How to Make Dried Flower Candles (Safely!)
Learn how you can safely add and enjoy botanicals to your DIY candles.
Instructions
Measure out the amount of wax you need, depending on the size and amount of containers you'll be using.

Melt the waxes in a double boiler. If you choose to add essential oils, add them at the very end after the wax has slightly cooled.

Meanwhile, secure the candle wick to the bottom of your container. You can do this with glue dots or a hot glue gun. Make sure the wick is held upright in place with clothespins or by being wrapped around chopsticks.

Pour the wax into your containers. You can also use a ladle.

Sprinkle in the dried flowers and/or herbs. Make sure to keep them at least 1/2" away from where the wick is.

Let harden, light, and enjoy with supervision!