Lavender is one of my all-time favorite scents. Thanks to it's calming, uplifting properties, I try to use lavender as much as I can throughout my home. One of my favourite ways to enjoy it is in this lavender linen water as I iron. Don't let the name fool you, though. This can also be used as a lavender spray anywhere in your home to freshen up any space! Read on to learn how to make this 5-minute DIY.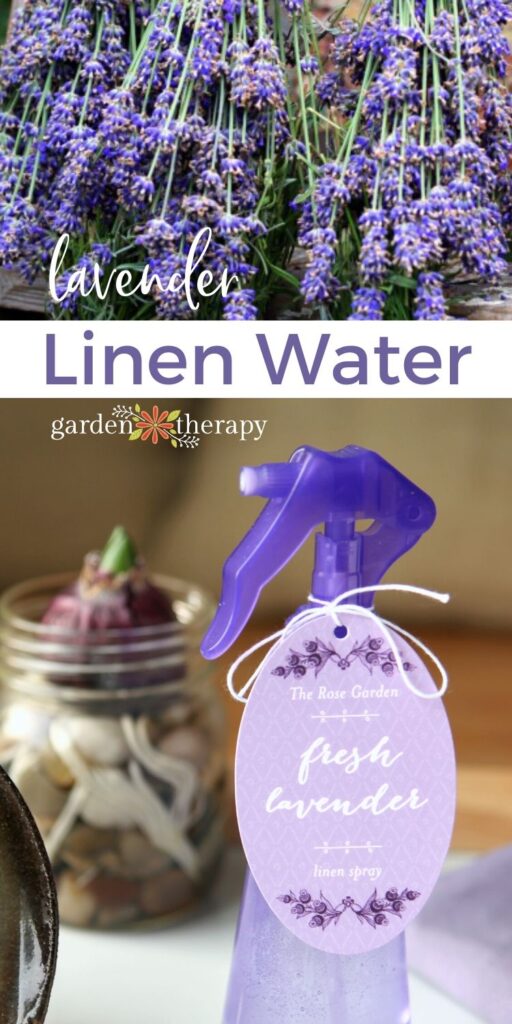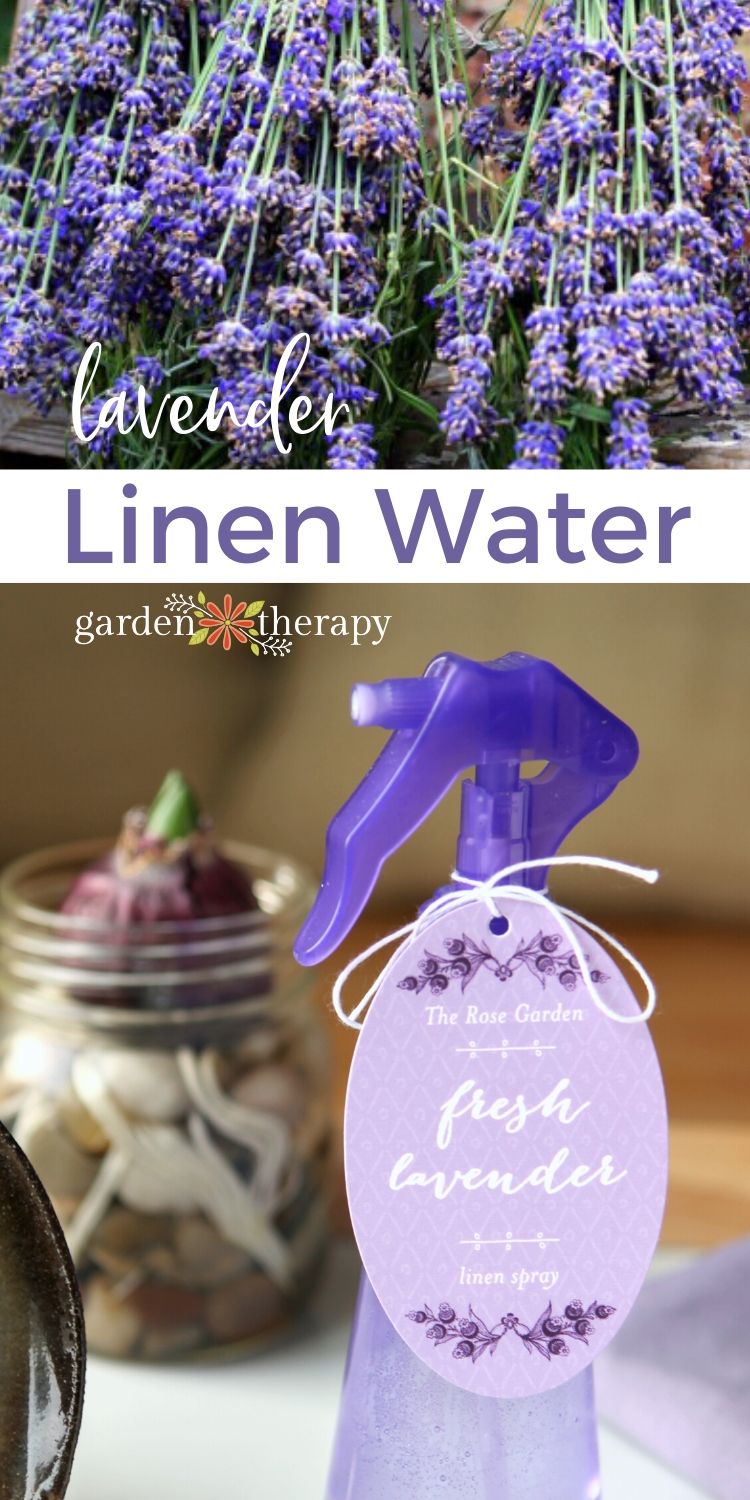 To say that I love lavender would be a major understatement. In fact, lavender is one of my favourite plants to grow in my garden. If you were to spend just a short time looking around this site, you would see that I have recipes for lavender ombre soap, blackberry lavender soda, and even my dried lavender wreath. From health and beauty products to food and home decor (and everything in between), I love using lavender in my everyday life.
Now I'm adding another use for lavender: a lightly scented lavender linen water spray that is a must-have for your laundry room.
Why Use Lavender?
Lavender is an herb that has been long-known for its pleasant scent and calming properties. In fact, it has been used to cleanse and refresh since ancient times. The word "lavender" has its root in the Latin word "lavare," which means "to wash."
True to its namesake, ancient Romans used the flower to perfume their baths, bodies, beds, and clothing.
Those Romans were on to something. Not only does lavender leave linens smelling fresh and clean, but studies also suggest that lavender possesses anti-fungal, antimicrobial, and antibacterial properties which may prevent common skin infections.
The test of time certainly stands behind this scented herb. Lavender has been used in traditional medicine since ancient times and is gentle on skin. Plus, it smells wonderful.
So the way I see it, the more lavender I have in my life, the better! What better way to get all those awesome aromatherapeutic benefits besides surrounding yourself in the scent as you sleep? That's why I love this DIY lavender spray.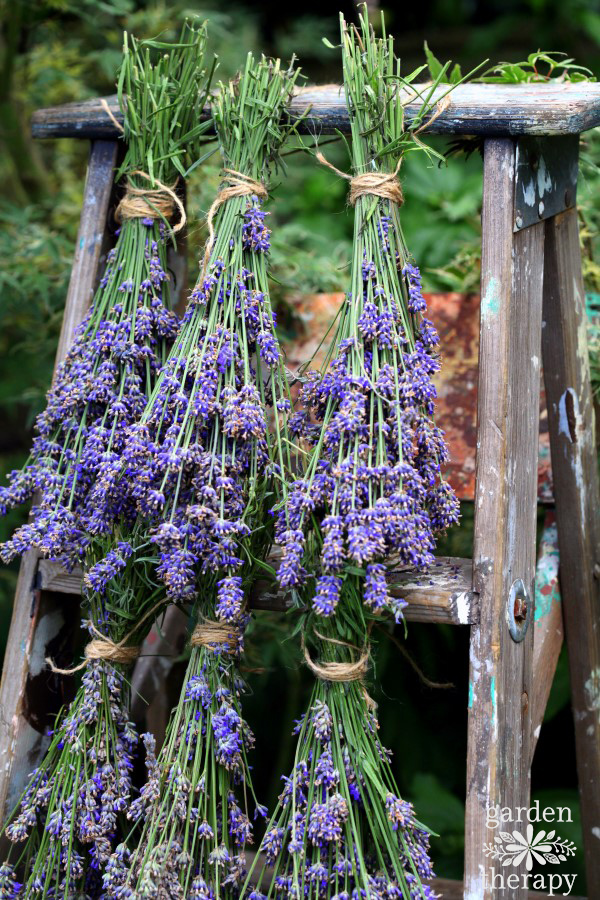 How to Use Lavender Water
First of all, yes you can buy lavender linen water, but you'll end up paying a pretty hefty price on something that you can easily (and inexpensively) make yourself.
Before we get into how to make this recipe, let's talk about why you need it. Understandably, if you've never used lavender water before, you may be wondering what to do with it.
I originally made myself this spray to use when ironing. I quickly realized that this scent was a favourite of mine and started using it for so much more.
Of course, I still use this recipe for ironing too. To use this linen water when ironing, simply fill up your iron with it. It will freshen the fabric while pressing, and make ironing a much more pleasant chore.
Additionally, you can pour it into a spray bottle and mist linens fresh from the wash or those that have been stored for a while and need a refresh. And, if you're like me and love the smell, you can use this lavender spray on SO many things, including spraying it in the air to deodorize the air.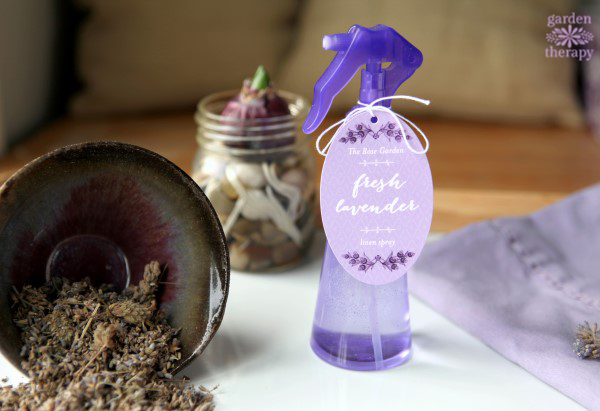 It's a really easy way to add a light scent to help freshen fabrics of all types. You can also use it on:
Towels
Curtains
Furniture upholstery
Throw pillows
Dog beds
Bathrooms
As an air freshener
I spritz this lavender linen spray on my sheets, on dog beds, and my son's bed. I've even added it to a small spray bottle I keep next to my bed to use as a lavender pillow spray that helps me fall asleep at night. I might be just a little obsessed.
The all-natural ingredients mean that this spray is gentle with a delicate scent that doesn't overwhelm the senses, making this a wonderful recipe to add to your regular laundry routine or pull out and use anytime you want to enjoy it.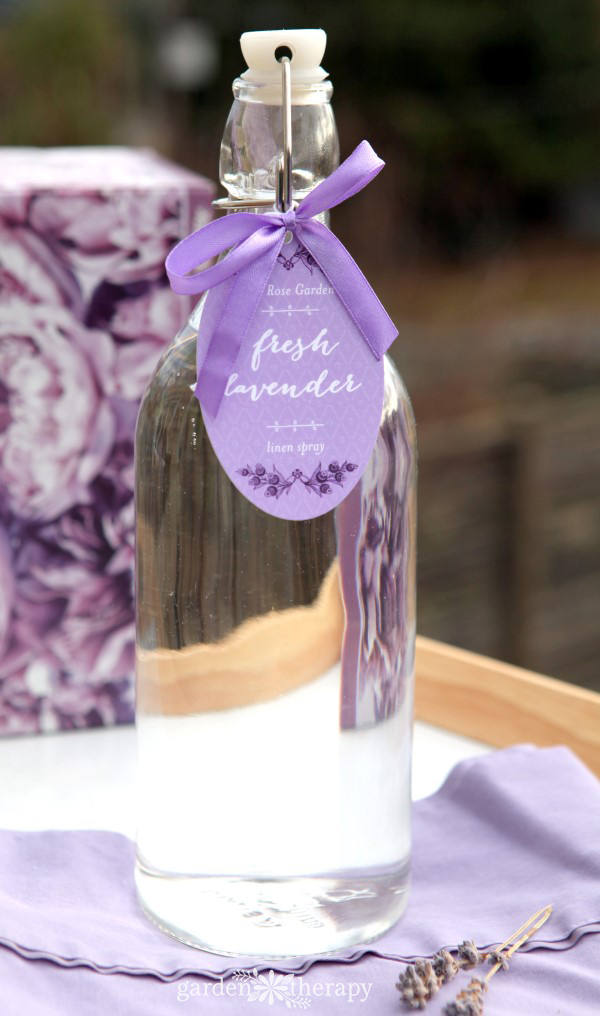 Caution Regarding Lavender Linen Spray
One quick word of caution. While lavender is generally considered very safe, especially in a diluted form like this, use caution when using around pregnant women, babies, and pets (especially cats).
Never spray this spray directly on pets and always provide an avenue for fresh air in case the scent bothers them.
I have never had any kind of issue like this in my home or with my dogs; however, it's always good to be cautious around animals as their noses are much more sensitive than human ones.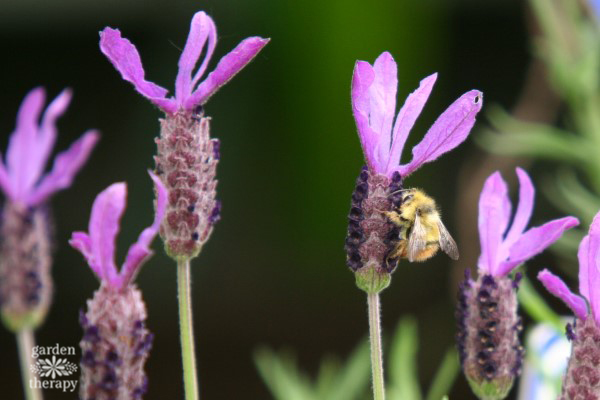 How to Make Lavender Linen Water
Now that I've told you all the fun ways to use this lovely spray, let's talk about how to make it.
Lavender Spray Ingredients
Lavender Spray Directions
Remove the spray bottle top and pour your witch hazel into the bottle. Next, add your lavender oil to the bottle.
Add the distilled water to the bottle. Shake the bottle well for several seconds to mix the ingredients together. Also, shake again lightly before using this spray, as the ingredients can separate over time.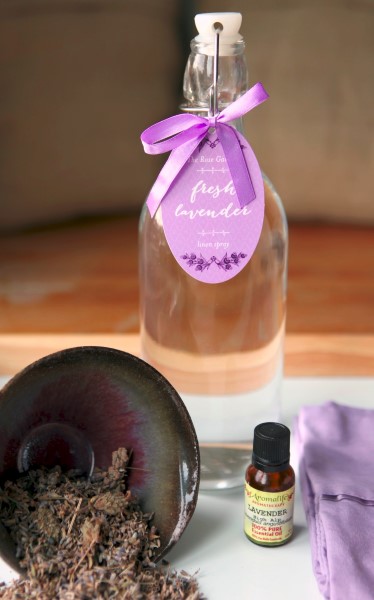 Tips for Making This Lavender Spray
Here are a few tips to help you make this simple DIY.
Use a Glass Spray Bottle
You will need a spray bottle for this recipe. When you use essential oils, use glass bottles because the essential oils can leach chemicals from plastic ones. Plus, it's friendlier for both the environment and your budget as they will last a long time.
I like to recommend using a dark-coloured bottle to store your spray if you are going to be making a large batch. This helps preserve the essential oils by preventing UV rays from breaking them down. If you only have a clear spray bottle, that will work just fine too. Just make sure to store the spray bottle in a dark area like a cupboard.
Of course, if you are making this simply for linen spray, you will likely go through it fairly quickly. In that case, a glass bottle like the one pictured below works just fine.

Substitutes For Witch Hazel
Also, this recipe uses witch hazel to preserve the scent of your lavender oil. It should also help keep your oil dissolved in the solution (but I always shake it before using, just in case). If you don't have any witch hazel, you could simply swap it out and use unflavoured vodka or rubbing alcohol in its place.
Try using this lavender linen water as a pillow spray to help you relax and sleep better. I hope you love this lavender spray as much as I do. Before you know it, you may also be spraying your kids' pillows with it to help them sleep at night. Enjoy!
More Projects and Ideas with Lavender:
DIY Lavender Linen Water
This simple lavender linen water can be used for so many things. From refreshing clothing as you iron to being spritzed on your pillow at night, this lavender spray is a soothing, wonderful-smelling treat!
Instructions
Remove the spray bottle top and pour your witch hazel into the bottle.

Next, add your lavender oil to the bottle.

Add the distilled water to the bottle.

Shake the bottle well for several seconds to mix the ingredients together.
Notes
Make sure to shake lightly before using this spray as the ingredients can separate over time.