Fresh fruit and wine belong together. Sangria mixes dry wine with the sweet taste of seasonal fruit and creates the perfect drink to share with a group of friends in the backyard. Learn how to make sangria that tastes like the summer sun with this simple recipe.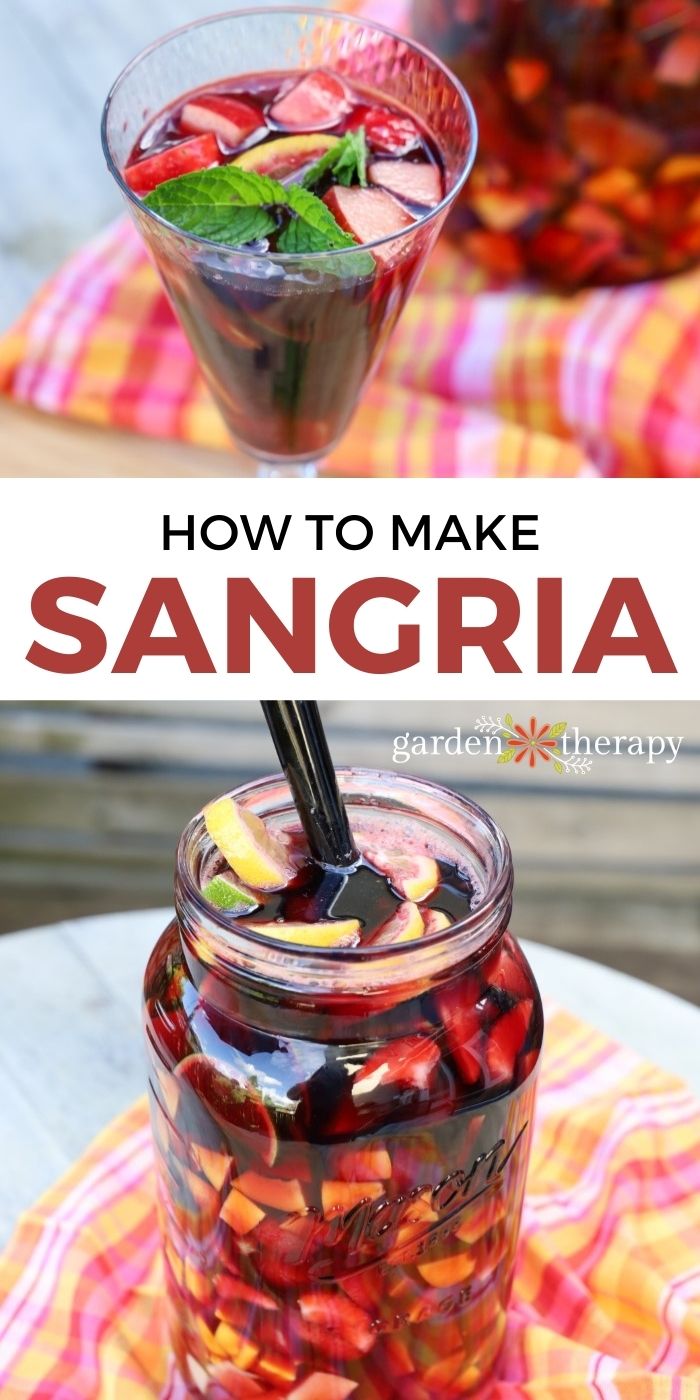 The search for the perfect summer drink is a never-ending journey. And one that I am happy to embark on! I've treated myself to homemade herbal cocktails all the way to homemade ginger ale. But this time around, I wanted to go with the Spanish classic, sangria.
Sangria is incredibly easy to make. So many cocktails these days require obscure liqueurs and ingredients you will only use once. Sangria, however, uses just wine and brandy and a myriad of delicious fruits to create a delight for the tastebuds. Plus, fruit makes it healthy…right?
At least that's what I'll tell myself while I'm sipping some sweet sangria!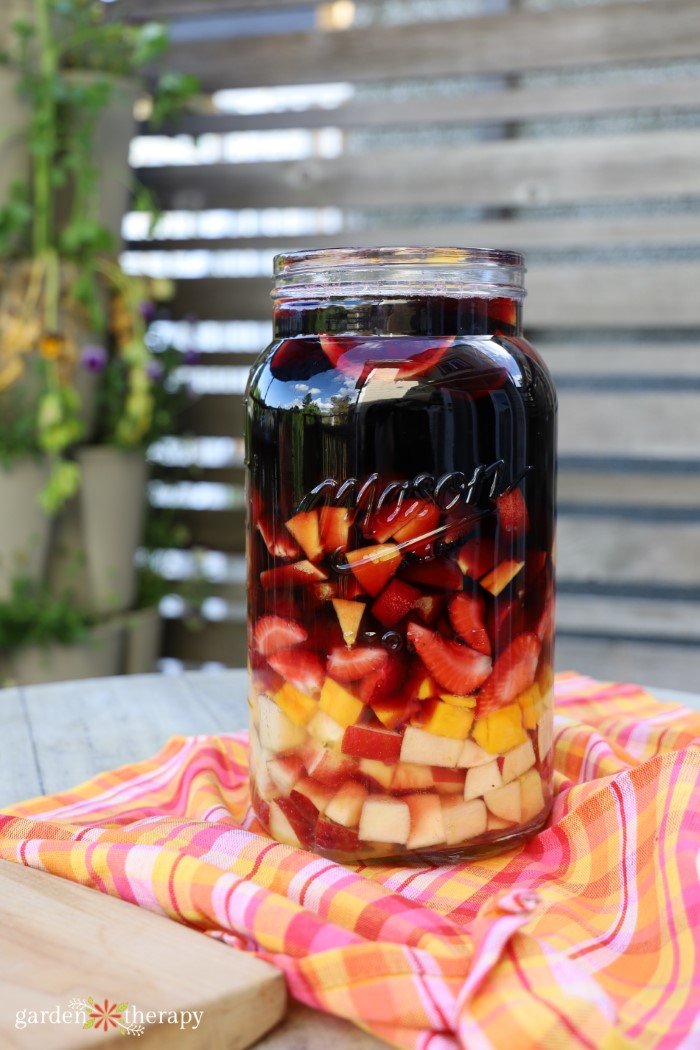 What is Sangria?
Originally from Spain, it is the Spanish term for mixing fruit and wine. Popular in Europe for centuries, the drink has ties to the Middle Ages. Since water was unhealthy to drink, people drank fermented beverages as they had a lower risk of causing illness. People would mix wine with spices such as cinnamon. While their version of "sangria" would taste very different from the drink we know today, it sure has stood the test of time.
Red wine sangria made its way over into American popularity when the drink was served at the Spanish World area during the 1964 World's Fair in New York. Now, you can purchase ready-made sangrias but there's nothing like making your own at home.
You can use red, white, rose, or sparkling wine as your base, but red is the most traditional way of enjoying sangria. Most choose a dry red wine as their base as the fruits and soda will make the drink sweeter. Once you have your wine, you add in some brandy or rum, your favourite fruits, and some spices if you feel like getting extra creative.
Many wine snobs turn their nose up at sangria, but I really think they're missing out. It's meant to be a refreshing and fun drink, best served in a pitcher for sharing with friends.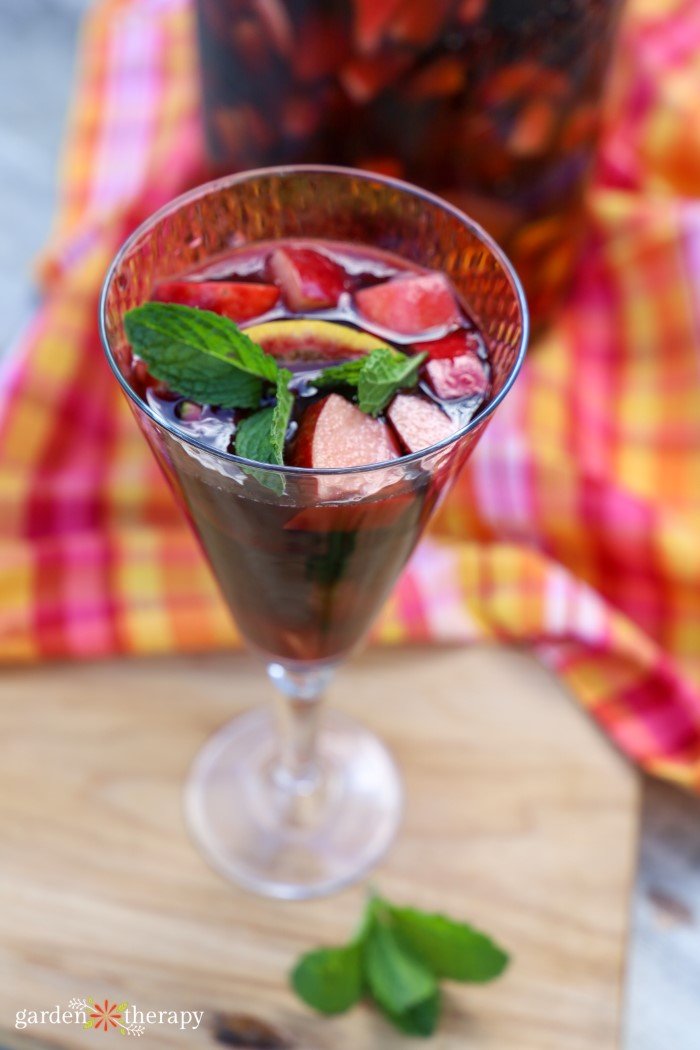 What Fruits Can I Put in Sangria?
Let your imagination go wild! Practically every version of sangria you order from a bar or have in a friend's backyard consists of different fruits. Personally, I like to use whatever is in season whether that is picking fruit from my backyard or grabbing some from the weekend farmer's market.
Another good method is choosing to add fruits where the flavours are already present in the wine. Hint hint, read the label of the wine bottle.
Slices of orange and lemon are fairly common to see, with the citrus flavours notable in the sangria after soaking. Want to change it up? Why not go with a berry theme, including raspberries, strawberries, cherries, blueberries, and blackberries. Tropical is also popular, using mango, peaches, pineapple, and more.
When adding fruit to your sangria recipe, it's nice to let it sit and marinate in the drink overnight if possible. The wine will take some of the fruity flavour and the fruit also soaks up some of the wine for a tasty adult treat while sipping.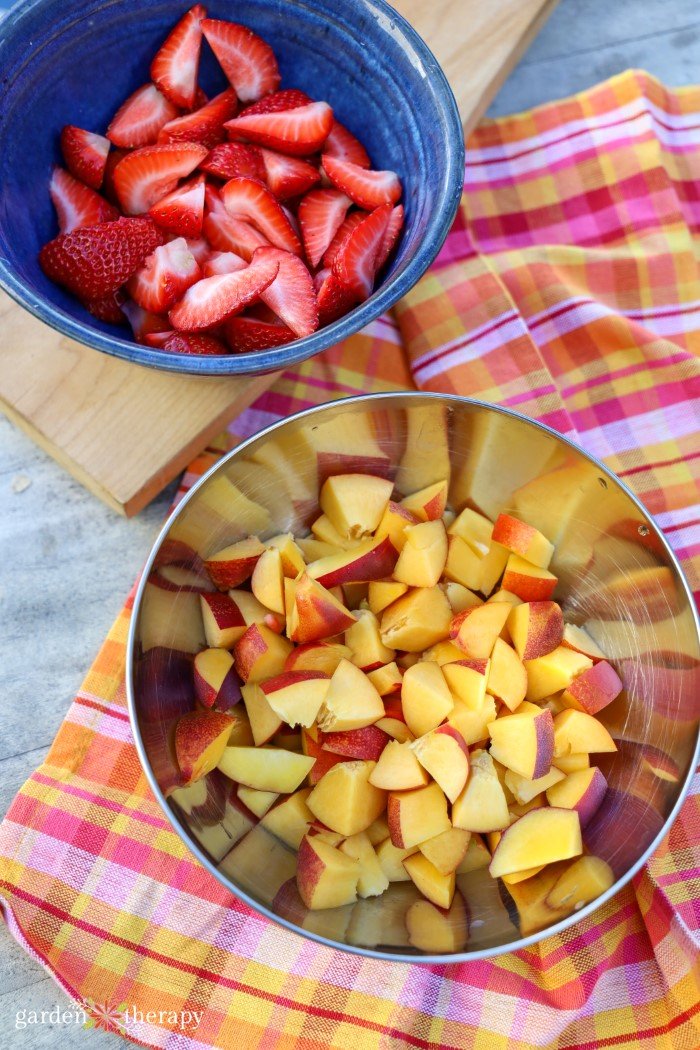 How to Make Sangria
Before we jump into this red wine sangria recipe, it should be noted that wine has an average ABV (alcohol by volume) content of 11.6%. When spiked with brandy, you are going to have higher alcohol content. Depending on how much soda you add and how much ice has melted, the drink can also be diluted. But let this be your warning that this drink packs a little more punch and will be stronger than the average glass of wine!
Ingredients
Refer to the recipe card for exact measurements. Makes a large 4L Mason jar.
Apples
Peaches
Strawberries
Mangoes
Lemons, limes, and/or oranges
Lemon-lime soda
Red wine
Brandy or rum
Ice
Make it!
Get slicing and chop all your fruit. This recipe uses apples, peaches, strawberries, mangoes, lemons, limes, and oranges, but feel free to use whichever fruit you desire.
Cut your fruit into 1' pieces and leave all the skin on the fruit (with the exception of mango). For the citrus fruit, cut into half-moon slices.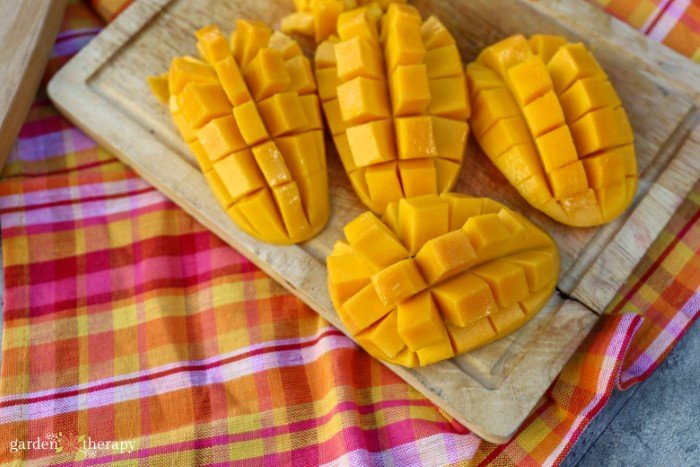 Layer your fruit into your 4L Mason jar or pitcher. Add some lemon juice to the fruit that can brown such as the apples.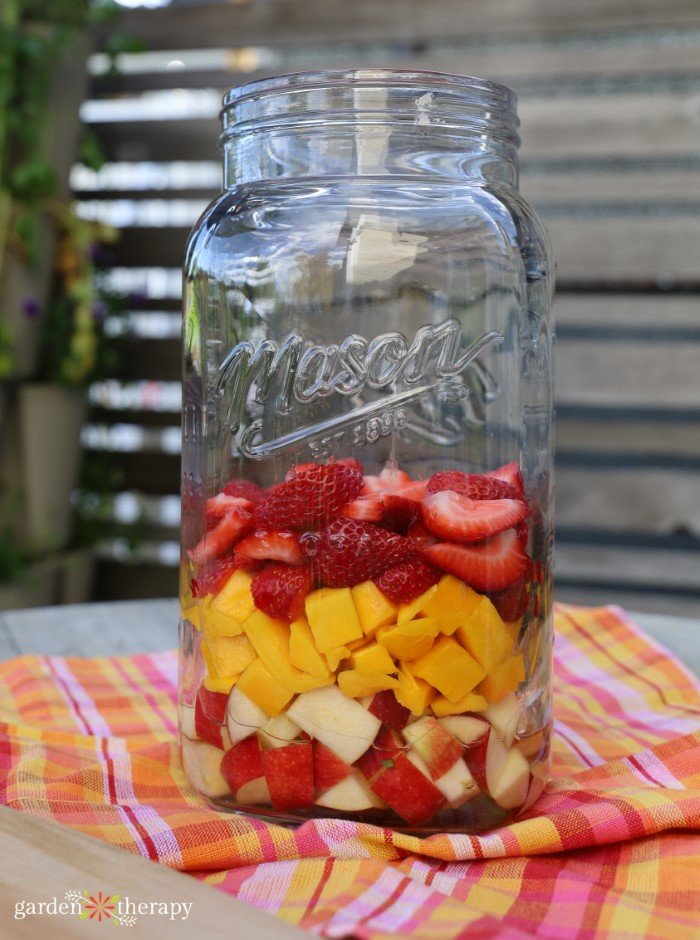 Pour in your lemon-lime soda and then add in the red wine. I like to use a dry, fruity, and inexpensive red wine for my sangria recipe as all the additives will sweeten it up.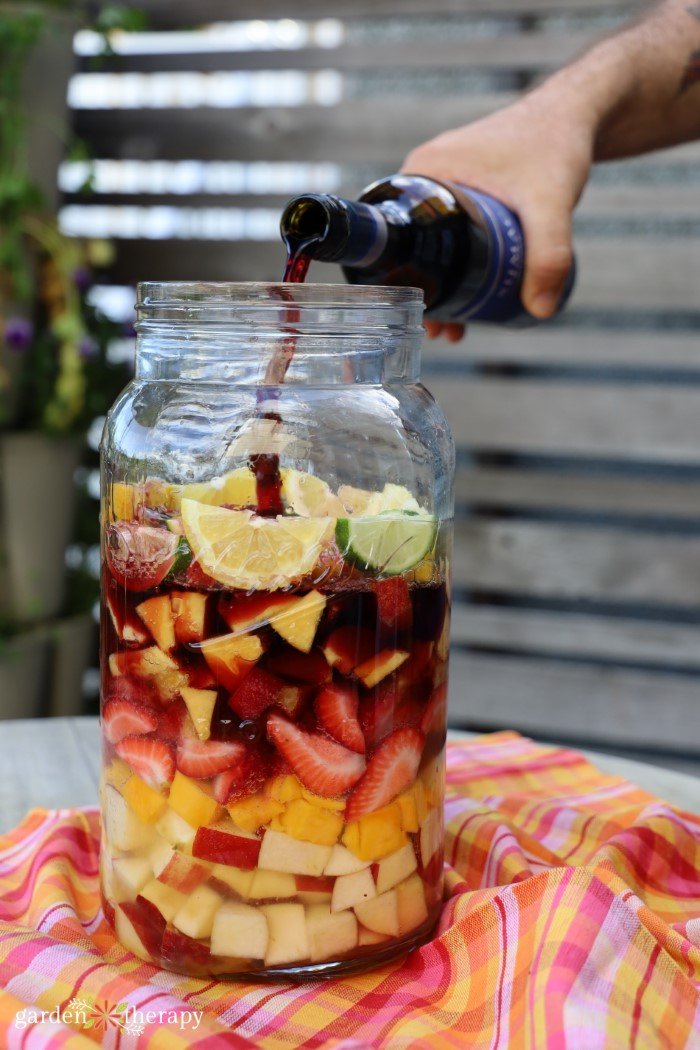 Stir your drink with a long wooden spoon. Push down on the fruit to muddle it as you go.
Add in your brandy or rum, stir, then muddle again.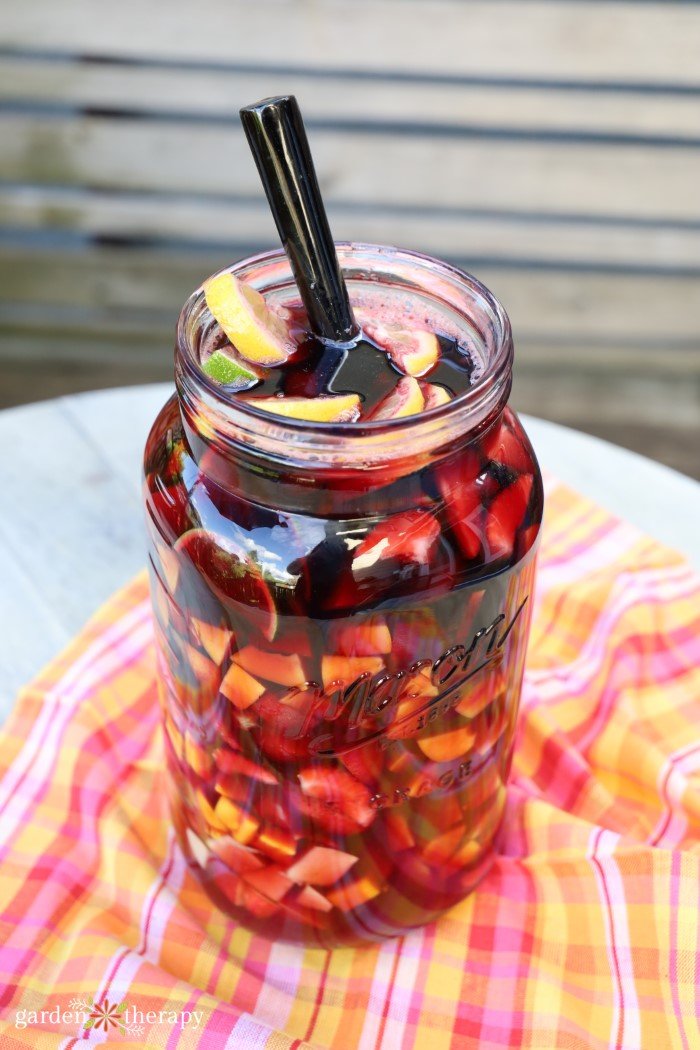 Add in your ice and get ready to serve. A ladle works well to help scoop up the fruit!
Cheers!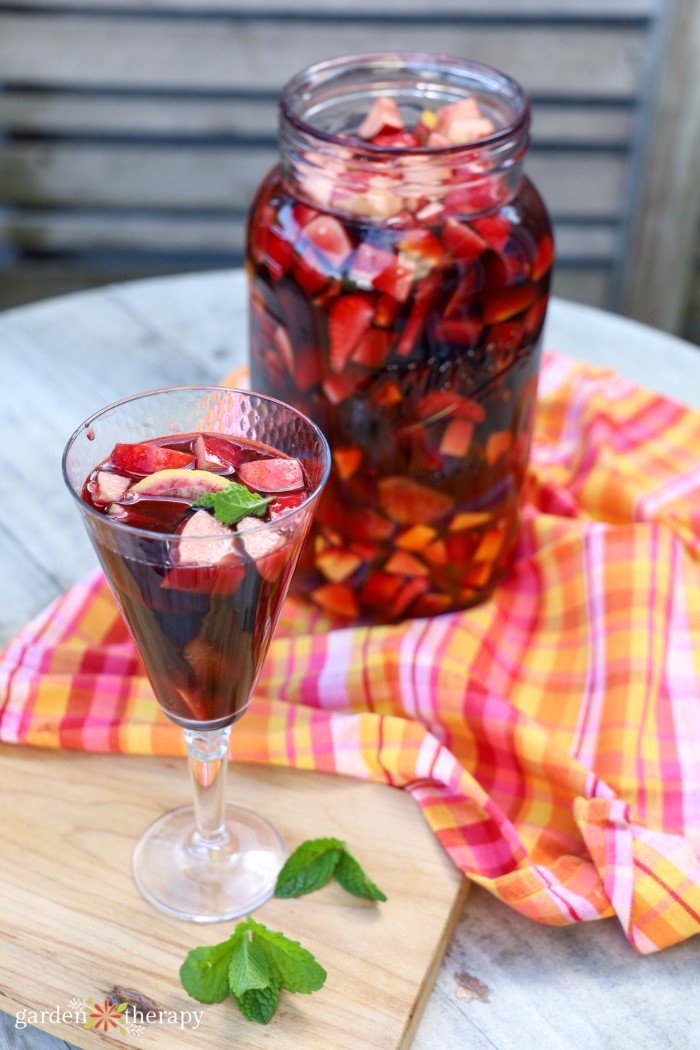 More Delicious Drink Recipes: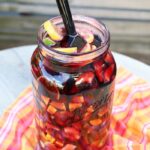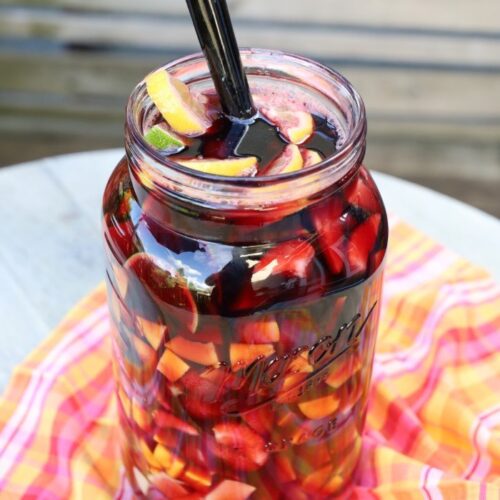 Print Recipe
Red Wine Sangria
Get the taste of summer with this pitcher of sangria made from red wine and seasonal fruits.
Equipment
4L Mason jar

Wooden spoon

Ladle
Ingredients
1-2

apples

1-2

peaches

2

cups

strawberries

2

large

mangoes

3-4

lemons, limes, and/or oranges

350

ml

lemon-lime soda

750

ml

red wine

fruity, dry, and inexpensive

½

cup

brandy or rum

Ice
Instructions
Cut your fruit into 1" pieces. Leave the skin on except for the mangoes. Cut the citrus into half-moon slices.

Layer your fruit in the Mason jar. Add lemon to the fruit that may brown.

Pour in the lemon-lime soda followed by the wine. Stir with the wooden spoon and muddle the fruit as you go.

Pour in the brandy or rum. Stir and muddle again.

Add ice. Use a ladle to serve and scoop the fruit with.
Nutrition
Serving:
1
glass
|
Calories:
442
kcal