Harness the power of this golden flower and leave your lips feeling soft and subtle! Calendula has antifungal, anti-inflammatory, and antibacterial properties that make this lip balm a healer as well as a moisturizer. With just four ingredients, you can make this calendula lip balm at home in no time.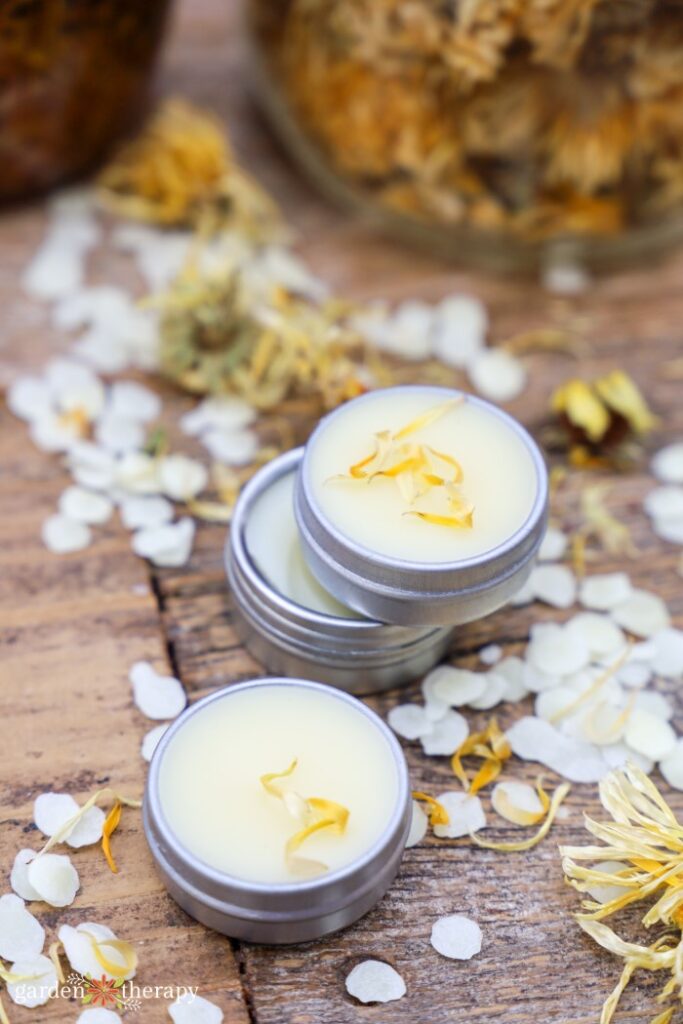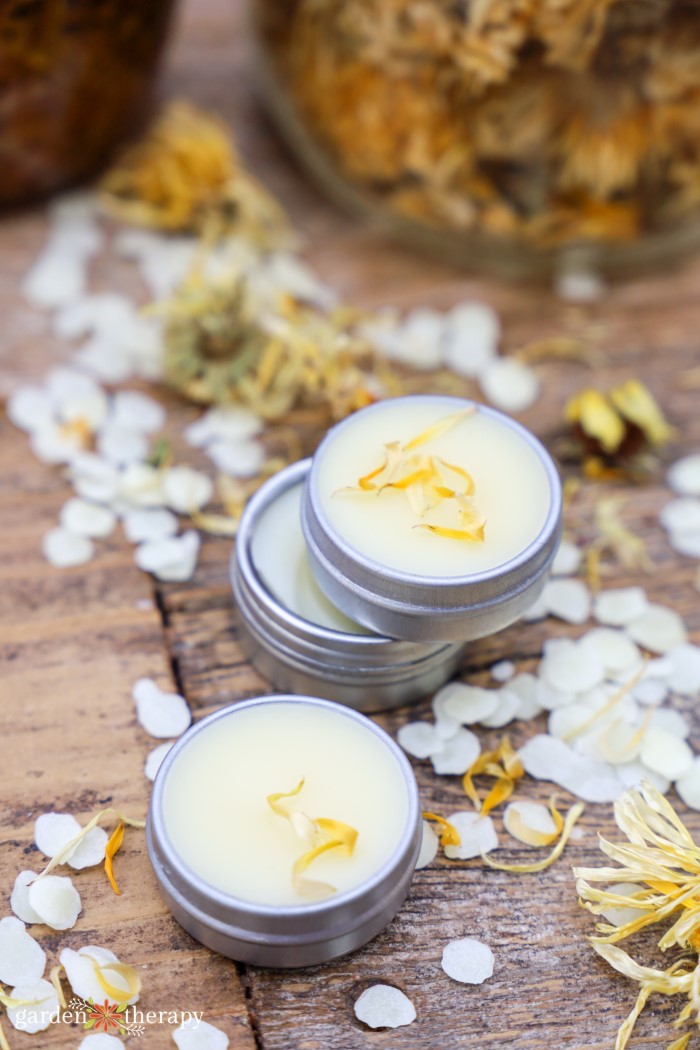 I'm obsessed with calendula. Just look at all the calendula beauty recipes I have! It's one of those flowers that truly does it all. It's gorgeous out in the garden, the pollinators love it, and it's one of the most beneficial herbs to have for a skincare apothecary.
Since I always have calendula on hand, I decided to make a brand new lip balm recipe featuring the lovely golden flower. Not only does it moisturize, but it goes above and beyond your average lip balm. Keep reading to find out how!
Jump ahead to…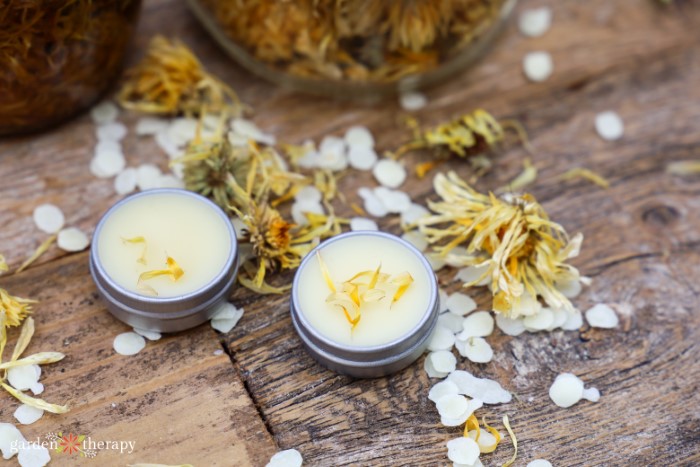 Is Calendula Good for Lips?
When it comes to skincare, calendula is always the number one herb I recommend. I swear the plant has magical powers when it comes to healing and moisturizing skin.
Traditionally, calendula was used as a wound healer. Salves, ointments, and poultices were used to treat wounds, burns, bruises, cuts, and any conditions involving inflammation. It speeds up the growth of tissue which means these cuts and such heal in no time.
Calendula works well for any skin type. It's extremely gentle and works well with children or those with sensitive skin. The moisturizing properties of the flower also come from its ability to promote collagen production, an essential skin protein.
Calendula's great for the skin, but what about the lips? Well, lips are just skin after all!
The skin on our lips is actually far thinner than anywhere else on the body. It also doesn't contain any sebaceous glands, the parts of the body that excrete oils and keep skin moisturized. With only saliva to keep hydrated, the lips understandably get very dry and chapped.
That's why it's so important to wear lip balm. And with calendula's extra moisturizing and healing properties, it will keep your lips looking and feeling their very best.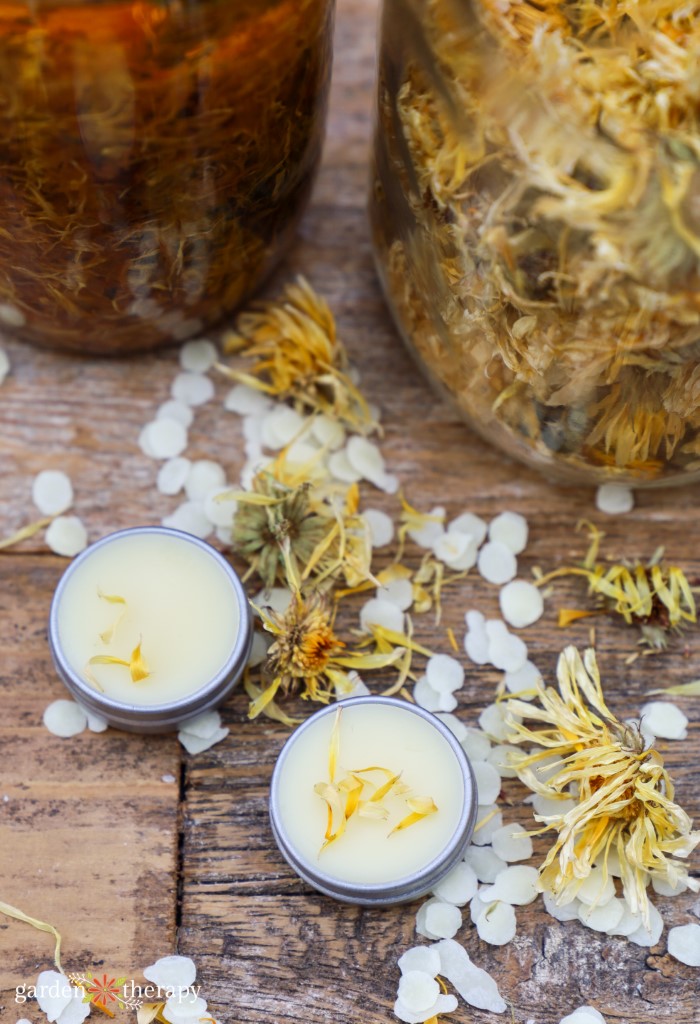 Other Calendula Balm Ingredients
Calendula may be the star of the show, but there are a few other ingredients working hard to keep the lips feeling fine and fresh too.
Grapeseed Oil
A very light oil, grapeseed oil doesn't feel too greasy on the surface but quickly absorbs into the skin. It's great for facial products since it can hydrate without leaving you feeling oily. It also acts as a great carrier oil for infusing the calendula.
Coconut Oil
Not only does coconut oil make this lip balm smell like a sunny vacation, but it's hyper moisturizing thanks to its high amounts of fatty acids. Coconut oil is also great for sun-damaged skin, so if your lips are feeling a little dry and hurt after a day in the sun, this calendula lip balm may help!
Cocoa Butter
Another wonderful smelling ingredient, cocoa butter also hydrates the skin and contains antioxidants that you can absorb through your skin. At room temperature, it's solid but easily transforms into a liquid and combines with other ingredients.
Beeswax
In this recipe, beeswax helps to bind together all the ingredients and make it the right consistency we associate lip balm with. Beeswax also creates a protective layer on the skin and acts as a humectant, which attracts water to the skin. This helps keep the moisture there for longer!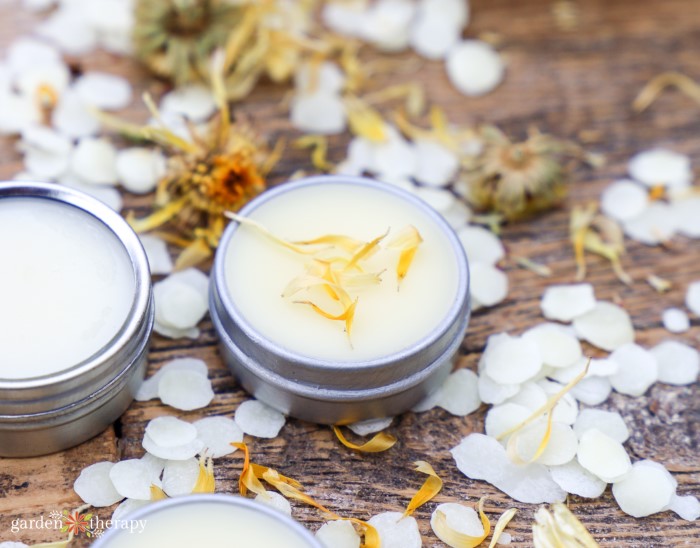 Harvesting Calendula for Lip Balm
If you can, growing your own calendula flowers will give you the best quality calendula balm out there. You only want to use organically grown calendula when applying it to the skin. Growing calendula yourself ensures it meets skincare quality!
Flowers that are fully open are the best to harvest. Clip flowers in the morning after the dew has dried off the flowers.
Layout the heads on a screen or shallow basket to dry. You know they're fully dry and ready when the petals feel papery to the touch.
Store the calendula in an airtight container until you're ready to use them or start infusing them right away using the cold infusion method. Alternatively, you can use fresh flowers and infuse them with heat. Learn the difference here!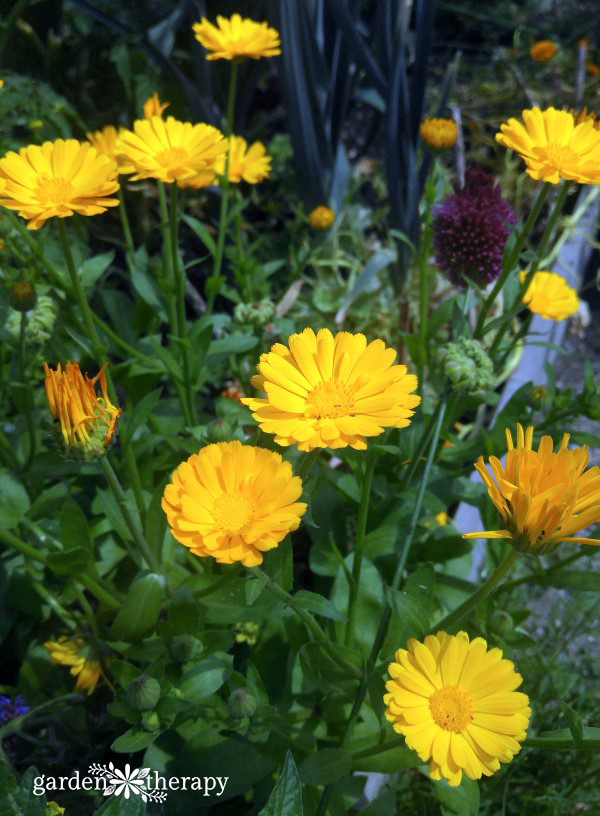 Calendula Lip Balm Recipe
Making your own lip balm is not as complicated as it may seem. Using just four ingredients, you can have a completely natural and effective lip balm that will soothe irritated lips and leave them feeling ultra luscious.
Ingredients
Makes 20 grams. See the recipe card for exact measurements.
Jump to Recipe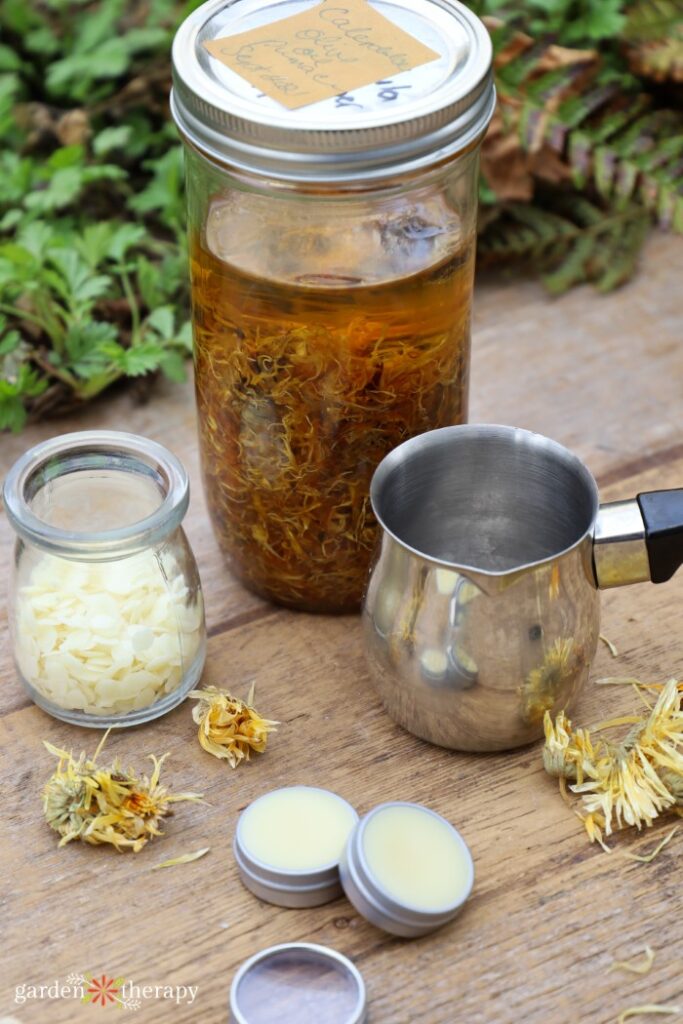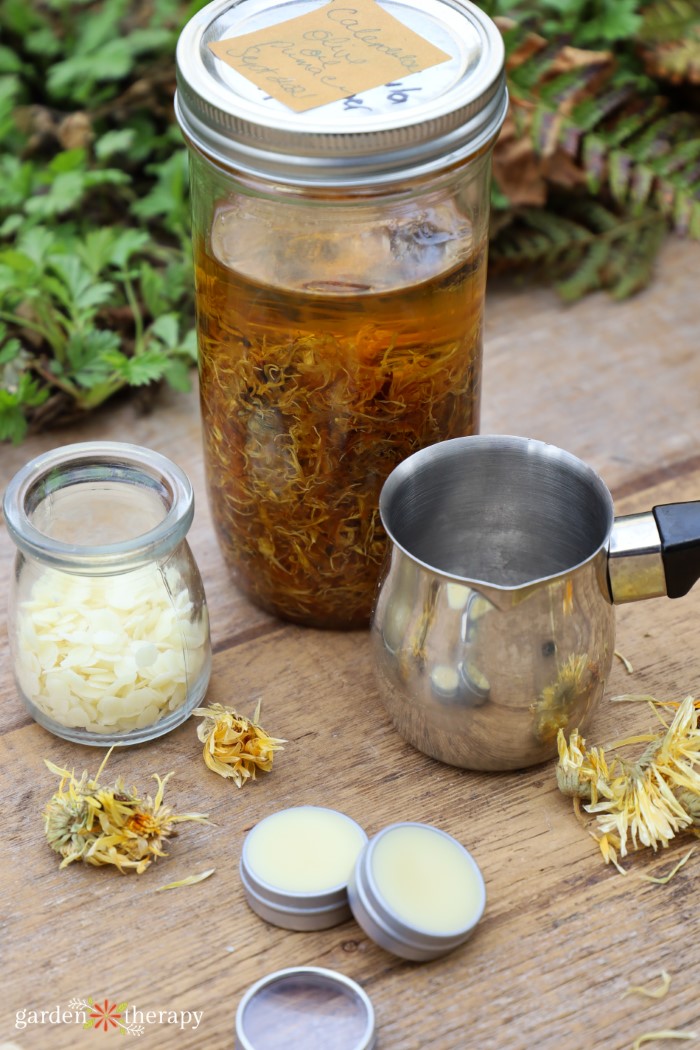 Make It!
Before you begin this recipe, you will want to infuse your calendula into your grapeseed oil. If you're using fresh flowers, I recommend using the heat infusion method rather than the cold one. You can learn how to make herbal oils here.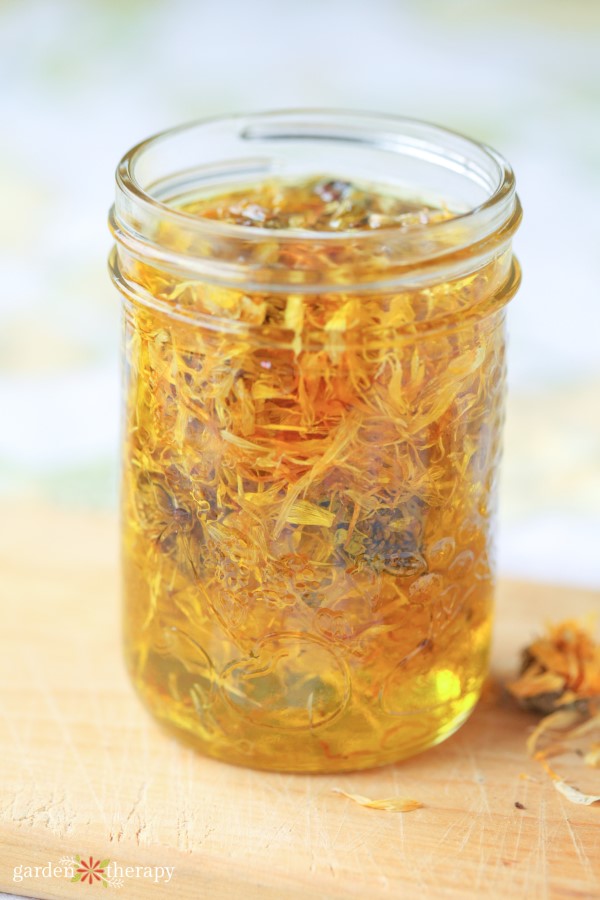 In a Turkish coffee pot or double boiler, melt your wax over medium-low heat. When melted, add in your coconut oil, cocoa butter, and grapeseed oil.
Keep an eye closely on the pot while stirring constantly. You want the oils to just reach the melting point and not overheat.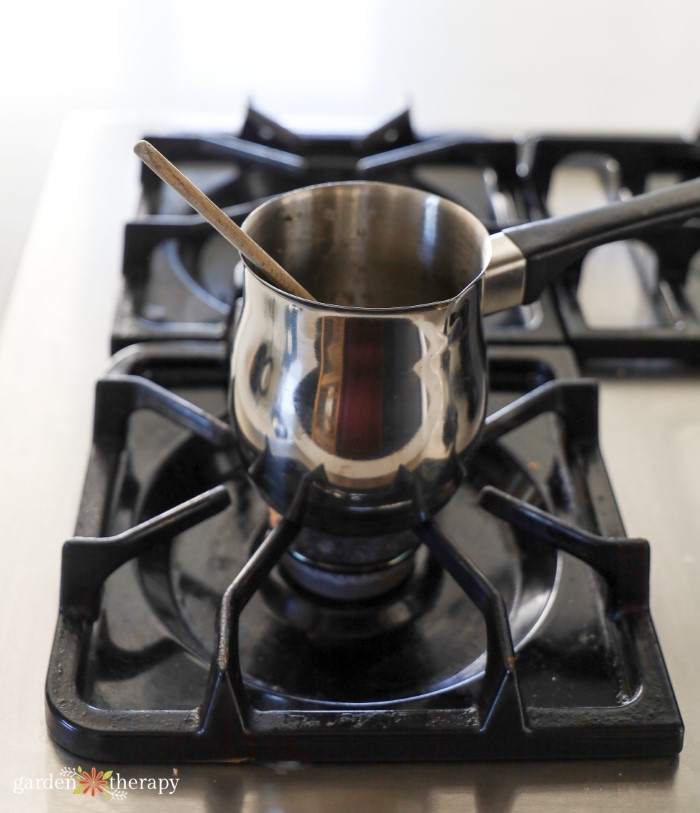 If you're using a lip balm tube, fill each tube only halfway and let it slightly cool. This allows the bottom to set and avoid a hole from forming at the top once cooled.
While they are starting to set, fill the balm the rest of the way and allow a small bit to form a convex curve on top. When the lip balm cools, it will shrink and form a flat top.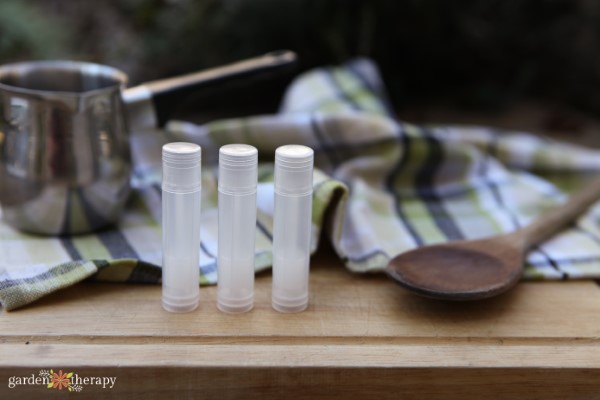 Alternatively, you can place your mixture in small cosmetic containers as I did. This recipe makes 20 g worth of product, so plan out accordingly to your container size.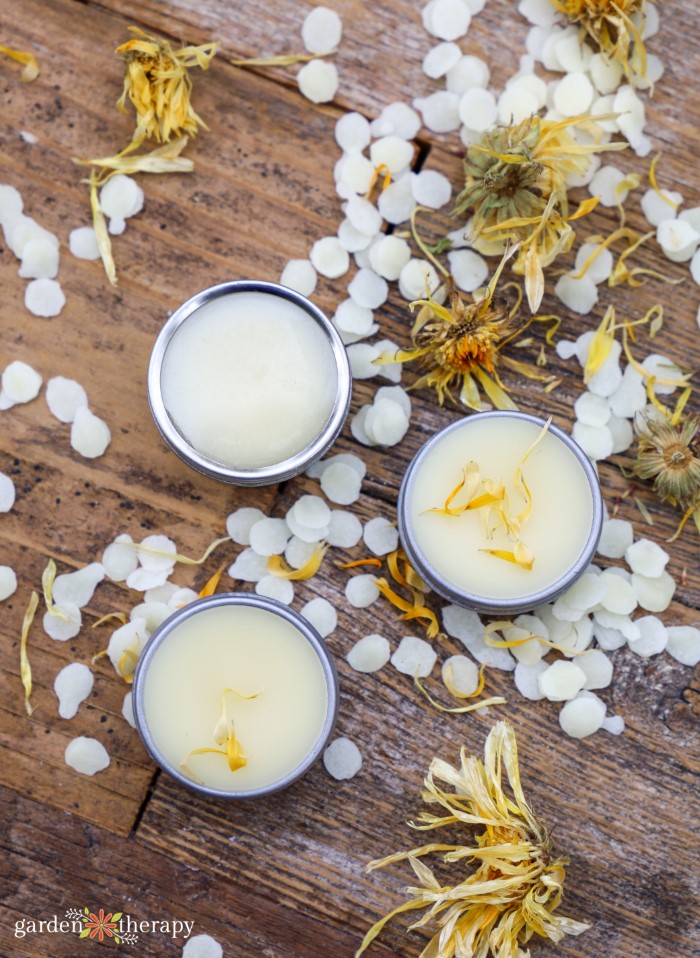 And that's it! You can enjoy this calendula lip balm for about six months—if it even lasts that long! Take it from me, make a few of these lip balms at once so you always have at least one handy.
More DIYs to Try
Healing Calendula Lip Balm
Soothe chapped lips and hold onto long lasting moisture with this easy calendula lip balm recipe.
Equipment
Double boiler or Turkish coffee pot

5 small metal tins or lip balm pots
Instructions
Melt the wax over medium-low heat in your Turkish coffee pot or double boiler. Once melted, add in the remaining ingredients.

Stir constantly and wait until oils and butter have just reached their melting point. Do not overheat.

Pour your mixture into containers of choice. If using a lip balm tube, only fill it halfway and let it slightly cool before filling the rest.

Let fully set before use.