Healing herbs and gorgeous flower petals make wonderful ingredients in natural skin care products. You may be surprised at how many of the ingredients are common garden plants, many of which you may even be growing in your garden. With all of my recipes and books on skin care, the question I get asked the most is where I get the ingredients! I've shared where you can get the containers, labels, and waxes in this guide, but the easiest way to obtain organic herbs you can trust is to start your own natural beauty garden. You can grow everything you need to stock your own herbal apothecary and make natural skincare products.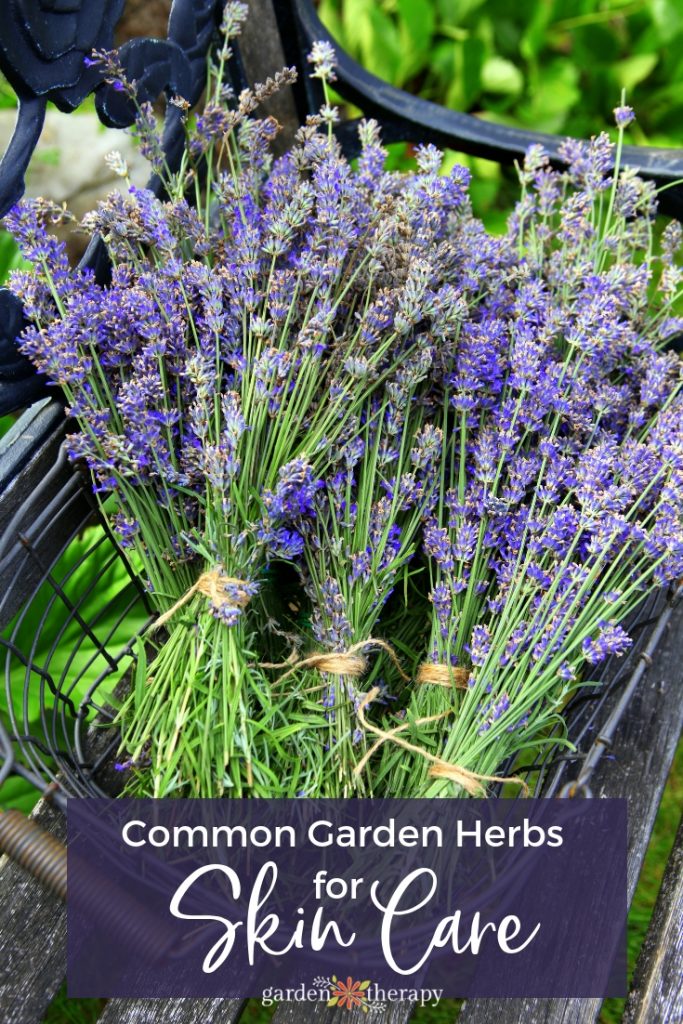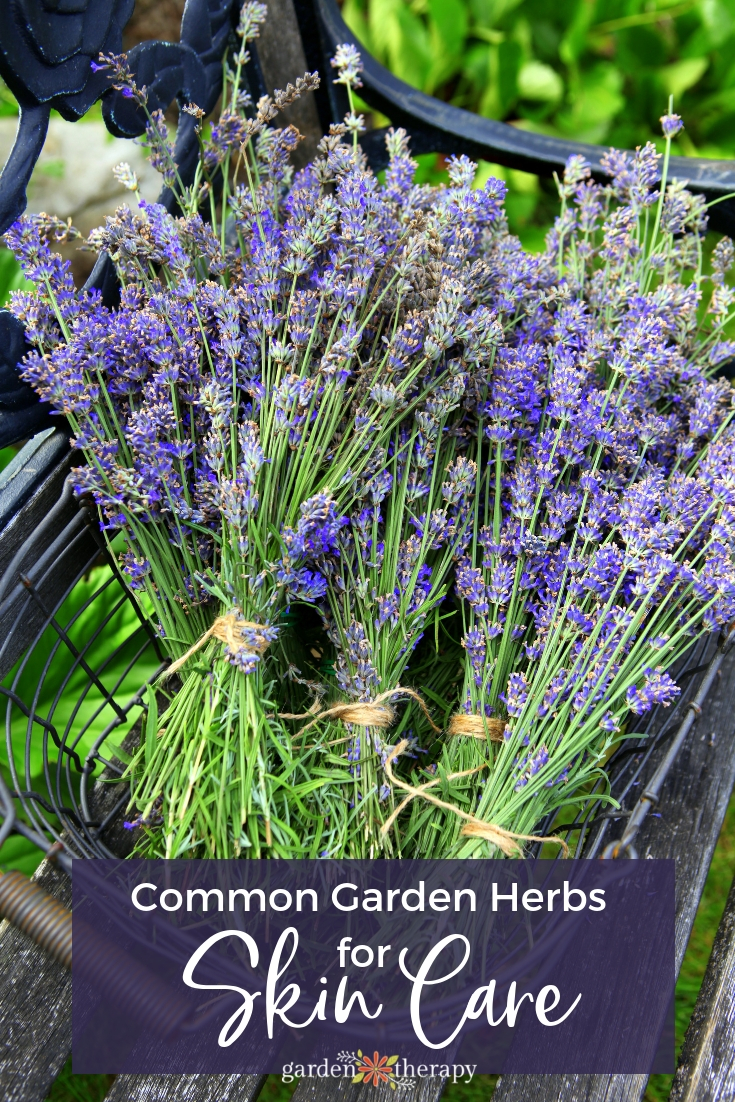 While so many people turning to gardens and plants to grow nutritional food for their families, there isn't as wide of an awareness of the benefits of using plants on skin. With modern science developing a plethora of lotions and potions, the act of growing and harvesting herbs for treating skin has fallen out of favor. And yet, replacing cosmetic products with homemade skin care can do so much for your overall health and well being.
Which Variety of Garden Herbs for Skin Care Should You Choose?
As gardeners, we know that there are many brand spanking new varieties of plants that are bred and released each year. These plants have been cultivated for desirable characteristics like drought-tolerance, new colours, superior disease and pest resistance, and much more. Breeders around the world work tirelessly to develop plants that can be more successful in the home garden and landscape (note that breeding plants is not the same as GMOs) but each new plant variety would need to be tested and studied for it's medicinal properties as well.
When we talk about using plants medicinally, herbalists focus on the plants constituents, the components of a plant that show chemical activity. Much of the healing benefit of a plant is based on how the constituents work together when taken or applied to the body for healing. When I grow garden herbs for skin care, I'm sure to chose the medicinal variety. The other cultivars may or may not have the active constituents because the breeding process means that they may have also changed the medicinal profile of the plant.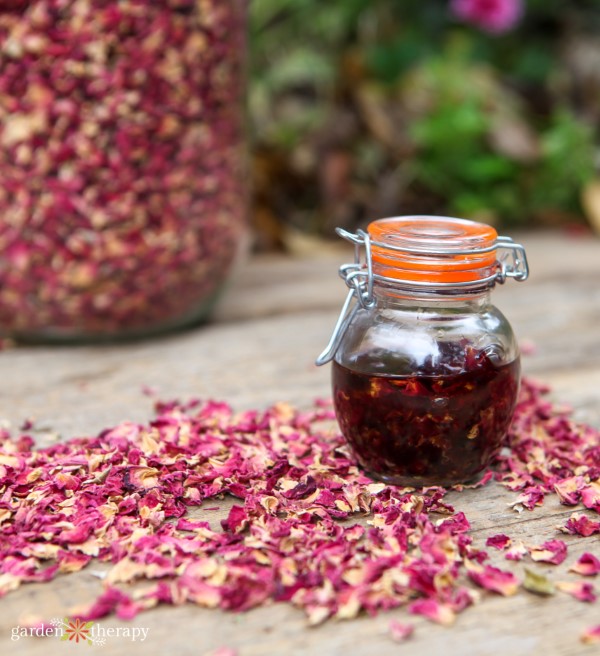 12 Common Garden Herbs for Skin Care
Over my years as a gardener, I've been developing a deeper relationship with individual garden herbs for skin care, by growing, harvesting, and experimenting with them, but also by scouring herbal books, organic cosmetology resources, research papers, and more to find out what historically each plant was used for, and what applications it can have now.
Thought it all, I've been recording the profiles here on Garden Therapy. This list of 12 herbs is a great place to start when creating a garden for skin care. Follow the links on each plant to go to detailed garden guides as well as recipes for using them in skin care.
English Lavender (Lavendula angustifolia)
Lavender's delicate floral scent is one of the most popular for use in beauty products and aromatherapy. The calming floral fragrance is said to promote relaxation, reduce stress, and help to treat insomnia. Lavender's history is not just as a perfume though, but also as an antiseptic. It's gentle on skin but tough on bacteria and fungus making it a perfect addition to most skin care products you make at home. Lavender is an easy choice to include in your skin care apothecary but there are many lavender species and even more varieties to choose from.
English Lavender (Lavandula angustifolia) is most commonly used for commercial essential oils for its sweet floral aroma and gentle healing properties. This herb is doesn't generally have precautions and is safe to use with children over the age of 2.
Spike Lavender (Lavandula latifolia) has higher levels of eucalyptol and camphor making it good as an antibacterial, but not as gentle so precautions are warranted with pregnancy and children.
Lavandin (Lavandula x intermedia) is a cross between L. angustifolia and L. latifolia. It is usually grown for fragrance production for soap making.
Spanish Lavender (Lavandula stoechas) has a very different profile from the other lavenders and is not recommended for use in home skin care recipes.
Within each species there are a number of well known varieties: like Munstead (L. angustifolia), Hidcote (L. angustifolia), Provence (L. x intermedia), and Grosso (L. x intermedia), plus many more varieties with differing habits, colours, and properties. The L. x intermedias can have more of the gentle healing properties of L. angustifolia or tend more to the stimulating and bacteria fighting properties of L. latifolia. This variation is why I choose to use the gentlest form of lavender, L. angustifolia.
I like to add it to bath salts, melts, and soaps, and I often have to force myself to test out other ingredients rather than just making everything with lavender. The sheer number of recipes for using lavender shows that it is my first love and favourite herb for skin. For a complete guide on growing, harvesting, and using lavender, see The Essential Guide to Growing Lavender.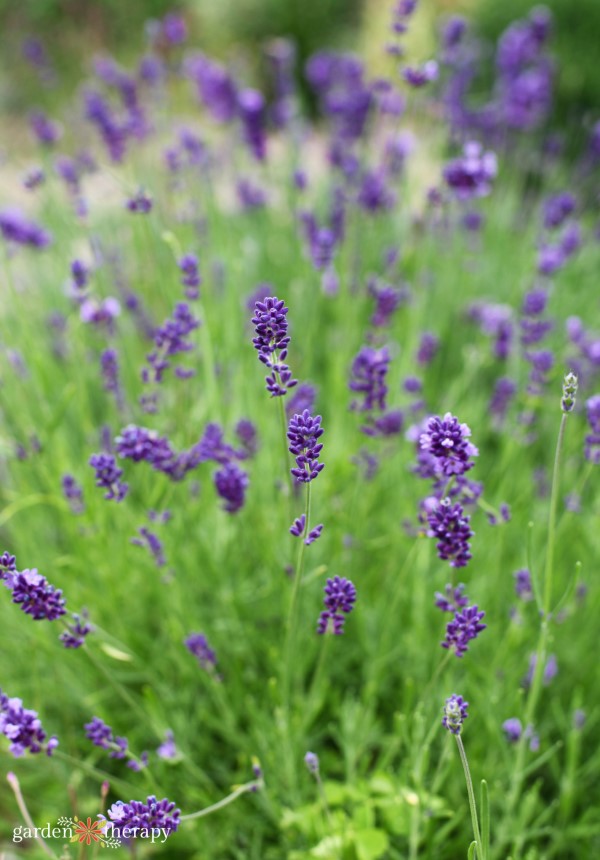 Calendula, Pot Marigold (Calendula officinalis)
Calendula has long been used to heal minor cuts and scrapes. Its anti-inflammatory and skin-regenerating properties make it an ideal addition to healing salves balms, and lotions. Like lavender it is also very gentle, so it is a great ingredient for use on children or those with particularly sensitive skin. I started making this healing salve when my son was a baby because he had horrific diaper rashes that would only clear up with that one recipe. To this day, we keep a few jars of it around the house as first aid for cuts, scrapes, and rashes. If somebody in the family flares up with a skin condition, we run to the get the "bum balm", which is just what we lovingly call it as it is not solely reserved for bottoms!
Calendula petals hold their colour well when dried and are a very pretty addition to many natural beauty products. Dry both yellow and orange calendula for variety in colour although both have the same herbal properties. Learn all about calendula: More Than Just a Garden Beauty: How to Dry, Use, and Grow Calendula.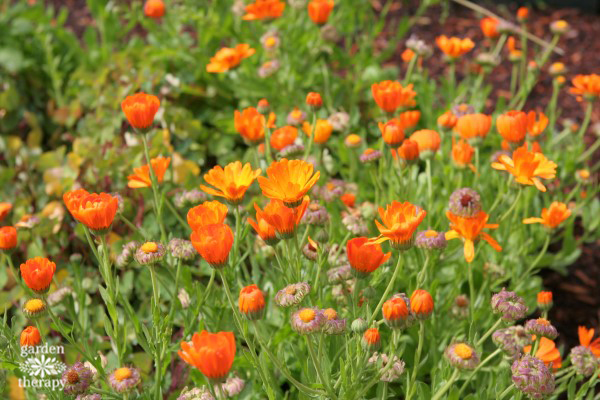 Rose (Rosa spp.)
The Damask rose (Rosa damascena) is the variety that has been most studied for its pharmacological applications, but for home use most garden roses are great for adding to skincare products, as long as they have been sustainably and organically grown. Add the petals to make floral water, witch hazel toner, bath bombs, and more or infuse your favorite oil with it and add to any skincare recipe that calls for oil. For more on using roses in skincare, see Healing Benefits of Rose for Beauty Products and this post Rose Skincare Recipes for Brighter, Healthier Skin.
Roses grow well in many different conditions and are fairly disease resistant, so they are a beautiful, low-maintenance addition to your garden as well as a wonderful ingredient to grow for your home apothecary.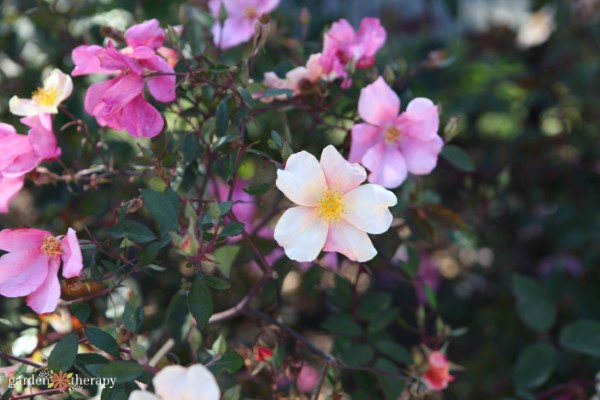 Rosemary (Rosmarinus officinalis)
Rosemary cleans, deodorizes, and wakes you up! This herb is not just for delicious winter cooking, but it's also one of my go to scents for the morning. I often use rosemary as an effective natural deodorizer, and it is one of the top herbs for hair care. I like to use it in my everyday shower soap. Its scent is fresh, woodsy, and invigorating, and is said to reduce anxiety and promote focus. Simply rubbing the leaves between your hands and breathing in the aroma can help to promote mental alertness, perfect for times when you are having trouble focusing. I like to combine the scent with citrus or mint for an especially refreshing blend. Read more on the herbal benefits and get tips on growing your own rosemary here.
Mint Varieties (Mentha spp.)
Mint has anti-inflammatory properties that can help soothe dry or irritated skin, and its refreshing scent helps wake you up and invigorate you. It is also a popular pain reliever, especially to help cool down inflamed and achy feet. I use peppermint for a trio of foot care recipes: foot soak, food scrub, and foot balm.  Dried mint leaves are wonderful to add whole to beauty recipes or to make into infusions that can be integrated into various recipes. Plus, there are a ton of different varieties of mint with all sorts of luscious scents! Read all about the many mints you can grow.

Lemon Balm (Melissa officinalis)
Lemon balm essential oil is one of the most expensive essential oils out there, but you can add some of the bright scent and skin benefits of the plant to your recipes by growing your own and making infusions or adding the leaves to your favorite natural skincare products. Lemon balm tightens skin and stimulates circulation and can even help to heal cold sores. Make lemon balm lip balm to use on your lips and to spot treat skin. Infusing the fresh herb in oil is more effective than the dried herb, so make it in small batches and replace the oil often. Fresh herbs can contain water that can lead to spoilage and bacterial growth so I err on the side of caution and make infused oils with dried herbs in most cases. To be safe, I use the lemon balm oil in recipes right away and discard any oil that is more than 2 weeks old.
Chamomile (Matricaria chamomilla)
Chamomile is a powerful but polite herb! It's safe for children and pets in most cases (although always test for individual sensitivities), but don't underestimate the healing power of gentleness. Chamomile's soothing properties helps to ease redness and inflamed skin better than many other options. It is perfect for sensitive skin, and when made into a tea or infused in oil it has a slightly sweet, earthy, floral scent. Add a chamomile infusion to toners, lotions, and more or use whole dried flowers to give bath bombs, soap, and salts a decorative look.

Hops (Humulus lupulus)
Hops can reach staggering heights in a short growing season. They grow on climbing bines (not vines) where the stems wrap around support structures (like pole beans) rather than attaching like a vine by tendrils or suckers (like peas). Build a tall trellis or arbor and they will fill it up quickly. Let the hops ripen on the vine and pick them when they are aromatic and springy when you pinch them between your finger and thumb. When dried, use hops to make infused oils for soap, lotions, and healing salves. Hops' calming effect works on the skin as well to reduce inflammation and help with both wrinkles and acne. Read more: Herbal Guide to Hops: Growing, Harvesting, and Using Hops.

Dandelion (Taraxacum officinale)
No, it's not April Fool's Day. I'm serious when I suggest that dandelions have a place in your skin care garden! Dandelions are not just a tasty superfood, but they are also a deeply established medicinal plant with the flowers, leaves, and roots all used for different purposes. In skin care, vitamin, mineral, and antioxidant content of the leaves makes a good basis for a skin repair tea that can me made into soap and lotion. The flowers can be infused in oil for pain relief salves, balms, lotions, and this Honey Dandelion Lip Scrub for chapped lips. And the fresh, milky sap in the stem is a natural latex that can be applied topically for wart removal (unless of course you have a latext allergy!).  If they are growing wild in your yard, hooray! Untreated, organically grown dandelions are good for your skin and an early source of food for bees who will help to pollinate the rest of your garden.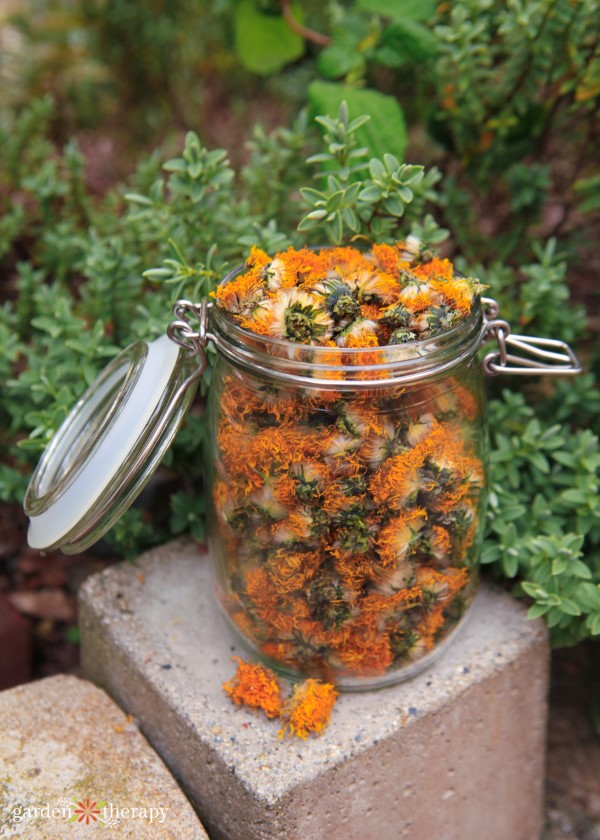 Aloe vera
No herbal skin care garden is complete without an aloe plant! The gel inside does wonders for sun burn and can help soothe cooking-related burns as well. Simply break off one of the large, succulent stems and rub the affected area with the clear gel inside. It will instantly cool a burn and help to heal the skin. Read: How to Use Aloe Vera as a Sunburn Remedy

Sunflower – Helianthus annuus
These beautiful sunflowers look gorgeous in the garden and produce a TON of sunny yellow petals for your home apothecary. The petals can be used to infuse oil or dried (like with calendula) to add color to scrubs and bath salts. I love this sunflower so much that I included it in my Natural Beauty Garden Seed Collection.
Cornflower – Centaureacyanus
Cornflower, or Bachelor's Button, produces bright blue petals that hold their hue well when dried and can be used to add natural color to soaps and scrubs. Cornflower doesn't have any particular skin-healing qualities but it does wonders to decorate a homemade skincare product if you want something pretty to give as gifts. I like to grow 'Classic Artist Mix' cornflowers in my apothecary garden because then I get petals in vibrant hues of blue, purple, and pink to jazz up my recipes.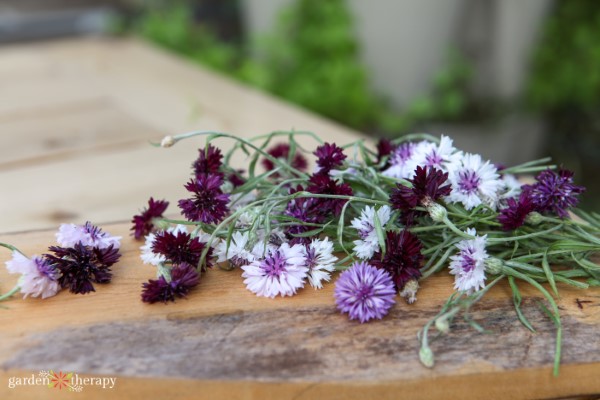 How to Use Garden Herbs for Skin Care
Once you have all of the plants growing in your garden, you will need some recipes! Here are two of my recent books filled with ideas for how to use your garden-grown goodness to make your skin naturally beautiful.