These edible flower ice cubes make a stunning show in a garden cocktail. Use them at special events like weddings or showers, or just to add a little pretty to your glass of water or favorite beverage!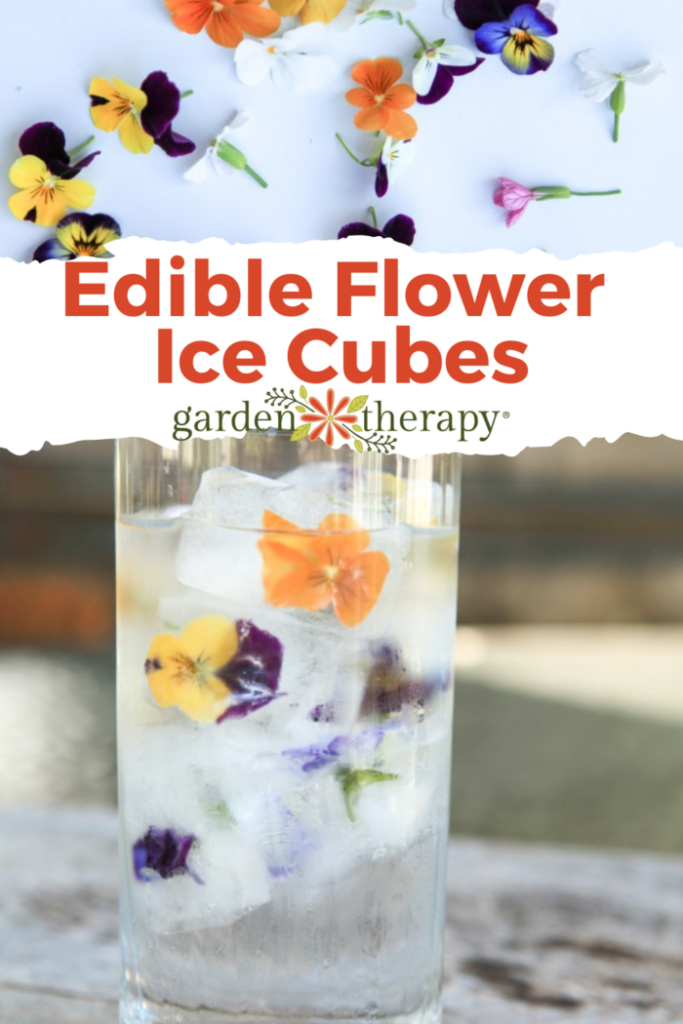 What Flowers Can You Put in Ice Cubes?
Any edible flowers work well for floral ice cubes. You probably have some already right in your backyard. Check out my list of some of my favourite edible flowers to grow and see if you have any handy to put in your flower ice cubes, including rose, nasturtium, lavender, and even dandelions. They all work wonderfully as edible flowers for drinks, adding pops of colour and even a unique flavour.
I like violas because of the flavour, but also because the size can perfectly fit in an ice cube tray. The only annuals I tend to grow in my garden are edible ones. When I first tasted violas I knew that this stunning plant with vibrant flowers would be front and center.
While they are so often planted just to perk up the flower beds and container gardens, once you taste the sweet, almost pea-like flavour, you will be buying them by the flat. It's no wonder that these are often called Culinary Violets (botanically-speaking, viola is the name for the collective group of violets, violas, and pansies).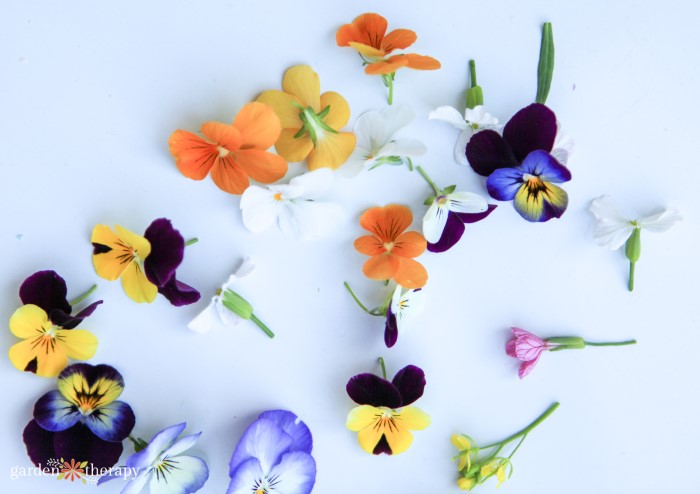 How to Use Flower Ice Cubes
I love adding these flower ice cubes to my summer cocktails. Not only are they pretty, but you might notice their subtle taste in the flavour profile of the drink. I have a whole list of garden-themed cocktails you can certainly add these ice cubes to and really impress any guests.
I also like to add these ice cubes to any of my floral drinks such as my homemade ginger ale, lavender soda, and my hibiscus iced tea. The flowers in ice go well with the theme and make drinking it even more fun.
They really add a unique look to your drinks at special events such as weddings, birthdays, showers, etc. Be sure to use a clear glass for your drinks so that the flower ice cubes can be appreciated in their full glory!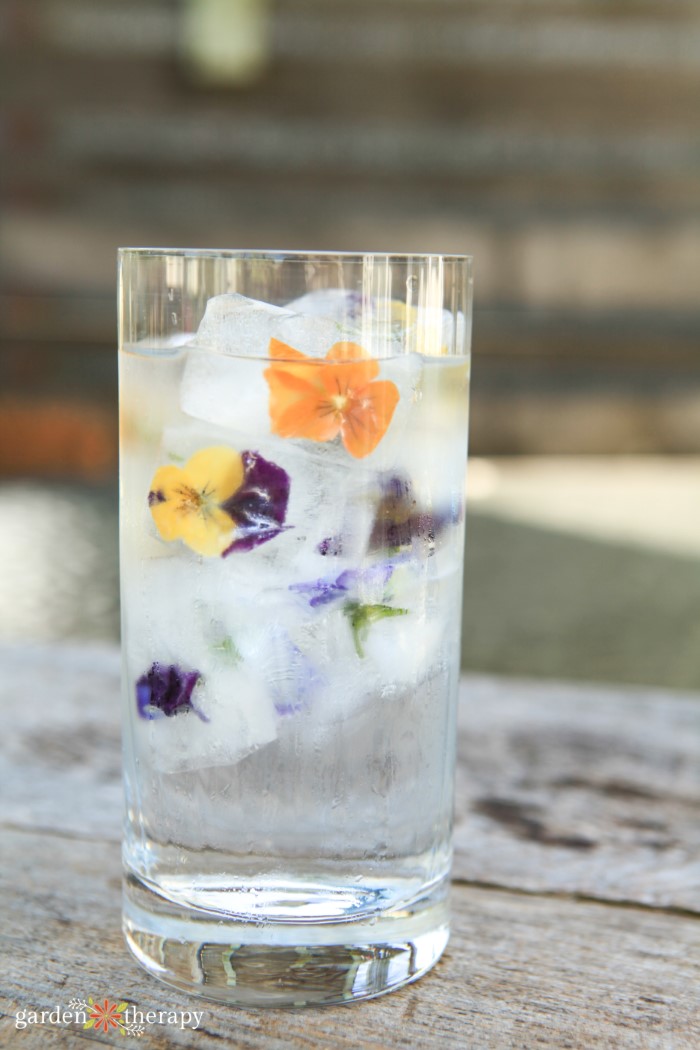 How to Make Flower Ice Cubes
One of the biggest questions I get is how do you make clear ice with flowers? The trick to getting the ice to be clear is to boil it first! Tap water typically makes cloudy cubes unless you run it through the tea kettle or stovetop and boil it.
However, don't discredit cloudy ice. I like both varieties. The clear cubes show off the flowers best but the cloudy ones show formations that look like glass-like cracks.
Helpful Tips for Making This Ice
To make edible flower ice cubes is simple, but here are a few more tricks that will help them put in the best display possible.
Harvest flowers just before you intend to use them. They should be picked at their peak of freshness and show no signs of ill health.
Separate the petals from larger flowers to help them fit. Arrange them back together in each of the cells of the ice cube tray.
Taste them! Yes, there are many flowers you can choose from, but be careful that the flavour they impart works with the drink they are intended to cool. Radish flowers are very pretty and will be tasty in a Bloody Mary, but may not be as much of a match for lemonade!
Freeze in layers. Start by filling up the ice cube tray halfway with water and place the flower on the surface. Gently pour just a few drops of water over the flower so that when you freeze it, the flower will be held in place. Freeze for 12-24 hours, then pour another layer of water to fill the ice cube trays. Work quickly so they don't melt. Freeze for 12-24 hours and you are ready to use them!
Serve in clear drinks for the best results.
How Long Does Flower Ice Last?
Just like most garden bounty, sooner is better when it comes to using these pretty cubes. I get asked often how long do flower ice cubes last? While they technically may be okay for a month or two, the flavor and color will be at it's best during the first few days. I suggest you use the ice cubes within 2 weeks
Give these flower ice cubes a try and let me know in the comments down below how they turn out!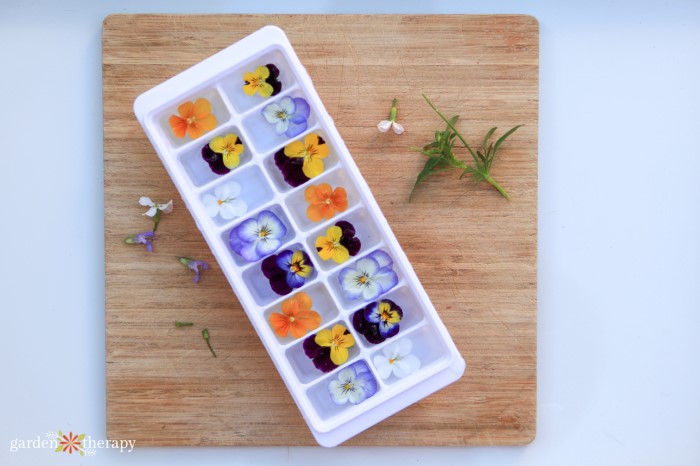 Want to Learn More About Edible Flowers? Read These: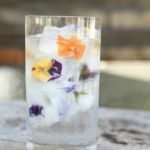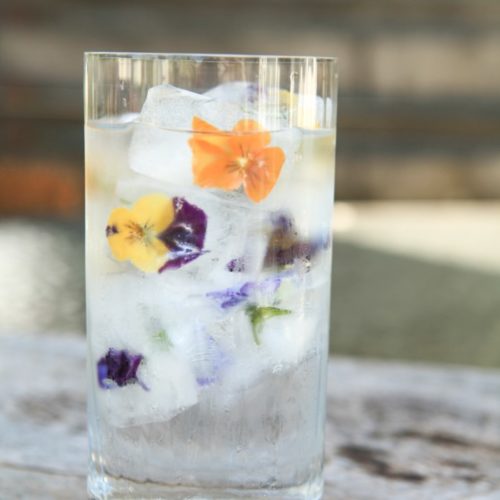 Print Recipe
How to Make Flower Ice Cubes
Learn how to make flower ice cubes that will add a pretty pop to practically any beverage.
Ingredients
boiled water

to make clear ice

edible flowers

violas, rose, nasturtium, lavender, dandelions
Instructions
Pick flowers at the peak of their freshness.

Fill up the ice cube tray halfway with water.

Add flowers to the ice cube tray. If needed, separate petals from large flowers to help them fit.

Pour a few drops of water on top of the flowers to help them stay in place, then freeze for about 24 hours.

Remove the ice cube tray from the freezer and immediately add more cold water to fill the tray up.
Nutrition
Serving:
4
cubes
|
Calories:
1
kcal