You have worked hard cultivating your garden and have been rewarded with a tomato harvest—now what? This post will show you exactly how to enjoy the fruits of your labor (pun intended!). Here's what to do with tomatoes, whether they are ripe or still green.
As summer comes to an end, it leaves us with an abundant bounty of fresh, delicious food. It is wonderful to bite into a ripe, sun-warmed tomato at this time of year, but it also feels a little sad because you know that the cold season is coming and soon you'll have to wait almost a whole year for the fresh taste of summer.
Thankfully, it doesn't have to be this way! Take a little time now to learn about preserving tomatoes. These simple methods will help you find comfort in the sunny taste of summer, even in the dead of winter.
What to do With Tomatoes
With a little planning and simple preparation, you can harvest that bounty of tomatoes in your garden and preserve them for the winter months. Whether you want the easiest possible method (freezing) or something a bit more complex (canning), the techniques outlined in this post are straightforward and practical.
Growing tomatoes is a great vegetable garden project because they are super easy to grow. Plus, the flavor of the homegrown version is unparalleled in the grocery store.
There are so many varieties of tomato that you can surely find some that suit your garden. Small-space gardeners can choose dwarf or container plants, short-season growers can choose fast-maturing varieties. Even those who live in rainy climates (like me!) can grow tomatoes that produce well on cloudy days.
With all of these options, it's hard to not have a bumper crop of tomatoes ready at the end of the season. Having more harvest than you know what to do with is overwhelming, not only because you find yourself scrambling to add them to every meal possible, but because you know how much you'll miss them in the winter.
When you're overwhelmed with a crop, it's impossible not to start taking it for granted and get a little tired of eating it. But, come January, you'll be wishing for that fresh summer taste that you can no longer get your hands on.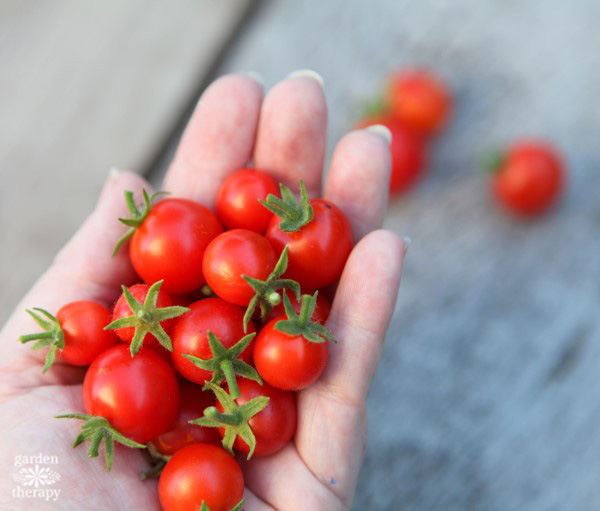 Luckily, there are multiple ways to take when preserving that allow you to enjoy them in the colder months. If the weather is beginning to cool or your tomato plants have succumbed to the dreaded Late Blight, then it's time to harvest the lot of them and put them away for the winter.
Here are some ideas to help you figure out what to do with tomatoes.
Freeze Tomatoes
This is a great way to use a large crop, and it couldn't be easier. Here are the three steps to follow:
Simply wash ripe tomatoes and remove the stems. I recommend following the steps in this post about how to wash fruit and vegetables properly.
Gently pat them dry.
Pop them into a freezer bag and freeze them until ready to use.
What to do with Frozen Tomatoes
First of all, it's important to note that once frozen, the texture will change. Thawed tomatoes are not firm like the fresh ones are, but if you are planning to use them in cooking, they are quick and easy to remove from the bag and toss in the recipe.
I find myself reaching for these tomatoes whenever I want to make sauce, soups, or casseroles. The flavor is excellent for these saucy kind of foods.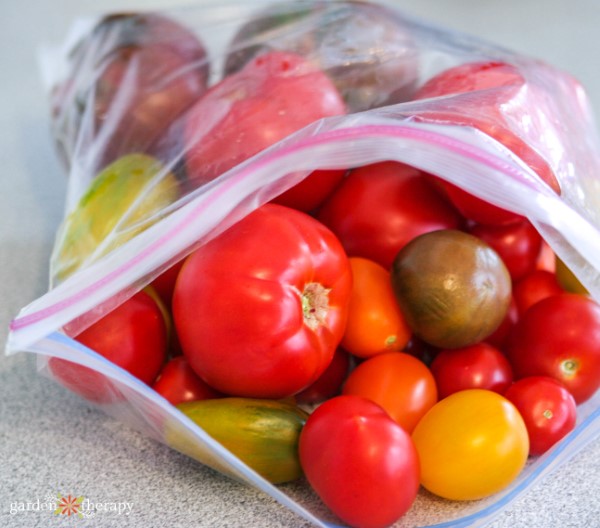 Dehydrate Tomatoes
Grab a dehydrator and make some dried tomatoes! These taste just like the sun-dried version that were in just about everything 20 years ago. Drying grape tomatoes at home makes for a delicious way to preserve them for the winter months. Here's how you can easily dehydrate tomatoes:
Cut cherry or grape tomatoes in half.
Add them to the layers of a food dehydrator. You can also use the oven and place them on a baking sheet in the oven on low for 8-12 hours
Store in an airtight container.
What to do With Dehydrated Tomatoes
This is one of my favorite methods I use when figuring out what to do with tomatoes from my garden. I love the taste and find myself adding them to everything. A few ideas include:
Add them to your pizza or quiche
Marinate them in herbs and oil to serve with antipasto
Layer them in a salad
Sprinkle them onto your favorite dinner
Honestly, you can't go wrong with these! A little goes a long way so be conservative.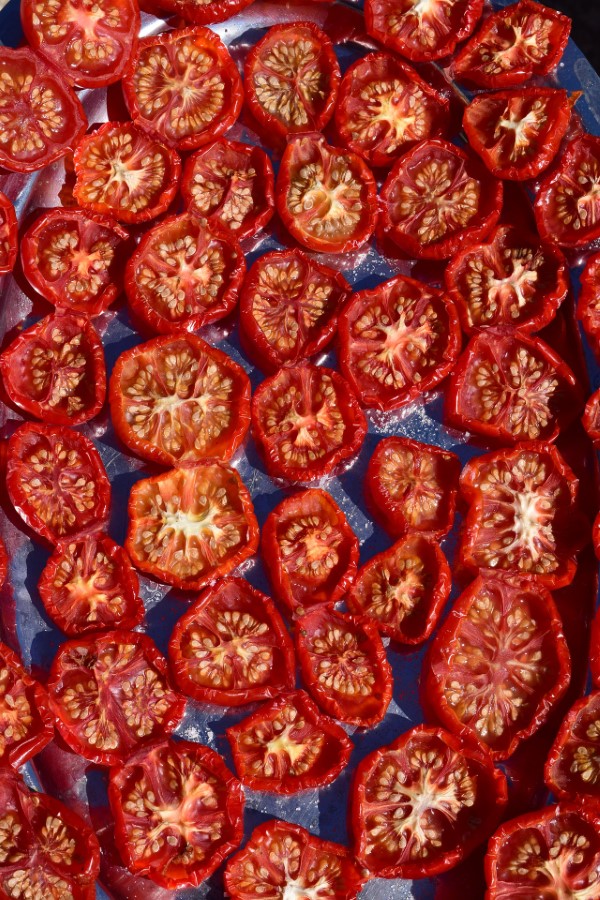 Can Tomato Sauces, Soups, and More
Of course, one of the most popular options when wondering what to do with tomatoes is canning. You can cook the tomatoes and make a variety of different recipes to can such as pasta sauce, soup, salsa, and pizza sauce. I like to roast the tomatoes with garlic first, and then use them in the recipe.
As with all canning recipes, be sure to follow the ingredients and process to the letter, as canning can be dangerous if not done properly.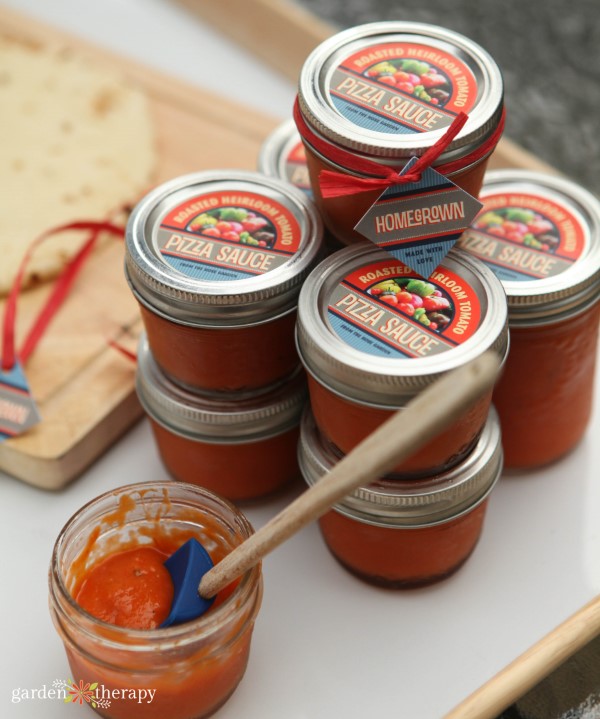 What to do with Green Tomatoes
At the end of the season, you will usually end up with a bunch of tomatoes in various stages of ripening, meaning you'll have quite a bit of green tomatoes.
While green tomatoes are lovely fried and in salsa, there is an easy way to ripen the rest of the crop indoors where it's still toasty warm. Choose to ripen only the tomatoes that are clean and disease-free.
How to Ripen Green Tomatoes
Ripening green tomatoes is simple! All you will need to do is:
Keep them on the vine as you are picking them.
Set them in a box or bowl away from direct sunlight.
Check them every day and remove those that have ripened.
Easy and delicious!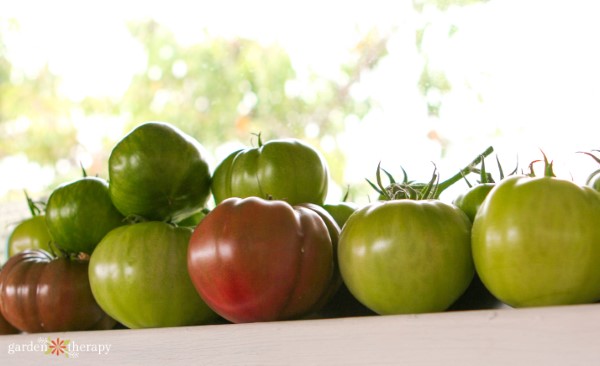 Save Your Tomato Seeds for Next Year
Perhaps the most important part of what to do with tomatoes for gardeners is saving the seeds. This will allow you to have another great harvest next year! Learn all about how to save tomato seeds through fermentation here.
More Ideas for Preserving Garden Produce: