Make a infused strawberry vinegar for a delicious and fresh salad dressing that promotes good digestion. This recipe can be used as a digestive drink or as a yummy salad dressing. Read more about savory strawberry vinegar and how to use it for your best health.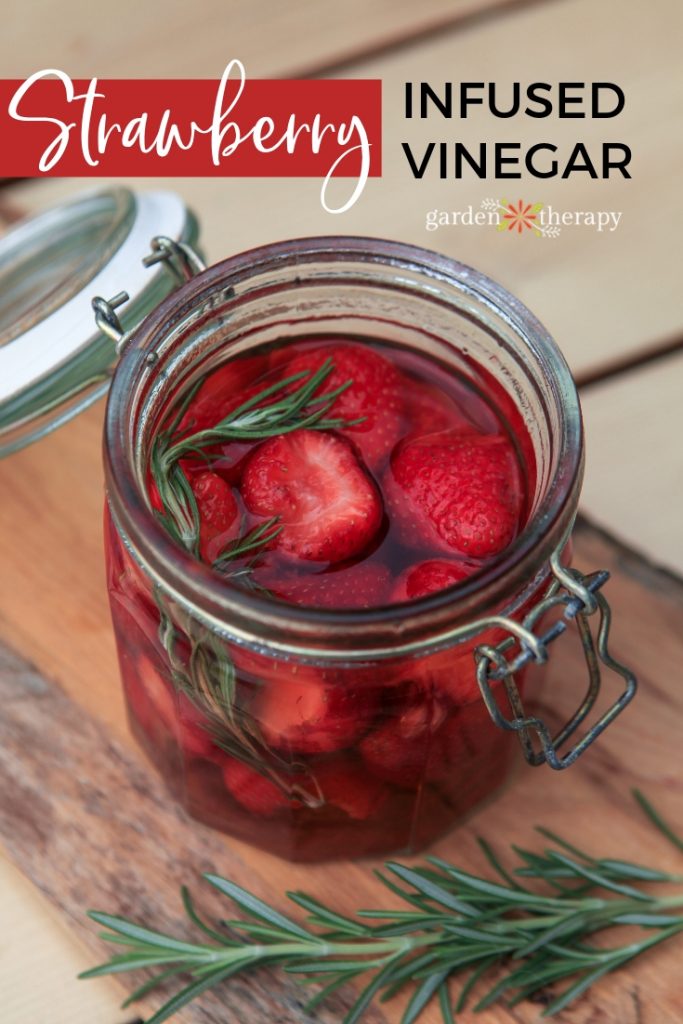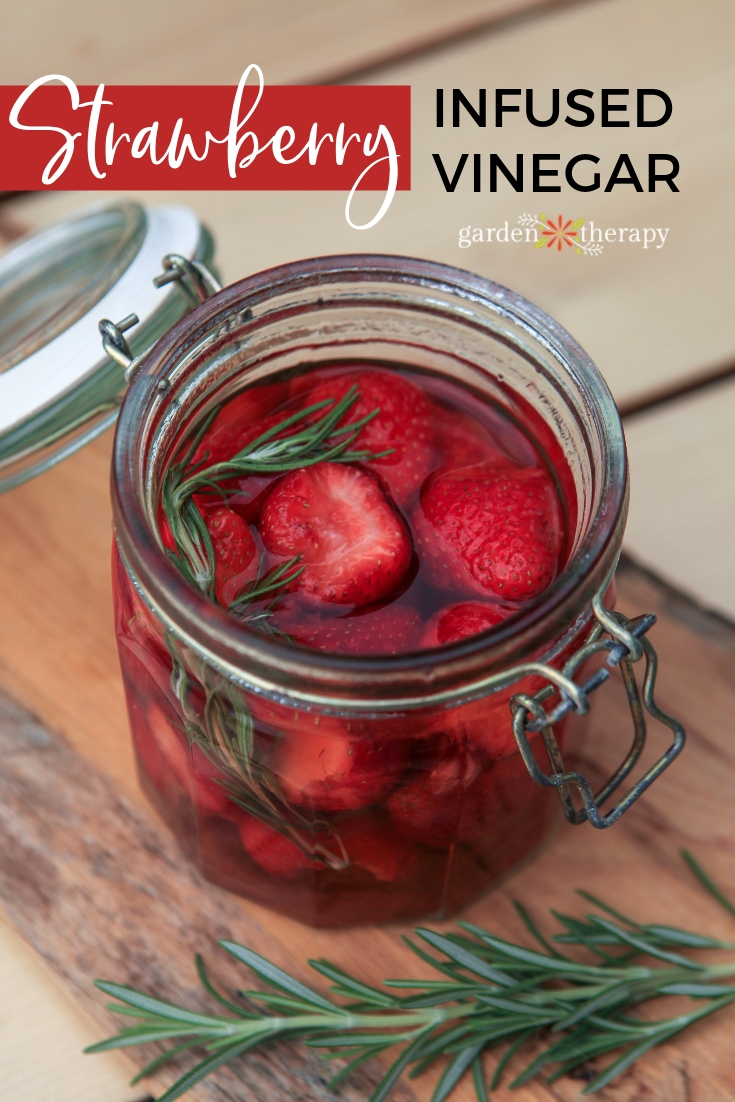 Who doesn't love strawberry season? Strawberries are those happy fruit that put a huge grin on a kids face, no matter if that kid is 2 or 92! Strawberry has always been one of my favourite flavours. It's sweet and cheery without being too overwhelming. It reminds me of spring salads because the plants in the garden are filling in nicely with the chives, lettuces, and other early greens. They also go really well on a bed of spring greens!
Savory Strawberries
When you think of strawberries you are undoubtedly thinking of desserts and sweet foods like pie, jam, ice cream, and scones, right? Well of course! The flavor COMES ALIVE with a bit of sugar added in. I'm certainly on that bandwagon. One of my favourite recipes is this Low Sugar Strawberry Freezer Jam which uses just a bit of sugar to turn up the volume on the sweet, sweet taste of strawberries.
But just for today, please allow me to pitch you a savory strawberry recipe that you may just love as much: Strawberry vinegar. I gave up sugar in 2015 and along with the sweets, I lost my sweet tooth. I still love a bit stevia added to recipes, but a little goes a long way. Even a bite of something quite sugary is overwhelming to my tastebuds and this has helped me to enjoy more flavours on the spectrum than just sweet or salty. This herb vinegar is a great way to extract that gorgeous strawberry flavor to add to salads well past strawberry season.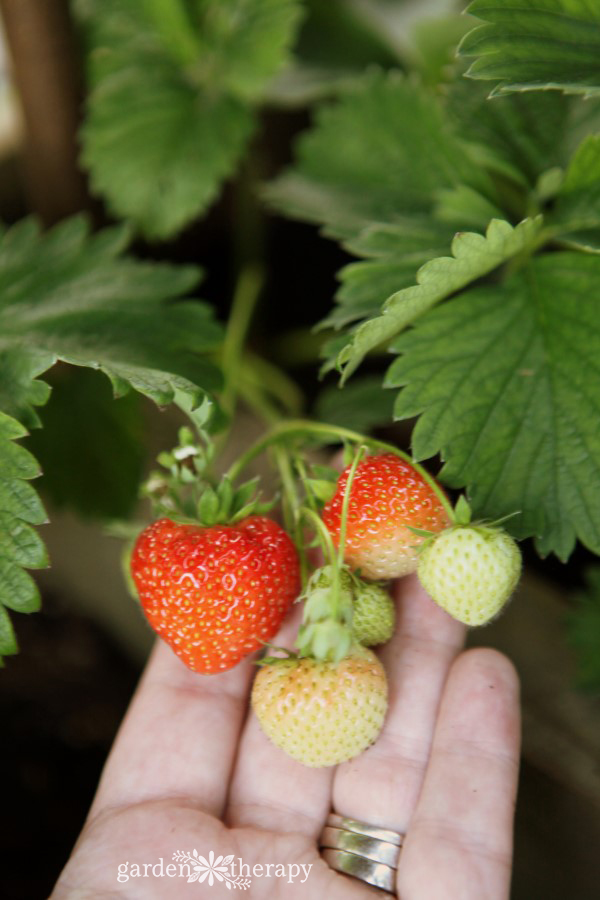 Nutritional Benefits of Strawberries
I'm sure you've heard that strawberries are a great source of Vitamin C. Great! They are also high in fiber and fruit with little seeds is great for scrubbing your intestines. How much fun is it that strawberries wear their seeds on the outside? They also contain a whole variety of nutrients like potassium, iron, calcium, folic acid, and Vitamin K.
That Strawberry Flavour
Store-bought strawberries are just not the same. While it's now possible to get strawberries year-round, they travel from far distances and are usually picked prior to ripening. This means you get much more expensive and far less flavorful strawberries out of season. And it's much harder to find good quality organic strawberries.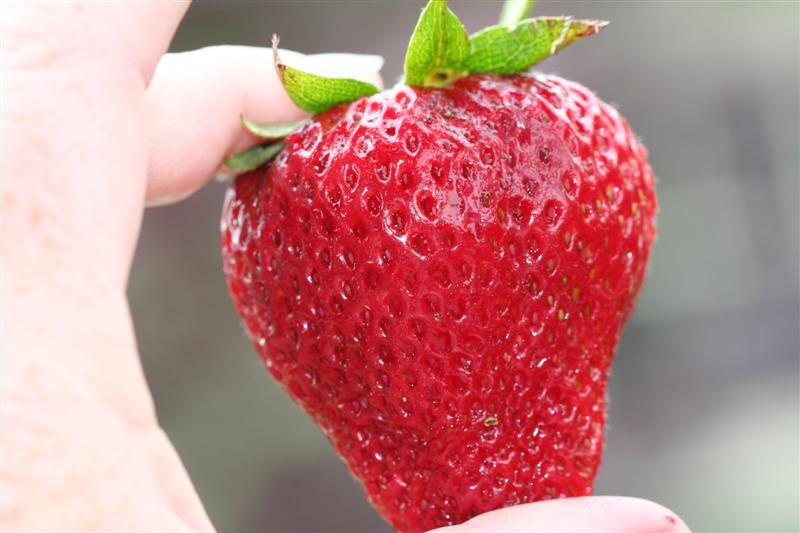 Organic Berries Only
I grow all my garden food organically and what I can't grow I buy from a local source who I know doesn't spray or otherwise treat the food. Even commercial organic standards allow more spraying than I want in my food. But, yeah, when I shop for food at the grocery store, there are a few foods that I won't even look at unless they have organic certification.  Strawberries are one of them.
If you can grow them, they are fun and easy to grow, even in a small-space garden like mine. But I can never seem to grow enough to satisfy my strawberry tooth. So when the organic local strawberries go on sale for $2 a pound I can't help but load up on flats of them to preserve the flavor and use for recipes throughout the year.
Strawberries and Herbs: Together at Last
The flavor of strawberry pairs really well with herbs. Black pepper, chives, bay, rosemary, and thyme come to mind. In this recipe I've added Rosemary, chives and black pepper to make a flavourful vinegar to dress up Summer meals. I picked a few of these to jazz up my savory Strawberry Vinegar recipe but feel free to switch it up and add your own ideas!
Strawberry Vinegar Recipe
Ingredients
Makes 1-1.5 cups in a 16 oz jar
Make it!
Choose berries that are perfectly ripe without bruising or signs of mold. Wash the berries well and hull to remove the tops.
Harvest and wash fresh herbs, bruise the herbs using the back of a knife.
Pack berries and herbs into a clean jar with a sealing lid. Pour over the apple cider vinegar.
Place in a cool, dark place away from direct sunlight to infuse for a week to 10 days. To speed up the infusion, use a fork to mash the berries after a few days in the vinegar.
Strain the infusion and discard the solids. Store the vinegar in the fridge for 1 month.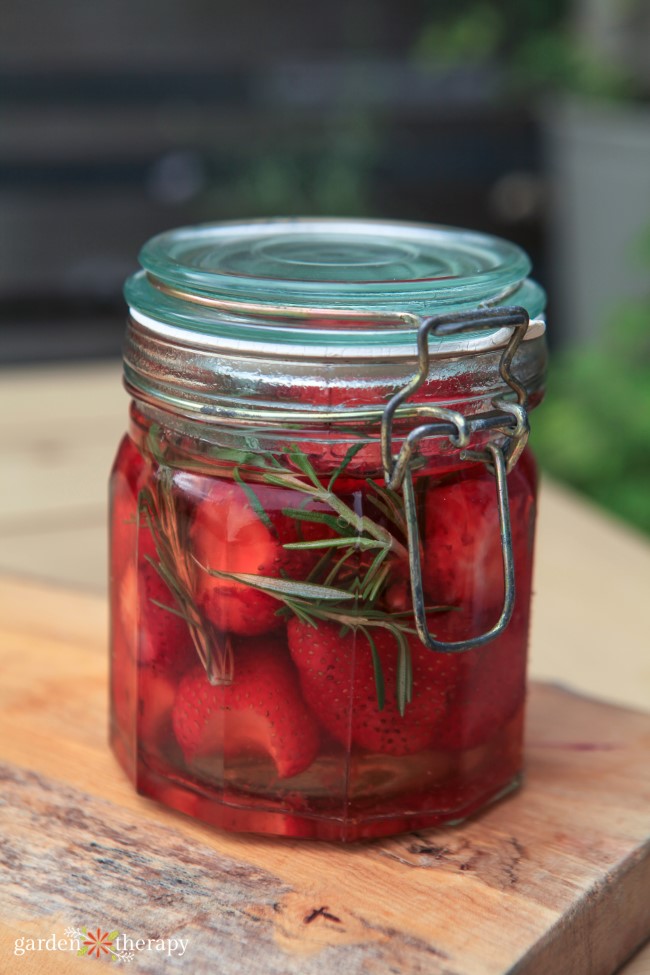 Strawberry Vinegar for Digestion
Apple cider vinegar is uber popular right now for wellness. It's used as a skin treatment for fungus, a hair rinse, and a nutritional supplement. Some people swear by drinking it in their water every morning, while others add it to recipes like salads. You can use this strawberry and herb infused vinegar recipe in place of apple cider vinegar in any recipe or try it these two ways:
Strawberry Herb Vinegar Infused Water
Makes 2 cups
2 cups water
2 tbsp strawberry herb vinegar
2 tbsp fresh lemon juice
1 tsp honey or a few drops of liquid stevia (optional)
Mix all ingredients together and drink first thing in the morning before breakfast (and yes, before coffee!) or before meals. If you are using honey to sweeten the drink, dissolve the honey in warm water first. Can be served warm or cold.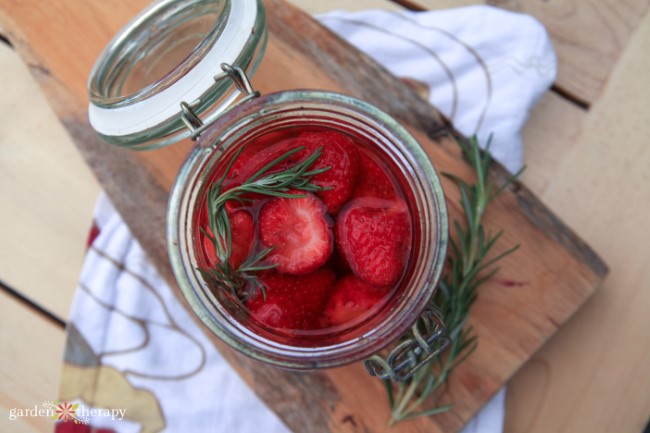 Strawberry Herb Vinaigrette
3 tablespoons good quality extra-virgin olive oil
2 tablespoons strawberry herb vinegar
Salt and pepper to taste
Add all of the ingredients into a clean Mason jar and shake or add to a blender to emulsify.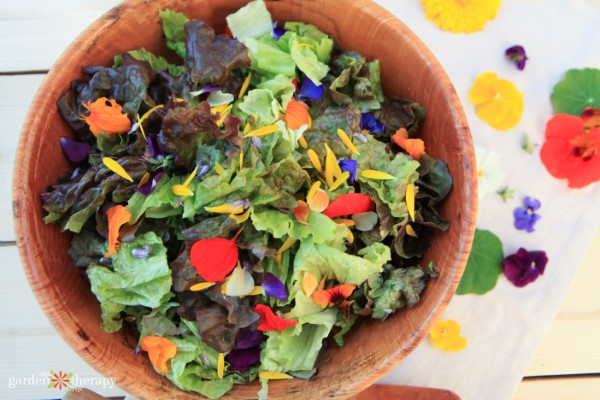 More Herb Garden Recipes to Love