Growing vegetables in containers is a cinch when you use the right containers, choose the best plants, and give them the nutrients they need. Here are the easiest ones you can grow—you're practically guaranteed a good harvest with these veggies!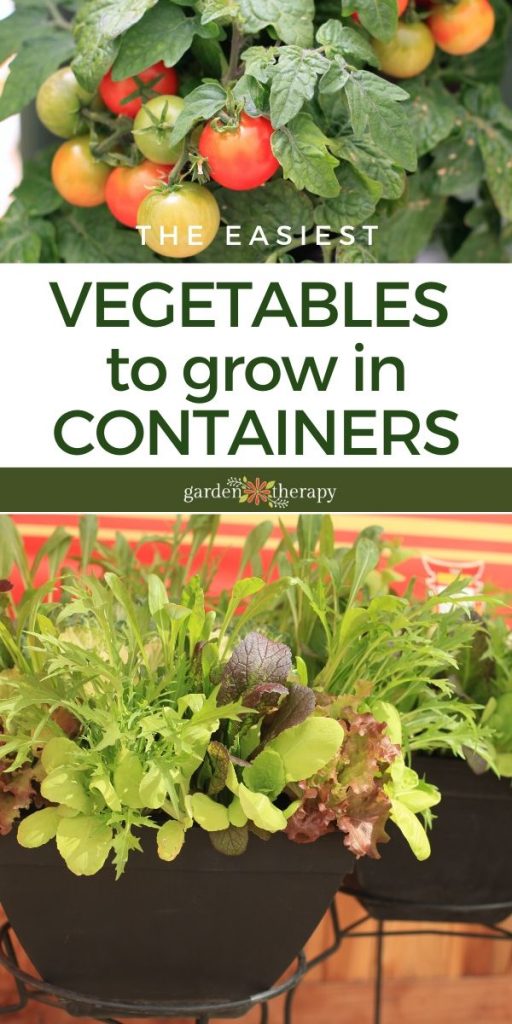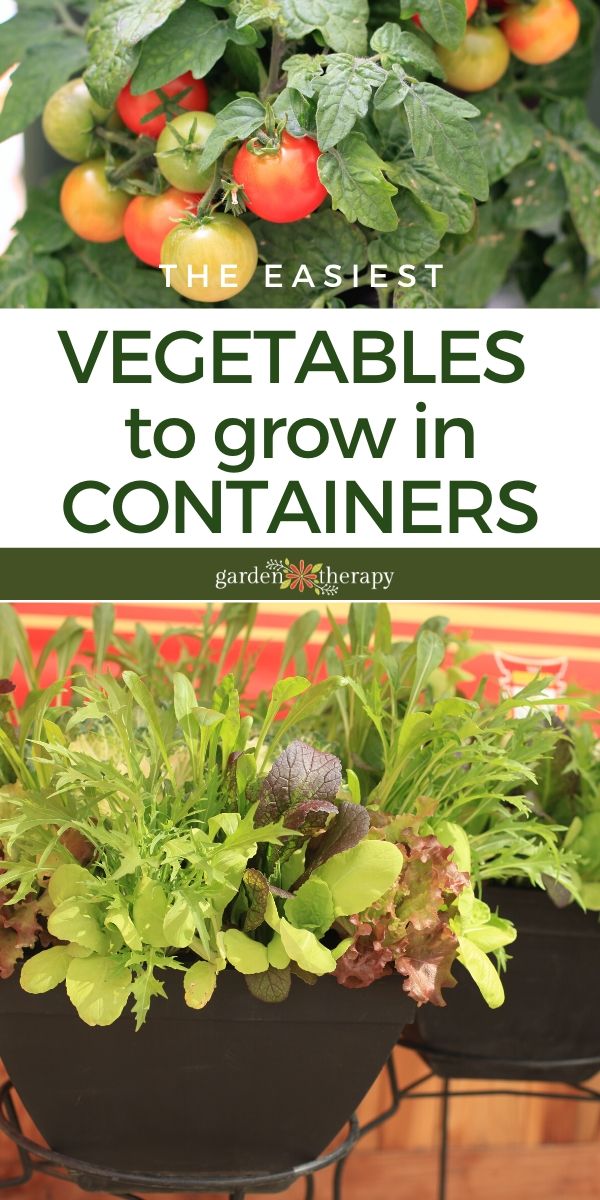 We don't often think of pots as being the best place to grow our veggies, but these five prolific edibles will yield a ton of food when grown in a container, so if you only have a small garden bed or no garden space at all, try planting these vegetables in containers this year instead.
As you harvest and cut them back, they will produce more and more yummy veggies, and you won't feel like you're missing out on anything by not growing them in the garden.
How to Grow Vegetables in Containers
Choose appropriate vegetable varieties to grow in pots, such as dwarfs or those particularly meant for containers.
Always choose food safe materials for containers.
Be sure the containers have proper drainage holes.
Keep in mind that soil in containers will always dry out quicker than in a garden bed, so you will need to check the soil often and water frequently.
Use a soil mix that retains moisture.
Supplement with a natural, granular fertilizer blend for vegetables.
Best Vegetables To Grow in Containers
If you are new to growing vegetables in containers there are plenty of options! There are't many that you CAN'T grow in pots, but some are definitely more tricky than others. My recommendation is to start with tried and true crops as each veggie listed below will give you the least amount of problems.
Cucumbers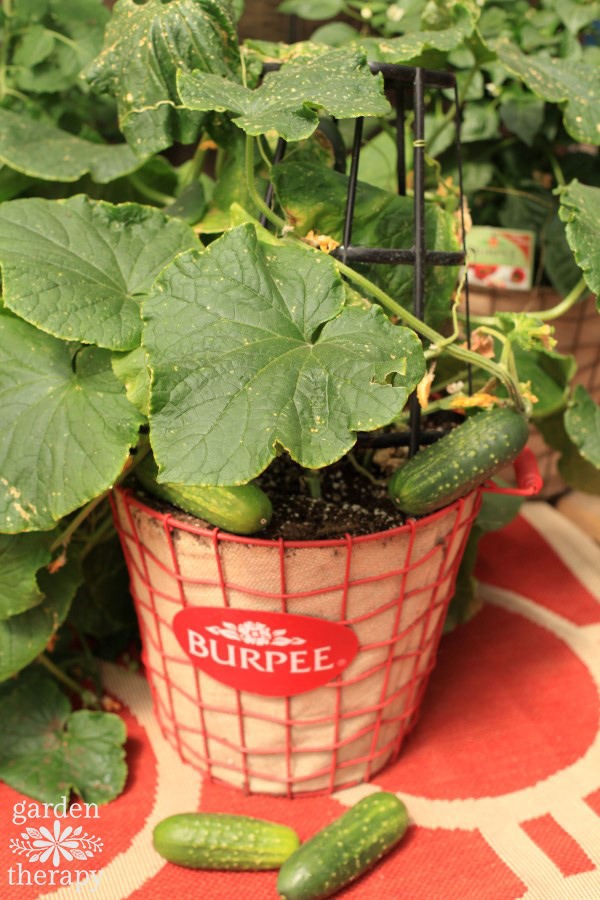 Pick a small bush cucumber variety meant for pickling, as it will grow a large yield of small cucumbers, which is exactly what you want in a container garden; lots of veggies in a small footprint. Personally, I love Burpee's "Fresh Pickle" cucumbers to grow in pots.
Cucumber plants will need some sort of support structure to grow on, such as a metal or wire trellis. Use twine to tie the young cucumber stems onto the support structure to train them to grow up it.
Peppers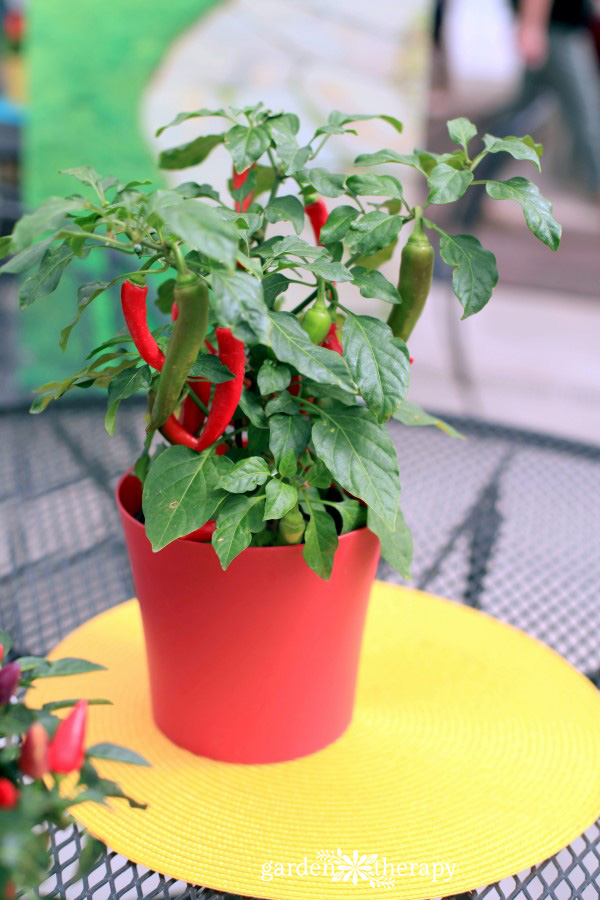 Peppers grow well in pots. In fact, having them in movable containers can give you more control over their final taste than if they were growing in one spot in the garden. This is because both sweet and hot peppers develop their flavor based on how much sun exposure they get.
For sweet peppers, the more sun they get, the sweeter they taste. For hot peppers, more sun = more spice. Move your peppers around to get more or less sun exposure as they grow, depending on how you want them to taste when they are mature.
Potatoes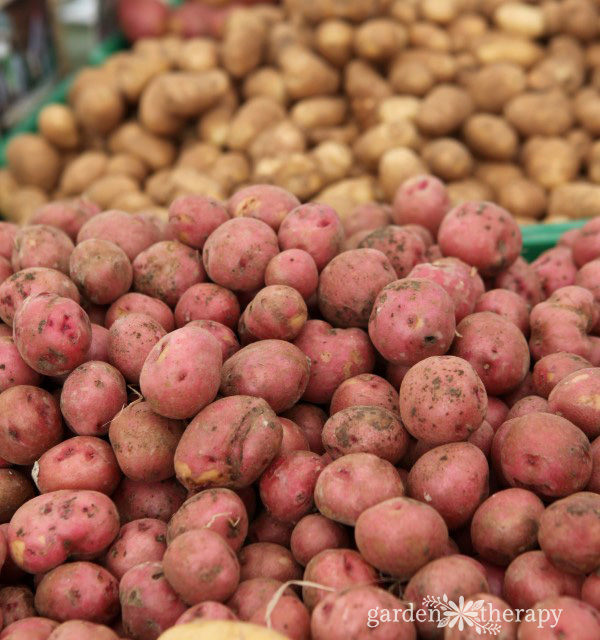 I LOVE growing potatoes in containers because there are smart container options that make them easy to harvest. For example, you can plant potatoes in grow bags that have flaps at the bottom that open and close, so you can dig in through the flap straight to where the potatoes are located.
Another option is a two-pot potato growing system that has one pot with gaps in the sides that inserts into a larger pot with closed sides. Grow the potatoes normally, and when they are ready to harvest, just remove the inner pot from the outer pot, and the potatoes are easy to harvest through the gaps in the inner pot's sides.
Salad Greens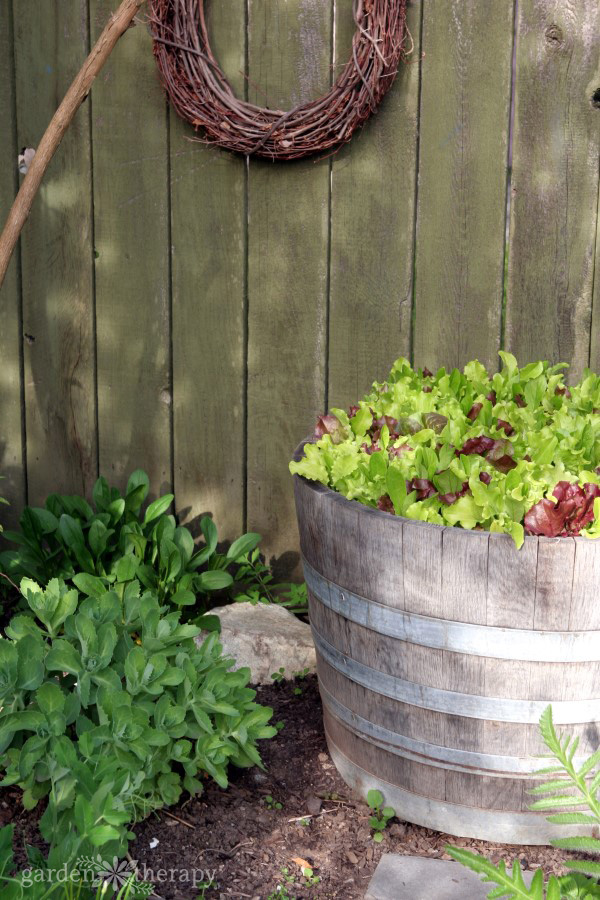 Growing greens in a pot protect them from the snails and slugs that would otherwise find and damage them in the garden. Lettuce, in particular, prefers to be planted in shallow soil, so a container is a perfect choice for a salad garden.
A cut-and-come-again salad garden is exactly what it sounds like: a container garden filled with salad greens that you cut to make a delicious fresh salad.  When you come back again in a few days, the greens will have replenished themselves so you can cut them again for your next salad.
One fun idea is to grow lettuce in a wine barrel. It's a beautiful addition to any garden. See the sneaky line of copper tape around my wine barrel? That's to keep the slugs and snails from climbing up. Works like a charm!
Tomatoes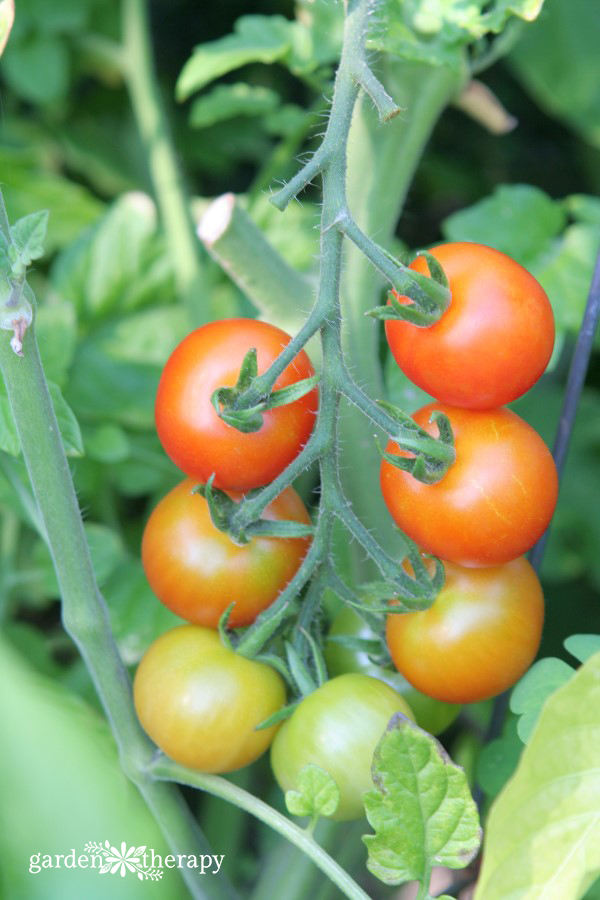 There are a great many wonderful tomato varieties made just for growing in containers. There are even super small varieties like "Tiny Tim" that can grow in a small 10″ diameter pot or hanging basket.
Of course, grape and cherry tomatoes do well in pots, but there are also container varieties that produce larger slicer tomatoes, so you're bound to find a container tomato that suits you. Choose a bush variety container tomato as opposed to a vine variety, as this will do better in a pot. There are new varieties released every year, so be sure to look at seed catalogs and veggie starts for those marked "container".
When you plant your tomatoes, be sure to add a cage or trellis for support at that time so that you don't have to try and add it in later, which often results in damaging the plants.
Tomatoes are one of the most popular vegetables to grow in pots, because you don't even need a garden to get a great harvest! Check out these genius ideas for growing them without ground soil: No Garden? No Problem! How to Grow Tomatoes Without a Garden.
The Best Potting Mix for Growing Vegetables in Containers
Part of the success of growing vegetables in containers is ensuring that your plant gets the proper nutrients. Did you know you can easily make your own soil mix? Here's how to put together a custom mix for container gardening.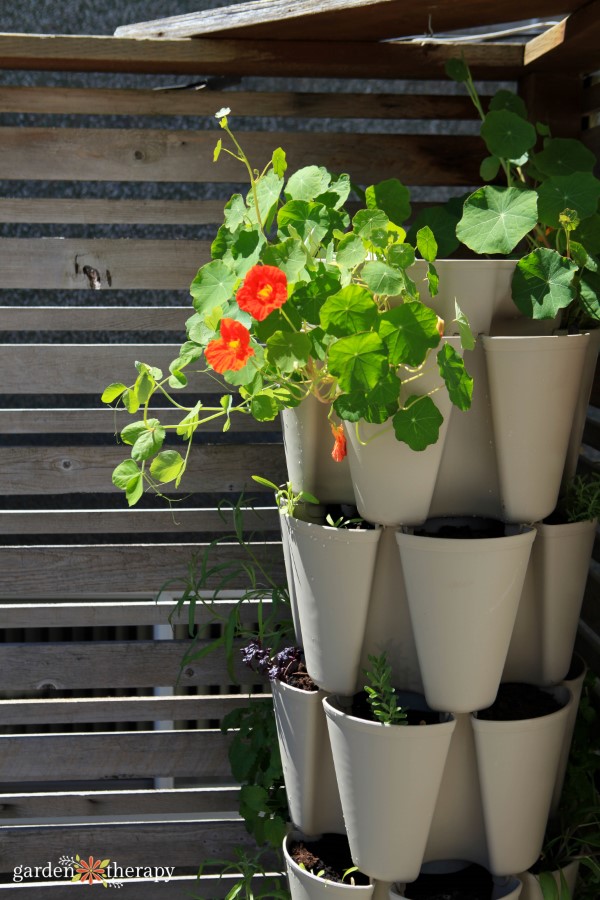 Growing Vegetables in Rubbermaid Containers, Etc.
Can you grow vegetables in a Rubbermaid container? Yes, you can use these plastic containers for your vegetables as long as they list food safe plastic number on the bottom. In fact, you can even grow vegetables in a wine box, a suitcase, or an organizer! Choose the container that suits your style, but follow these tips to make sure you are successful!
1. Use The Right-Sized Container For Your Plants
If you want to use Rubbermaid, choose the Roughneck series for your plants. Larger vegetables need a 5-gallon container. Smaller plants will do fine in a 3-gallon one.
2. Create Proper Drainage
Drill holes in the bottom of the containers to help it drain. If you don't, the water will just sit and pool at the bottom of the container. Make the holes about a 1/2-inch in diameter and space them apart evenly.
3. Keep Soil From Falling Out
Line the bottom of the container with either a newspaper or a brown paper bag. This will let the water drain out but keep the soil from falling out. As it biodegrades, it will create a healthy compost soil too.
4. Plant The Veggies
Add soil and get planting! You can start the vegetables from seeds or from veggie starts. Keep in mind the appropriate spacing but have fun combining different vegetables to make them attractive and edible.
Growing Vegetables In Containers: Final Thoughts
The best vegetables to grow in containers are ones that fit in the container. You can easily plant potatoes and cucumbers in containers, just make sure you pick a large enough size to hold the plants and let them grow.
Container gardening is fantastic for protecting your plants from rodents and bugs. It's like a mini version of a raised bed garden. I hope these tips help you grow some fresh veggies this season.
More Edible Gardening Ideas You'll Love!