Welcome to the 2015 wrap up post where I'll share the Best of Garden Therapy from this year. I have a few personal notes to share, as well as look back on the year including 25 Wildly Popular Garden & Craft Projects that were published.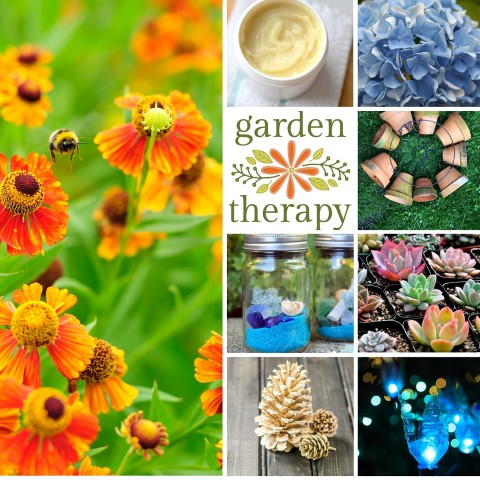 Another year is about to close and I couldn't be more grateful. 2015 was the year that I became well enough to start working full time. In March of this year I transitioned into a full-time career as a writer, spending my days with gardening and crafts and healthy recipes and natural beauty. Seriously. It's a job. The best job I could ever imagine. And after nine years of recovery from debilitating illness, I feel like I'm living a dream.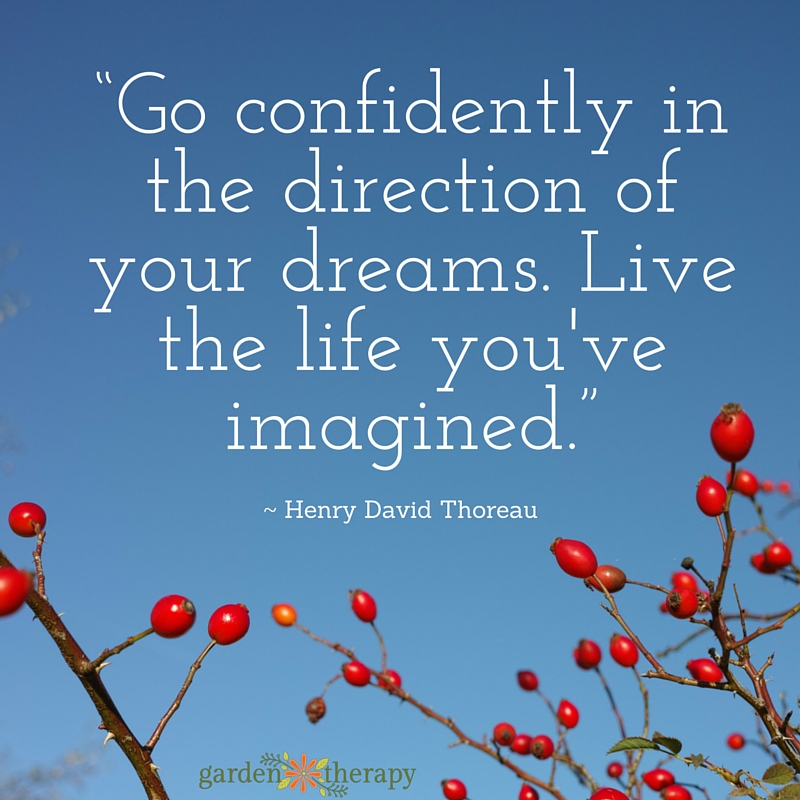 Until I started living my dreams, I couldn't imagine that one day I would be a published author. Today I'm thrilled to see that my book, Garden Made: a Year of Seasonal Projects to Beautify Your Garden and Your Life, is available in bookstores everywhere. I wrote the book as a way to showcase some of the creative Garden Made projects that got me outside, digging in the dirt, and changing my life (you can read more about my personal journey here). I hope it becomes a book that inspires others out there to try a project or two and feel the benefits of garden therapy on their body and spirit. If you would like to preview a copy, head over here and take a look!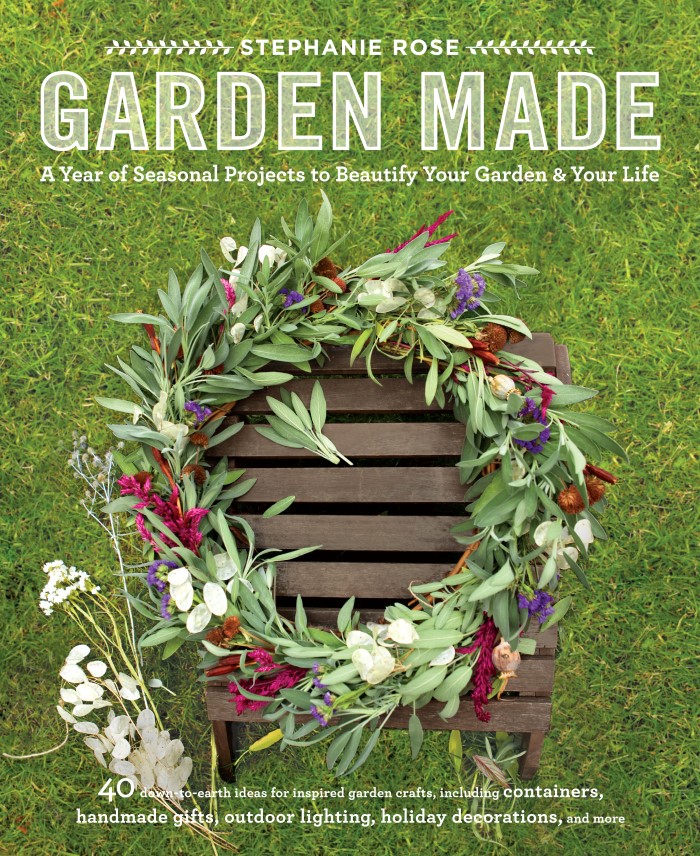 Here on the website that started it all, Garden Therapy has sprouted from a blog to a community of crafty, healthy-living folks who are eager to get a little, well, garden therapy. This year I started writing a more personal newsletter (sign up here) and sending it out weekly through which I have gotten to know you all so much better! Many of you have also joined in on conversation on our community FB Page. I have received notes and feedback letting me know what you like (and what you don't) and I've taken it all back to Garden Therapy: growing, changing, blooming.
Throughout the year, I have made A LOT of things (and of course written about / photographed them) for Garden Therapy: 130 new projects since January. Not only that, but I have also been joined by a creative team and guest authors who have contributed an additional 49 articles.
Of those 179 gardening and craft projects that have been posted this year, there were some that you REALLY loved. Here are the 25 posts that were the most popular in 2015. Please note: this list only covers the most popular posts that were published from January -December 2015. You can see the 2014 list here and a gallery of our most popular posts of all time here.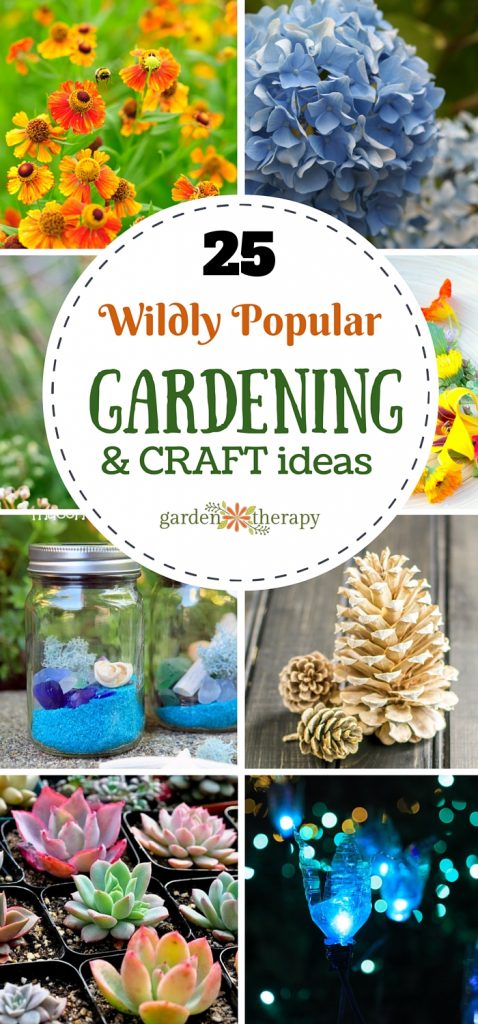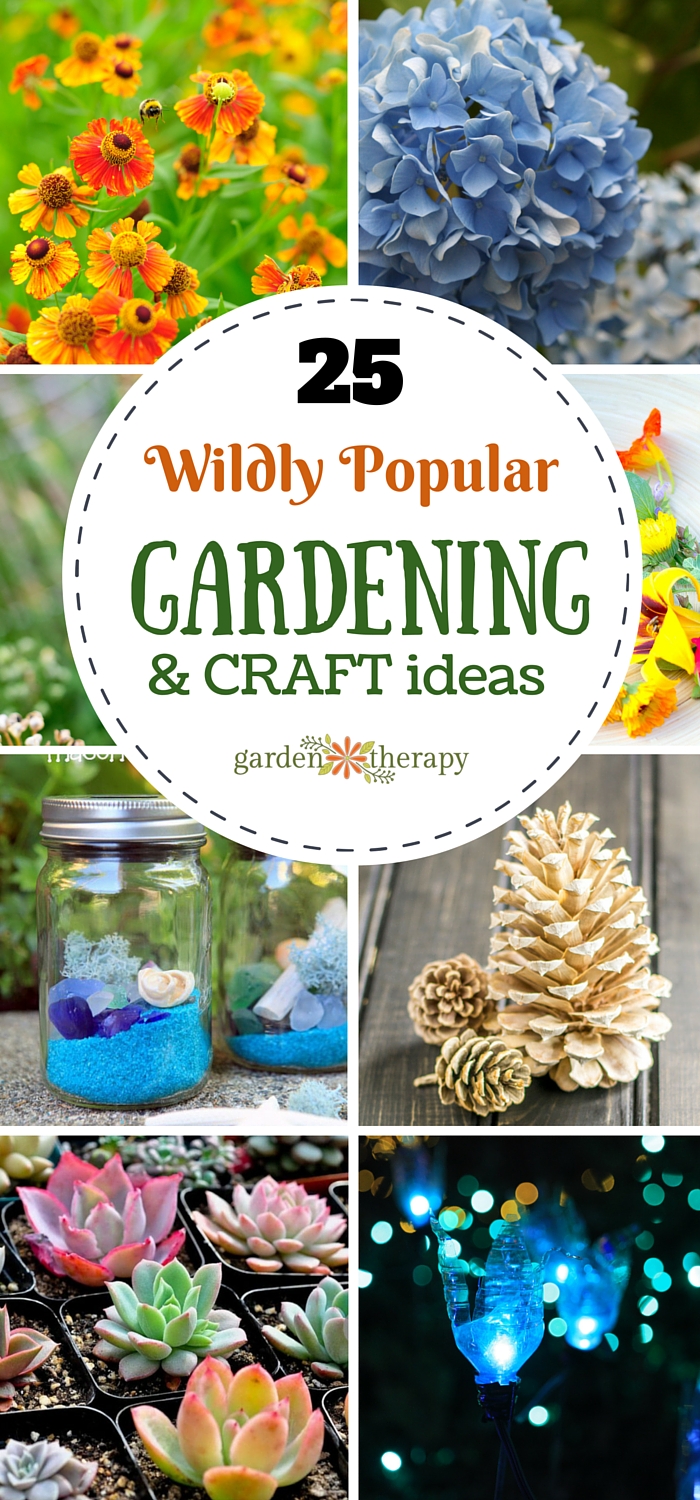 25. How to Make the Perfect Edible Flower Ice Cubes
24. Make This Stunning Terracotta Pot Succulent Centerpiece
23. The Essential Guide to Hydrangeas
22. 25 + DIY Outdoor Projects to Tackle This Weekend
21. Nail Polish-Marbled Painted Pots
20. Herbal Anti-Flea Dog Shampoo Recipe
19. Top 10 Drought-Tolerant Perennials
18. Growing Strawberries in Containers
17. The Top Five Medicinal Herbs to Grow in Your Garden and How They Heal
16. The Secrets to a Successful Container Garden
15. Insect Bite Roll On Remedy
14. It's Beginning to Smell a Lot Like Christmas Simmering Spices
13. Heavenly Coconut Oil Sugar Scrub
10. Life's a Garden FREE Adult Coloring Page
9. The Top Allergy-Fighting Plants for the Home Gardener
8. Fairy Light Project: DIY Solar Light Chandelier
7. How to Keep Air Plants Alive and Healthy (They Might Even Bloom!)
6. The Essential Guide to Growing Happy + Healthy Succulents
4. Soil Food for Greener Gardens: Find the Best Amendments in Your Own Backyard
3. Pampering Peppermint Foot Scrub
2. How to Make GORGEOUS Bleached Pinecones
and the #1 most popular post of 2015…
1. Ultra Healing Foot Balm (apparently Garden Therapy readers love their feet!)
Honorable mention:
This project was published on December 12th and it is already the 26th most popular post of the year! These DIY Outdoor Garden Lights Will Take Your Breath Away!