Bust out the craft bin because we're making ornaments! Christmas ornaments hold such a special place in my heart as they capture the memories of Christmas past. I love displaying them on my tree year after year. Check out some of my favourite DIY Christmas ornaments that you can make for yourself or as gifts this holiday season.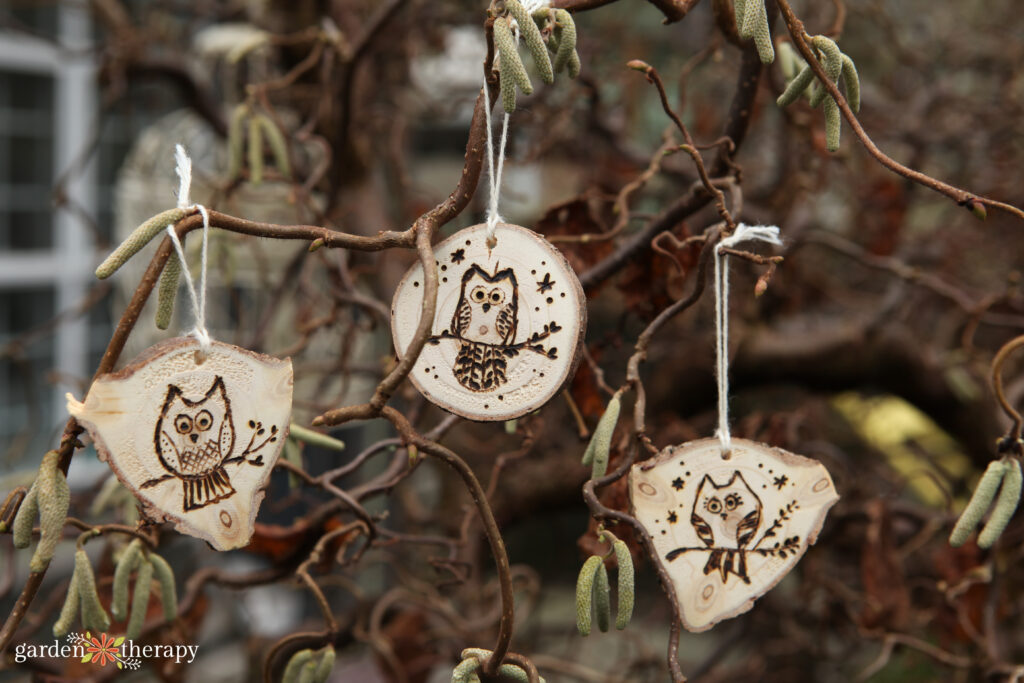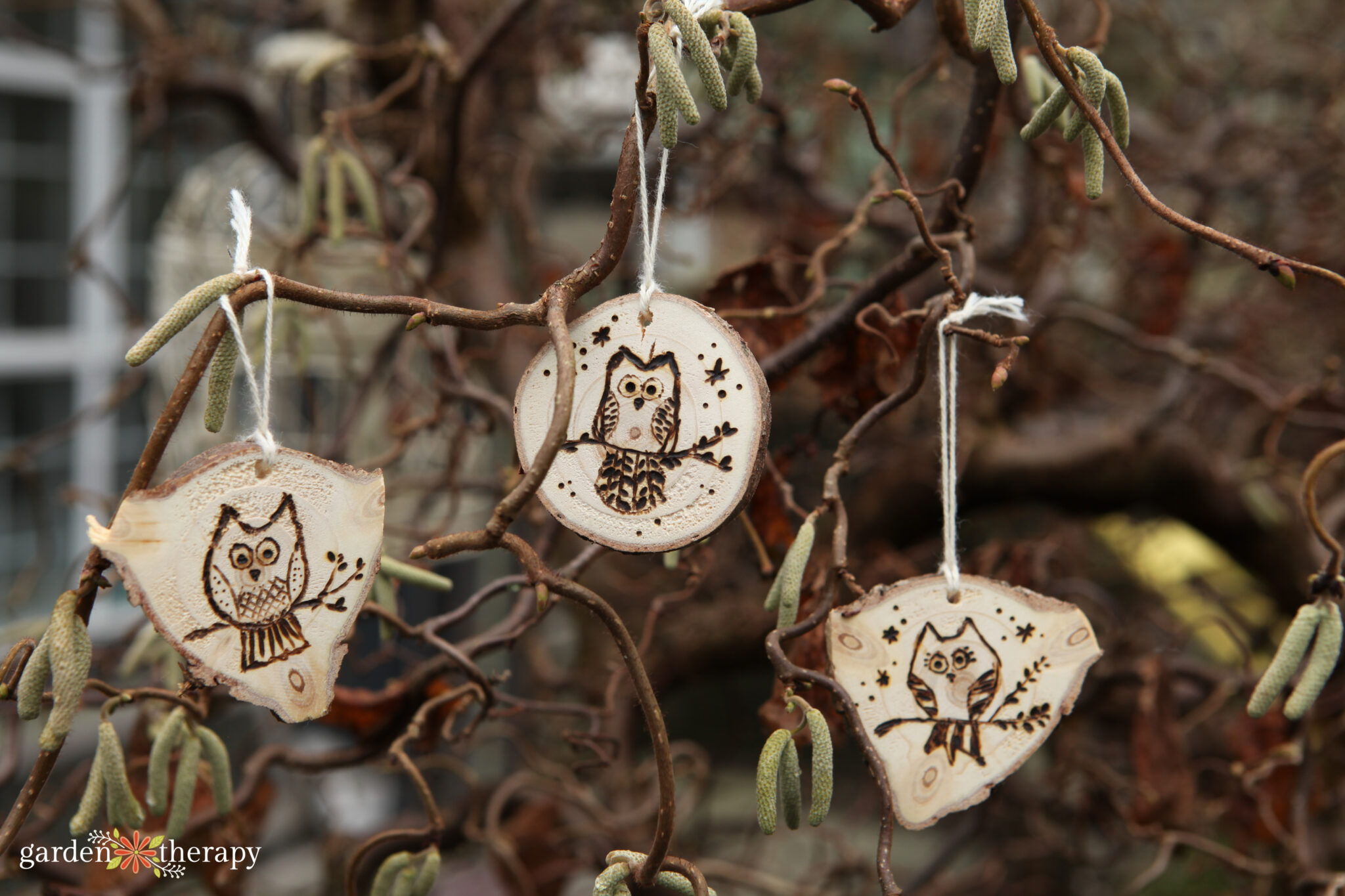 The fastest most inexpensive way to add ornaments to the tree is to make them yourself! I've made my fair share of ornaments over the years. Every time I lug out the Christmas stuff from storage, I always dig around for the ornament box first. Unwrapping all my old ornaments always unlocks so many happy memories.
Ornament making is best done with others. My kiddo is pretty creative and loves making things alongside me. But I also think it's a fun activity to do with the local gals or family.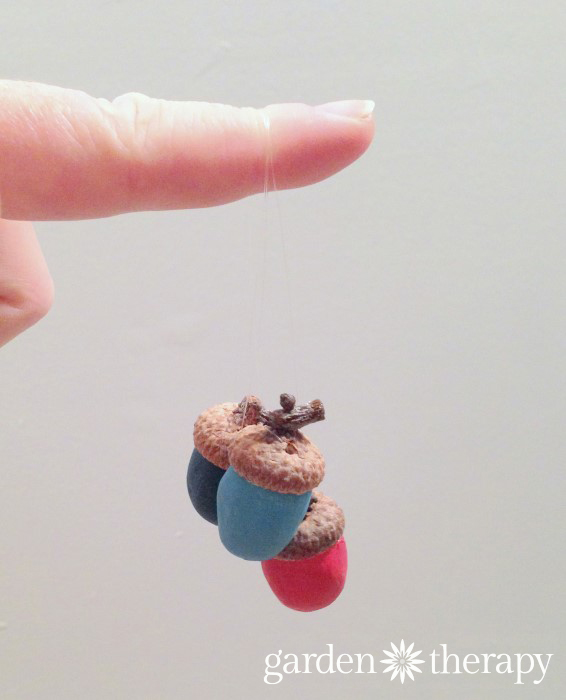 Using your hands to create something acts as a grounding activity. And with Christmas being as crazy as it is, we all could use a little de-stressing.
Make a bunch to fill up a new tree, create a themed Christmas with your ornaments, or make a batch to include in your Christmas gifts. They're some new Christmas memories in the making!
This post will cover…
DIY Christmas Ornaments to Craft This Season
Ready to start crafting? These ornaments have been made and well-loved through the years. They truly fill me with joy when I see them on my tree.
1. Chalk Painted Wood Ornaments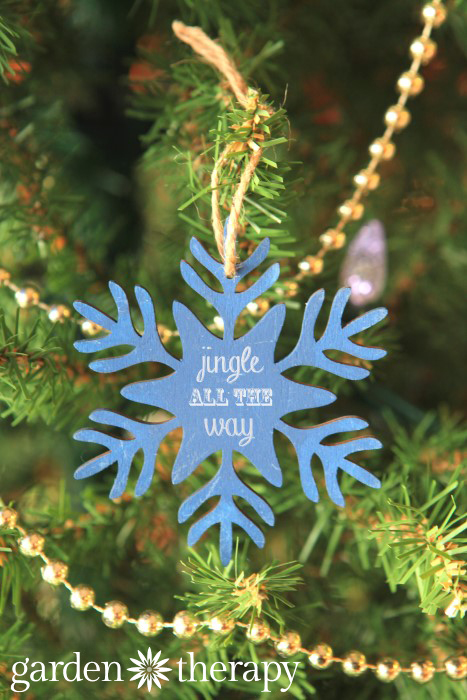 Chalk paint has such a unique look to it that looks amazing on a Christmas tree, especially if you're going for a rustic or shabby chic look.
I made these wood chalk ornaments originally to accompany my gifts as tags. You can make the simplest dollar store gift bags look personalized and adorable by adding these ornaments. They also add to the gift, becoming a special and sentimental ornament to hang on the tree the following year.
2. DIY Miniature Christmas Wreath Ornaments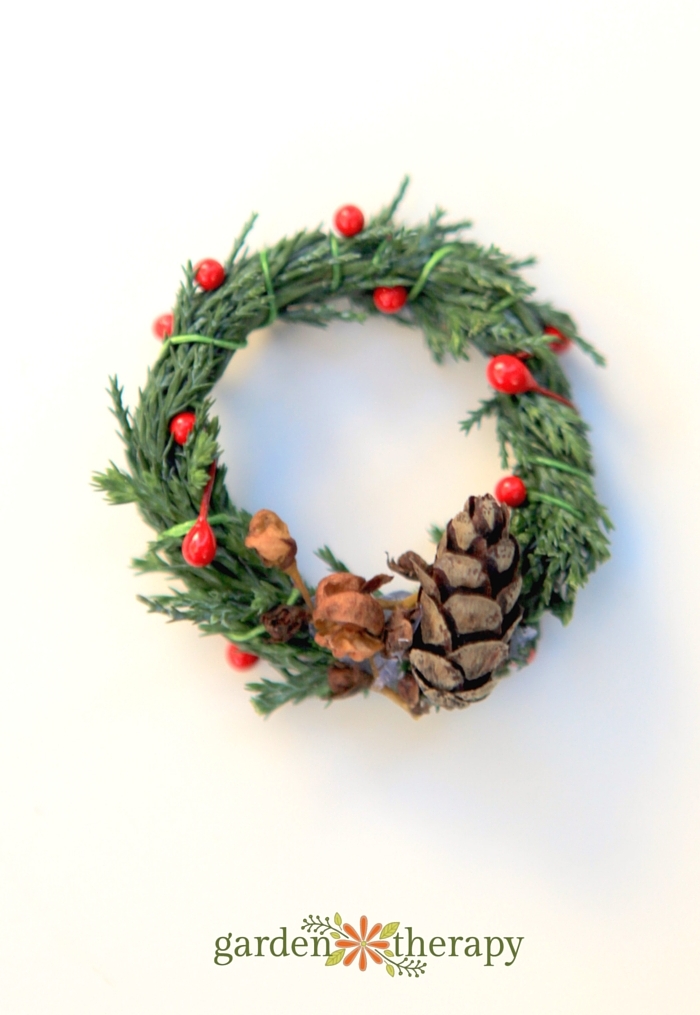 Making Christmas wreaths is by far my favourite Christmas activity. So of course I had to make a mini version. These mini wreath ornaments are made with REAL snippets of outdoor evergreens. Not only does this make them easy to source (just go to your own backyard!) but they also become one of the most unique DIY Christmas ornaments you can make and gift to others.
While you can hang them on the tree, I love to use these ornaments as napkin rings and hang on wine bottles to dress them up for gifting.
3. Miniature Twig Reindeer Ornament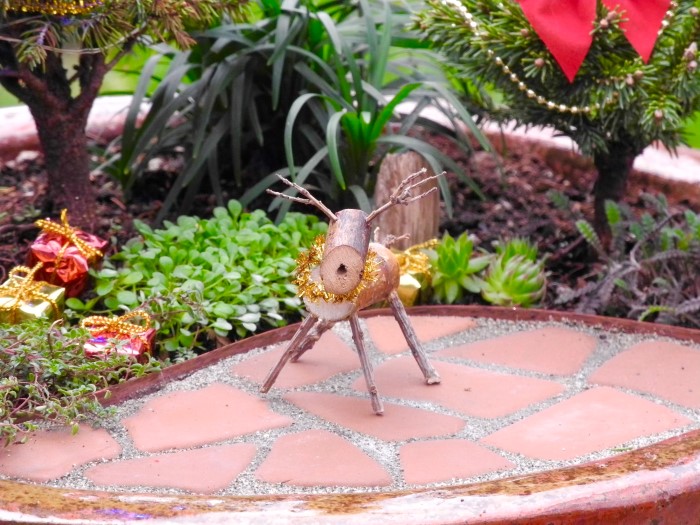 Keeping up with the miniature theme, this mini wooden reindeer will fit right in with your Christmas tree. This picture doesn't do it justice how small this reindeer really is. Itty bitty, you can make it out of twigs from your own backyard.
Go out foraging for different sizes of wood or prune some branches from your tree. You can make them as simple as you like, using just wood, or dress them up a bit with tinsel and sparkle. Add an eye hook to the top of the reindeer and it'll become the tree's newest mascot.
4. Clay Acorn Ornaments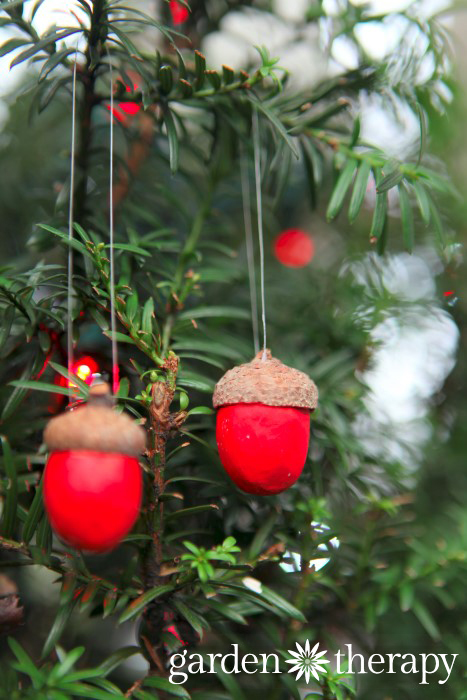 Did you give these acorn ornaments a double-take? No, they're not the real thing! These ornaments are made from modeling clay that doesn't require any extra equipment in order to harden.
I love acorns, but it's so rare to find one with the cap and the bottom still intact. For these ornaments, I collect the caps and make the nuts in an array of all kinds of colours. Maybe it's the squirrel in me, but whenever I begin to see the acorns dropping, I can't help but collect the caps for crafting. And this is a great way to use them!
5. Cinnamon Dough Ornaments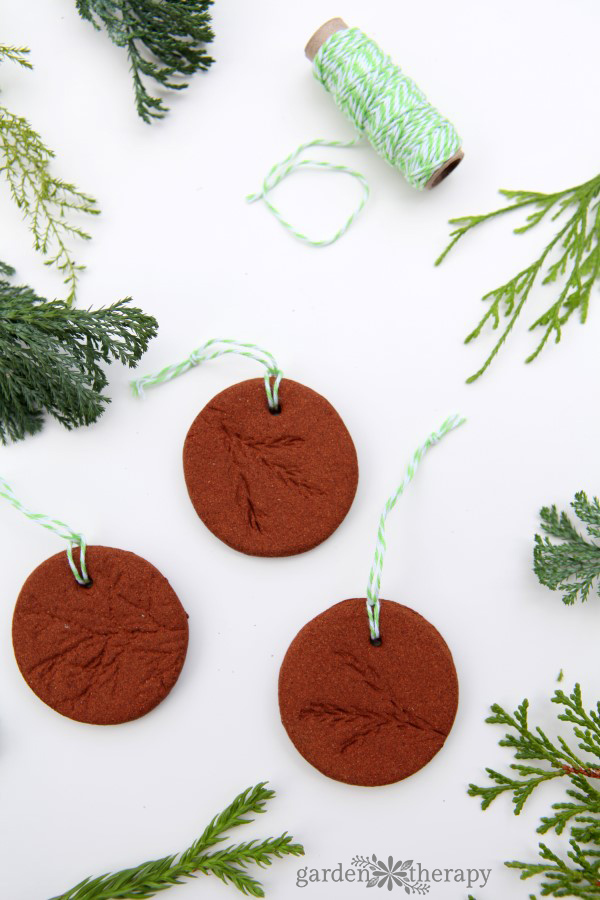 This cinnamon dough ornament smells like pure Christmas. Made of just 3 ingredients, you can make an afternoon crafting these ornaments and letting the smell of the baking ornaments fill the house. The next day I can still catch whiffs of cinnamon in the house!
I press mine with fresh evergreens to capture the beauty of my garden and bring it inside during the winter. You can also pack up these dough ornaments and bring them out every year because they're nice and durable.
6. Copycat Planter Ornaments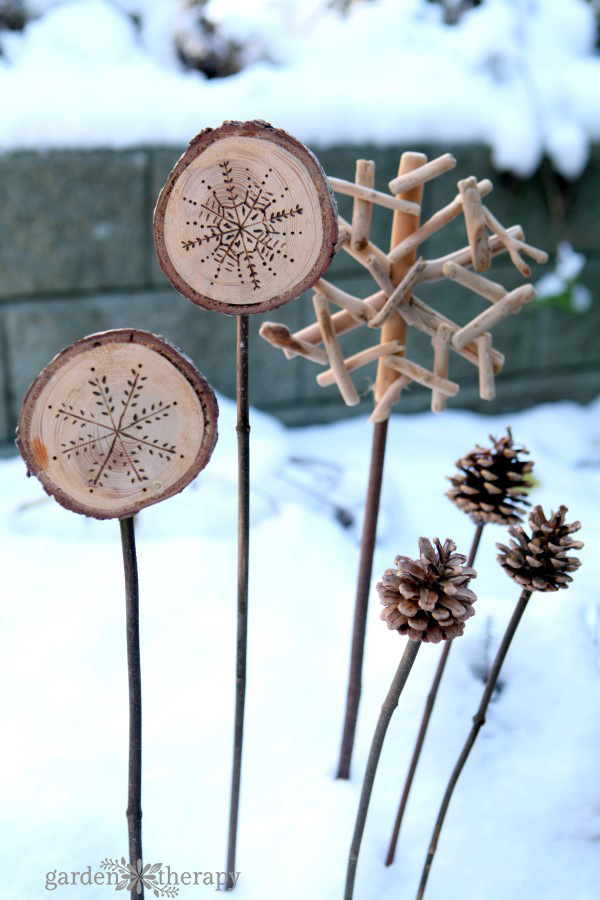 If you're looking for ornaments to go outside with your planters, there's so much inspiration you can take from nature. I was amazed when I saw stores selling wood slices and pinecones with hefty gift tags. I just knew I could make them myself. Hence, copycats!
Jewelry for your planters, dress up your existing planters or use holiday-themed greens to make the outside of your home just as cozy. They're so easy to make and cost pennies, especially when you use found treasures in your decorating.
7. Terrarium Ornaments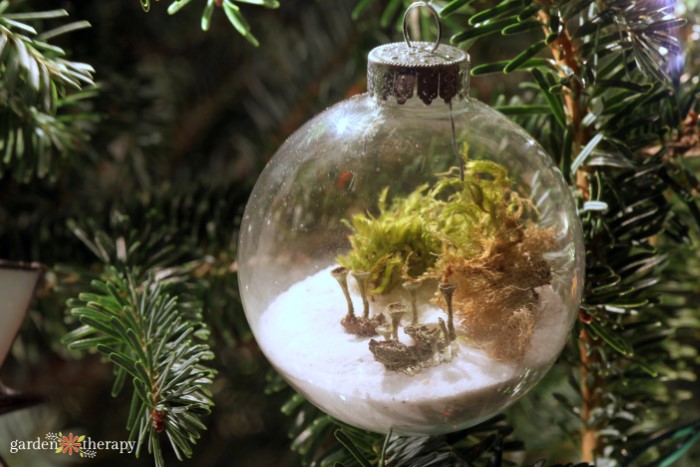 These terrarium ornaments are right on-trend. I LOVE how much people are loving terrariums as they've been one of my favourite ways to enjoy some greenery indoors. So when it comes to Christmas, I had to craft up some terrariums just for the tree.
While I always go for a real Christmas tree, these terrarium ornaments would be an excellent way to add some life to an artificial tree. I use dried materials to make them low-maintenance but I have also tried them with air plants if you truly want them to be "full" of life.
Frequently Asked Questions About DIY Christmas Ornaments
What Do You Need to Make Your Own Ornament?
First, decide what base material you will be working with. Wood cutouts, glass ornaments, paper, clay, and fabric are all popular options and are easy to work with.

Next, you will want to decorate your ornaments. Ransack your craft bin and pull out anything that speaks to you! I like to use paints and markers, but mostly items from the garden. Like above, things like twigs, acorn caps, dried flowers, and fresh greenery all make beautiful ornaments.

To finish off your ornament, you need to hang it. Use ribbon, twine, or wire hooks to put them on the tree.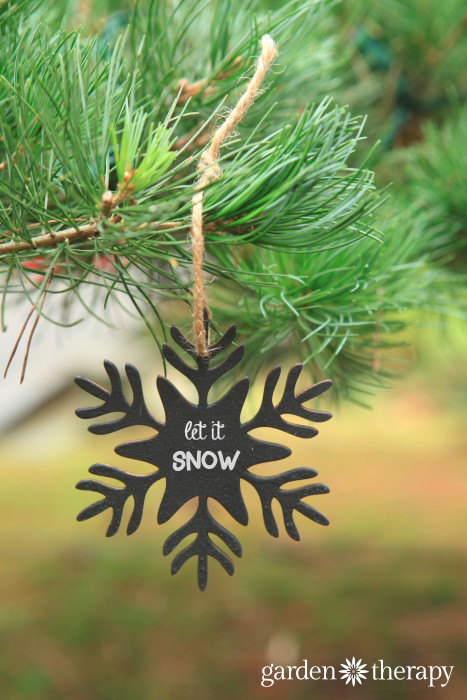 What Can You Fill an Empty Ornament With?
If you have glass ornaments, you can fill them will all kinds of wonders. For a Christmas theme, fill it with ribbon, tinsel, red and green pom poms, and miniature figurines such as reindeer and evergreens.

You can also make a beach ornament with sand, seashells, and beach glass. Or, fill it with cinnamon sticks, star anise, and pinecones for a natural and rustic look. But my favourites are my terrarium ornaments with rocks, dried moss, flowers, and air plants.
More Christmas Ideas