Make these cool garden-inspired luminaries to light the way to your next wintertime party. Frozen garden candles, are made from an ice sculpture candle holder with room to place a container candle or tea light inside. This DIY project take just minutes to set up, and then you pop them in the freezer to set.  They turn out so lovely and are guaranteed to set a warm glow on a chilly holiday evening.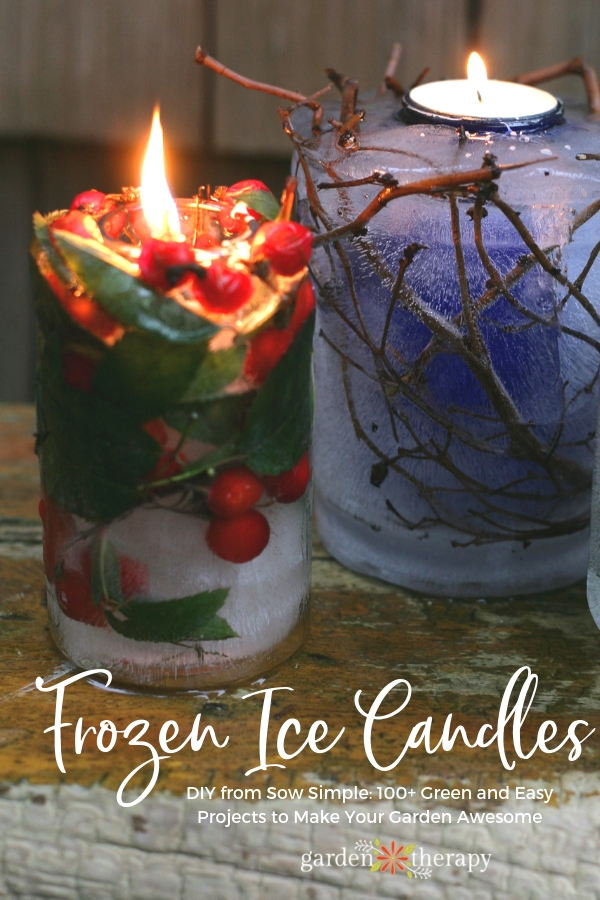 Crafting in Winter for Garden Therapy
If, like me, you think decorating for the holidays is a great way to get some needed Garden Therapy in the winter months, then this project will warm your heart. Just walking around your garden you will surely find beautiful branches, berries, and leaves that can make the winter more cheery. Here is a great list of the Best Garden Greenery for Holiday Decorating (and Which Ones to Avoid) to get your project started on the right foot. Although as you are preserving the greens (and reds, and purples) in frozen ice, then you can really choose whatever appeals most to you. The tips in that other article for properly cutting the greens and some ideas of what plants to use, might be helpful though!
The Right Climate for Frozen Garden Candles
If you live in a cold climate that allows for these candles to last for a few days or more, lucky you! This project is exclusively for those of us who get temperatures dipping below freezing for long enough that these beauties can decorate our walkways and steps. If you are not in the right climate for these frozen garden candles, then head down to the end of this post as there are plenty more decorating ideas that aren't frozen!
How to Make Frozen Garden Candles / Winter Luminaries
The instructions and photos for this project come from John Gillespie & Christina Symons, authors of Sow Simple: 100+ Green and Easy Projects to Make Your Garden Awesome (courtesy of Harbour Publishing). Today they have joined us on Garden Therapy to share the steps to make these DIY frozen garden candles, a simple project that will gleefully help to decorate your home and garden this winter.
Materials
A pair of containers, one large, and one small, sized to fit the height of your candle holder as well as the width and height of your candle. We used a 2-quart (2-liter) plastic milk carton, a large yogurt container and a plastic condiment bottle.
Gorgeous garden greenery, rosehips, berries and seed heads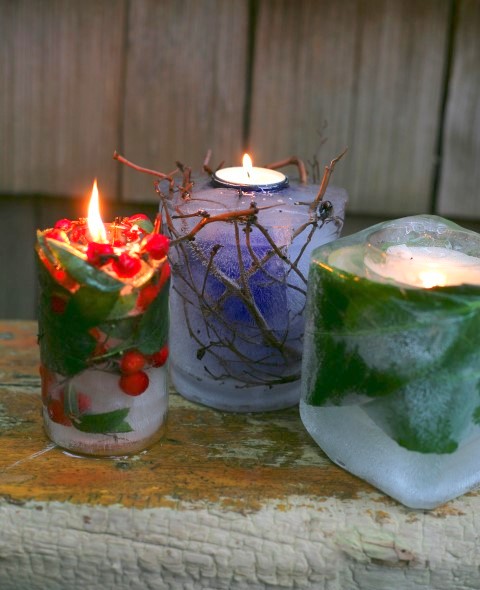 Make it!
1. Fill the larger container with about 1 in. (2.5 cm) of water. Place the container in the deep freeze on a flat surface and allow the base to freeze solid.
2. Remove from the freezer and place the smaller container (a candle holder is ideal) inside the larger one, resting it on the base of ice.
3. Tuck greenery, rosehips and small winter branches into the crevice between the containers and then fill this space with water right to the top. Place a heavy object inside the smaller container to prevent it from floating up.
4. Then carefully return the pair of containers to the freezer for at least 24 hours until the water freezes solid. To release the ice candle holder, remove the set from the freezer and allow to thaw just slightly, at room temperature. Or run the containers under warm water until the ice releases.
5. Set outside, insert candle, light, and enjoy.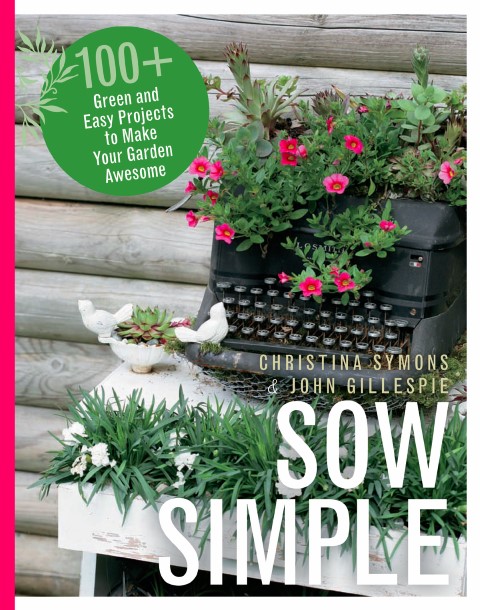 From home-crafted concrete troughs stuffed with succulents alongside dry-stack stone walls, to simple ideas for playhouses, gazebos and backyard benches, Sow Simple will keep readers busy through all seasons.
More Winter Wonderland DIY Projects from the Garden