Tattoos are full of memories and stories that we carry along with us every day. If you have a brand-new tattoo, you want to make sure you're treating the tattoo as a piece of artwork! While the ink goes under the skin, what you put on top of it afterward is just as important. Use this herbal tattoo balm to speed up the healing process and relieve itching from your new ink.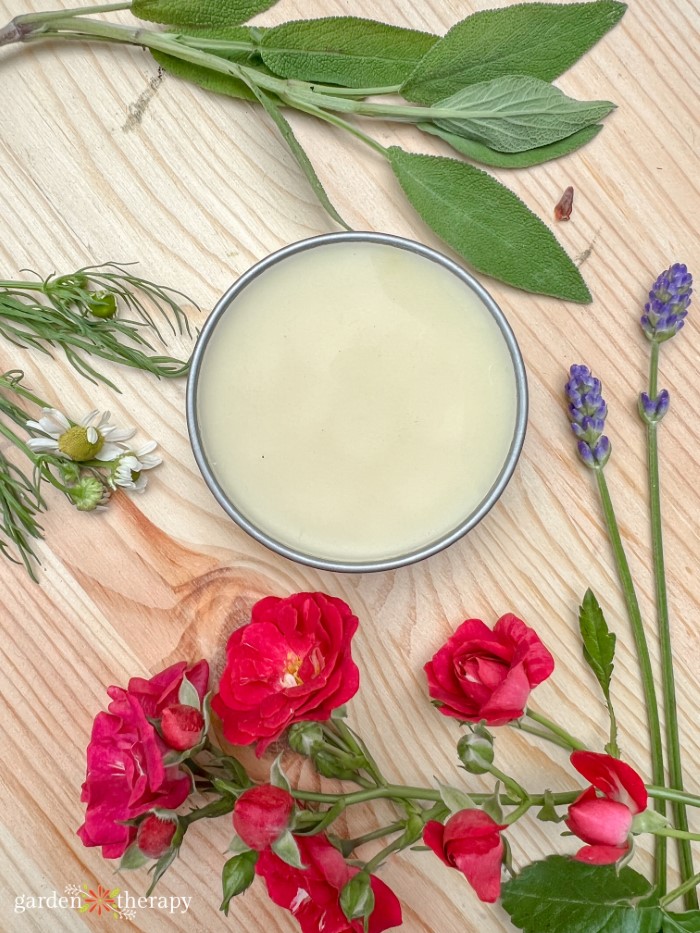 I'm officially inked! For years now, I've been wanting to get myself a tattoo and I finally pulled the plunge and got one. It's full of herbal flowers: lavender, chamomile, echinacea, wild rose, and sage, plus a bumblebee. I believe that tattoos can be an expression of art and ourselves, and nothing represents me quite like the garden.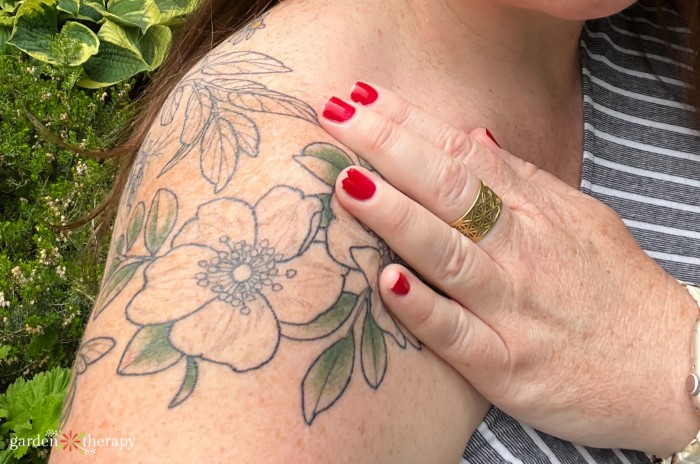 I'm already obsessed with it and can't wait to add it to it over the years. I'm joyed to honour the garden by taking special care of my new tattoo.
How well you take care of your tattoo in the first couple of weeks can determine how it will look your entire life! A tattoo is basically an injury and your body undergoes a healing process for a couple of weeks after getting tattooed.
To care for my brand new ink, I knew I needed to keep my skin in pristine condition with a formulation designed just for my tattoo. Just like the healing herbs that make up my tattoo, I used healing herbs to help heal the skin.
I've taken all the best wound-healing plants and combined them for the best tattoo balm out there. Make it yourself and watch just how quickly and nicely your new tattoo heals.
This post will cover…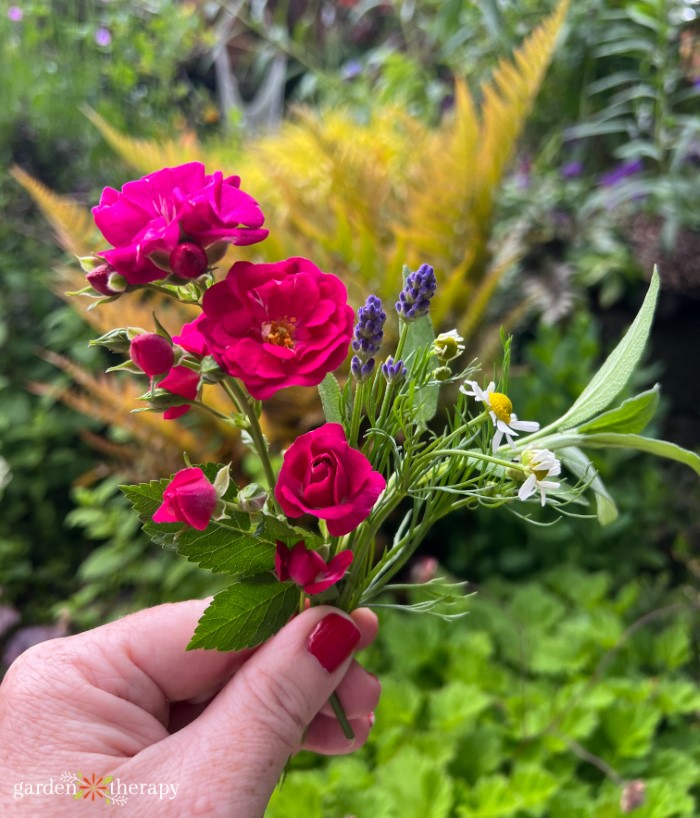 What Does Tattoo Balm Do?
Tattoo balms help to keep your tattoo in good condition while it heals, ultimately resulting in a vibrant and beautiful tattoo!
Most tattoo artists will recommend using a lotion after you get your tattoo to reduce itchiness and dry skin. While a lotion certainly helps, tattoo balm takes it one step further by helping to heal the skin in addition to soothing and moisturizing it.
Rather than a lotion, the balm is infused with the herbal properties of medicinal plants, meaning it has healing properties. It promotes faster healing for your tattoo so you can skip ahead to the part where your tattoo is radiant and healed.
Balms tend to have a thicker consistency as opposed to lotion. This allows it to stay on the skin longer so it can absorb the healing properties and continue to provide a protective layer over your still-healing tattoo.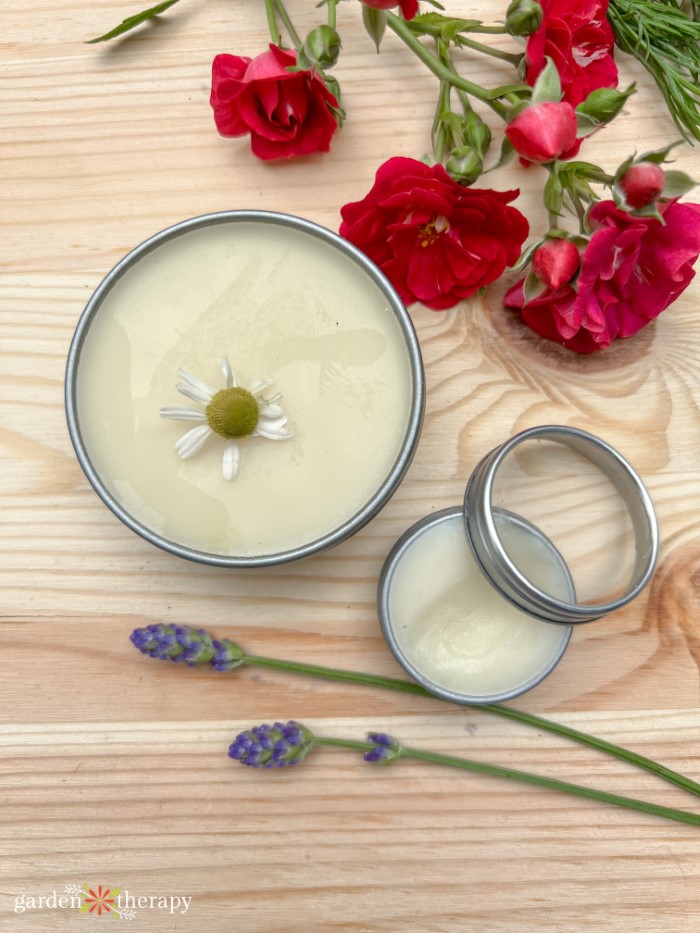 Healing Tattoo Balm Ingredients
The foundational ingredient for this tattoo balm is calendula-infused sunflower oil. I love using sunflower on the skin since it's a non-comedogenic carrier oil, meaning it won't clog pores and is fairly non-irritating to the skin. It also contains Vitamin E, linoleic acid, and oleic acid which help to protect and heal the skin.
Calendula itself is a powerful skin-healing herb and I include it in most of my soap and plant-based beauty recipes for this very reason. As an antibiotic, anti-inflammatory, and tissue healing herb, it can help speed up the healing of the tattoo. I may even get calendula added to the tattoo down the line!
I also included St. John's Wort as it's another anti-inflammatory and common wound healer. It helps with skin irritation and has antibacterial, antioxidant, and antiviral properties.
Grapeseed is a very light carrier oil that quickly absorbs into the skin and allows it to still breathe. The chamomile infused in it helps to treat and soothe just about any skin condition. The antibacterial and antifungal properties make sure your tattoo heals without any issues.
A splash of rose hip seed oil adds the wonderful skin benefits of roses. Rose hips are super high in Vitamin C and antioxidants and have anti-inflammatory properties to relieve the skin.
Beeswax and shea butter have ultra-moisturizing properties to help the skin retain moisture and relieve dry itchiness. Combined with the other oils, it gives the balm a thicker consistency than you would find with a lotion.
Finally, I topped off the recipe with lavender and helichrysum essential oils. Lavender works as an anti-inflammatory and cleanser while helichrysum has antioxidants and contains arzanol to help heal wounds.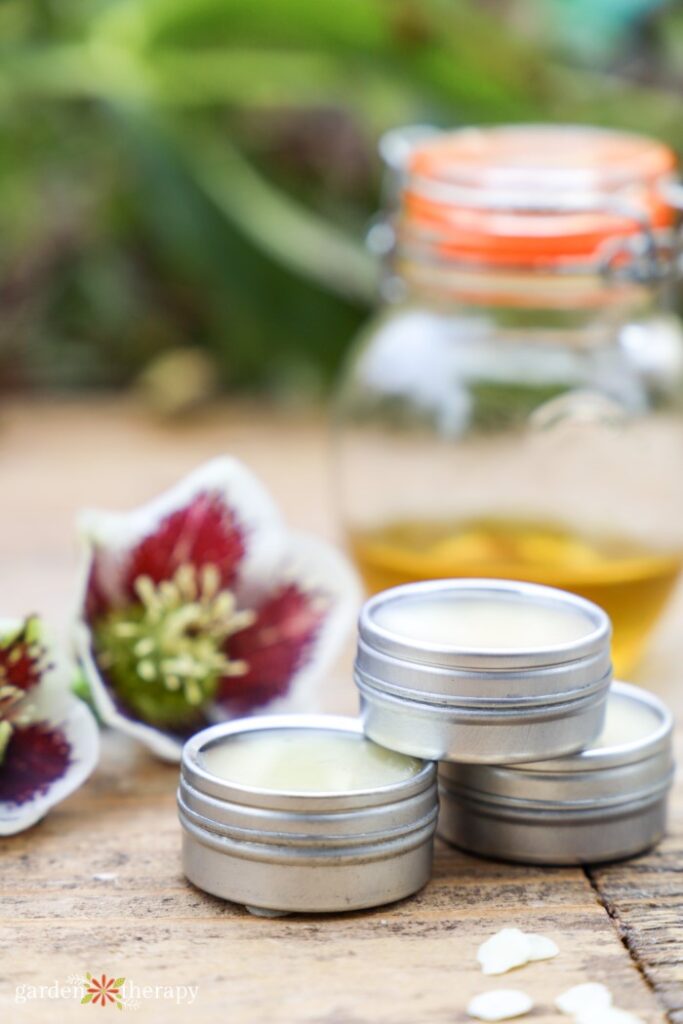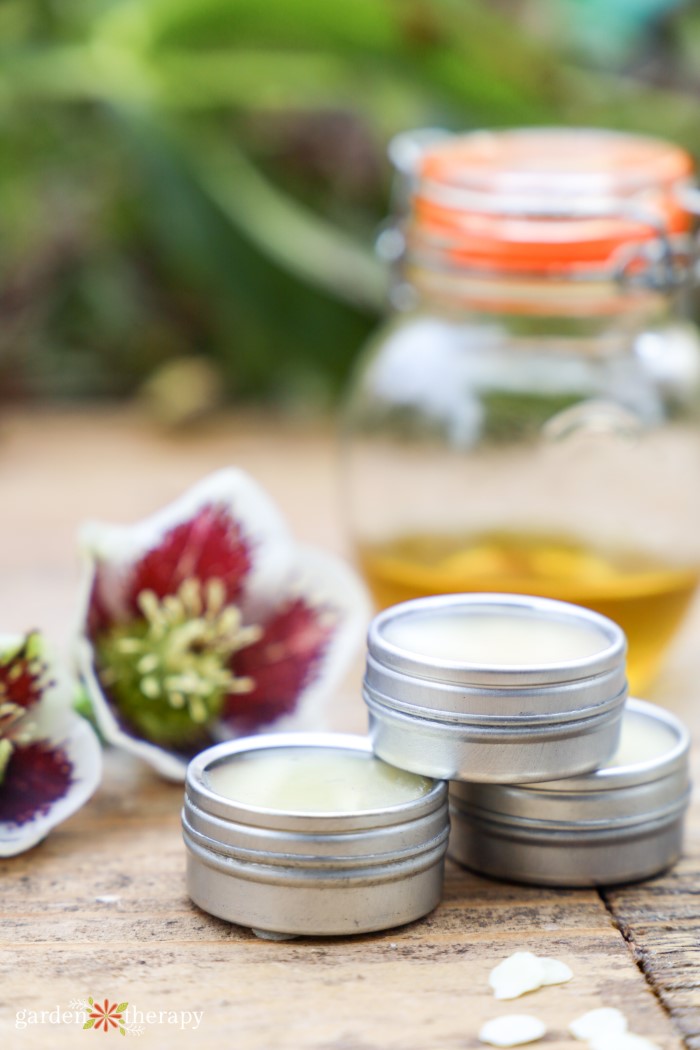 How to Make the Best Tattoo Balm
When making this tattoo balm recipe, I filled one large balm tin along with 3 smaller ones so I could keep them with me at all times in my bag and at my desk. This way I could always relieve the itching and avoid scratching my healing tattoo.
Materials
Makes 140g. See the recipe card for exact measurements.
Jump to Recipe
St John's wort infused olive oil
Make It!
Infuse all your oils ahead of time using either the cold or heat infusion method.
Weight your ingredients on a kitchen scale. Using a double boiler, heat your sunflower oil, grapeseed oil, olive oil, shea butter, and beeswax together over medium heat.
Once melted, remove from heat and let it cool for a moment before adding in your essential oils. Adding in the rosehip seed oil and essential oils when it's still too hot can break down the oils and the healing herbal properties.
Pour your balm into tins or screw-top glass jars. I made a couple of different sizes so I had some to bring on the go with me too. Let sit undisturbed until fully set.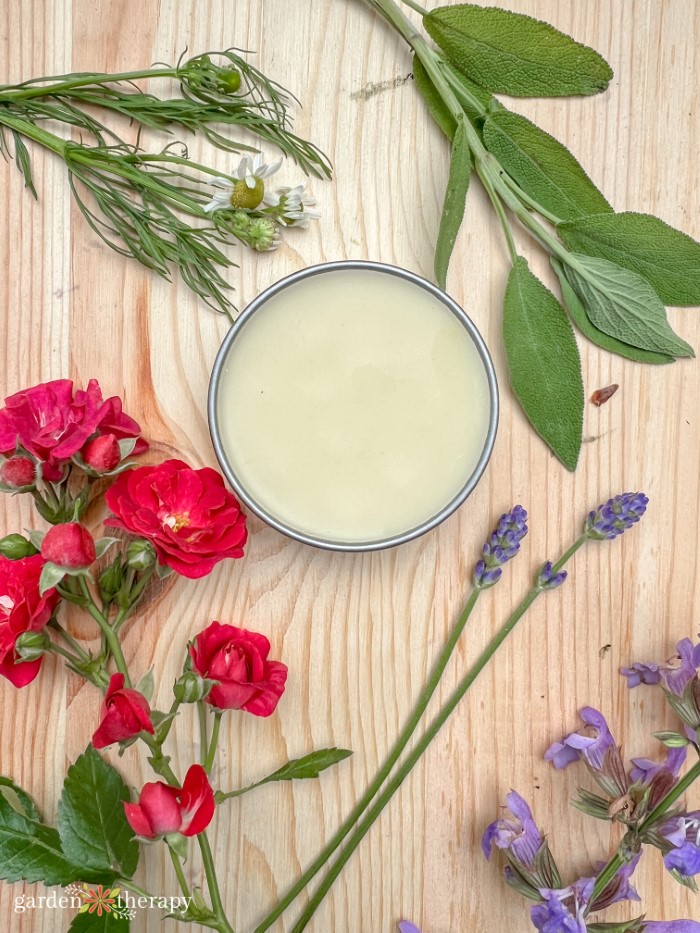 How Do I Use Balm in Tattoo Aftercare?
Your tattoo will become dry and itchy. This is where the balm comes in! When applying a lotion, it doesn't actually speed up the healing process. Instead, it just helps with the itchiness. But this tattoo balm has skin healing herbs so applying it helps a ton.
Apply the balm twice a day and whenever it feels itchy. Careful not to affect the scabs while rubbing the balm in. Use thin layers so that the skin still breathes.
As my first tattoo, I don't have a previous experience to compare the healing to, but the overall process was quite easy using the tattoo balm.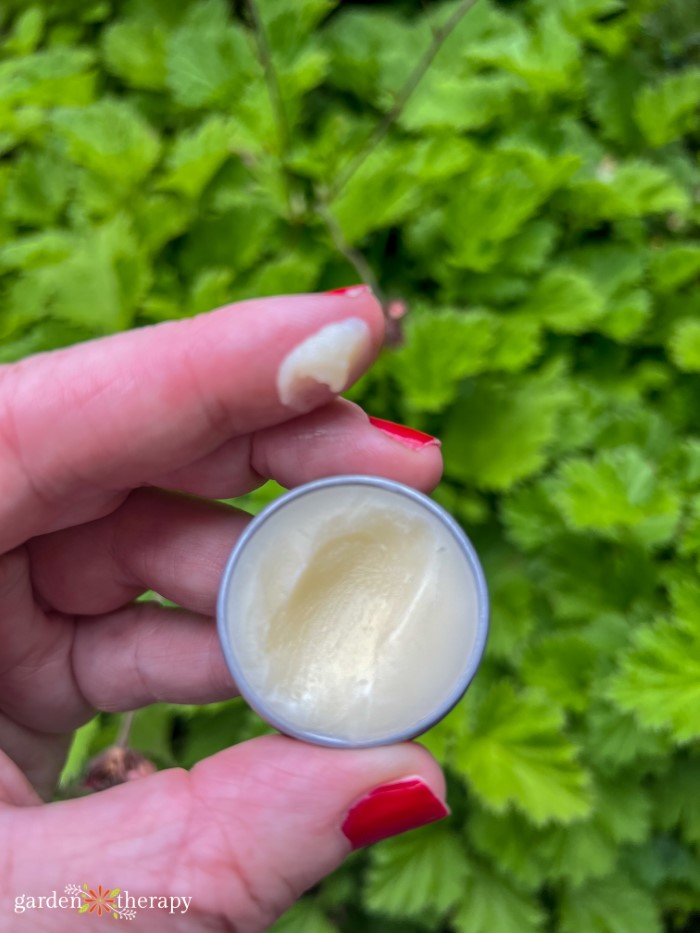 Quick Tips for Tattoo Aftercare
After you get your tattoo, your tattoo artist may choose to wrap it in a second skin bandage or plastic wrap. You'll notice the pooling of excess blood and plasma. This is normal! Leave the bandage on as long as indicated by your tattoo artist (usually 2-5 days for the second skin). If the tattoo gets exposed or water leaks in, remove the bandage.
Once you remove the bandage, wash your tattoo. Use a mild soap like my unscented plant-based soap recipe. Let the tattoo air dry or gently pat with a paper towel. During the first week, you'll want to wash your tattoo every day.
Keeping your tattoo dry allows it to scab and heal as soon as possible. This usually takes a few days. For this reason, do not soak your tattoo by swimming or going in the bath until fully healed (approximately 2 weeks).
Your tattoo will get itchy and flaky before it gets to the beautiful part. Do not pick at the tattoo or you may pull out the ink. Don't shave over the healing tattoo. And finally, protect your new tattoo if you go out in the sun with a minimum sunscreen of 30 SPF to prevent fading.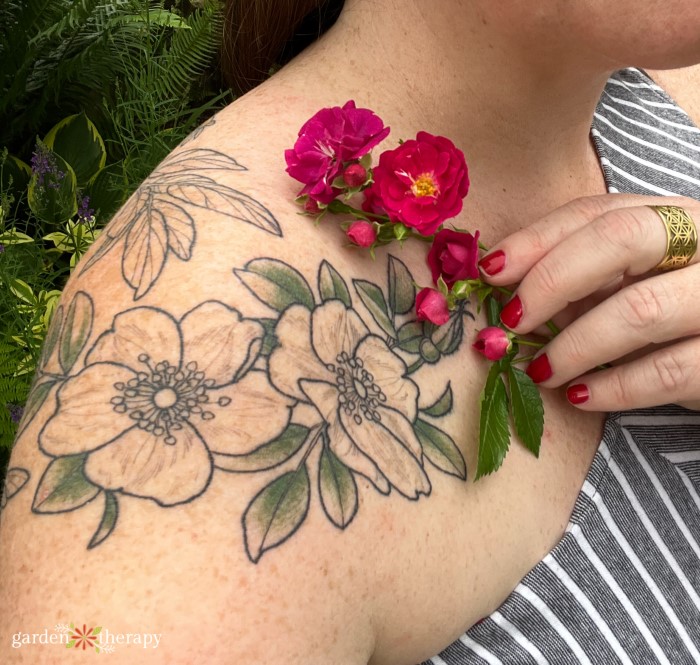 Frequently Asked Questions About Tattoo Balm
Is tattoo balm better than lotion?
Lotions have a high concentration of water, so they're not as moisturizing. Our bodies prefer hydrating by drinking water than applying it to the skin! A tattoo balm will help to retain the moisture better than a lotion, meaning less chance for flaky, irritated, and itchy skin.

Tattoo balms also contain the healing properties of well-known plants from skincare. Calendula, chamomile, St. John's Wort, lavender, and helichrysum together help to speed up the healing process and make sure your tattoo heals perfectly.

Lastly, it's made out of entirely natural products. You want to apply the most natural products possible to avoid irritating the skin and affecting how the tattoo heals. No petroleum-based products here!
Do tattoos peel off normally?
After a few days, your tattoo will develop a scab. This is a normal and essential part of skin healing as your outer layer of skin seeks to heal from its new 'wound'. Whatever you do, do not pick at the skin. This can remove parts of the tattoo entirely. Wait for the scabs and flaking skin to fall off naturally.

Apply the tattoo balm anytime the peeling skin itches or annoys you. This will relieve any annoyance and prevent you from absentmindedly itching or picking.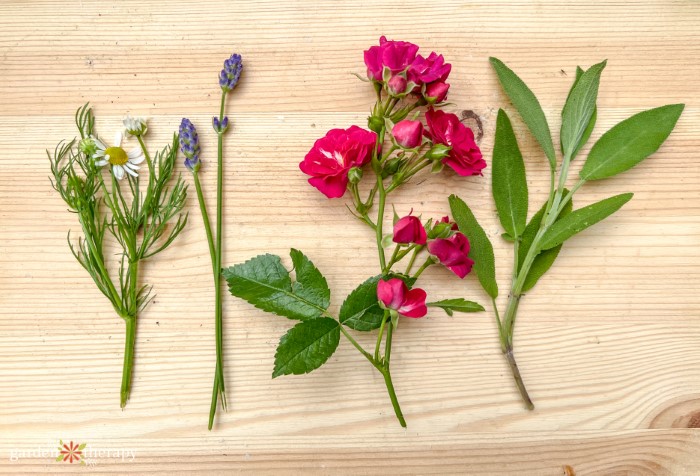 More Plant-Based Balms + Salves
Herbal Tattoo Balm Recipe
Speed up healing, relieve itching, and nourish your new tattoo with this natural balm recipe. Makes 140g.
Instructions
Infuse your oils with the healing herbs before beginning your recipe.

Measure your ingredients using a kitchen scale.

Stir together the sunflower oil, grapeseed oil, shea butter, beeswax, and olive oil together in a double boiler over medium heat.

Remove from heat. Allow it to slightly cool before adding in rosehip oil and essential oils. Mix well.

Pour into containers and let sit until fully set.

Apply tattoo balm twice a day or whenever the tattoo is itchy.