When it comes to natural beauty, roses are one of the most beneficial tools to have. Yes, really! Rose is more than just a beauty, she's a skincare powerhouse with a gentle touch. Whether you have oily, dry, or sensitive skin, this rose soap recipe will treat your skin just right.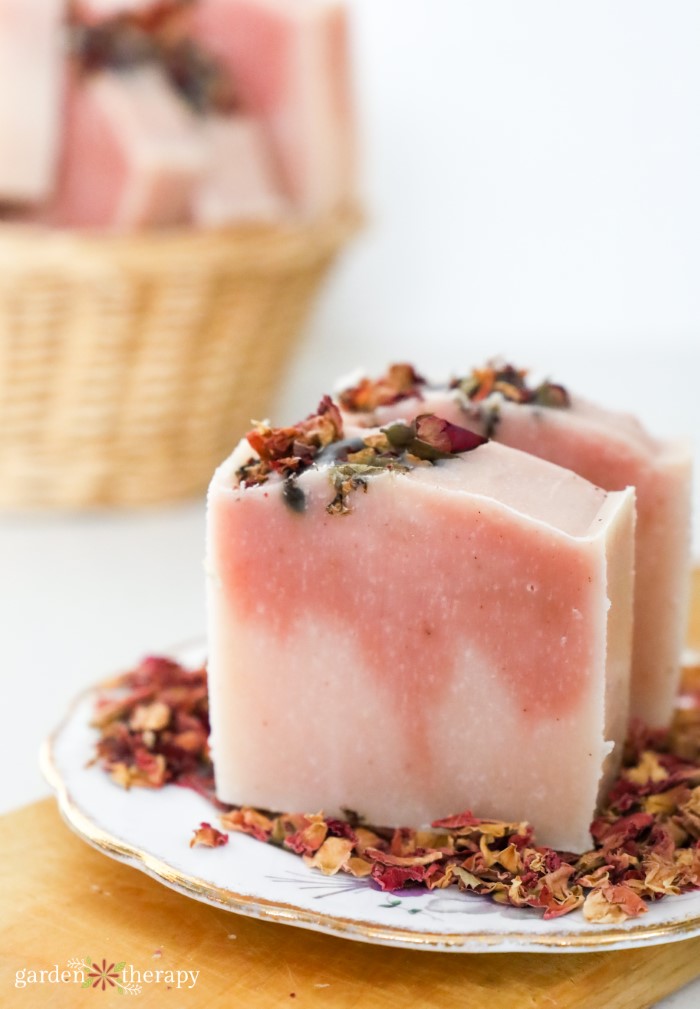 Here I am, back with yet another rose skincare recipe! Honestly, I'm amazed it has taken me this long to create a rose soap recipe. I have a long love affair with roses in my skincare routine (my garden, not so much), and this is just one more recipe that will become part of my daily ritual.
I will tell you why I love rose skincare so much, and how you can make this stunning, gentle rose petal soap for yourself.
This post will cover…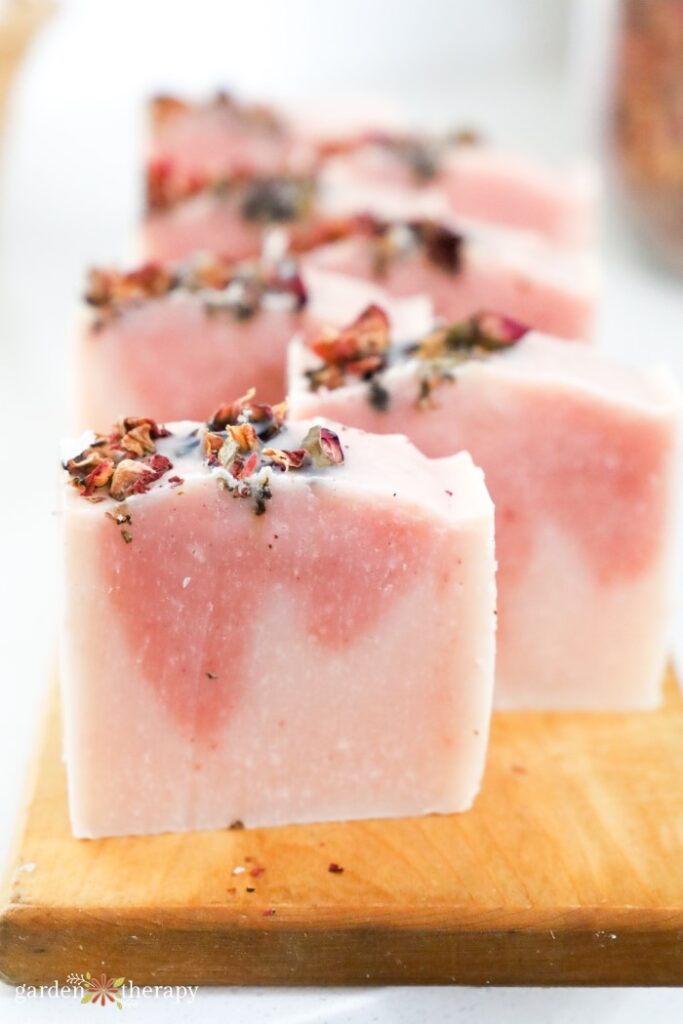 Rose Benefits
Long before roses were known as a beautiful garden flower and popular scent, rose was a skincare herb. During the medieval period, as well as in ancient Rome and Greece, people used rose all the time for their herbal properties.
Rose is an anti-inflammatory that is extremely helpful in diminishing puffiness and redness in your face and body. As a natural astringent, it also works well to treat acne, tighten the skin, and support overall skin tissue. You'll also notice how well it treats scars and age spots!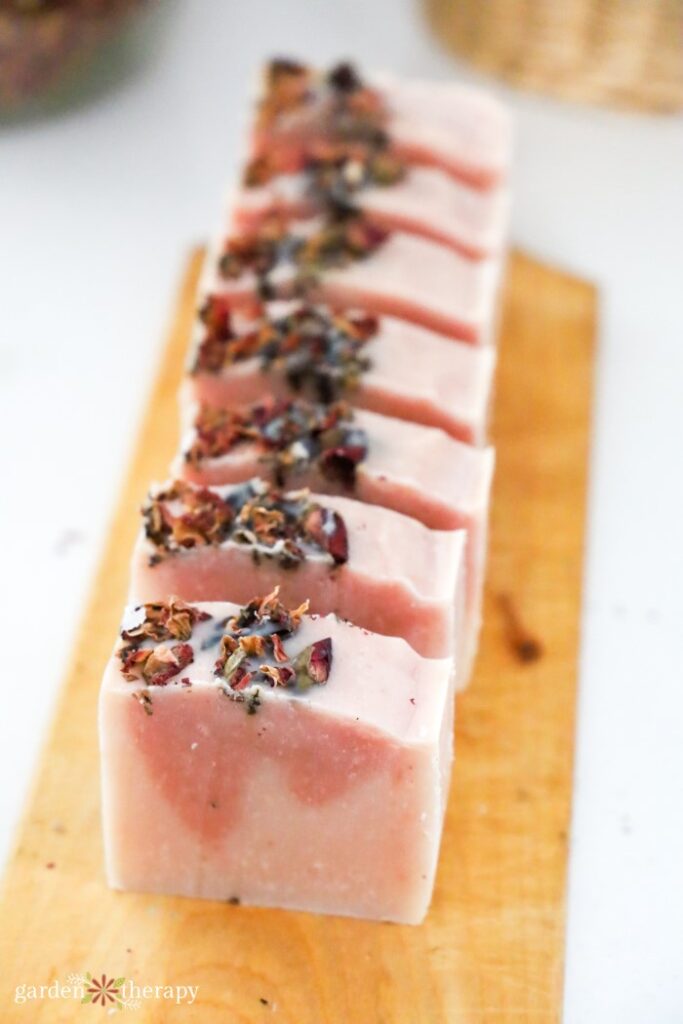 This rose soap recipe takes lots of inspiration from the scent and beauty of roses, but you can also infuse the oil with rose petals to get even more benefits from the soap.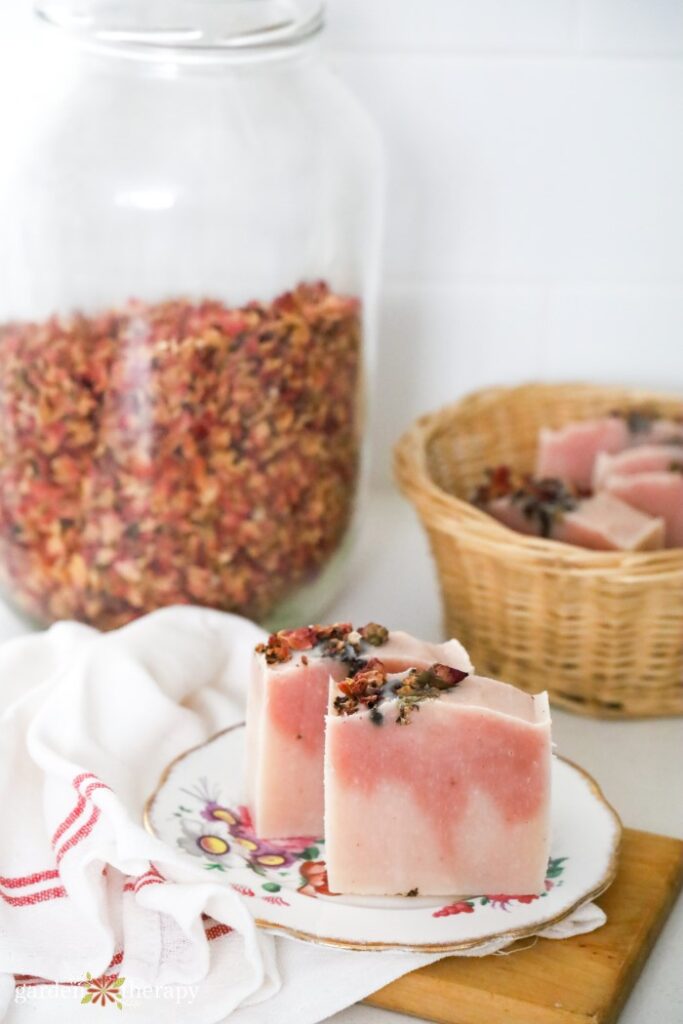 How to Make Rose Soap
Not only does this soap work wonders on your skin, but it must also be right up there as one of the most gorgeous soaps I have made. We have the madder root powder to thank for the rose-like colour. And the rose petals on top? Chefs kiss.
Equipment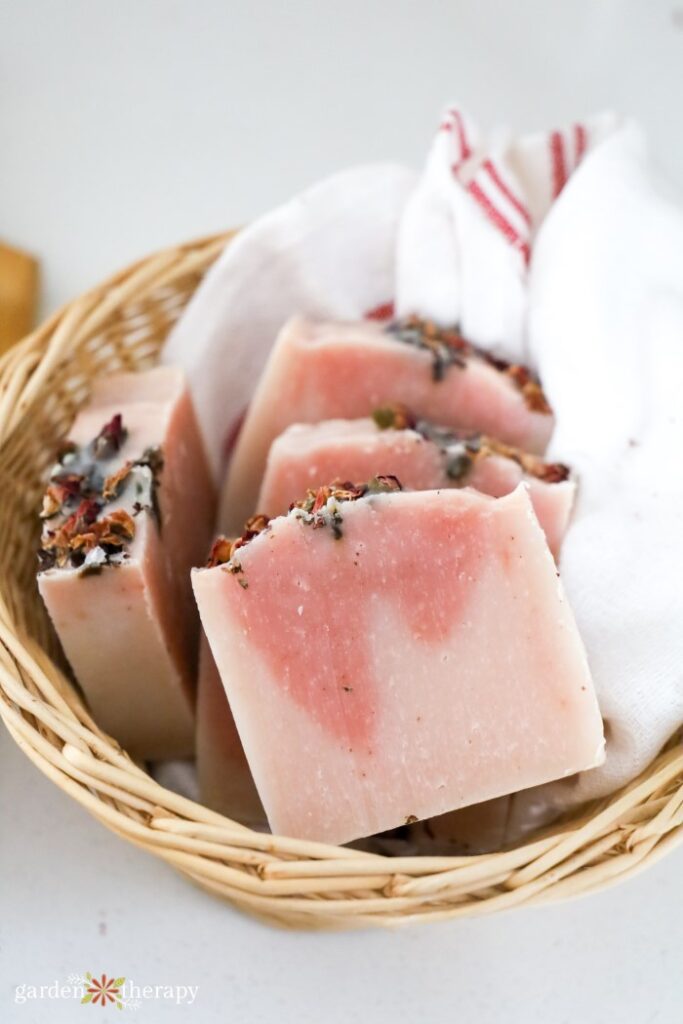 Ingredients
See the exact measurements in the recipe card at the end of this post.
Jump to Recipe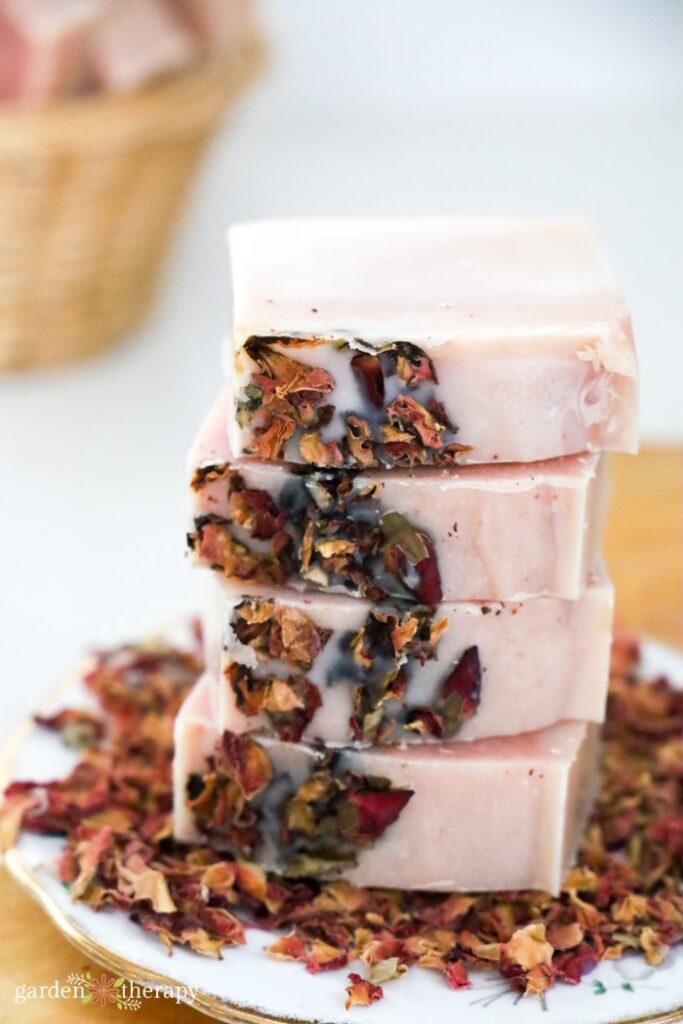 Make It!
Safety first! Cover yourself in safety gear, including goggles, gloves, and a long sleeve shirt.
Next, use a scale to weigh all your ingredients (weight is more accurate for measuring).
Heat your lard, olive oil, and coconut oil over low heat. I do this over a stove, but you can also put it in a microwave. Heat until the soap reaches 115°F.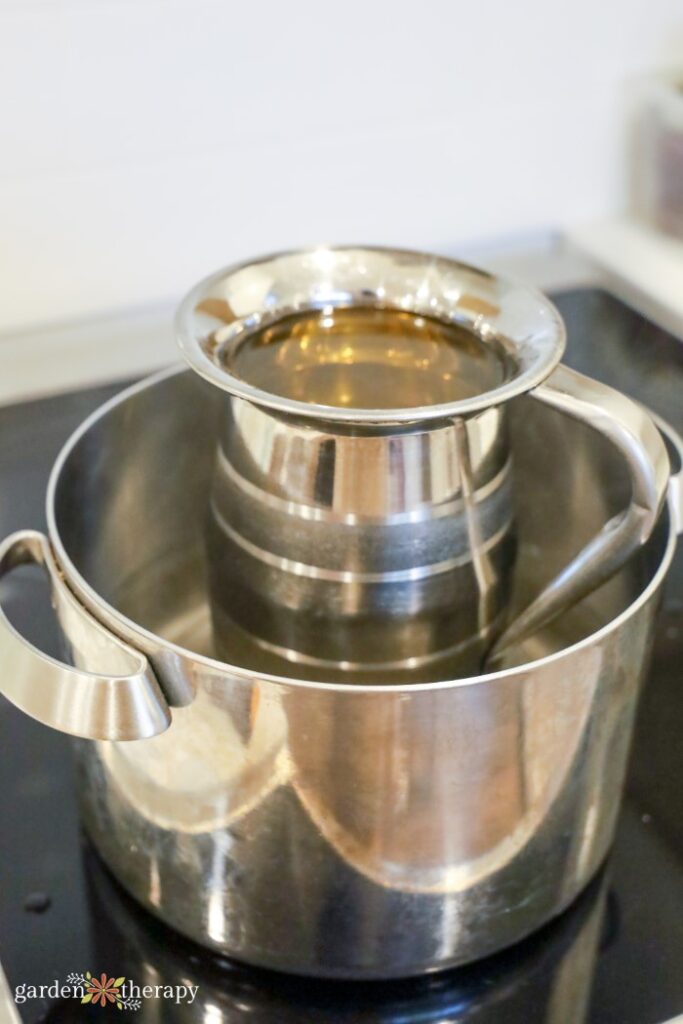 While the oils are heating, mix together your lye and water in your heat-resistant measuring cup. Mix in a well-ventilated area since the fumes from the chemical reaction are strong. Avoid breathing in the fumes.
Once mixed, place your lye water in an ice bath until it reaches 115°F.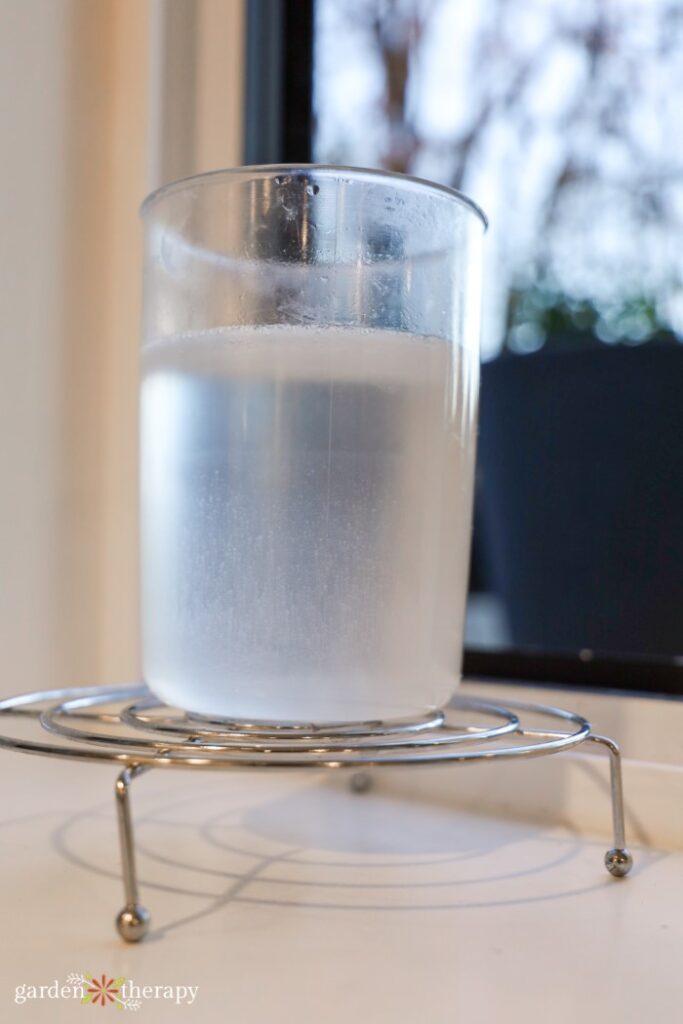 Slowly pour your lye water into the oils in a large mixing bowl. Blend it with an immersion blender. Blend until it reaches a light trace (almost pudding-like).
Add in your essential oils and blend again.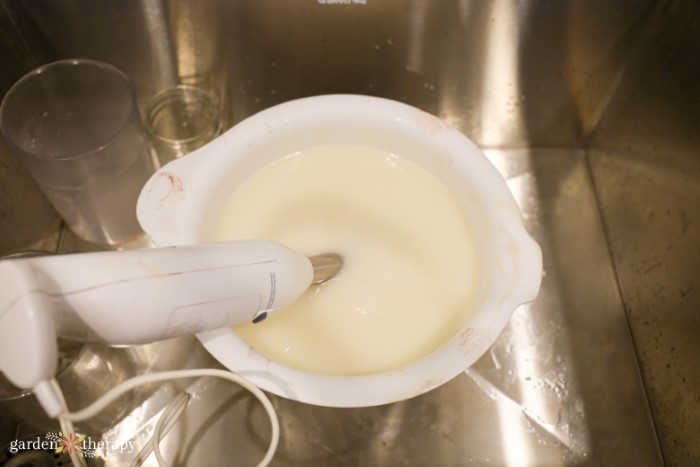 Separate your soap batter into two bowls. Take your madder root powder and blend well into one of the bowls.
Pour the uncoloured soap batter into the soap mold first. Then, add the madder root powder-coloured batter on top. Next, use a chopstick to run through the soap several times to swirl the colours together in the mold.
Top with rose petals and dried rose buds.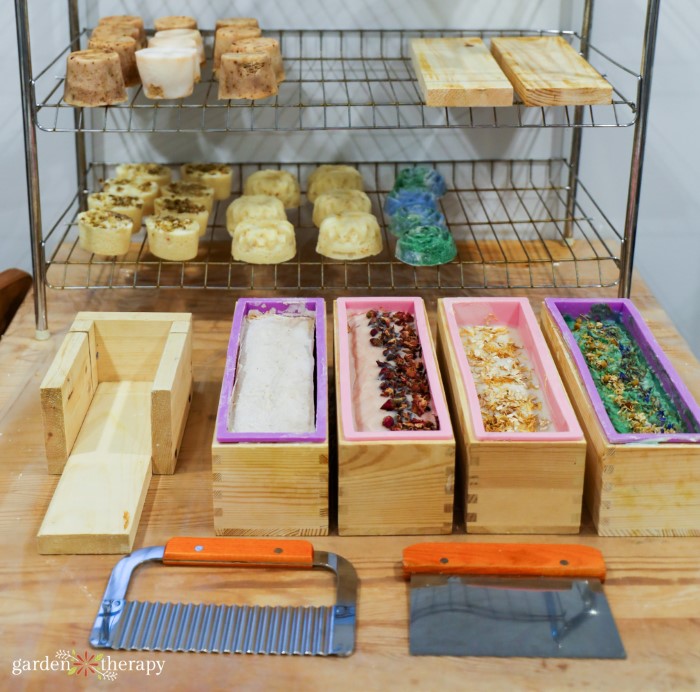 Wrap the soap mould in a towel and let it sit in a warm place for 48 hours.
After 48 hours, cut your soap into equal sections. Let soap cure for six weeks before using.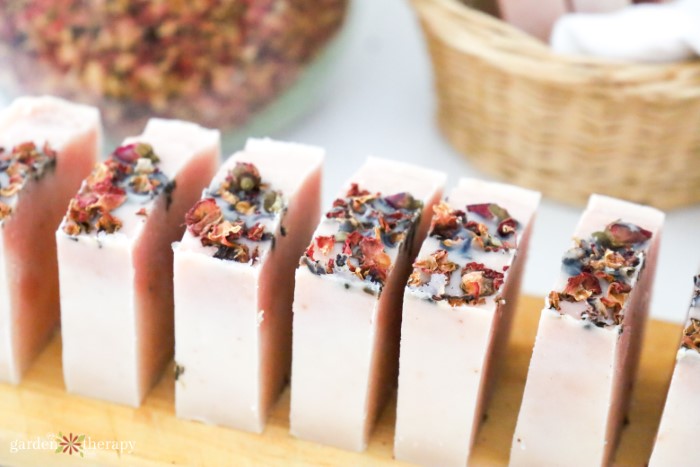 Rose Aftercare Recipes
I love love love rose…and I swear it has nothing to do with the fact that Rose is my last name! The more I learned about the powerful properties of the beauty, the more I wanted to include it in my skincare routine.
This rose petal soap is just the first step in my rose skincare routine. I also love to make rose water. It's one of the gentlest ways to treat your skin. Besides using it around the house and baking, it works to remove makeup and as a skin toner, and hydrates the skin.
I especially love it as a toner to balance out your skin's pH and provide all those healing benefits to the skin.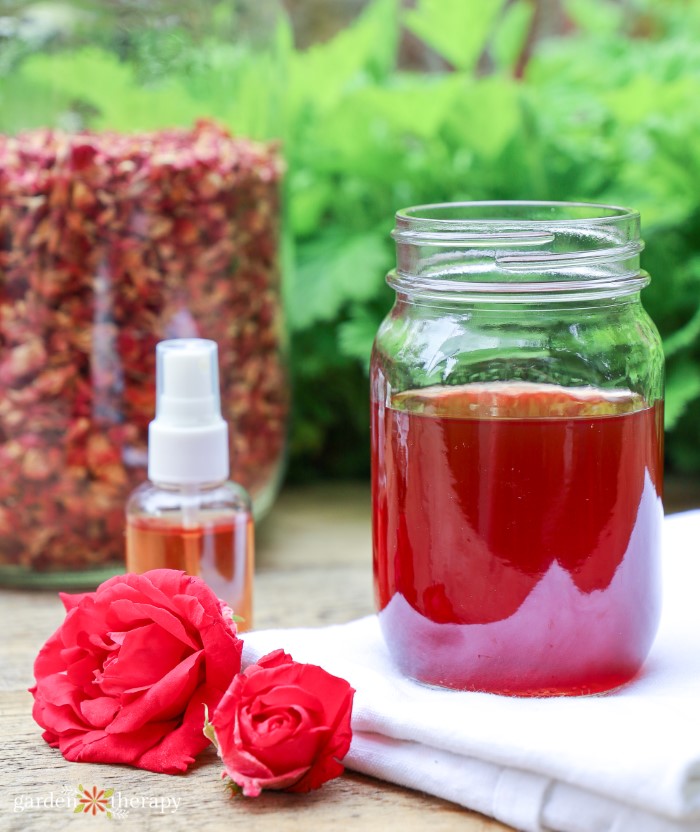 After my rosewater, I apply my rose hydration cream. I swear, this stuff is just as good (if not better) as any expensive designer cream. And this one is all-natural! It's rich and highly nourishing for my dry, sensitive skin but without being too greasy.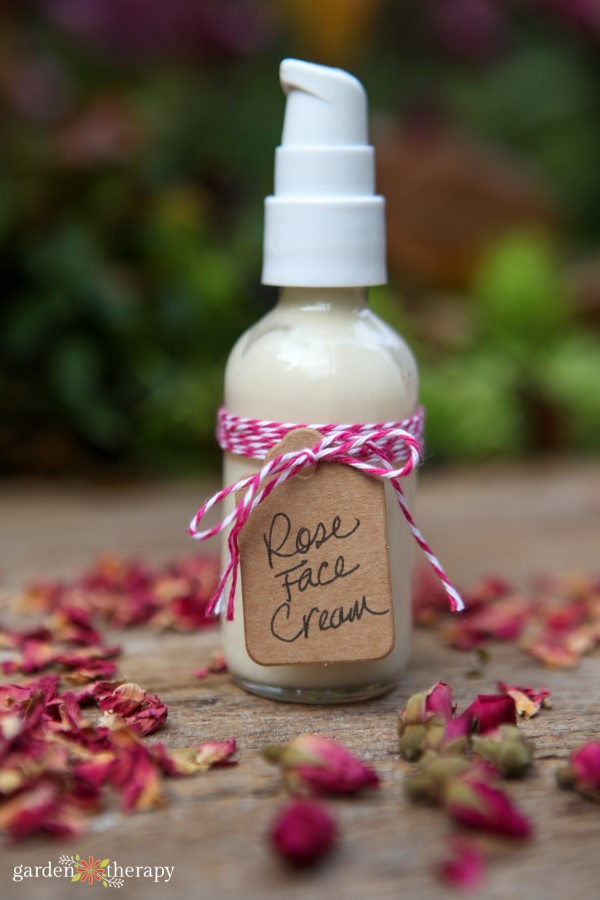 Make This Rose Soap Plant-Based
Just about every single one of my soap recipes is plant-based. You'll notice that rose soap, however, contains lard. Traditionally, lard is pork fat, but it can be any animal fat. I wanted to experiment with a lard soap since it has such a low price point compared to some of the oils and butters I use.
With that being said, you can still make this rose soap without lard. To do so, I would use one of my unscented cold process soap recipes as the base. Then, follow the same instructions for the essential oils, madder root powder, and rose petals at the end.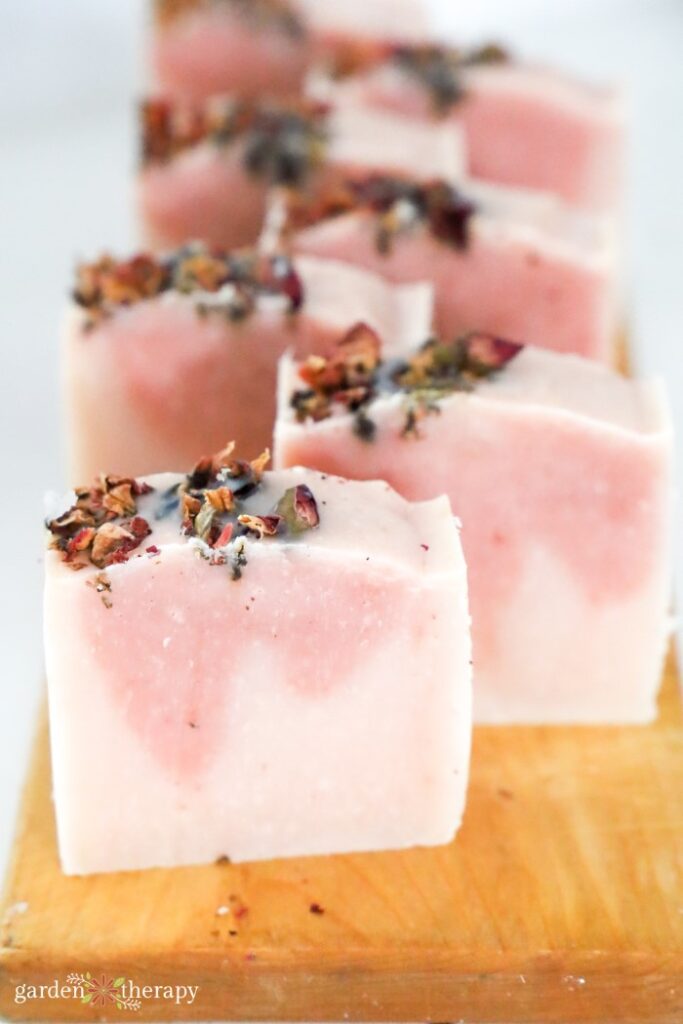 Frequently Asked Questions About Rose Soap
What is rose soap good for?
Rose is actually full of medicinal properties. It has anti-inflammatory, antibacterial, and antiseptic properties. This makes it great for reducing redness, puffiness, blemishes, evening-out skin tone, and many more things. You can use it all over your body to gently cleanse the skin while also enjoying the benefits of rose.
Is rose soap good for your face?
Yes! You can use this rose soap on your face to help get all the healing benefits of rose. During the soap-making process, the soap will retain natural glycerin, unlike facial cleansers. Natural glycerin is great for repairing and replenishing the skin.

Overall, soap is one of the most nourishing, gentle, and healthiest ways to clean your skin. After cleansing, top off with rose face cream.
Is rose soap good for oily skin?
Rose soap works great for those with oil and acne-prone skin. Rose is naturally antibacterial and an antiseptic to help keep your pores clean. It also works well to even out skin tone and lightens blemish scars. Follow up the rose soap with rose toner to keep your skin's pH balanced.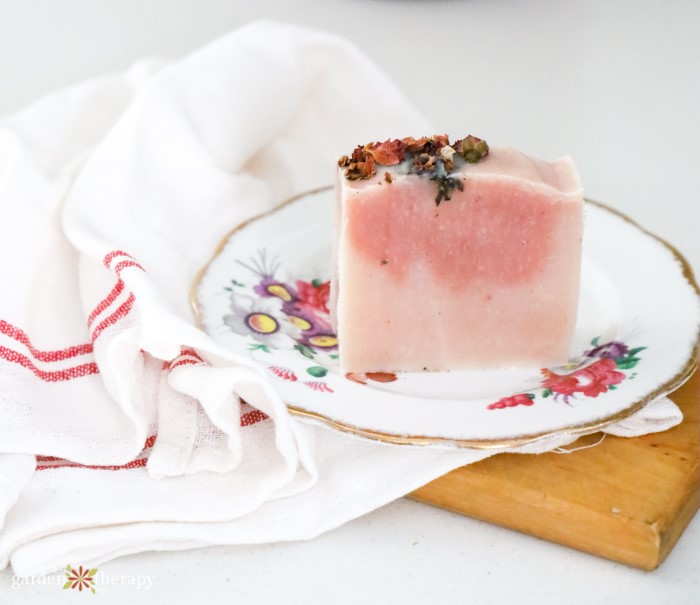 I hope by the end of your rose soap-making journey, you become just as obsessed with roses in your skincare routine as me. Let me know if you have any questions in the comments below!
More Soap Recipes to Try
Gentle Rose Soap Recipe
Rose is a wonderful plant for your skincare routine. Start it off with this homemade rose soap.
Equipment
Safety gear (rubber gloves, face mask, apron, eye protection, etc.)

Pyrex or heatproof glass measuring cup

2 large mixing bowls
Instructions
Weight ingredients on a kitchen scale.

Heat your olive oil, lard, and coconut oil over low heat in a double boiler until it reaches 115°F.

Mix lye and water together in a heat-proof container in a well-ventilated area. Let sit in an ice bath until it reaches 115°F.

Pour lye water into the oils when they're both at the same temperature. Use an immersion blender to help them reach a light trace.

Add essential oils and blend again.

Separate the soap batter into two bowls. Add madder root powder to one bowl and blend well.

Pour uncoloured soap into the soap mould. Add coloured soap on top. Use a chopstick to swirl the colours together several times.

Decorate the top with rose petals and rosebuds.

Let soap sit for 48 hours in a warm location.

After 48 hours, cut the soap. Let the soap cure for six weeks before you use it.