Sun tea is just about the simplest way to make a refreshing summer beverage. Infuse water in two ways: fresh tea and dried tea. Once you know the steps on how to make sun tea, the flavour is all up to you and the possibilities are endless!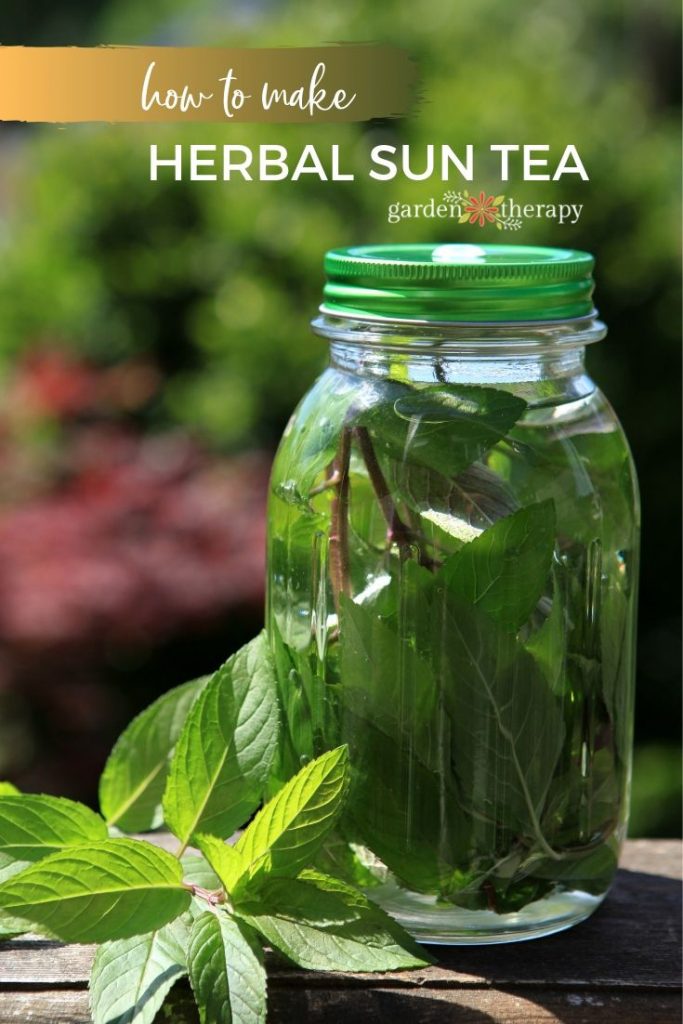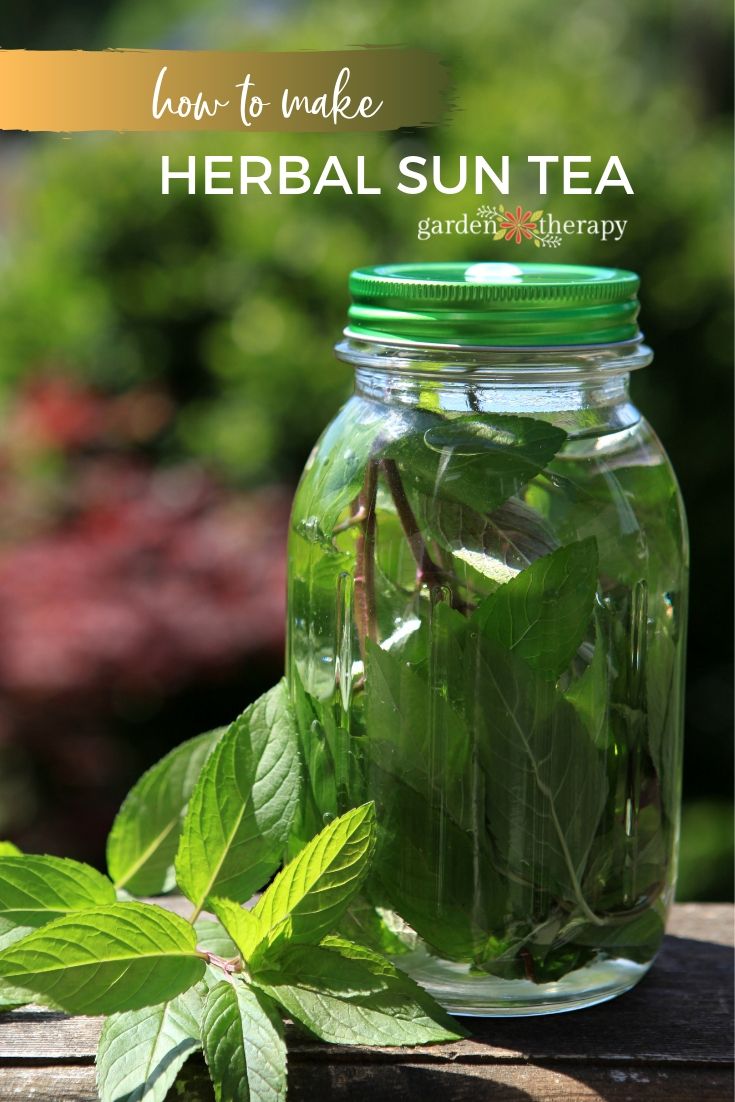 Summer doesn't feel like summer until I have a glass of sun tea. A favourite summer tradition for many, I recall many summers spent watching my sun tea steep. I always love seeing the colours change as it sits in the sun. Every tea always tastes a little different, as I tend to use fresh herbs from my garden depending on what's in season.
For hot summer days, this sun tea recipe makes for the best reward after a long day working out in the garden, spending time at the beach, or when the late afternoon sun is your first taste of the outdoors for the day.
No matter what your day looks like, reward yourself with sun tea!
Harnessing the Power of the Sun
We all know the feeling of the sun on a hot summer's day. Without a doubt it's powerful! In fact, the sun is 27 million degrees. No wonder it burns my skin so easily! By the way, if you DO happen to get a bit too much sun, make sure to try this aloe vera sunburn treatment.
Solar energy has existed as long as the sun, about 5 billion years. While humans haven't been around for very long, we've been using solar energy for thousands of years. Everything from crop rotation to drying food in the sun allowed ancient civilizations to survive. Some even designed their communities so that all their buildings faced south in order to gather heat and light.
Us gardeners certainly are no strangers to the sun. From greenhouses to shade cloths, we know when to enjoy the sun and when to hide from it. This recipe is certainly one of those ways to enjoy it!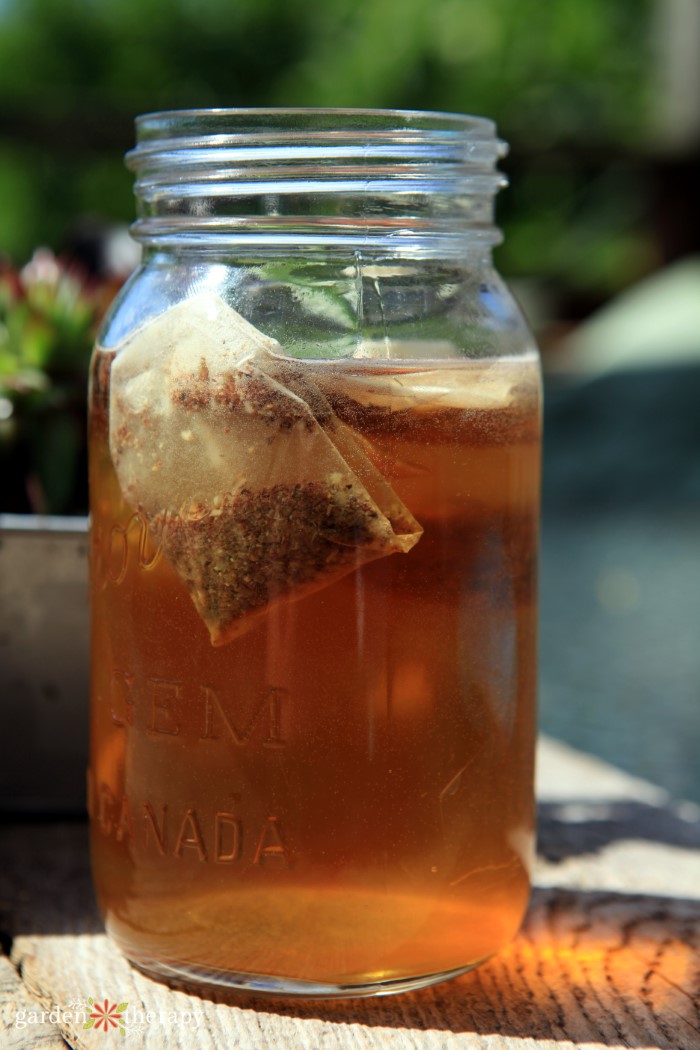 What Makes Sun Tea Different?
Iced tea is a relatively new idea in the grand scheme of things. Beginning in the 19th century, people began to pour brewed hot tea directly over ice. Since tea bags weren't invented until the early 1900s, the tea leaves floated around directly in the water.
Sun tea is brewed in a similar way. Originally, it was made when heat or electricity was unavailable to brew the tea. Necessary for brewing tea, the hot water allows for more flavours to be extracted. Some compounds can't get soluble at room temperature, especially many of the bitter flavours common with tea.
I love to make this tea in the morning while I work. I set it all up, let it brew throughout the day, and once I'm ready to kick my feet up, I have a delicious glass of tea waiting for me. No kettle necessary!
Why Make Sun Tea and Not Regular Tea?
When using boiling water, you usually only let your tea steep for 5-10 minutes. This is quite different than the hours it takes for the sun tea to brew! The results are also very different. When you steep with boiling water, the flavour is going to be much more astringent and bitter.
Sun tea, however, is milder in flavour and slightly more aromatic. Since iced tea is often preferred sweeter, you want a less astringent tea. The difference in taste between iced tea and hot tea is noticeable, and this is why!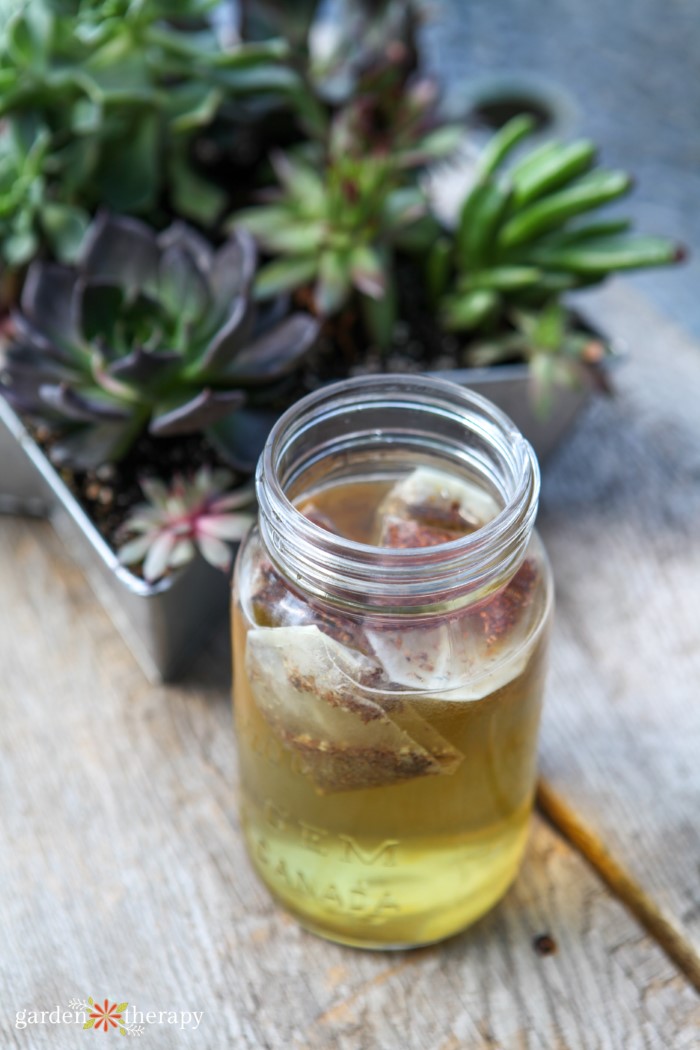 Sun Tea Recipe Frequently Asked Question
How Many Tea Bags for Sun Tea?
I like to use anywhere from 4-6 tea bags for a 1-quart Mason jar. If you like milder tea, stick to 4 tea bags. You will still get plenty of flavour!
How Long to Brew Sun Tea?
Brew your tea in the sunlight for 6-8 hours. I like to let it sit for a good portion of the morning and afternoon sun to really make sure I get lots of flavour.
Can You Make Mint Sun Tea?
Use any herbs you like! Mint is a popular one, as well as lemon balm, chamomile, ginger, lavender, and thyme. Any herbs you enjoy in your garden, toss in a sun tea and see how it tastes.
How Long is Sun Tea Good for in the Fridge?
You can store your sun tea in the fridge for up to a week. Afterward, the taste is not as fresh and like any food or drink, bacteria can grow.
How to Make Sun Tea
You have some options when it comes to making sun tea! Depending on what is growing in the garden and what you have on hand, you can make either fresh or dried tea.
Fresh Tea
If it's sunny and you have a bunch of extra herbs, why not make sun tea? Simply snip and wash fresh garden herbs like mint, lemon balm, chamomile and chocolate mint (my all-time fave), and then pack them loosely in a mason jar.
Fill with water and leave in the sun for the day. After 6-8 hours, strain the herbs from the tea and compost them. Sweeten tea if desired (stevia works very well!) and serve over ice.
Store in the fridge for up to a week.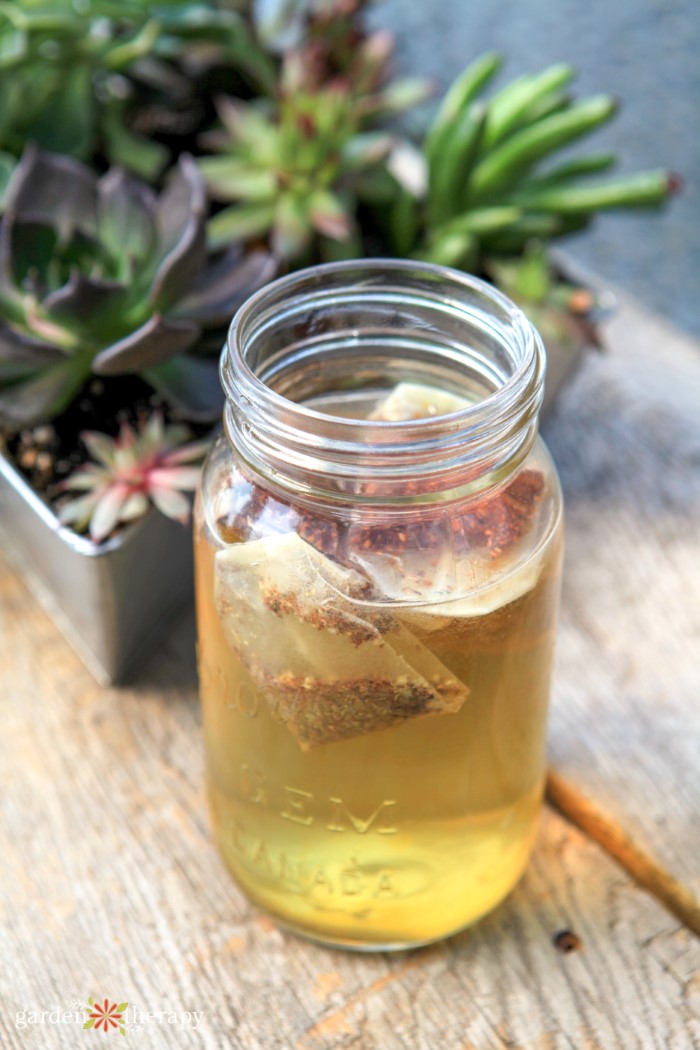 Dried Tea
This method is even simpler than fresh tea (if you can imagine that!). Add 4-6 tea bags to a 1-quart mason jar, screw on the lid, and set out in the sun.
I use some of my favourite teas such as white tea with mint, fennel, ginger, and rooibos. Always sweeten the tea after it has finished sitting in the sun as the sugar can act as food for potential bacteria growth.
Other Drinks to Try
I'm always brewing something! Here are some of my go-to tea recipes that you could very well use the power of the sun to make:
Hibiscus Iced Tea is such a refreshing treat. Sugar-free AND good for you, even the kiddo agrees that this one is a keeper.
Ginger Mint Lemonade combines the smooth sweetness of a ginger syrup with a tart and spicy lemon and mint combo.
Rose Water is a recipe that not only makes for a refreshing cool drink, but can also be used for skincare, baking, and everything in between.
Lavender Lemonade combines the unique floral taste of lavender with a tart yet sweet lemony taste. It's a summer must-have!
To really make your sun tea pop, try adding some butterfly pea flowers to your brew. They turn the mixture a natural bright blue or purple if you add lemon.
Dandelion Tea uses the roots to help treat digestive issues, inflammation, bloating, and more.
You might like to try your hand at growing a herbal tea garden, or for even more refreshing summertime sips check out this rhubarb lemonade and how to make perfect edible flower ice cubes.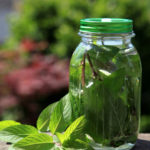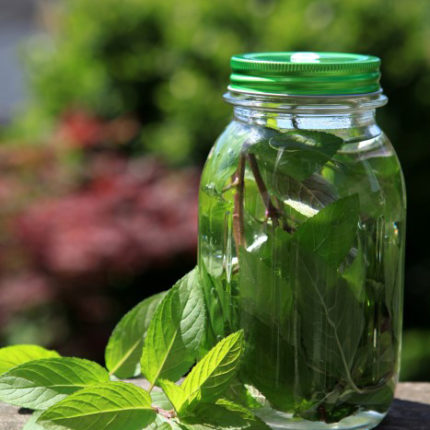 Print Recipe
Sun Tea Recipe
Make traditional sun using either fresh herbs or tea bags.
Ingredients
Fresh herbs or tea bags

1

quart

water
Instructions
If using fresh herbs, snip your herbs and wash them.

Place herbs or 4-6 tea bags in a 1-quart Mason jar. Fill with water and screw on the lid tightly.

Let it sit in the sun for 6-8 hours.

Strain herbs or remove tea bags. Pour in a glass, add some ice cubes, and enjoy!
Nutrition
Serving:
1
cup
|
Calories:
1
kcal