When you don't have lots of space, you can still grow quite a bit of food. Here are my best small space gardening tips for the biggest yield possible.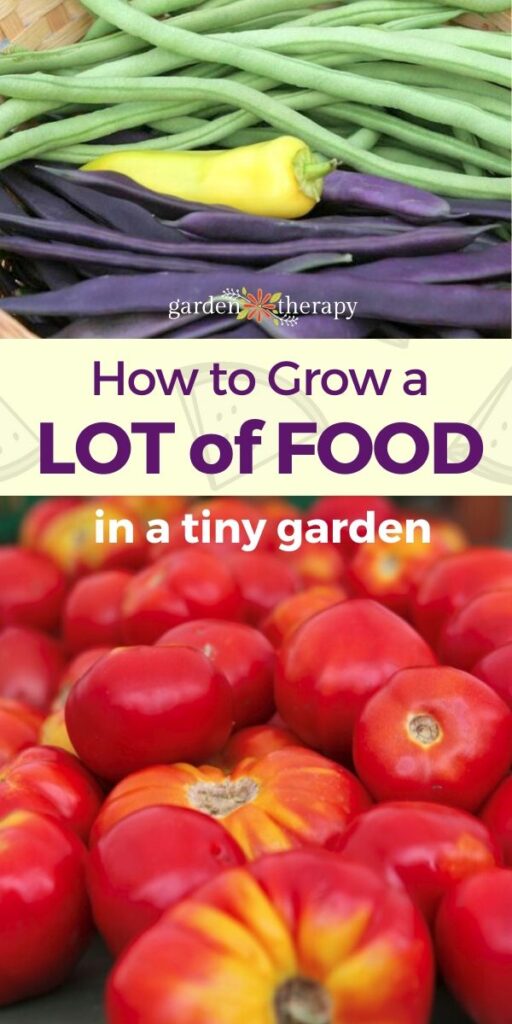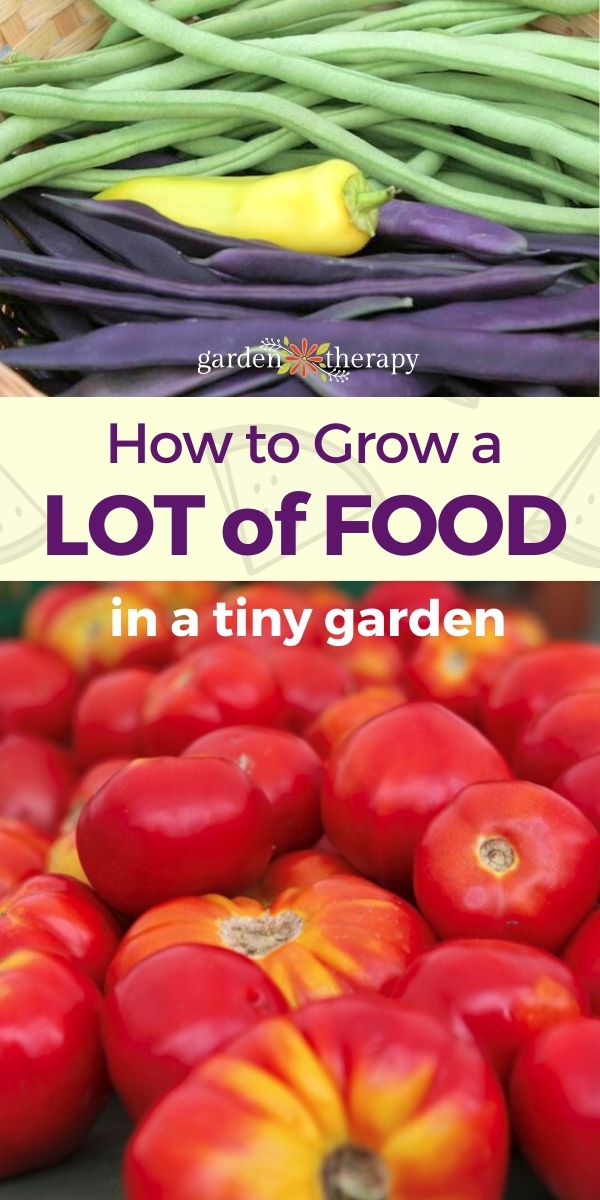 There are lots of challenges you have to overcome when you try small space gardening. Square footage is a limited, valuable resource that must be considered when choosing what plants to grow.
However, don't let a small yard deter you from being able to grow a bounty of fresh veggies! I've got plenty of ideas and tips to help you grow veggies in any sized space.
Small Space Gardening Ideas & Tips
There are plenty of vegetable crops that can be grown in containers and have a small footprint in the soil. More importantly, you want to get as much food as you can from that small space and that requires making some tough choices.
There are a few secrets to high-yield vegetable gardening that will make it easier to harvest a bounty of homegrown produce with limited garden space.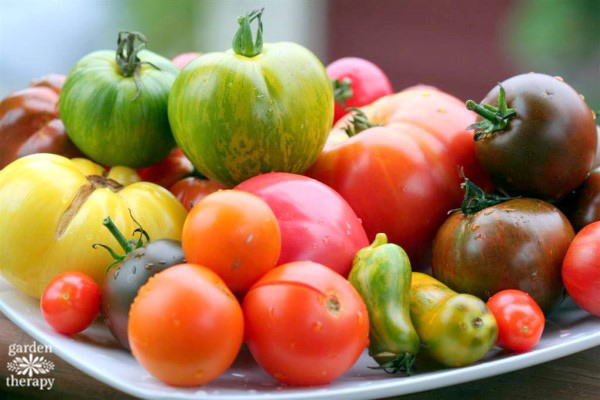 Let's look at some small space gardening tips and ideas so you can maximize the production of your crop.
Follow these tips for high-yield vegetable gardening and your garden will be overflowing with delicious produce this season!
Choose Your Plants Wisely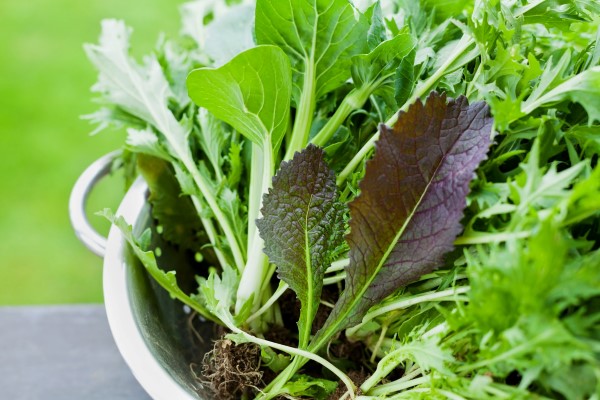 You may love cauliflower, but it requires a lot of space and a long growing season to produce just one head. In the same space that you grow one cauliflower, you could get 12 bush or pole bean plants, which will produce hundreds of beans throughout the growing season.
To get the most yields from a tiny space, these are my top 5 small-space vegetables that grow and produce well, in even a tiny garden.
1-2. Pole Beans & Peas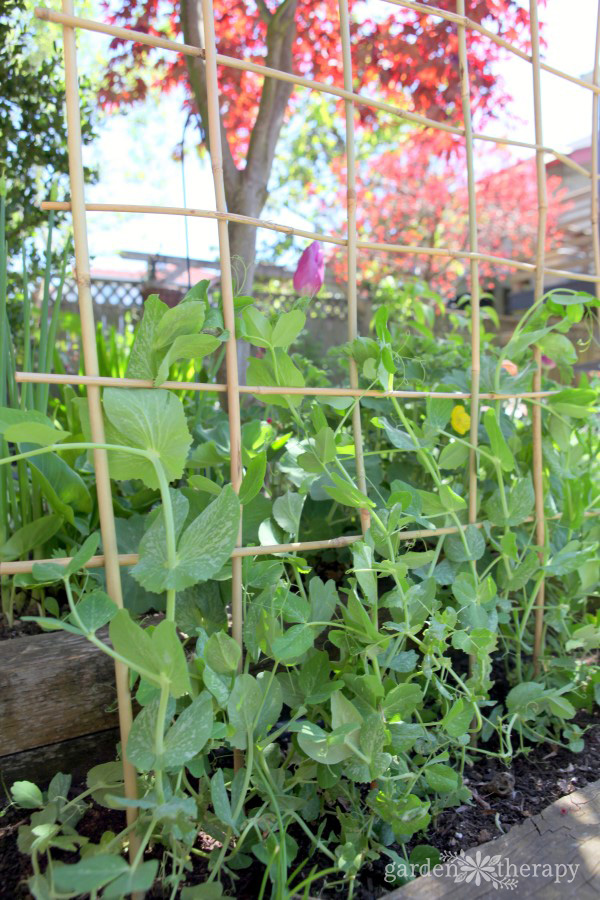 I've listed pole beans and peas together because they have a similar growth habit and their growing season overlaps (peas like it cool and beans like it warm).
Start peas on a trellis in early spring (nine weeks before the last frost date) and they will produce plenty of pods before they mature in two months. Remove the plants after the frost date has passed and set pole beans in the same spot!
Peas are a wonderful small space plant to grow because the pea pods, shoots, and leaves are all edible. Young pea greens are delicious in a spring salad and there will still be plenty of pea pods left to fill your plate with snow peas (flat pods) and snap peas (edible pods with rounded peas inside).
Shelling peas are those that don't have edible pods and take longer to grow. I recommend you leave those for the larger space gardens.
Start pole beans in pots before the last frost date so they get a head start on the growing season. When the peas are starting to yellow and produce fewer peas, remove the plants and put pole beans in their place. Vining pole beans can climb 10 feet or more in height, so give them plenty of space and they will give you plenty of beans. Look for French filet beans that stay slim and tender even when they are long.
Reserve space-hogging bush beans for larger gardens!
3. Tomatoes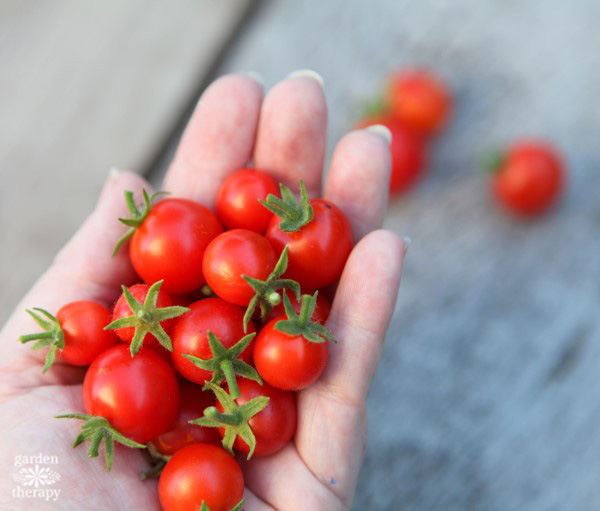 There are many tomato varieties that are bred to produce heaps of fruit in small spaces. Cherry, beefsteak, green, purple, determinate, indeterminate—there are so many varieties of tomatoes!
You can easily crack the code by reading the seed packet or plant labels.
Look for dwarf or container varieties of determinate tomatoes (tomato plants that grow to a set height rather than indeterminate, or vining, tomatoes). Cherry or grape tomatoes can produce hundreds of fruit on one plant, but there are also plenty of slicer tomatoes that can produce well in small spaces.
4. Salad Greens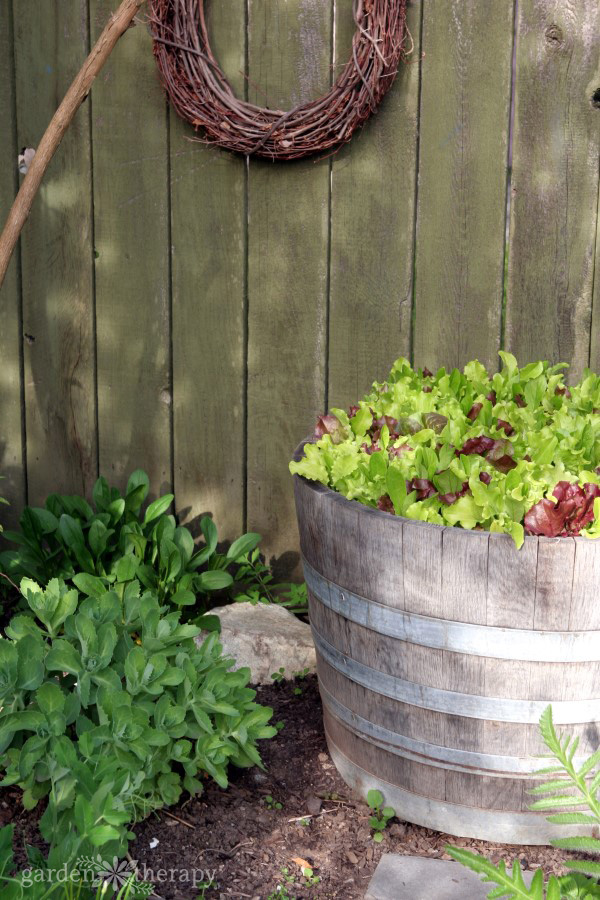 Any mix of lettuce, Asian greens, mustards, kale, and other leafy greens can be used as a salad mix. The key to growing these in small spaces is to scatter a pack of seeds in the soil and start harvesting baby greens as they appear.
Use sharp, clean scissors to cut sections of mid-size greens and much of it will grow back. Continue to seed the area over the growing season so that new greens will be sprouting as you cut the leaves for endless summer salads. Be sure to add in a few chives to the mix, as they are lovely in salads but also help to keep pests away.
See more details on how to grow a salad garden here!
5. Zucchini
The last thing anyone would suggest as a small space plant is zucchini!
It is a huge sprawling plant that produces heaps of giant summer squash. Yet, I grow zucchini in my small-space vegetable garden every year because it gives us so much produce for the space it is allocated.
You will need a large pot or 2 square feet in the garden bed, but that one plant will give you more food than you can ever use.
Squeeze one in and you will be making zoodles, zucchini bread, soups, and casseroles to your heart's content!
Soil is Essential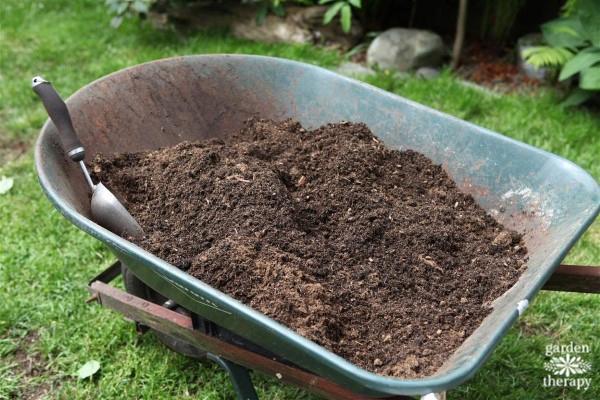 If you want to make the most of a small space, then you need to baby your soil. Pamper it by treading lightly so as not to compact it. Mix in plenty of yummy amendments, and be sure to stay away from any harsh pesticides and herbicides that will hurt the microbe, bacteria, and critter crew who work tirelessly to provide you with nutrient-rich soil.
Check out these posts for the dirt on, well, dirt.
Plan for Success
It takes some research to plan a garden.
There are some who just grab a bunch of plants they love and plop them in the ground, but this can backfire and give them NONE of the vegetables they love despite a lot of wasted efforts. There is so much information available to help you do a little legwork and be successful as a gardener.
When starting any garden, I like to sit down and write out a plan. Here are some resources to help with that.
Start Your Own Seeds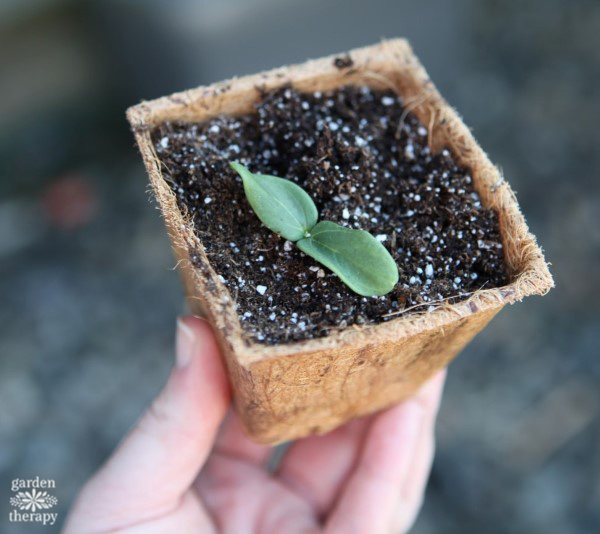 You can never be sure what started plants have been through when you adopt them.
Did they have the best soil? Were they watered constantly and properly? Were they treated with pesticides?
I believe that those first few weeks of germination and plant growth determine how healthy the mature plant will be. So start your own seeds to make sure they get off on the right foot.
Read more about seed starting in the Ultimate Seed-Starting Series!
Small Space Gardening: All About Location, Location, Location
Right plant, right place. That is the mantra of gardeners.
If you plant a sun-loving tomato in shade, you won't get much in the way of fruit. Sure, you will get a few, but it won't give you a good yield-to-effort ratio. Don't be fooled to think that sticking your lettuce in full sun will give you the same results.
Well, actually, it will.
The lettuce will be so hot in the sun that it will bolt quickly to set seeds, making it bitter. Since we want to eat the leaves (and not the fruit/seeds) keep lettuce plants cool with some shade for the best yield.
Do you have any more tips for high-yield vegetable gardening in small spaces? Please share!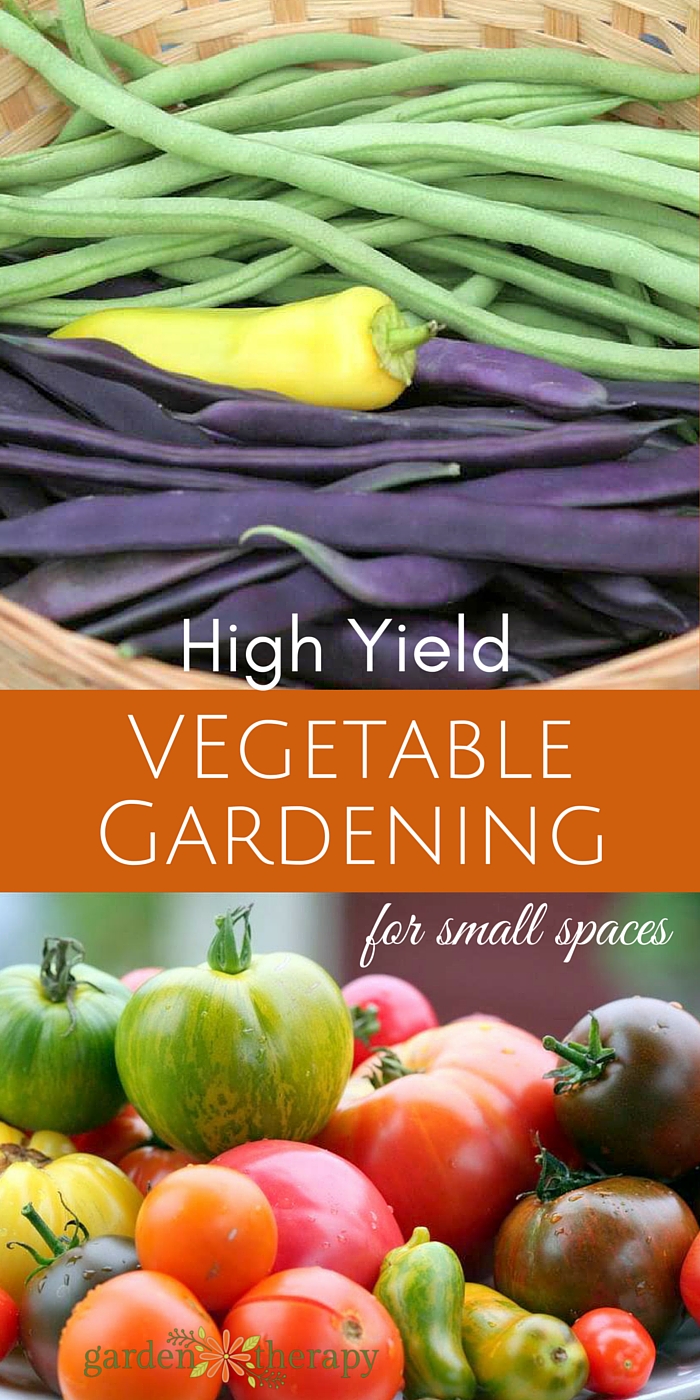 More Vegetable Garden Ideas