If you want a thriving organic garden, you will need wildlife. I'm not talking deer, mice, and bears here, I'm talking bees, butterflies, ladybugs, birds, and other gardening pals, some that aren't even wild! To attract them, you will need backyard wildlife habitat. A backyard habitat provides food, water, safe shelter, and nesting spaces for wildlife. Essentially, you need to ensure your garden meets all their basic needs!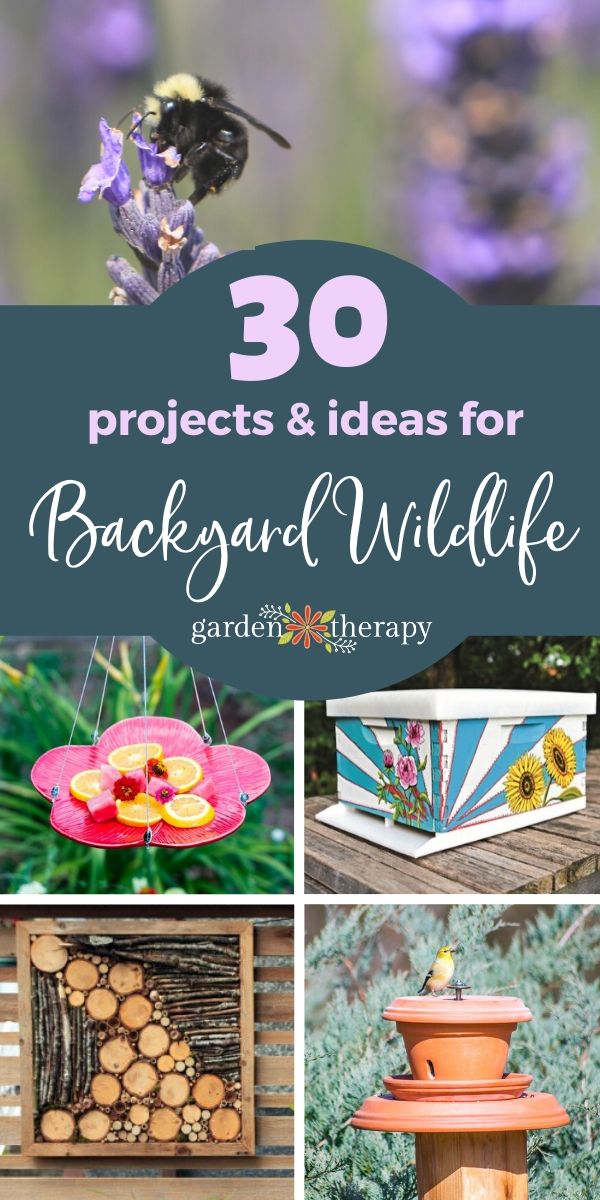 Ever since I started gardening, I have wanted to also invite others to share the space and create a backyard wildlife habitat for all. While many pests are inevitably going to find their way into my garden, I also make an effort to get the good guys to call my garden home.
I even dedicated a chapter in my book, Garden Alchemy, to recipes for attracting backyard visitors (and a few more recipes to deter pests). Everything from plants to soil can affect the habitat of wildlife.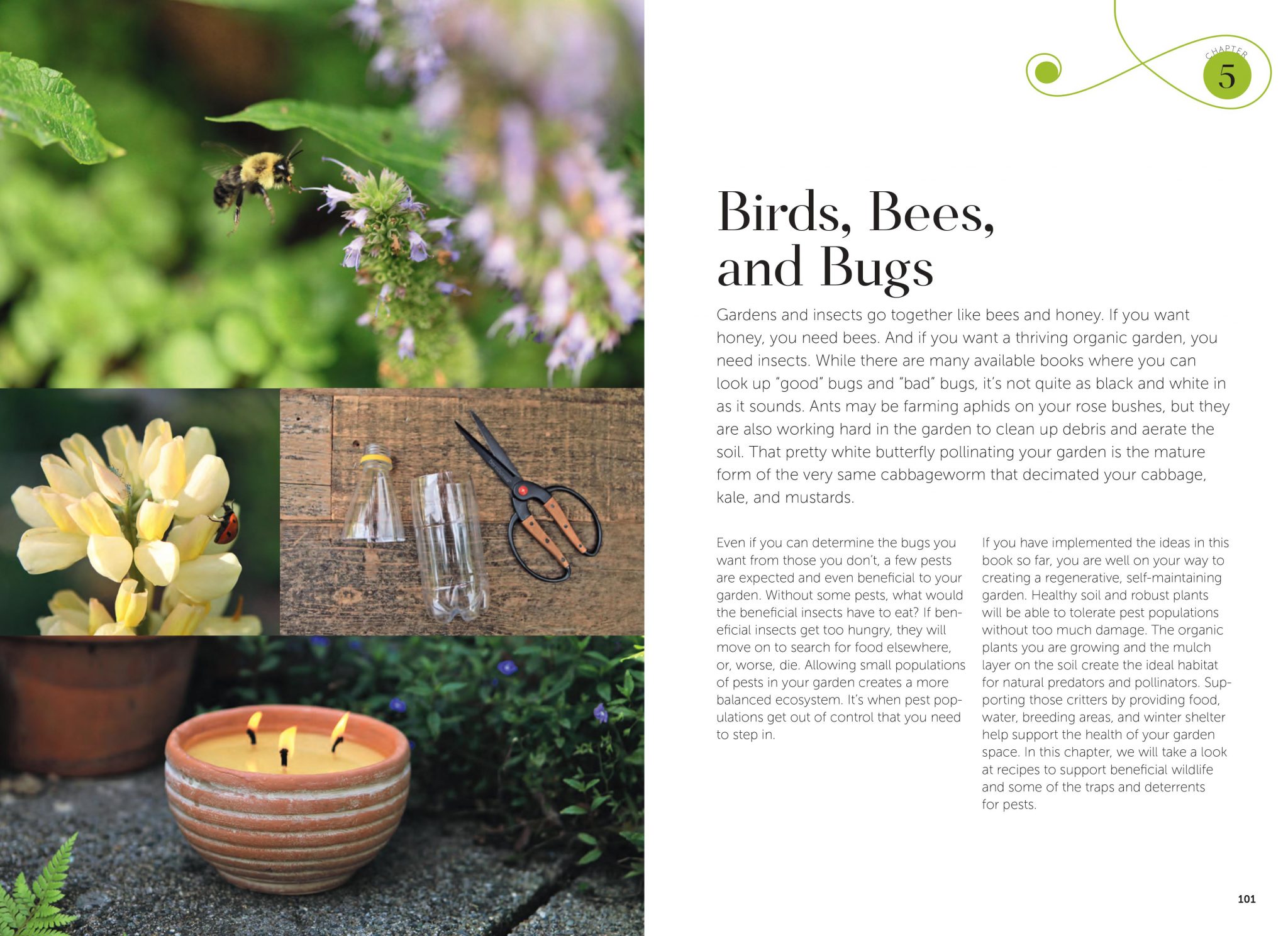 As I have been writing backyard wildlife habitat posts for many years, this post is a curated list that will help you encourage wildlife into your garden. From what plants to grow to DIY projects for critters, you'll have a backyard teeming with wildlife in no time!
Why Create a Backyard Wildlife Habitat?
Creating a backyard wildlife habitat is essential as we continue to expand our cities. We need to create urban sanctuaries that are safe, healthy, and abundant for little critters to seek refuge. As we take away resources for bees, butterflies, birds, and other wildlife, it's important that we also add it back. 
Learn More About Backyard Wildlife and Their Habitats
Be it a small deck garden or a big urban backyard, everyone has the ability to make a wildlife-friendly oasis. The National Wildlife Federation has a wonderful program called Certified Wildlife Habitat. This encourages people to make their homes a haven for wildlife. Passing the certification means you get to boast about your accomplishments and encourage your family, friends, and neighbours to do the same!
For all my Canadian Gardeners, you can check out the Canadian Wildlife Federations similar program, Garden Habitat Certification. And for all my gardeners out in the UK, you can take The Wildlife Trusts' pledge for a Wilder Garden.
Many of these projects, plants, and tips below can help you reach certification. Making a wildlife-friendly garden may be easier than you think!
Inviting Wildlife to Your Backyard Habitat
I don't know about you, but the sound of buzzing bees gives me an immediate happiness boost. Bees, butterflies, and other lovely pollinators are always a welcome addition to my garden and I am sure to plant some flowers and buds with them in mind. Plus, they are practically free labour! We need them in our gardens, otherwise, we will be hand-pollinating our fruit trees with a paintbrush, or worse, using drone bees. Attract all the right insects by giving these posts a read.

Backyard Birding
Have you ever spotted a visiting bird from your window? It's exciting to see these birds up close, especially if they are a rarity to your area. We can do bird watching from our own backyards! It's fun to have these silly and songful visitors, acting as free backyard entertainment with their music, antics, and even pest control! Invite them in with these ideas and you won't be disappointed.

Controlling Backyard Pests
While there may be some pests in your garden, it's important to remember that all bugs exist for a reason. The anthill that has taken over your hostas may actually be helping to aerate the soil and clean up garden debris. That nasty cabbage worm that has taken a liking to your leafy vegetables is the same white butterfly that is pollinating all your blooms. I don't recommend getting rid of all pests, because if we did that, what would the wildlife have to eat? Here are some ideas to naturally control the populations of pests while you attract predators to control them for you.

Chicken Keeping
Yes, yes, chickens are not wildlife! They are livestock. I get that, but I thought there was still some room on this list to include the feathered friends we introduce into the garden as well. I included them because they are super helpful as pest control and even more fun as entertainment.
And the eggs!
There is nothing like having farm fresh eggs right from your own backyard.
In addition to providing us with delicious breakfast and baking material, they are also a wonderful gardening companion. While you putter away with your plants, they will eat up worms and grass right alongside you. Plus, their shells and poop make for great compost additions.
Be sure to check your local bylaws for regulations on chickens in your area. If you've got the A-okay, then start your hen research with these posts.

DIY Backyard Wildlife Projects
If you're thinking to buckle down and get crafty, get out your tools and build these projects. These projects are aimed at making your backyard a more bug-friendly place, because, who doesn't want as many bees and butterflies as possible, right? Incorporate them right into your garden or make them a new centerpiece. Try one of these projects and your local wildlife will thank you.
Great Read: Garden Alchemy
My book, Garden Alchemy: 80 Recipes and concoctions for organic fertilizers, plant elixirs, potting mixes, pest deterrents, and more has a whole chapter dedicated to working with backyard wildlife and a bunch more great recipes for the organic gardener!
Garden Alchemy is a hands-on guide for do-it-yourself gardeners who want to turn their garden into gold using natural recipes and herbal concoctions (while saving both time and money!). This gardening recipe and project book is packed with over 80 ideas to naturally beautify your garden, using organic methods that regenerate your soil and revitalize your plants. By following the processes that are closest to nature, it brings the gardener in sync with the garden, allowing plants to thrive with less effort and less cost.  See where to buy in your country.