It's time for the 2016 wrap up post where I'll share the Best of Garden Therapy from this year. I have a few personal notes to share, as well as a look back on the year including the 25 Most Popular Garden & Craft Projects that were published.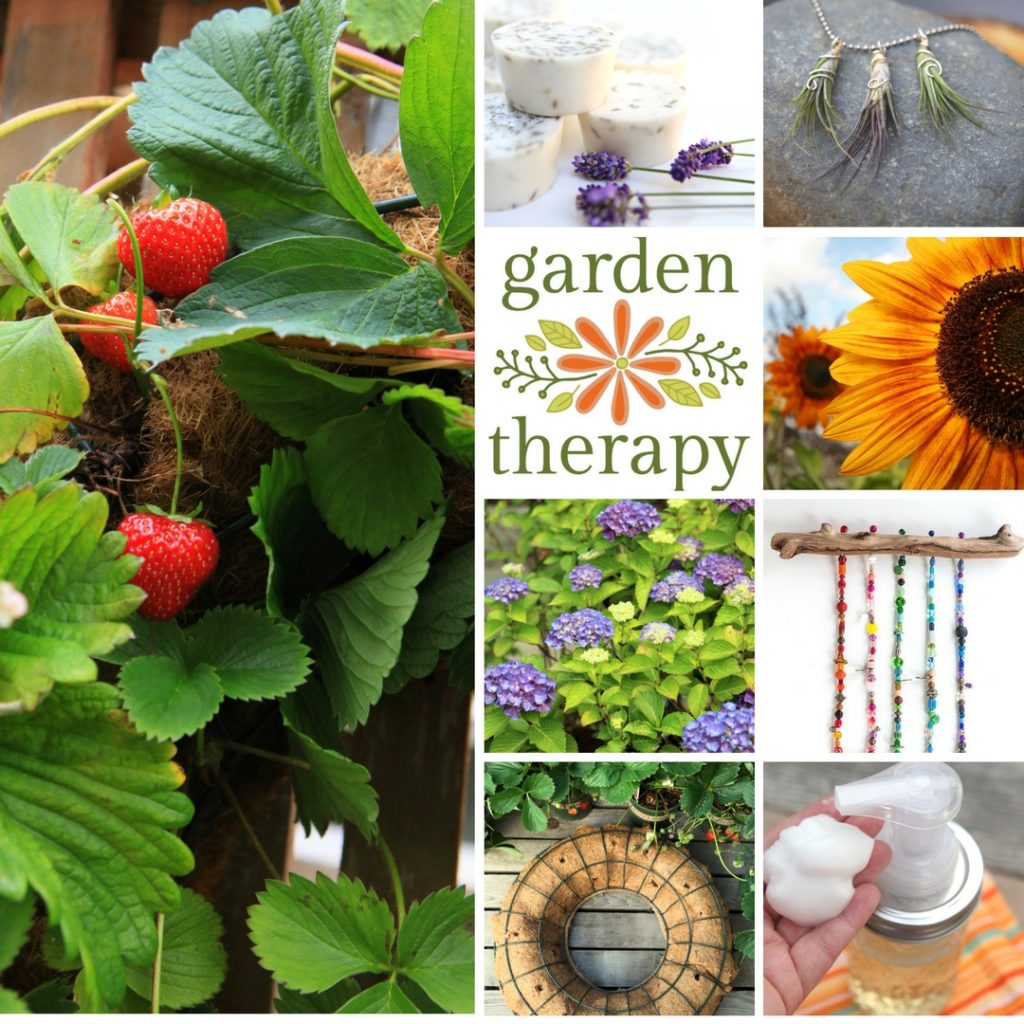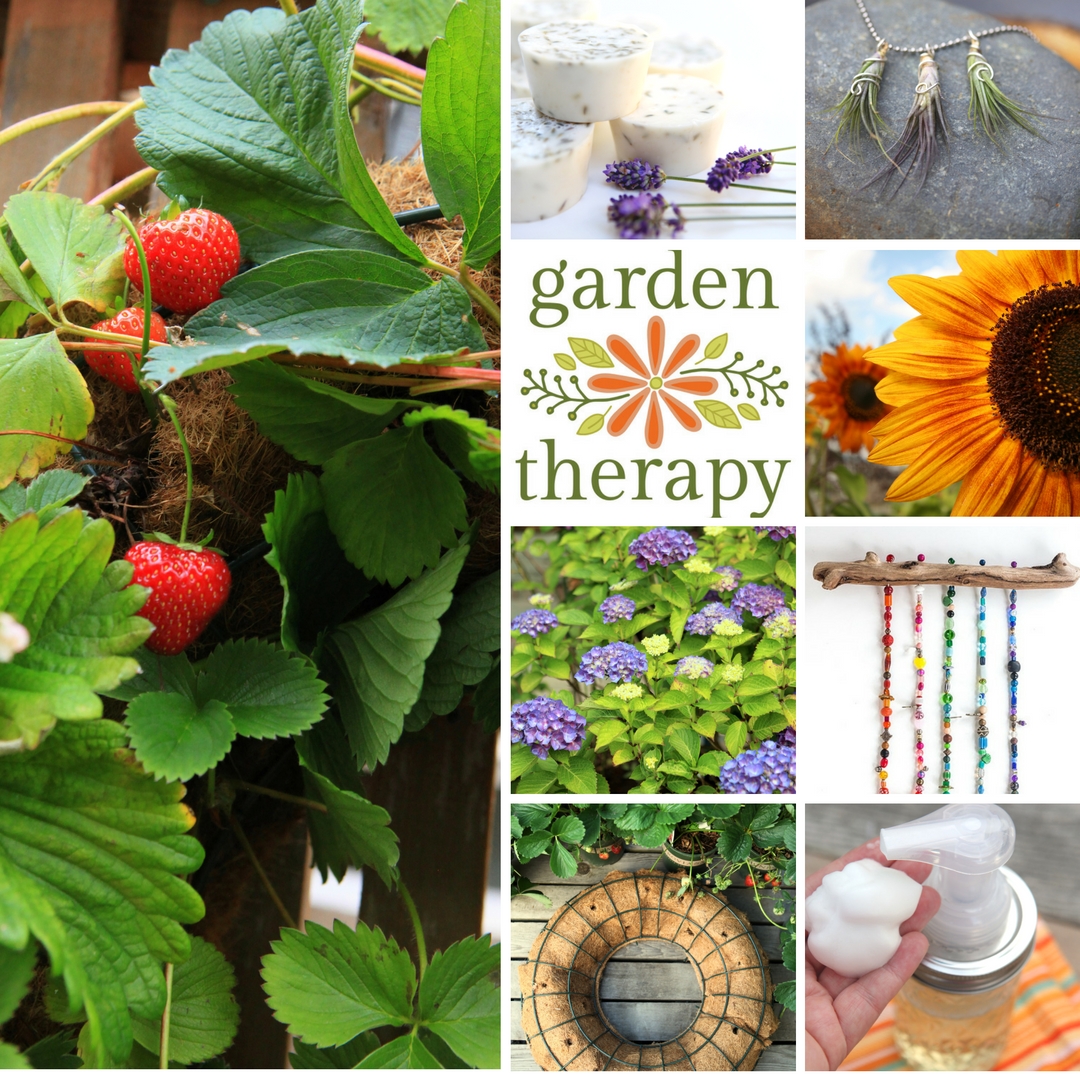 2016: a Year in Review
When I look back on 2016, I'm amazed at how different my life is now. Ten years ago I became seriously ill, suddenly and without warning (you can read more about my personal journey here). The long recovery process is mostly behind me and I am now working as a writer full time. It is the best job that I could even imagine.
Travel and Events
In February, I traveled to the Northwest Flower and Garden Show in Seattle to speak on a stage in front of an 800-seat auditorium.
Twice.
I was nervous that I would mess up, and guess what? I did! My mic clip broke and so I had to stay tethered to the podium. Well, I'm not someone who can stand still, especially during a 45-minute presentation in front of a huge crowd! I kept dropping the mic and brushing it, which must have made me look like a sitcom character in a physical comedy sketch.
The kind audience was forgiving of my clumsiness and I tried my best to forget about the mic and focus on my talk. I shared my journey of healing through gardening and a plethora of ideas for how to bring gardening to those who need it most: school gardens, therapy gardens, small-space dwellers, and anyone who wants to add some creativity to their garden space. Despite my fumbles, I must have done OK because I will be going back to the NWFGS again this year! Here is the schedule. I hope you will come to see me, or at least attend the show (which is fabulous!).
Next, I traveled to California to attend the Ball Spring Trials. It was a fascinating trip where I learned what was new and hot in horticulture. Read more about Plant Fashion Week at the California Spring Trials.
In late spring, I had the honor of touring P. Allen Smith's Moss Mountain Farm. I made some fabulous new friends and came home with my head spinning from all that I learned. Read more about Southern Hospitality, Rose Hoarding , and 2000 Years of Chickens.
I attended a number of other events as well throughout the year. Notably, Monrovia's 90th Birthday Bash in August in Dayton, Oregon, where I had a grand tour of the nursery, amazing food, and more gorgeous plants than I could handle! I shared much of those events on social media and I'll be using what I learned to create some new articles this year.
Books
In other news, Garden Made: a Year of Seasonal Projects to Beautify Your Garden and Your Life, won a gold medal in 2016! You can read about Garden Made's IPPY here.
If you have a copy of Garden Made, I would love to hear your thoughts on it. Why not leave a review where you bought it (Amazon, Barnes & Noble, Powells.com, Indiebound.org, Books-A-Million, Indigo/Chapters) or on GoodReads? I would be endlessly grateful!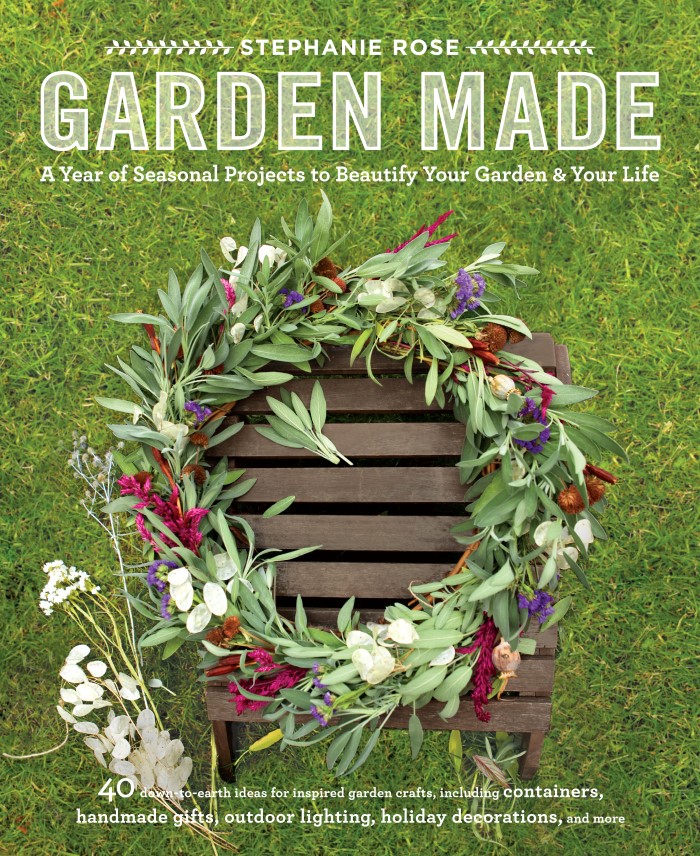 I also published three eBooks this year filled with ideas to get the creativity flowing. The best part? Seeing what you have made! There is nothing I like more than an email or direct message with a photo showing off your creations. The ideas and creativity, as well as how you personalize the projects, is just amazing.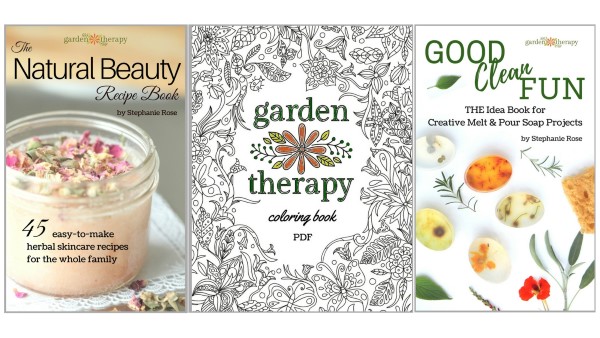 The 25 Most Popular Garden Projects & Crafts
Here on the website that started it all, we have been busy little bees! I created 133 new projects in 2016 and our creative team and guest authors have contributed an additional 33 articles. Of those 166 gardening and craft projects that have been posted this year, there were some that you REALLY loved. Here are the 25 posts that were the most popular in 2016.
Please note: this list only covers the most popular posts that were published from January -December 2016. You can see our most popular posts of all time here.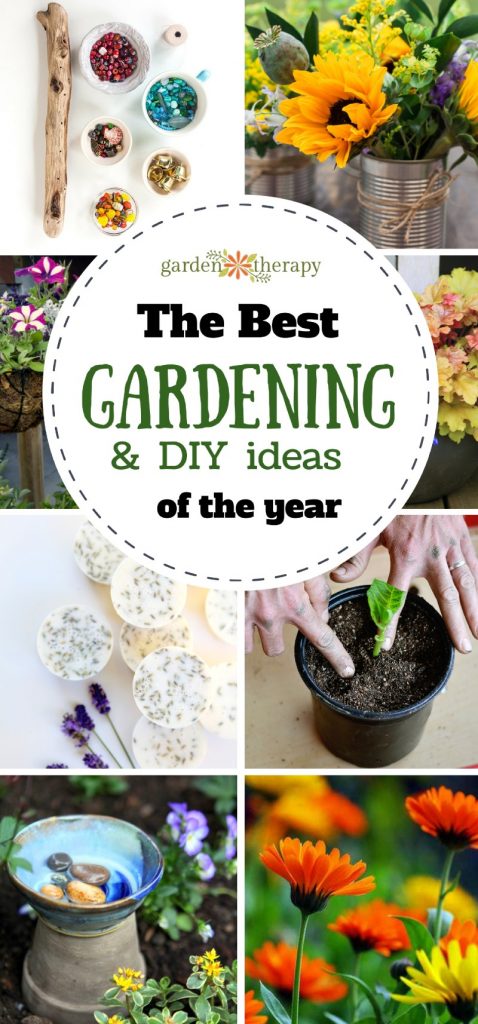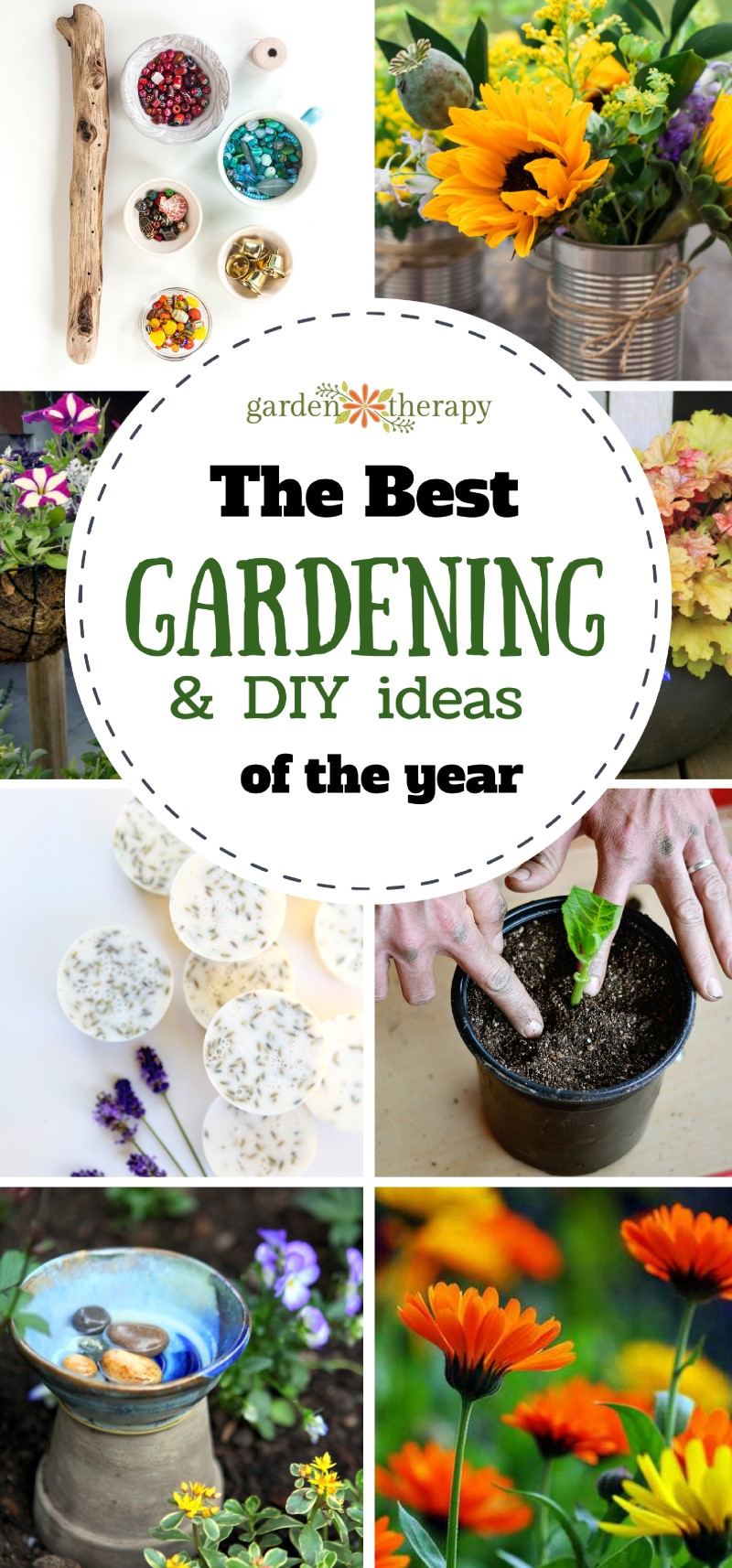 25. Berrylicious Living Strawberry Wreath
24. These Copper Garden Art Flowers Will Never Stop Blooming
23. How to Remove Suckers from Trees (and Why They are There in the First Place)
22. Homemade Foaming Hand Soap Recipe + a DIY Mason Jar Soap Dispenser
21. 32 Terracotta Pot Hacks to Liven Up Your Home and Garden
20. Which Herbs to Grow Indoors (and Which Ones NOT to)
19. How This Chai Spice Lip Balm Recipe Gives You Fuller Lips
18. Homemade After Sun Lotion Recipe
17. Pretty Pink or Brilliant Blue: How to Make Your Hydrangea Change Color
16. Gorgeous Lavender Oatmeal Soap Cupcakes (That Anyone Can Make)
15. Save Money and Start these 14 Perennials from Seed
14. Breathe Easier With These DIY Eucalyptus Shower Steamers
13. Bee a Good Garden Host: Make a Bee Bath
12. Tips From a Landscape Designer: Garden Perspective Drawing for the Home Gardener
11. Plant Geeks Be Warned: This Living Jewelry Will Feed Your Obsession
10. Plant a Mosquito Repelling Container Garden to Protect Entertaining Spaces
9. These Printable Canning Labels are the Essential Party Dress for Your Jam!
8. Propagate Plants From Cuttings and Save Hundreds of Dollars (Heck, You Could Even Make Money!)
7. Want to Know WHEN to Prune? This Will Answer All of Your Questions!
6. Learn How to Prune like a Pro! Pruning 101
5. Color Like a Designer: How to Choose a Color Palette for Adult Coloring Books
4. Year-Round Salad Gardening: How to Build an Indoor Garden Shelf
3. Add Sparkle to the Garden With This Beautiful Beaded Wind Chime
2. How to Revive a Sick Air Plant
and the #1 most popular post of 2016…
1. These Hardy Perennials are the Toughest on the Block
Honorable Mention:
This Evergreen Pressed Herb Candle project was published on December 10th of 2015 so it didn't make the cut for this list even though it came in as #2 for this December and #14 for the whole year.
Want to see what was popular in previous years?
2017 is going to be an amazing year full of new growth and creative ideas. If you haven't yet signed up to get our free newsletter, what are you waiting for? It's free and filled with new ideas each and every week!
Happy New Year, everyone!