Without a doubt, the holiday season can get expensive. However, most people don't need lavish and over the top gifts…they prefer something from the heart! This list of DIY gift ideas covers a ton of natural beauty products to give that are beautiful, inexpensive to make, and will make anyone who receives it smile.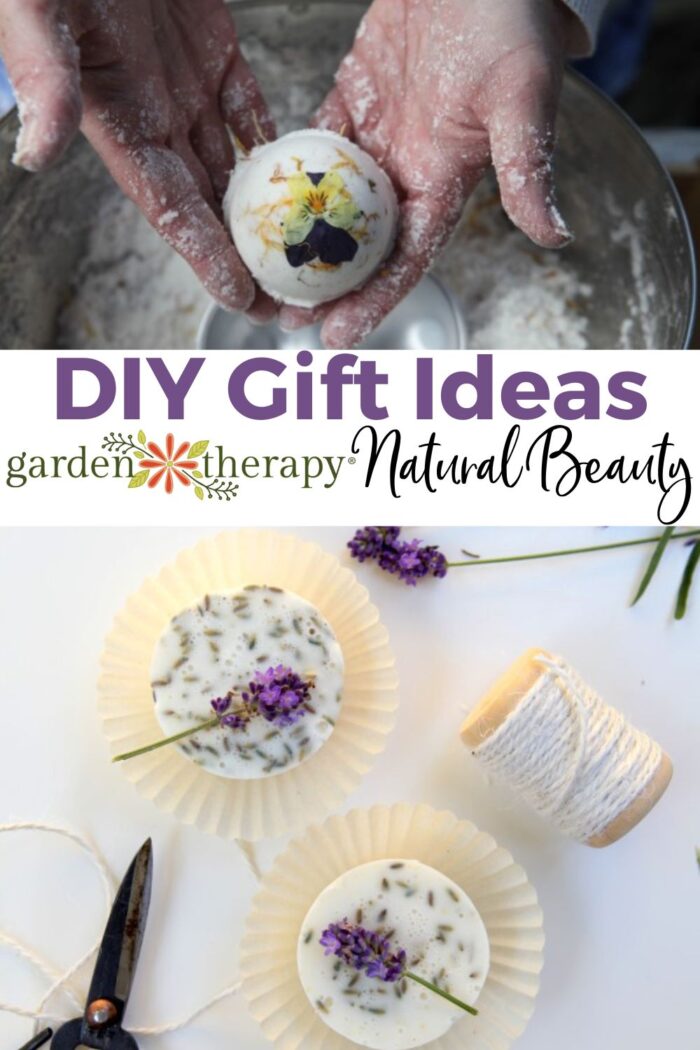 DIY Natural Beauty Products
Most of these recipes I have spent years perfecting. Once I switched to using natural products, I was never going back. I have made it a mission to make as much of my own natural beauty products as possible.
I've shared a lot of beauty recipes on the blog and in my book, Make & Give Home Apothecary, but I wanted to make a nice list of all my beauty products in one place. That way, you can get started on the holiday season with this curated list of natural beauty DIY gift ideas. So, roll up your sleeves and let's begin!
Gifts for a Relaxing Bath
One of the best places to relax, adding a little bit of something extra to the bath is one of the best ways to unwind for the day. These DIY gift ideas for the bath are super popular because pretty much everyone can enjoy them! You can cater these recipes to have scents and herbal ingredients your giftee will love.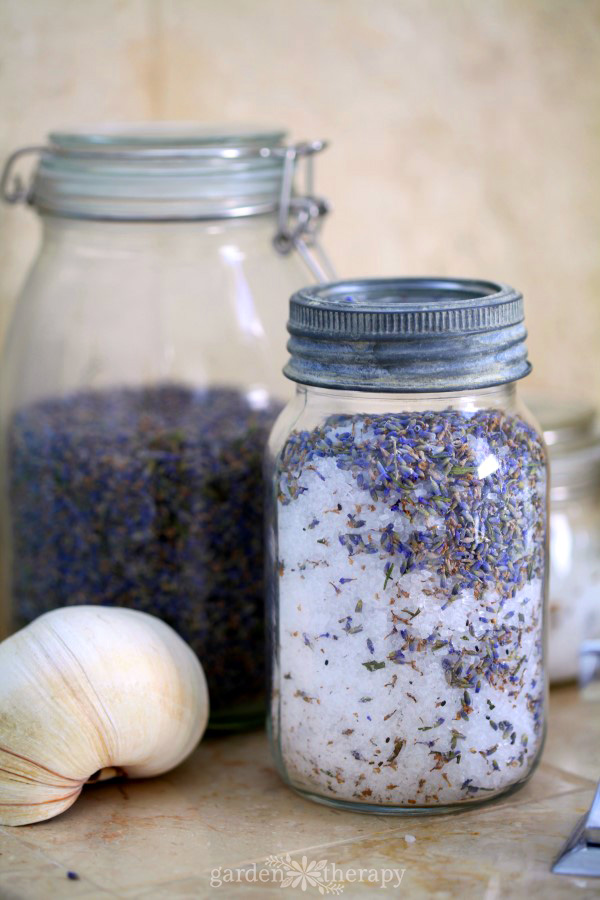 Lavender was meant for the bathtub. This classic lavender bath salts recipe is a favourite, with lavender being a safe bet in terms of fragrance.
Add a little bit of herbal relaxation to your bath with your own custom blend. Better yet, it is completely mess-free meaning no tub cleanup once you're done relaxing.
This recipe is great for soothing dry and irritated skin. It feels like you're in a spa while soaking in this oatmeal bath, including a ton of aromatherapy relief.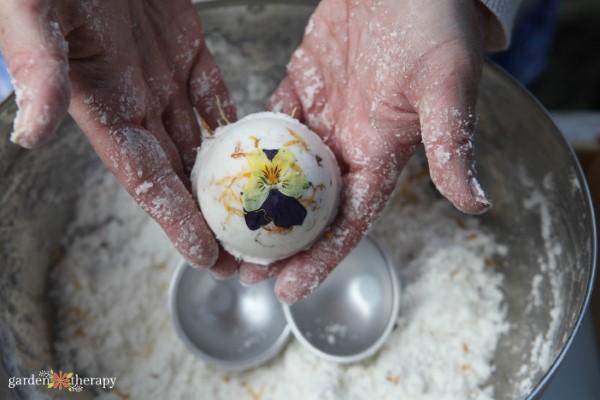 Bath bombs bring fun to the bathtub. Not only do you get to watch them sizzle and foam, but they also provide a wonderful smell and soften the skin.
Luxurious and natural, these bath melts smell so good you'll want to eat them! Best for the bathtub, however, it leaves the skin extremely soft and moisturized.
DIY Natural Soaps
Making your own soap may seem daunting at first, but there are a ton of different soap making methods perfect for any level of expertise. You can make your own artisan soaps that are sure to deliver on the wow factor. People won't believe you made them yourself!
Cold process is one of the most common ways to make colourful and intricate soaps. Part art and part science, this tutorial takes things nice and slow, step-by-step.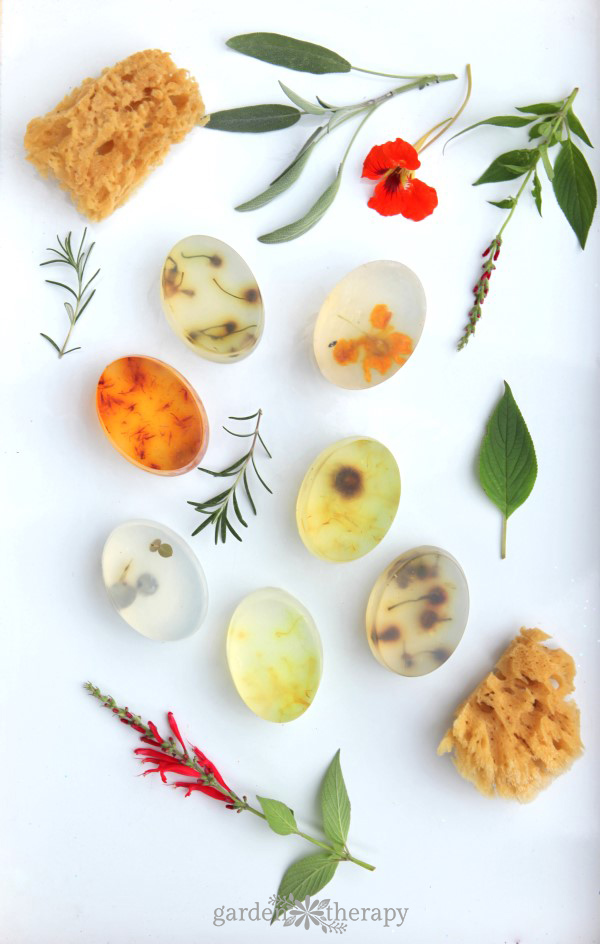 These bars are filled with flowers, greenery, and herbs for beautiful soaps inspired by nature. It uses the melt and pour method, perfect for beginners.
This soap is a rich recipe, made with olive oil and a lemon-mint scent for an extremely refreshing soap to keep skin clean and soft.
Bring a piece of the ocean into the shower with these sea sponge bars. A natural alternative to sponges, sea sponges help to create a luxurious lather while washing.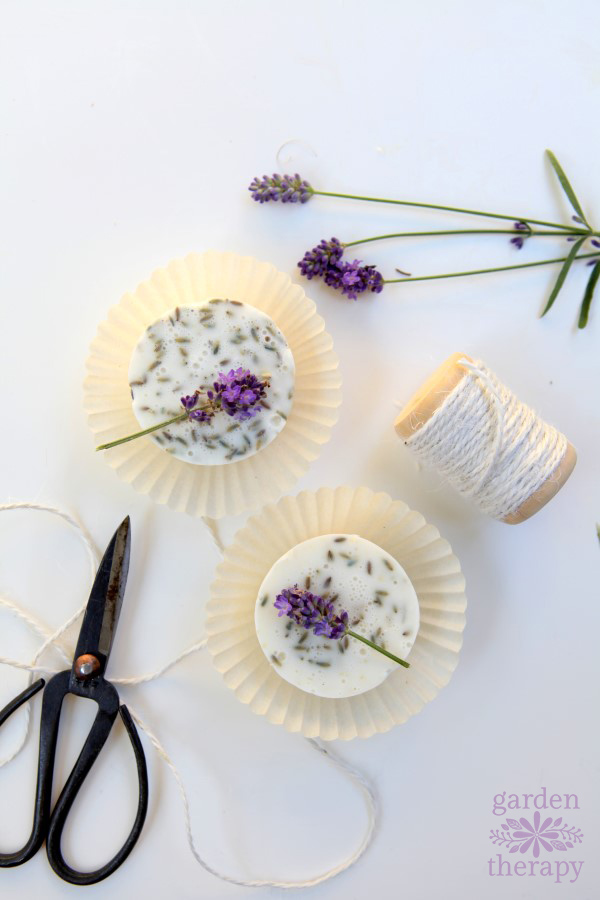 Anyone can make these beautiful looking soaps, scented with lavender essential oil and dressed up with dried lavender buds.
Easy to make but super cool looking, this honeycomb soap requires no expensive mold and uses a neat hack to achieve the honeycomb effect.
Gifts for Soothing Skin
As our largest organ, we have to take care of our skin. This section of DIY gift ideas are perfect for skin all over the body, accommodating all skin types due to their natural properties. The result is smooth and glowing skin.
This liquid lotion is perfect for your face, hands, or body. It makes your skin feel wonderful, effectively moisturizing dry skin naturally.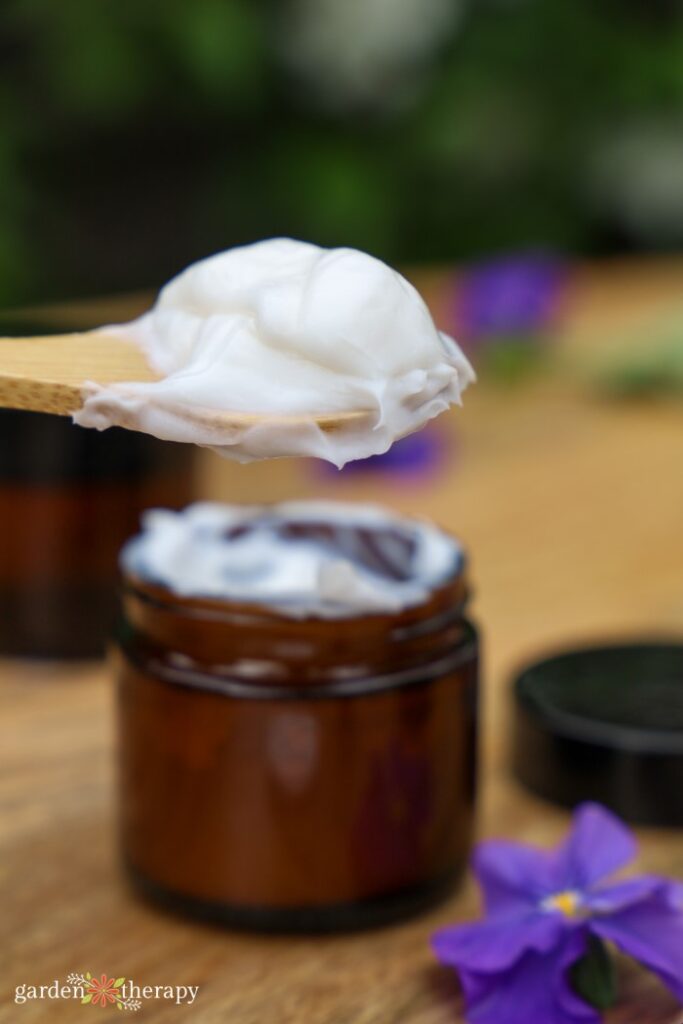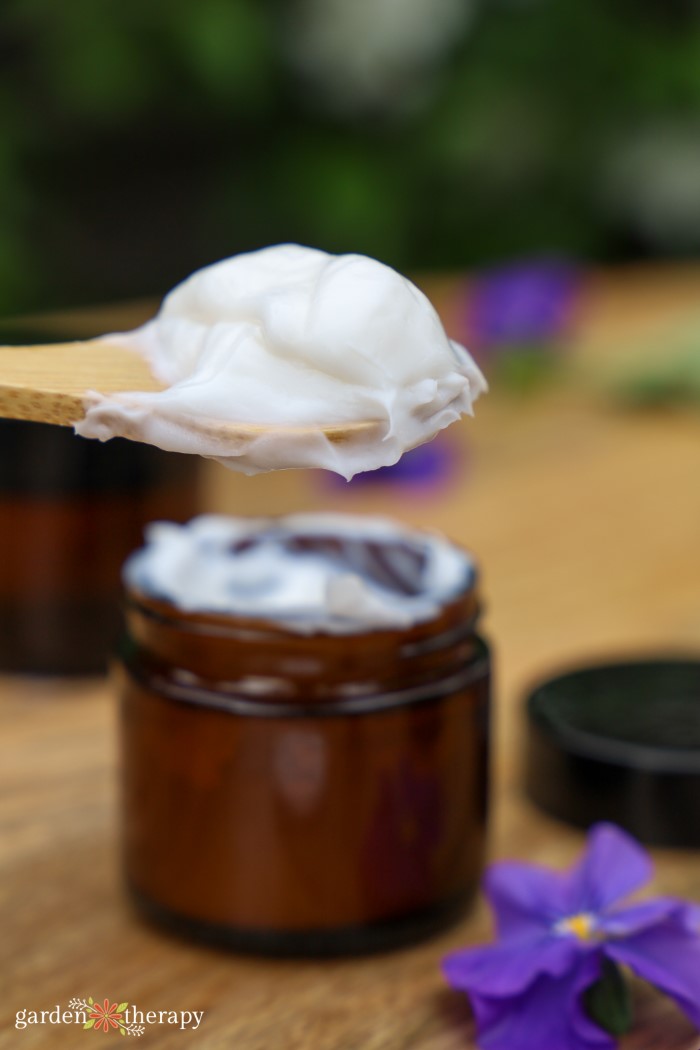 Formulated specifically to treat hard working hands, this cream re-hydrates hands that are rough, dry, and starting to chap.
Exfoliating is an important step to a skincare routine. Sugar scrubs are simple to make using ingredients you can find at home, creating a gentle exfoliant.
Convenient to use and packed full of healthy ingredients, these winter lotion bars are ideal for moisturizing dry skin during the cold season.
If you want your natural lotion to be taken up a notch, this magnesium lotion formula helps with pain management and works to improve sleep.
Gifts for Shiny Hair
Long or short, curly or straight, encourage your giftee to embrace their natural hair with these recipes. Hair care products are one area in the beauty world that many still don't know how to make themselves. These recipes label everything step by step, making the process easy to follow.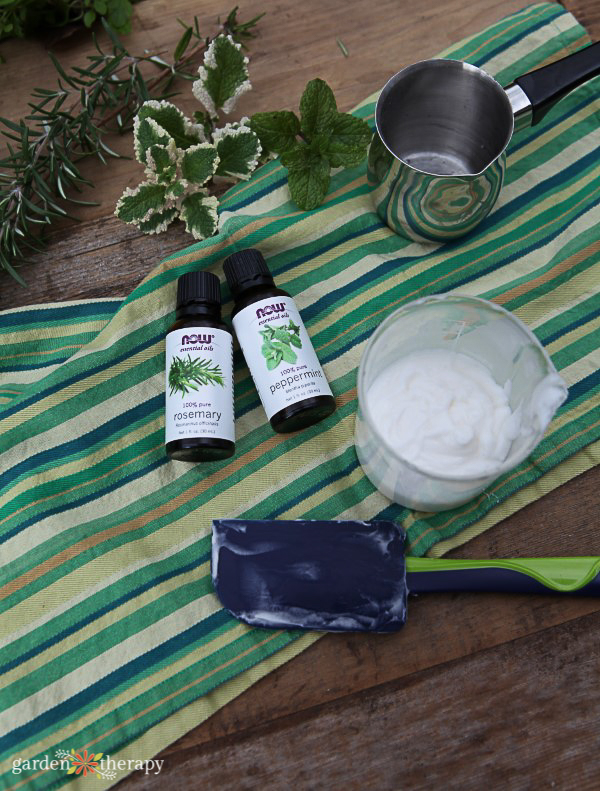 Once I started using my own natural conditioner, my hair became healthier than it's ever been. This rosemary recipe works to keep hair clean and helps with scalp and hair issues.
Made of just a few (very important) ingredients, this hair serum is the key to achieving shiny, luscious looking hair, all while promoting a healthy scalp.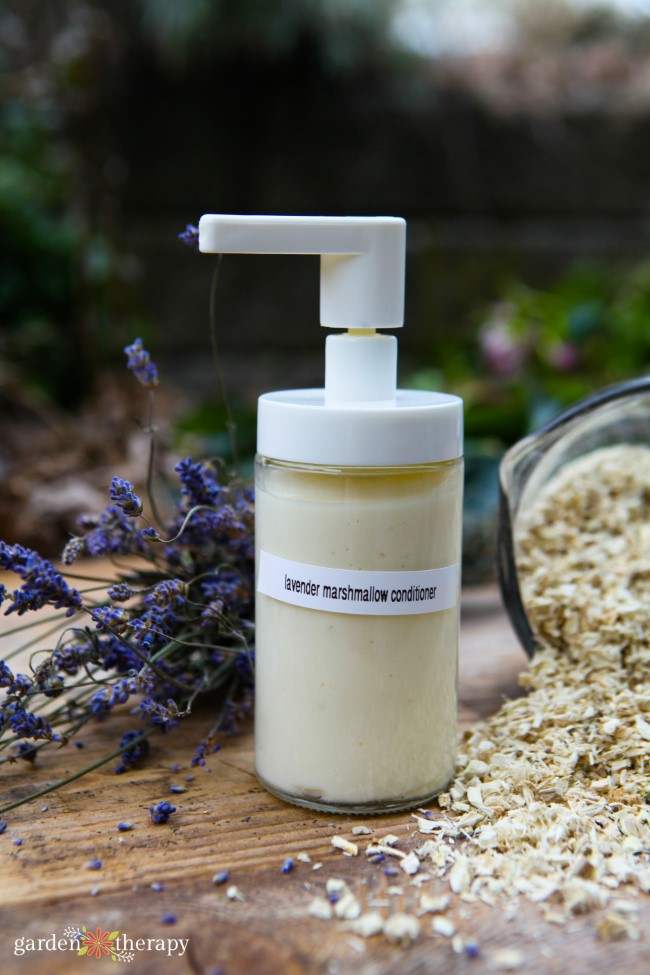 Gentle and pleasant smelling, this recipe is packed with herbal benefits for damaged hair, helping to strengthen it for soft and silky locks.
Gifts for Luscious Lips
No one can have too much lip balm. Seriously, I have one in the bathroom, my car, my purse, and pretty much anywhere else I can put one! These recipes smell SO good and are even better for soothing dry lips.
Do you have a chai lover on your gift list? The bold scent of chai is both earthy and sweet, making a fragrant and spicy lip balm.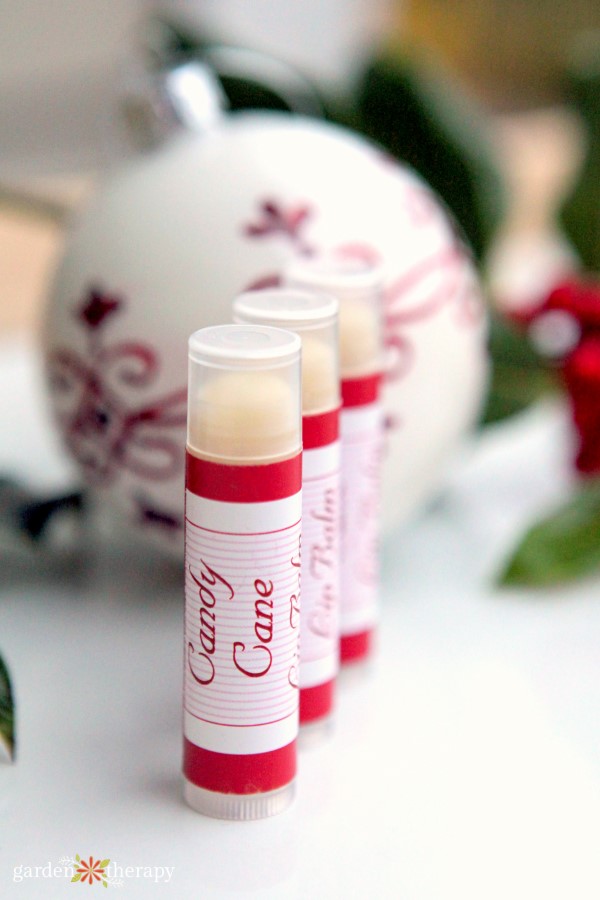 This recipe was made for the holiday season, a minty treat you can stuff the stocking with and use all year.
Dandelion, honey, and sugar make an amazing lip scrub to exfoliate the lips. The result is soft, kissable lips ready for the mistletoe.
Christmas isn't complete without a hint of chocolate. This decadent recipe lets you indulge in chocolaty goodness without the calories.
Gifts to Soothe Aching Feet
After a long day, our feet need a little TLC. They will feel ultra soft and a lot less achy after using my foot care recipes. You can make all three of the following recipes for the ultimate foot care gift package.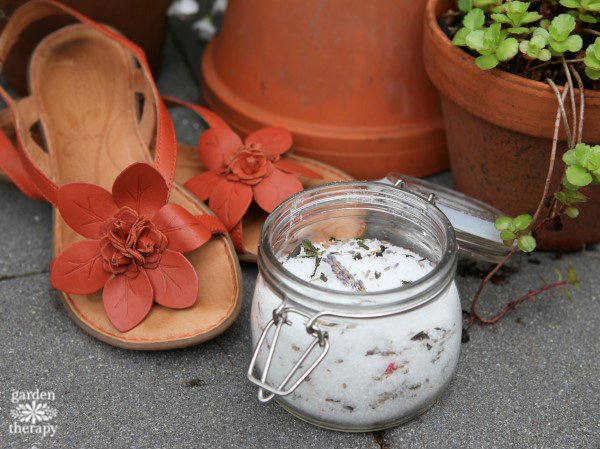 A blend of herbs, Espon salts, and essential oils, start your foot care routine with this soak to soften the skin and relax the feet.
Designed for rough skin, this helps to exfoliate dry skin and soften cracks. Plus, you get the cooling effects of the peppermint!
Rubbing this foot balm on my feet for a couple minutes instantly melts away the stress of the day. It cools and soothes, helping to ease hard working feet.
More DIY Gift Ideas
Beauty is from head to toe! These last few recipes are sure to round up your natural beauty product list, utilizing nature for its beauty and healing properties.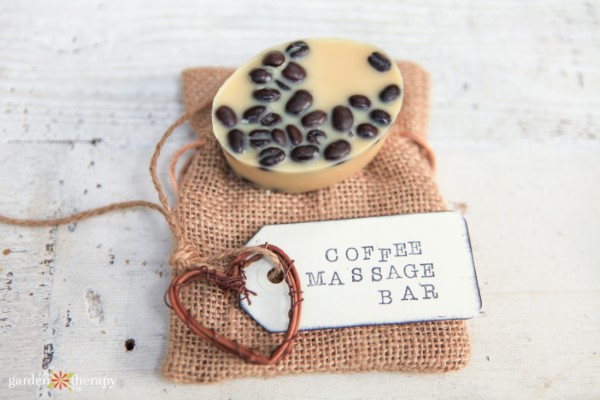 Skip messy massage oil with this coffee bean massage bar. It works to relax the body and moisturize the skin all in one go.
If your giftee is not a bath person, they can still add a hint of luxury to the shower with these fragrant and fun shower steamers.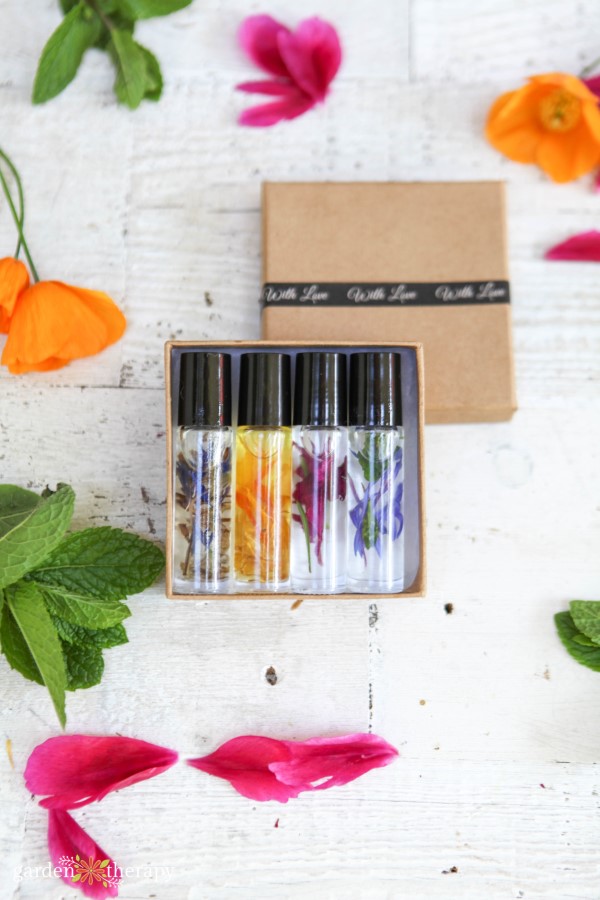 With no icky toxins, you can feel good about spritzing your body with natural botanical fragrances, completely unique to you.
Perfect for the medicine cabinet, this gentle healing salve is used to treat minor cuts, bruises, and scrapes.
If your giftee loves to soak up the sun, chances are they get a little too much at times. This after-sun salve re-hydrates and soothes burnt skin.
Ready for the Holidays?
If this list has you overwhelmed, perhaps you learn better by video rather than reading! My Botanical Beauty Holidays Gifts Workshop takes things slow, leading you through each recipe one-by-one with how-to videos and instructions.
Because I love them so much, my goal is to make natural beauty products accessible to everyone and this course is for the visual learner.
Plus, I include some extras include gift wrapping instructions so your gifts can look as pretty on the outside as they are on the inside.
You can learn more about the course here.
Other DIY Gift Ideas: